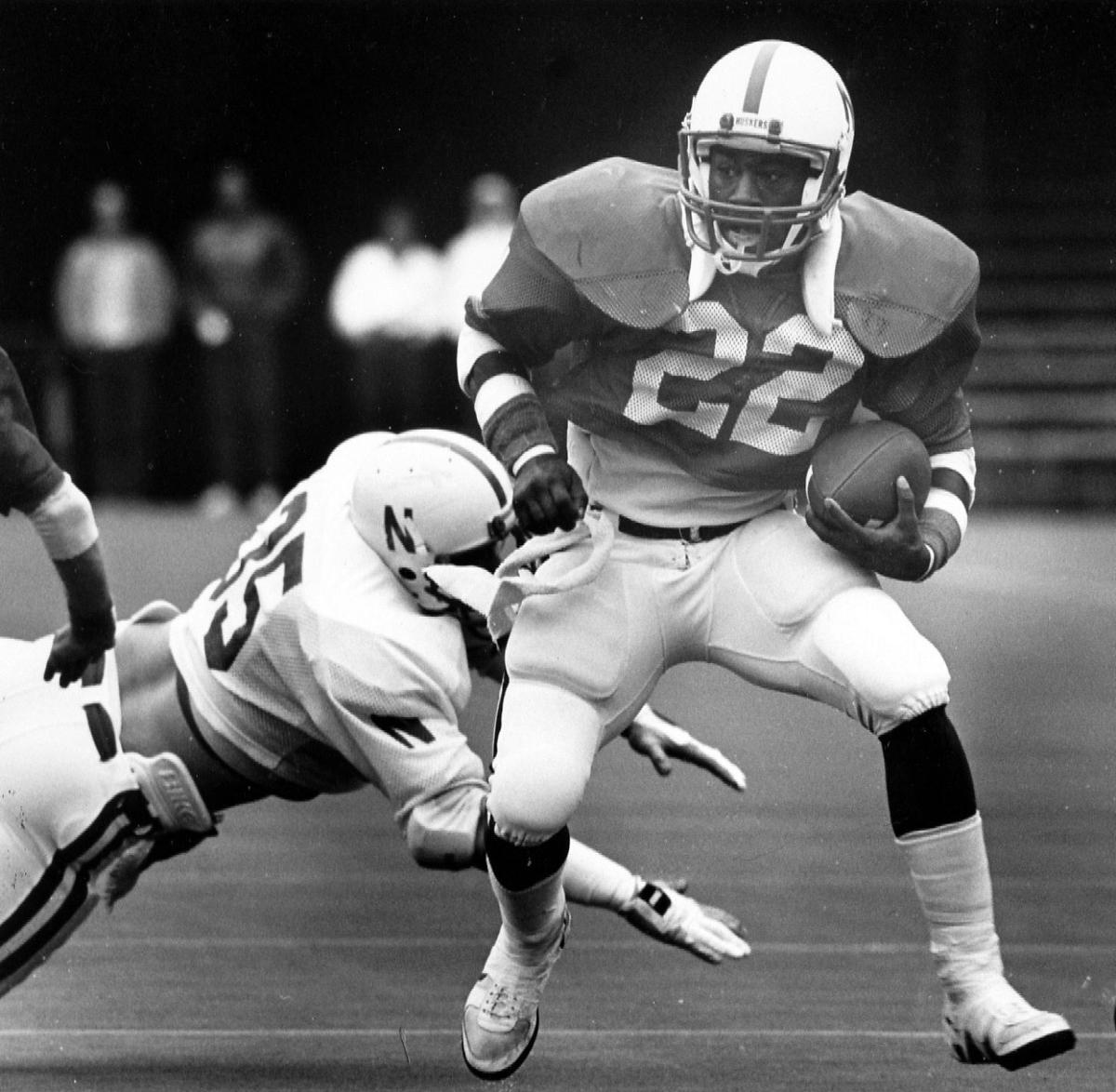 Doug DuBose sits in midmorning sunshine Friday on a patio of a Haymarket district hotel.
His longtime girlfriend and best friend, Lynette Jurgens, is on hand with a scrapbook adorned with a red "22," DuBose's jersey number at Nebraska, where in 1984 and 1985 he became the first player in the program's rich history to rush for 1,000 yards as both a sophomore and junior.
If you followed Nebraska football during the 1980s, you understand that DuBose is absolutely one of the most naturally talented running backs to ever wear the scarlet and cream. He was a high-stepping speedster who seemingly was put on earth to play the position. It indeed came very naturally to him, says DuBose, who on Friday night will be among the Husker greats to be inducted into the Nebraska chapter of the National Football Foundation and College Football Hall of Fame. 
I sometimes wonder what players who are inducted into various Halls of Fame really think about the honor. Some obviously care more than others.
I don't wonder how DuBose feels about it. 
"To me, it just shows that they recognize what I did while I was here, the dedication and hard work I put in," says the 57-year-old Connecticut native who now lives in Palm Beach Gardens, Florida. "You know, the thing is, I was kind of bitter about it because I should have been in a while ago. I talked to Coach (Tom) Osborne about it. It's emotional for me." 
Those tears are real, and they're wonderful to see. 
"I did a lot for this university," DuBose says. "I put my heart and soul out there."
His voice trails as he stares into a gorgeous blue sky. Jurgens, seated across the patio table, is smiling. This is a wonderful weekend for DuBose and the rest of the inductees in the classes of 2020 and 2021. DuBose says he'll have about 40 friends and family at the induction banquet, including former Nebraska assistant Gene Huey, who played the lead role in DuBose's recruitment. 
"You know how I said I felt snubbed for a while, not getting inducted?" DuBose says in the latter portion of our interview. "Well, man, now I can't tell you how happy I am they got me in."  
Jurgens recalls the day they first learned of the honor. They were home in Florida when DuBose received a text from a Nebraska official. 
"Doug has talked about this many times over the years," Jurgens says. "He was sitting on the couch and I was like, 'What's going on?' He said someone just texted him to say he made the Hall of Fame, but he said he didn't know if it was really true. I got on my phone and checked and told him, 'It's really true.'" 
Not long after that, Huey called to congratulate him. A call also came from Osborne, the Hall of Fame Nebraska head coach.  
"I had talked about it with Coach Osborne a few times," DuBose says. "He had said, 'Doug, there were situations that happened while you were at Nebraska, and some fans are still upset about it.' But he said he was lobbying for me. I really thank Coach. I really have a great appreciation for Coach Osborne. He's special to me, just because I know he deals with a lot of stuff, and he took time to talk to me about certain stuff when he didn't have to. 
"You know, he made me a better person, man. I grew up here at Nebraska, and he was a big reason." 
This isn't the right moment to relive DuBose's rocky times at Nebraska and beyond. This is the time to recognize his greatness. This is his time to celebrate the good times with friends and family. 
"I talked to Frank Solich," DuBose says of the former Husker running backs coach. "He said, 'You know, we had some problems off the field, but you were one of the easiest players to coach — I didn't have to do anything, I just watched.'" 
Nebraska fans watched DuBose in 1984 rush 156 times for 1,040 yards (6.7 ypc) as the Huskers finished 10-2, their only losses coming on the road against Syracuse and at home against fourth-ranked Oklahoma. NU was ranked No. 1 entering both losses. 
DuBose in 1985 climbed to 203 rushes for 1,161 yards (5.7) as Nebraska finished 9-3.  
During preseason drills in August 1986, he took a pitch from quarterback Steve Taylor and sped downfield. The powerful runner made a strong cut-back move, and then felt his left knee give out. He knew right away his senior season was a lost cause. That stings him to this day. After all, he was a leading Heisman Trophy candidate.
"I'm telling you, I was getting better every year," he says, pausing to look toward the heavens. 
If you were around to watch DuBose back then, you know exactly what he's talking about. He was a special talent. A rare talent.
Yes, a Hall of Fame talent.
"If I could do it all again, you know, I would change a few things," he says. "But I wouldn't change coming here. That's coming from my heart." 
Coming from his heart? Of that, I have zero doubt. 
Nebraska Football Hall of Fame inductees
2020 class: Three players and one assistant coach from the 1970 national championship team were selected: quarterback Van Brownson, fullback Dan Schneiss, offensive tackle Wally Winter and 11-year assistant Carl Selmer. Two other former Huskers also were voted in: DuBose and Ray Phillips, a defensive end in 1976. They are joined in the class by Chris Bober, a standout offensive lineman at Nebraska-Omaha in the late 1990s.
2021 class: Six players from the 1971 national championship squad were selected: defensive end John Adkins, center Doug Dumler, defensive tackle Bill Janssen, tight end Jerry List, monster back Dave Mason and offensive lineman Keith Wortman. 
In addition, the Clarence E. Swanson Meritorious Service Award goes to the late Duane and Phyllis Acklie family, and the Lyell Bremser Special Merit Award goes to Jim and Suzanne Pillen.