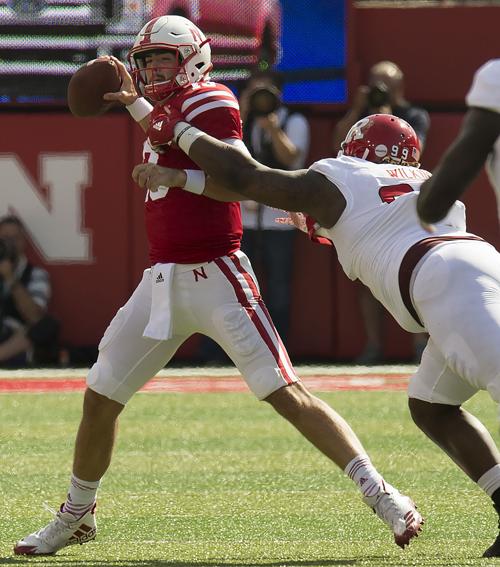 Tanner Lee's performance Saturday was acceptable. Nothing more than that.
Even Shawn Eichorst would agree.
But we did see ample fight and resilience from the struggling Nebraska quarterback.
"Stone-cold," Husker receiver JD Spielman said of Lee's rebound from his third-quarter interception that Rutgers safety Kiy Hester returned 33 yards for a touchdown to give the Scarlet Knights a three-point lead.
Boo-birds in Memorial Stadium made themselves heard as Lee trotted out for Nebraska's next series. Maybe they were booing NU head coach Mike Riley and offensive coordinator Danny Langsdorf for sticking with Lee, who now has nine interceptions (versus seven touchdown passes) on the season.
He's completing only 52.1 percent of his throws through four games.
So, maybe fans were ready for Patrick O'Brien, the top backup.
Whatever the case, "Stone Cold" Tanner Lee kept firing away, or turning and handing to a running back. Yeah, that Nebraska ground game — 197 yards on 47 attempts — surely calmed Lee's nerves and was the impetus to the Huskers' 27-17 victory that capped a tumultuous week for the program.
Eichorst was fired Thursday from his athletic director job in part because Nebraska stumbled out of gate this season after limping to the finish last year.
Last week's home loss to Northern Illinois was "not acceptable," Eichorst said after the game.
His boss, Chancellor Ronnie Green, evidently felt the same way.
Riley, now 17-13 at Nebraska since being hired by Eichorst in late 2014, looked worn to a fray.
But the win against moribund Rutgers (1-3) — which last defeated a Power Five team in October of 2015 — represented a return to a semblance of normalcy for Nebraska (2-2). That had to feel good for essentially everyone involved.
"I remember talking to him on the sideline (after the boos), and he said all that white noise doesn't faze him," Spielman said.
It couldn't have been easy, though. Lee is flat-out struggling. He finished 13-for-26 for 109 yards and two touchdowns. He also threw a second-quarter pick that the Scarlet Knights turned into a field goal.
Lee's third-quarter interception, though, elicited memories of his two pick-six throws last week.
"I made a dumb play there," he said. "That's for sure."
He said he tried to make a big play instead of just getting a first down. He doesn't always make the best decisions. But Riley didn't upbraid him — that's obviously not the coach's style. Nor is it Langsdorf's.
The coaches told the quarterback to settle in and do what he's taught. Lee said he appreciated those words.
Many fans apparently weren't so patient.
The boo-birds aren't true Nebraska fans, said Husker junior left tackle Nick Gates.
Spielman also reacted to the boos with a tinge of anger.
"I wasn't too happy with them," the redshirt freshman said. "At the end of the day, that is our starting quarterback. No matter how he plays, I think we should back him up. Because maybe all he needs is just a little bit of a push from the fans telling him it's going to be OK and that they all have his back."
Spielman showed maturity with his message to Lee.
"Just keep your head up," Spielman told the quarterback. "You are the heart of the offense. However you react, that's how the whole team is going to react. So, if you stay calm and stay focused, we're all going to be calm and focused. Luckily, he was calm, and we were able to capitalize on that drive."
The touchdown drive to which Spielman referred was a gem — a 17-play, 97-yard march into a stiff southerly breeze. Lee actually found some rhythm, completing 6 of 8 throws for 51 yards, including a 9-yard toss to tight end Tyler Hoppes on a third-and-8.
He gunned an 8-yard strike to De'Mornay Pierson-El in the end zone to give Nebraska the lead for good at 21-17.
Rutgers was self-destructing with penalties, and tiring visibly.
Riley appreciated his team's response to adversity. That part was "outstanding," he said.
He also said he never considered benching Lee, even after that second interception.
"We've got a lot of faith that he'd bring it back, and he did," the coach said. "He made some real good throws after that."
Riley quickly added that sticking with Lee had nothing to do with what Nebraska's coaches think of O'Brien.
Nebraska offensive coordinator Danny Langsdorf did say Lee is the clear No. 1 in terms of how the quarterbacks have practiced this season. No surprise there.
What's more, any evaluation of Lee's performance against Rutgers must take into account the absence of his favorite receiver, Stanley Morgan, as well as Bryan Reimers. Both were late scratches due to injuries.
Add it all up, and Nebraska's pounding run game and excellent defense were the main reasons it won.
"We got behind our offensive line," Lee said. "They wanted to take over the game, and that's exactly what they did."
Entering Saturday, the two most maligned parts of the team were the offensive line and Lee. 
The offensive line will hear far less criticism this week, although spare me the talk of Nebraska finding an identity with that run game. This was Rutgers.
"We're going to have to throw for more yards," Riley said.
That's right, Lee was just OK most of the day. He will continue to hear plenty of negative noise about his play.
Seems like he can handle it.