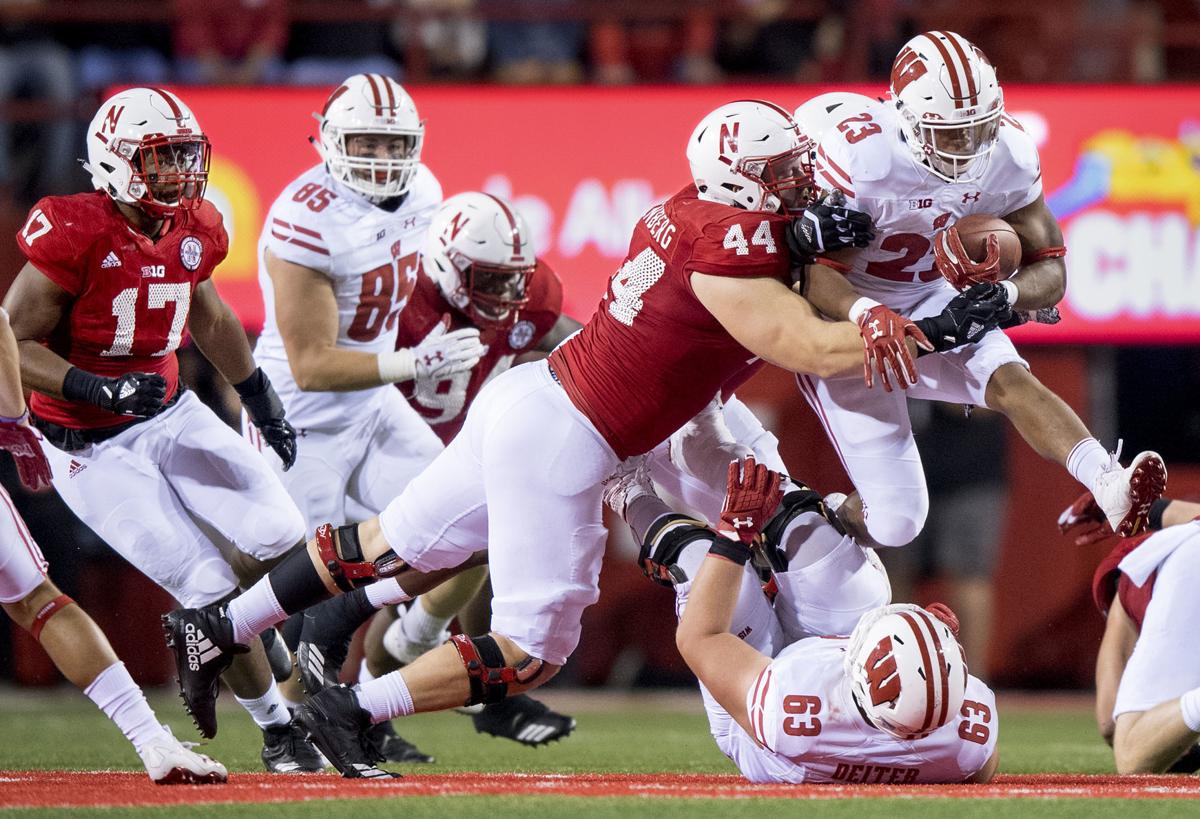 When Mick Stoltenberg talks of his interest in coaching, it comes across as much more than a whimsical notion.
He seems like a guy players might listen to -- and not just because he's 6-foot-5 and 310 pounds.
The Nebraska senior nose guard says he didn't necessarily arrive on campus in 2014 with thoughts of perhaps becoming a football coach.
"But once I started developing into an upperclassman, it was just a huge payback for me to see guys get better after something I maybe told them to do or helped them out with," he said earlier this week during Big Ten Media Days in Chicago. "Seeing guys improve, I guess you could say that's my 'why.' I love leading. I love helping out the younger guys and watching them grow."
If Nebraska's first-year coaching staff -- particularly head coach Scott Frost and strength coach Zach Duval -- want Stoltenberg to be a team leader, he sounds ready and willing. He pays attention to what goes into being a leader. He said those thoughts have evolved during the course of a college career in which he's started 21 times in 33 overall appearances.
"Accountability's been thrown around a lot (lately)," Stoltenberg said. "That's definitely something we're trying to get better with."
"Really what that means to us is players taking care of players," he added. "If someone's missing a meal or missing a class or something, I want to get to them before coach Duval or coach Frost because I'm on the same level as them. I want to explain to them, 'Hey, I've got to trust you during a game. I can't trust you now. So what do we need to do to get to that point?'"
Stoltenberg, who had 33 tackles in 2017, sounds like leadership material to me, which of course helps explain why he was one of three seniors to represent the team Monday during Media Days alongside Jerald Foster and Stanley Morgan.
Stoltenberg embraces the challenge of helping Nebraska rebound from last season's 4-8 finish, a disastrous turn of events in which the defense was particularly awful down the stretch, surrendering an average of 55.3 points over the last three games.
Although he understands chatter of this being a "transition year" for the program, he tries to stiff-arm it.
You have free articles remaining.
"I've tried to do all I can this off-season so far to put our team in a position to make it more of a seamless transition," he said.
He said Frost communicates with the team's veterans about what transpired in the past and what they think needs to change. But a head coach can do only so much to bring forth changes. Player leadership is essential. If Stoltenberg didn't fully grasp that notion when he arrived at NU, he does now.
He said player-driven accountability often means "taking care of things we as players can take care of in the quiet corners of the locker room."
"We hear and see things the coaches don't hear and see," he said. "Those are things that can go into play and help this transition move a little bit quicker, so instead of a transition year where we're down and waiting to build back up, we can start strong and be competitive right away."
Nebraska, with 14 returning starters (six offense, eight defense), was picked to finish fourth in the Big Ten West in cleveland.com's annual preseason media poll. The Huskers were slotted behind prohibitive division favorite Wisconsin, which was followed in the poll by Iowa and Northwestern. It's obviously not the sort of situation Stoltenberg envisioned for the program when he arrived from Gretna High School, where he starred primarily as a tight end and defensive end.
But Frost's arrival represents a much-needed fresh start for everyone involved, including Stoltenberg, who was sidelined this past spring with a knee injury. He said he "attacked" rehab and now feels great.
"Day One of summer conditioning, I was ready to roll," he said.
He talks of the importance of Nebraska developing depth along the defensive line, which in his case means helping groom redshirt freshman Damion Daniels, a 6-2, 340-pound player from Dallas. It also means helping Utah graduate transfer Vaha Vainuku (6-3, 325) quickly acclimate to the program.
"He moves well; he's pretty athletic," Stoltenberg said of Vainuku. "Just going out and working on the sleds, he's got a good strike."
As for Daniels, "I love Damion. He's super-enthusiastic about football," Stoltenberg said. "He's always smiling, always happy, always making jokes. But he really is serious about playing football and learning techniques. He's always asking me questions. I make sure I sit by him in meetings so I can kind of talk him through some things."
You see, that's leadership -- a veteran making it a point to sit next to a younger player, even though that younger player is trying to take the veteran's starting job.
Stoltenberg sees a bigger picture. He now looks at the team through the lens of a leader. Someday soon, he may look at a team from the viewpoint of a coach.