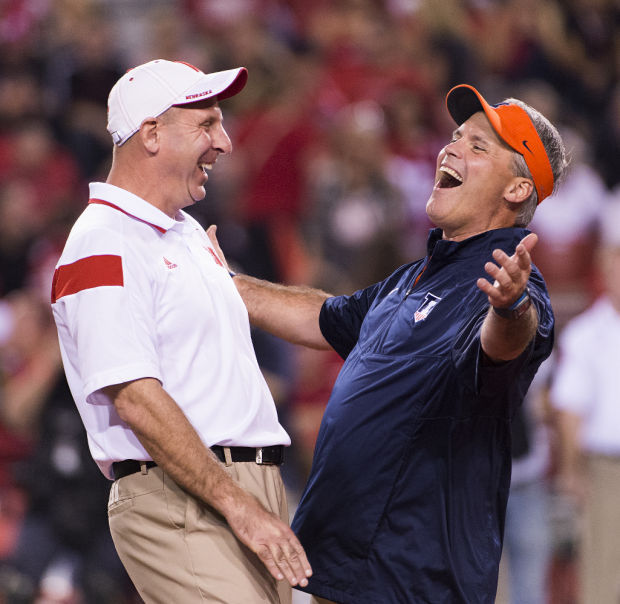 You probably didn't see the list because hardly anybody in America saw the list.
It was unveiled in a news release last Friday afternoon. A Friday afternoon? Seriously? What a peculiar time to fire out a news release (unless you're trying to sneak something past everybody). How many American sports journalists are working on a Friday afternoon? How many Americans, period, are working on a Friday afternoon?
At any rate, the list featured an impressive group of 20 college head football coaches, the elite of the elite, including Saban, Stoops, Snyder, Malzahn and Fisher.
Stop the freaking presses.
This can't be an authentic list.
Bring in Mark Emmert to investigate. Or Bob Ley. Or Chris Fowler. Geraldo. Somebody.
No way Nebraska seventh-year head coach Bo Pelini can appear on a list of 20 coaches under consideration for the 29th annual Paul Bear Bryant Coach of the Year Award because, well, isn't Pelini essentially on an eternal hot seat at NU?
Say Nebraska would've lost Oct. 18 at Northwestern. You would've heard piercing cries for Pelini's head from many quarters of a fervent Husker fan base.
A week later, however, Pelini turns up on a coach-of-the-year watch list?
Yeah, all is quiet on the Husker front.
Such is the nature of Pelini's position. He's not alone. He walks a fine line, as does Mark Richt at Georgia and even Dana Holgorsen at West Virginia. I mention Richt and Holgorsen because they were feeling heat from their fan bases entering the season, but they're also on the good-guy list. For now.
Walks a fine line? Think about the reaction in our neck of the woods if 15th-ranked Nebraska (7-1, 3-1 Big Ten) were to lose Saturday to Purdue (3-5, 1-3).
For Pelini, it would mean back to the you-know-what list in the minds of many.
Those Nebraska fans could watch the goings-on at Michigan and count their many blessings. They could, but they won't. Many fans will continue to take winning for granted, even though what's happening in Ann Arbor, Michigan, could easily happen (again) in Lincoln, Nebraska, if there was incompetence in key leadership positions.
Think about Michigan, with all its riches, commitment, passion, tradition and proximity to talent. And the Wolverines are in danger of failing to become bowl-eligible? It boggles the mind in the same manner as Texas and Florida descending into the abyss. Those are just a few examples.
Meanwhile, we all know the great Pelini debate.
On one hand, he wins consistently and runs a clean program. In his seven seasons leading the Huskers, he's won 64 games. Only five Power-Five conference coaches have won more: Nick Saban (79), Chris Petersen (74), Bob Stoops (68), Les Miles (68) and Brian Kelly (66).
Urban Meyer has 64 victories in that span even though he sat out the 2008 season.
On the other hand, Pelini hasn't delivered a conference championship. What's more, Nebraska has suffered blowout losses in marquee games. Those were gut punches to a prideful fan base.
However, Nebraska fans should like what they see this season. Pelini has indeed earned a spot as a coach-of-the-year candidate.
He's earned it, in part, through his willingness to change his stripes. To wit: He shortened practices this season — from two hours to 90 minutes — with the idea of keeping players fresh for the all-important stretch run. It seems to be working very well.
He's played psychologist effectively, in that he hasn't let his team feel a sense of contentment.
"You have to play this game on edge. You have to prepare on edge," he said. "You have to have respect for this game, because you've got to realize how quickly a game can turn."
What's more, he never makes excuses for Nebraska's laundry list of injuries to key players. Think about the defense with Michael Rose-Ivey, Charles Jackson and LeRoy Alexander, and the offense with Jamal Turner, Sam Burtch and Adam Taylor. If nothing else, depth would have been much better.
Granted, Nebraska lost the only game it's played against a ranked opponent (at Michigan State). But please don't preach the notion of increasing parity in the college game, then come back with the "NU hasn't beaten anybody" argument against Pelini.
This much is indisputable: Nebraska has done enough to put Pelini on a coach-of-the-year award watch list, even if hardly anyone noticed.