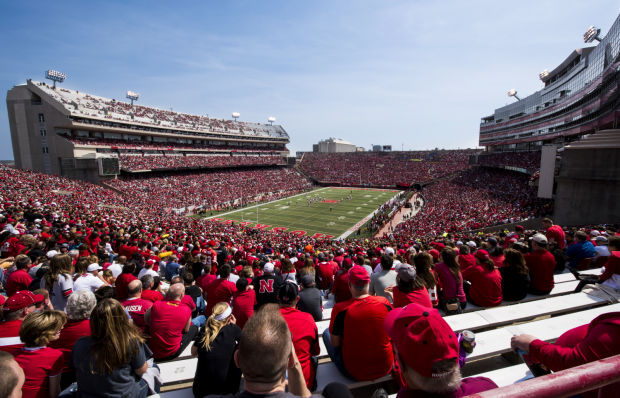 Things I know, and things I think I know:
You want a prediction? Here's a surefire bet:
Memorial Stadium, in terms of seating capacity, is as large as it will ever get.
That's not exactly going out on a limb. To wit: A loyal reader this week pointed out what he regarded as "welcome news." That is, he received a notice from the Nebraska athletic department that seats in the North Stadium's rows 80-99 now will be 3 inches wider.
David Witty, NU's senior associate athletic director for marketing and communications, confirmed the news, saying the benches in the area "were weathered and twisted."
He said the changes in North Stadium represent one of the first examples of "improving the overall fan experience. We're looking at different ways to improve the stadium."
South Stadium also has been altered.
"We're putting in a new aisle in section 20 of the South Stadium," Witty said. "The visiting team's tickets were over there. Due to some modifications in the visiting team's ticket allotment, it allowed us to put that aisle in."
The changes obviously will affect Memorial Stadium's capacity, which officially increased from 81,091 to 87,000 in the wake of the latest  expansion, before the 2013 season. The listed capacity is misleading because Nebraska's official attendance since 2013 always has been above 90,000 -- and will remain so this year, according to Witty.
"I think there will be tweaking to stadium capacity as we move forward," he said. "But until the (changes) are all done and we get all this calculated out, we won't have an exact capacity for you."
He said to check back the week of the Sept. 5 opener against BYU.
If capacity is diminished, it shouldn't come as a surprise. Nebraska athletic director Shawn Eichorst acknowledged last August the demand for Husker football tickets had softened in the previous couple of years or so. The hiring of a new coaching staff in December helped spur enthusiasm, but ticket demand obviously didn't explode through the roof.
Nebraska's sellout streak, which stands at 340 games dating to 1962, plays a lead role in defining the program's culture, as well as the state's. Which is why we keep such a close eye on seating developments.
I'm about as cutting edge as a rusted garage rake, so don't look this way for ideas on how to improve the fan experience at any stadium. But fewer seats and increased comfort makes a lot of sense for a lot of teams.
You have free articles remaining.
Look around the nation. Baylor football has been on a white-hot rise, yet the Bears play in a new stadium that seats only 45,000-plus. The Miami Dolphins' $400 million renovation of Sun Life Stadium -- where the Miami Hurricanes are a tenant -- reduced capacity from 75,000 to 65,000, moved the stands closer to the field, and put more seats in the lower bowl while eliminating thousands in the upper deck.
Nebraska plays at Miami on Sept. 19. I'm guessing Husker fans on hand will experience a smaller version of the posh $1.2 billion Cowboys Stadium.
* Even Michigan is downsizing its stadium capacity. The school announced Friday that not quite as many fans are going to fit into the Big House this fall as a result of recent renovations.
The listed capacity of 107,601 is roughly 2,000 less than last season, when the Wolverines averaged 104,909 fans per home game and slipped from their traditional spot atop the national attendance leaders to third behind Ohio State (106,296) and Texas A&M (105,123).
According to a news release from Michigan, stadium changes were made to satisfy Americans with Disabilities Act regulations as well as allow the stadium to better accommodate events such as international soccer matches or outdoor hockey games.
Soccer matches? Outdoor hockey? I'd like to see a vote of Nebraska fans on whether such events -- Blues vs. Blackhawks, anyone? -- would fly on Stadium Drive.
"I've never heard any discussion about that, to be honest with you," Witty said.
* It turns out Tucker Zeleny, recently hired by Nebraska as director of sports analytics and data analysis, worked part-time for NU last season "under a different coaching staff," reports Jon Solomon of cbssports.com.
Bo Pelini's staff? Remind me to flesh out that information.
Meanwhile, Husker secondary coach Brian Stewart, who coached eight seasons in the NFL, seems eager to work with Zeleny.
"Anytime you can get data like that, there are so many things you can do," Stewart said. "How many times did a team do something out of a certain formation? Does a quarterback throw better to the right or left? Which hash plays does a team like?
"There is so much more you can do that guys like myself, who have been coaching for 20-plus years, used to do on a piece of paper."
* Eichorst has said he's against alcohol being sold at Husker basketball games in Pinnacle Bank Arena. But I'm told by multiple sources that behind-the-scenes discussions among key city and University of Nebraska officials regarding the topic has gotten serious quickly. In fact, such sales could occur as soon as the coming season.
I'm interested in your feedback. Tom Osborne is probably interested, too.
Pass the popcorn, please.