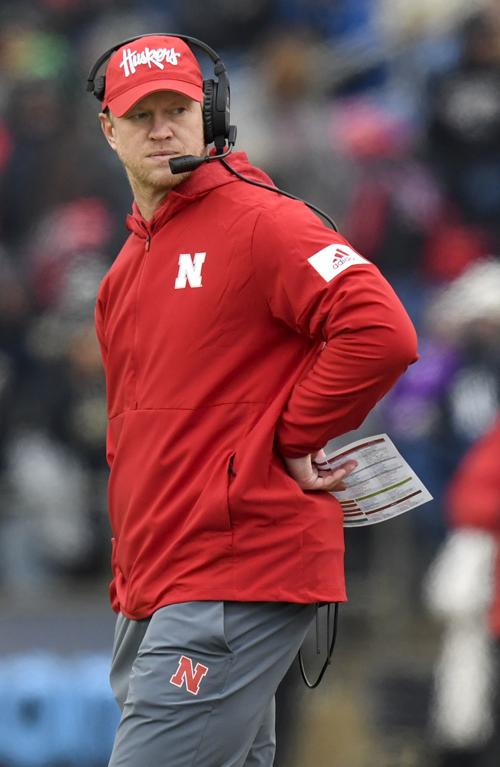 It's late Friday morning, and Nebraska football coach Scott Frost clutches a Mountain Dew bottle at his desk. He already looks like he's had a long day at Memorial Stadium.
He says he isn't sleeping well at all.
That's what a 4-5 record will do to a highly driven coach, especially after a 4-8 finish the previous season.
Frost apologizes for the mess in his office (it's really not that bad). But it does look like the office of someone who spends a lot of time in it.
How does he clear his mind from work? You have to do that occasionally, right?
"I try to do it," he tells the Journal Star as he pushes through the Huskers' bye week. "I can usually leave work at work and go home to family and just be husband and dad. It gets hard, though. We're so competitive and we want it to get right so fast and so bad.
"I'm having trouble sleeping," he adds. "I usually fall asleep, then I wake up and my mind starts running and I can't get back to sleep. We're all anxious for this to get changed. I don't think there's going to be a lot of really good rest around here until we get it to where it's supposed to be."
I'm guessing one area that keeps Frost up at night is a severe lack of big-play options at the receiver positions. I challenge anyone to find a Power Five program with less overall talent on its receiver depth chart. I'm also guessing Frost contemplates how hard he can continue to lean on 5-foot-9, 180-pound Wan'Dale Robinson in the running game and still keep the true freshman healthy for the long haul.
I'm guessing Frost stays awake thinking of ways to help his linebackers improve in pass coverage. I'm guessing he tosses and turns wondering how he can squeeze more hunger and effort out of his team.
In fact, I've wanted to ask Frost a certain question for the past several months: As an ultra-intense competitor himself, how does he go about handling players who lack the do-whatever-it-takes mentality of, say, Ndamukong Suh or Lavonte David or Ameer Abdullah or Tommie Frazier or Grant Wistrom or Jason Peter or, well, Scott Frost?
"I don't relate very well to people who aren't going to scratch, claw and bite and do everything they can to win," Frost says flatly. "The ones who do that are kids who I can relate to really easily because that's the way I think and that's the way our coaching staff thinks. When I was in the locker room (as Nebraska's quarterback in 1996-97), that's the way everybody thought."
He's on-target when he says nobody needed to motivate the mid-1990s Nebraska teams to come out firing at the start of the third quarter. Yeah, that's likely another issue that keeps Frost up at night. Oh, those damned third quarters. The Huskers have been outscored 93-47 in that period. It should be noted they've outscored teams 74-48 in the fourth quarter. But still … man.
The staff searches for answers. He says poor second-half starts generally are a byproduct of a team's mindset. It's not about strategy, he says. He hopes that as the program's culture improves, mindset will get better and tougher.
Then there's the Adrian Martinez issue. Yeah, it's another problem that could keep Frost up at night. Frost's track record with quarterbacks is off-the-charts excellent, which makes Martinez's sophomore slump all the more perplexing. Again, Frost says, he searches for answers. Martinez's completion rate has dropped from 65% last year to 59% this year. He's averaging fewer passing yards per game (237.9 to 213.1). His overall indecisiveness is evident to even a layman.
Martinez's struggle is the talk of the state. Such a high level of scrutiny is part of the QB gig in many high-profile programs. Frost went through it at Nebraska and sure as hell won't tell you it was easy.
"I think it's been rough on him," Frost says. "Anytime you're a kid getting criticized, it's tough. I think once you're as old as I am, you're able to completely separate yourself from it a lot better than when you're young. It was hard on me when I was in college."
Frost recalls walking into a business class on a Monday in late September of 1996 after the Huskers were shut out at Arizona State. The campus newspaper had his photo on it with an accompanying article that was critical of him. The newspapers were scattered all over the big auditorium.
"That wasn't easy," Frost says. "But I tell our guys all the time that when rough things happen, you have two choices: You either lay down and give up, or let it motivate you even more to get better. Praise and blame are both the same. They're both impostors. You have to ignore it all and believe in yourself and what you're doing."
Frost clearly believes in what he's doing. Clearly believes in his staff. I'd be absolutely shocked if he made any staff changes after the season.
I'd also be shocked if Frost changes starting quarterbacks before the season ends, unless Martinez leaves him with no choice.
Frost's jaw is set, so to speak. He knew this job would be difficult.
"Then, once we got here and got a good look at everything inside the program and inside the athletic department, there were way more things to fix than we even anticipated," he said before pausing for a few moments.
"The only thing that gets me frustrated as a leader is when I can't get someone to change. We try to do everything we can to help our student-athletes as a coaching staff and as a department. We're going to keep working, teaching, inspiring and showing guys the right way to do things. When you have the right people you're doing all that for, things get better pretty fast.
"Unfortunately, there's always a point with some guys where they just won't respond. Honestly, the best thing to do at that point is move on and try to help the kids who are trying to be helped. That's our staff's approach."
Asked if Maurice Washington, whose future with the program is cloudy, is an example of someone who "just won't respond," Frost says only that Washington "is a piece of that conversation." He declined further comment.
Just one piece. There are others.
Frost rubs his eyes. He probably won't sleep much tonight.
Be the first to know
Get local news delivered to your inbox!