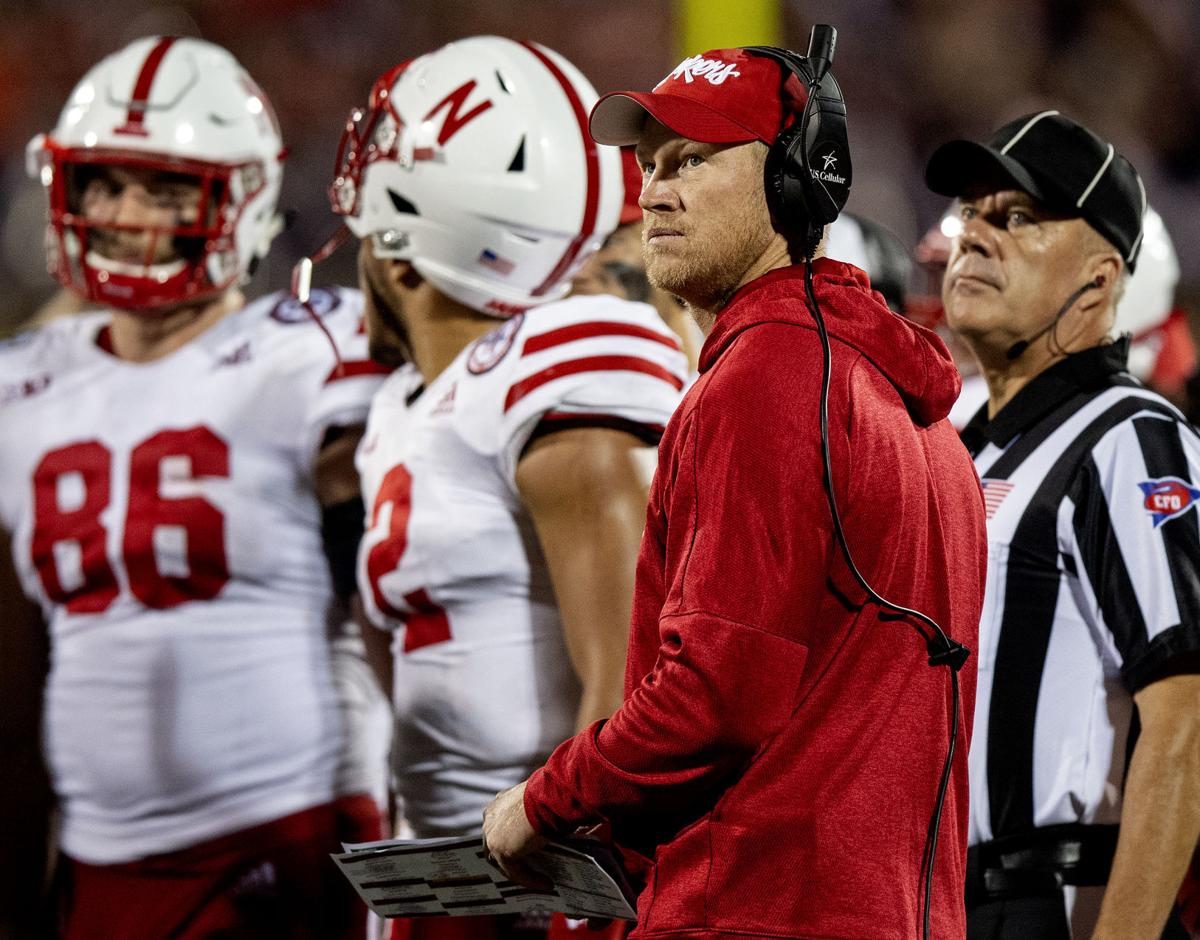 It's easy to think of Scott Frost as a pilot trying to pull his airplane out of a tailspin.
The situation for the Nebraska football coach is becoming increasingly tense. 
He almost always stays calm. He generally seems capable. But with a 12-20 record in three seasons in charge, it's fair to wonder whether he can reverse the program's fortunes in a big way — in the sort of way that would satisfy a hungry fan base. 
Robinson unquestionably gave his all for the Nebraska program. He was a cornerstone player, a primary source of hope and optimism. And he's gone. Yes, if you're a Husker fan, it stings. 
In June, JD Spielman, statistically one of the best receivers in Nebraska program history, entered the transfer portal (and eventually ended up at TCU). Now, it's Robinson to make the leap. He told ESPN's Adam Rittenberg that in addition to wanting to be closer to home, he wanted to find a system that can better feature his talents for the NFL. Doesn't Frost's system accomplish that?
"It was about 50-50 with my mom and how I was used at Nebraska," Robinson told ESPN. "I loved the touches and the way I got the touches. Sometimes they don't translate to the way I want them to for the NFL."
That part of the story is confusing, and a bit concerning. It's not the sort of message you want going out to high-profile recruits, or any recruits. 
Robinson's decision to leave might be a tougher blow for Nebraska fans than Spielman leaving because unlike Spielman, Robinson was recruited by Frost's staff. Troy Walters, the former Husker offensive coordinator and receivers coach, played a critical role in Robinson's decision to come to Lincoln. Walters is no longer in the program, pushed out following the 2019 season. That didn't help matters in this case. 
At any rate, Robinson was easily the best skill player on a Nebraska offense that in 2020 was lousy most of the time. In finishing 3-5, the Huskers ranked 72nd nationally in yards per play (5.56) and 93rd in yards per pass attempt (6.6). Bottom line, they averaged only 23.1 points (101st) after averaging 28.0 last season. 
The offense's decline is an uncomfortable development for Frost supporters. And, yes, he still has many loyal fans. There are still legions of fans who believe he'll pull this plane from the tailspin. Remember, in late 2017, he was the only man for the job in the eyes of seemingly all Nebraska fans. But the issues we're seeing in Frost's offense — mental errors, questionable play-calling, a lack of direction, not to mention a lack of big-time weapons — have become worrisome to even his most ardent supporters. 
And, now, Robinson is leaving. Wow. 
Logic dictates that many of Frost's issues calling plays stem from a lack of big-time playmakers. That's on him, of course. And guess what? His job just got harder. As a slot receiver, the 5-foot-10, 190-pound Robinson was as tough and reliable as they come. Although he isn't necessarily a program changing-type of player, there's a reason why as a senior at Frankfort (Kentucky) Western Hills High School he was pursued by the likes of Ohio State, Michigan and Alabama. 
When the four-star recruit chose Nebraska, it was a monumental day for Frost. This day was also monumental for Frost, just in a different way. 
Nebraska leaned hard on Robinson. Too hard? Maybe. But Frost had to lean hard on him. Robinson caught 51 passes this season for 461 yards and a touchdown (against Rutgers in the final game of the season). The next most-productive Husker receiver was true freshman Zavier Betts, who had 12 receptions for 131 yards and a score. If there's a receiver on the roster on whom Frost can lean heavily, the way he leaned on Robinson, that player hasn't presented himself. 
What's more, Robinson rushed 46 times for 240 yards (5.2) and another score (also against Rutgers). I found it interesting — and a bit concerning — that Robinson looked like Nebraska's best running back this season, even when senior Dedrick Mills was healthy. Although Robinson was a premier running back in high school, NU coaches preferred he play mostly receiver. His size is such that he absorbed quite a beating as a running back against physical Big Ten front sevens. You wonder if Robinson's camp cringed any time he ran between the tackles. I wouldn't have blamed them. 
Perhaps Nebraska can delve deeper into the transfer portal to make up for Robinson's loss. Montana graduate transfer Samori Toure posted big numbers at the FCS level. He could help. There are other high-grade playmakers in the portal. But it's challenging to get them to your campus if you continually finish below .500. 
Can Frost pull out of the tailspin? I wouldn't bet against him. But something isn't quite right. The Husker defense is clearly ahead of the offense. Top veteran defenders are returning. But another key offensive weapon is gone (and I'm hearing Mills won't return for another season). If I'm not mistaken, I'm seeing the tips of trees as I peer out of the airplane. 
The pilot seems calm and capable. Hope he in fact knows what he's doing.