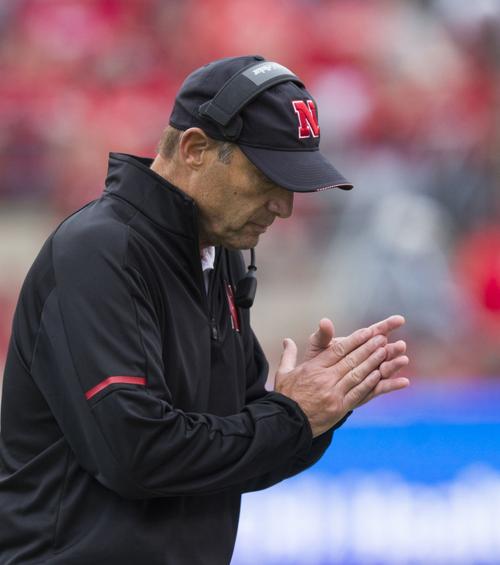 Mike Riley looked tired this week.
Tired and concerned, and perhaps a bit resigned.
I've seen that look before on the faces of Nebraska football coaches.
I saw it on the face of Frank Solich in 2003, Bill Callahan in 2007 and Bo Pelini in 2014.
Who could blame Riley for being worn down? The man who hired him to be the Huskers' head coach, Shawn Eichorst, was fired late last week. Which means Riley, who's 17-13 in two-plus seasons at NU, is widely considered a lame duck.
Which begs a question: How well can a head coach build for the future when he isn't sure if he'll be part of the program's future?
I appreciated the resoluteness in Riley's answer.
"You absolutely try everything in your mind to not pay attention to that noise and do your job because I'm not going to lose my vision of what we're trying to do — which is win with this team and build it and make it the best we can and recruit hard to the next one," he said.
"We have that vision. I really think it's a process. We can't be deterred. We already have so much done with this team, and with the '18 recruiting class. I can't bear to think of not doing that (closing out that recruiting class) all the way through. The rest of it, I can't control."
Actually, Riley does possess a certain amount of control. He can get his team prepared to play at a higher level than it has to this point. Nebraska is 2-2 (1-0 Big Ten) entering Friday night's game at Illinois (2-1, 0-0). If the Huskers show up to play well — clearly not a given considering recent performances — they should beat the youthful Illini by a couple touchdowns.
Tenth-ranked Wisconsin will come to Lincoln next Saturday for a night game. Remember, Nebraska has won 18 straight home night games. With back-to-back wins against Illinois and Wiscy, Nebraska would quickly shift the narrative of its season to a much more hopeful tone.
In that scenario, the Huskers would be 4-2 with six regular-season games remaining. Maybe if Riley could prod his team to seven wins, he would get to keep building. Thing is, good luck finding three surefire wins among the final six games.
To be frank, I'll be a bit surprised if Nebraska beats Wisconsin. Yeah, I've changed my outlook on that game.
Of course, Riley focuses only on Illinois ... and recruiting. The Huskers' class of 2018 is ranked just 38th nationally in the 247Sports Composite, although the relatively low number of verbal commitments (10) holds down the rating. NU needs to add at least eight players to the class. In other words, this is an exceptionally stressful time for Riley and his assistant coaches.
Riley, as one would expect, expresses confidence in his staff. His assistants surely understand the nature of their current situation. In fact, Eichorst's firing perhaps created a certain amount of clarity. In announcing the move, Nebraska Chancellor Ronnie Green and President Hank Bounds made clear the importance of on-field results.
That's right, results over rhetoric. Nebraska needs to concentrate more on winning on fall Saturdays. Please, forevermore, spare me the conversation about all the momentum the Huskers are building in their program in the period from mid-January through late August. 
This past summer, it's almost like folks forgot Nebraska lost four of its last six games in 2016, and was awful in the final two.
It seems some Husker fans (and media) want to get the fall season over with quickly so they can move on to the rhetoric part of the calendar — you know, when there's no chance of anyone getting slugged in the mouth.
To be clear, Riley is old school. He doesn't pump out rhetoric. That's not his style. But that was Eichorst's style.
Riley has been around long enough to understand he ultimately will be judged on wins and losses.
"Right after I found out about Shawn, I had a staff meeting," Riley said. "I said, 'Our job as professionals right now is to worry about our team and coach our team. The players will respond to how we act.' And these guys are good. I think the players believe in them. I think they work hard for them. So we can get a lot done. I'm pretty confident how that's going to look."
Make no mistake, Riley feels good about how Nebraska has recruited under his watch. He points to the class of 2017, which wound up No. 23 in the 247Sports Composite.
"That's a good class," he told me. "If I went player by player with you, you'd be impressed. And the next class is going to be ..."
His voice trails, but you sense his excitement about the class of 2018. 
"The vision's in place," he said. "The control we have is coaching our team."
There's a certain comfort in the week-to-week grind.
Otherwise, comfort could be difficult to find in coming weeks.
Be the first to know
Get local news delivered to your inbox!