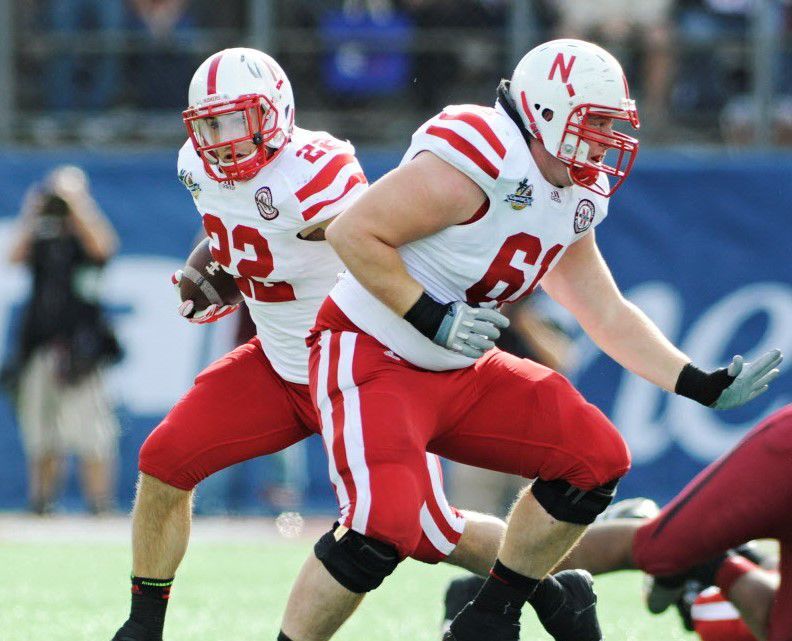 Now that Spencer Long has retired from the NFL, he has more time to ponder life's interesting facts.
Here's one he didn't know until last week: He was the last Nebraska offensive lineman to be named first-team all-conference.
I was sort of surprised he didn't know it. Then again, he was honored clear back in 2012. One would think a program of Nebraska's stature would avoid such a humiliating drought. 
"What goes through my mind when I hear that is I'm dying for us to get back to the caliber that we were even before my time there," said the 29-year-old Long, released earlier this month by the Buffalo Bills following a six-year NFL career. 
"Nebraska used to be a powerhouse, especially for offensive linemen," he said.
For 32 straight seasons, from 1970 to 2001, Nebraska produced at least one first-team all-conference offensive lineman. In most of those seasons, multiple Husker offensive linemen earned first-team honors. Then came the drought. From 2002 to 2012, only three Husker offensive linemen earned that status: Richie Incognito (2003), Ricky Henry (2010) and Long. 
"I literally can't wait until the day I can see our university and the kids going there really start dominating again, and being really proud of the university," said Long, an Elkhorn native. "I'm always going to bleed Husker red. I was born there. That's my state, that's my team. I love Nebraska football, and I want to be able to see it get to where I know it can be. 
"I think we're going that direction. It's just going to take some time."
If a high school or junior college lineman is genuinely serious about playing quality football, Nebraska is the program for him, Long said emphatically. Oh, he understands that many high school players gravitate toward nicer weather — perhaps toward coastal schools or what he describes as "the fun schools." He also is aware of the Husker program's struggles in recent years. But he hopes recruits understand the blue-collar nature of the program and the benefits of such an atmosphere. In fact, he said, the Bills remind him of the Huskers in that regard.
After four seasons in Washington and one with the New York Jets, Long played in 14 games (174 snaps) for Buffalo in 2019 in a reserve role. He liked the franchise and thought he might end his career with it on his current contract. He felt a strong connection. But the franchise released him in a move that provided space under the salary cap. Soon after his release, the Bills signed former Jets right guard Brian Winters. 
The rather abrupt way Long's NFL career ended illustrates the business-oriented nature of the league. It can be a bit cold. 
"It was a big blow for me, I'm not going to lie to you," said Long, who made 44 starts in 67 career games. "I didn't know it was coming. It's the unfortunate business side of the NFL, and it's not always pretty. But I have nothing but good things to say about the organization." 
He caught on with the San Francisco 49ers and practiced twice before calling it a career. 
"After that disappointment with the Bills, I just kind of felt like, you know, the rug was pulled out from underneath me and I lost a lot of motivation," he said. "I don't go into anything half-ass, and I didn't want to go into San Francisco and give them half of me."
A third-round pick by Washington, Long's rise in the sport is one of the better walk-on stories you'll find. He arrived at Nebraska with all-area honorable mention credentials in high school. He actually began his college career on the defensive line, and didn't play a snap his first two years.
Then in the fall camp of 2011, in his third year, while taking challenging biology classes and organic chemistry II, there suddenly was talk that he was working with the No. 1 offensive line. He ended up starting every game that season. 
It all fell into place pretty well for him, right up to his Aug. 4 release by the Bills.
He's still living in Buffalo, where he ponders his next phase of life. He has a few ideas in mind, he said, but there's no reason to rush into anything. 
"I just have to take some time to feel what my heart's set on," he said. 
It's pretty clear he'll continue to follow Nebraska football closely, and perhaps more closely without the inherent demands of NFL life. He'll keep an eye in the trenches, understanding that if Nebraska is going to return to being a powerhouse program, that's where it has to start. I genuinely believe that's the case, and Long says nothing to dissuade such thinking. 
It's especially the case in the Big Ten, the most physically demanding of all conferences. 
"If you don't have strong line play on both sides of the football opening up doors for your offensive skill players, and/or you don't have disruptive defensive linemen allowing your linebackers and secondary to do what they do, you can't get it done as a team," he said. "It has to start up front. 
"We make the first contact, and we allow the opportunity for everything else that happens between the whistles."  
He'll miss those whistles, although he'll hear them as a spectator at Nebraska games. He retains ample passion for the program.
"If you really are serious about football and want to play for a team and a state that are all about football, you are not going to have a better experience than playing for Nebraska," he said. 
You might even become an answer to an interesting trivia question.