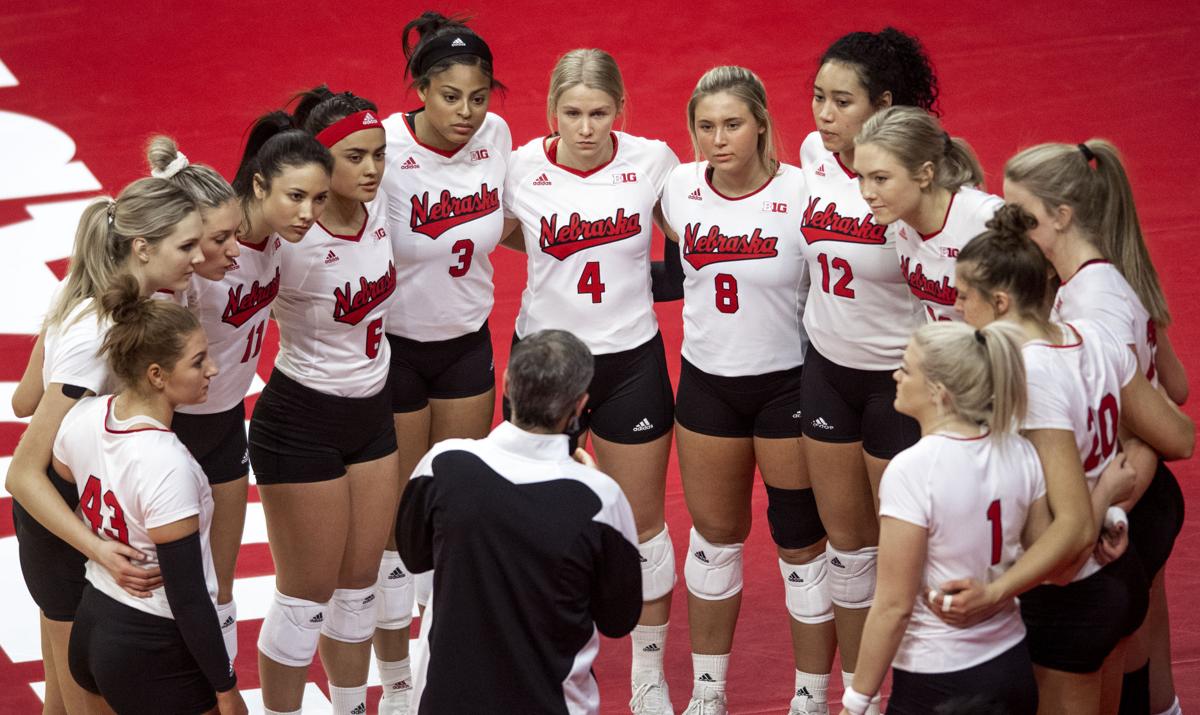 Things I know, and things I think I know: 
I don't respond to enough of my emails. I read the vast majority, though. And it often proves beneficial. 
To wit: Scott writes, "Upon reading your article on Brenden Jaimes (Feb. 11) and his comments about cultural problems in the Husker football program, and then reading Brent Wagner's article on Kayla Caffey (also Feb. 11) and her comments about the Husker volleyball program's coaching, the dramatic differences in these two programs practically jump off the page."  
No. 4 Nebraska responded in exceptionally impressive fashion to a 3-1 loss to Minnesota on Friday night. John Cook runs a championship program. You saw how a championship program responds to getting bloodied a bit. It's a true blue-blood organization. 
No surprise, Caffey, a transfer from Missouri, talked earlier this month about the improved level of coaching she's getting in Cook's program.
"I think a huge difference, mostly coming from Tyler Hildebrand, he's the middles coach, and he's really allowing me to use my full athleticism offensively," Caffey said. "And then blockingwise I've learned a lot of new things, like shaping and using my full athleticism and split-stepping.
"It's a whole new world, honestly, at Nebraska. It's pretty night and day from the training that I received previously. It's pretty cool." 
Meanwhile, Jaimes, a senior offensive tackle for Nebraska in 2020, did in fact refer to "cultural problems" in Scott Frost's program. 
"Older guys like me, Adrian (Martinez) and Matt (Farniok) tried to get those things right, but it just never clicked for some of those guys," Jaimes said. "As frustrating as it was, we had to go out there and continue practicing on Monday and get ready for a game each week." 
If an athlete feels he or she is improving, it definitely can make the mundane nature of many practices seem more meaningful and even joyful, as opposed to the way Jaimes portrayed his attitude toward practice. He made it sound like a job, whereas Caffey described it as "pretty cool." Big difference. 
Judging by Frost's 12-20 record at NU, it's difficult to argue that there is enough player development occurring in his program. Frost's critics often point out quarterback Martinez's up-and-down career. But it would be incredibly unfair to say there's no player development occurring. Jaimes himself must feel he improved significantly, or else he wouldn't have opted out of the regular-season finale to prepare for the NFL Draft. 
Defensively, Cam Taylor-Britt is a shining example of a player who's developed extremely well in Frost's program. By the way, wouldn't running back Devine Ozigbo's significant improvement at NU in 2018 be roughly equivalent to what Caffey's experiencing in Cook's program?
It's not difficult to find other Nebraska football players who have improved significantly in the past couple of years (JoJo Domann, Marquel Dismuke, Will Honas, Ben Stille and Austin Allen, to name a few). 
But, yeah, there hasn't been enough of it, especially on offense. Which is part of the reason why many Nebraska fans feel skepticism and anxiety as Frost prepares for his fourth season.
Peter's answer will resonate with a lot of the Nebraska fan base. 
"Jay and I were here at Nebraska (during the 1990s) when this program could beat anybody," he said. "Didn't matter where the game was played, who was in the stands, who was on the other side of the field wearing different colors. It didn't matter. It was always about us, about the players and coaches inside our locker room." 
Then he really got to the heart of the matter. 
"I wouldn't have known how to be great, whether as a team or individual, unless I was shown the path by older guys," he said. "Well, the program has struggled for such a long time now that we don't have the 'older guys' to pass that knowledge down. We will hopefully help the players find a mentality that has them ready for battle every single day they wake up. A mentality that wants to compete every single time they walk on that field, whether it be for a practice or game. Hopefully, we can show them how to be a team, how to play for one another."
He said Nebraska has the size and athleticism to compete at a high level, praising head strength coach Zach Duval's work with players. 
"Trust me, they check all those boxes," Peter said. "Now they just need a little help taking all those traits and translating it to the field." 
* Fred Hoiberg has to find a way to help his team improve its free-throw shooting. This is getting ridiculous. 
The Nebraska men's basketball team was 5-for-14 from the line in Saturday's home loss to Purdue. The Huskers are charging toward the bottom of the barrel nationally in free-throw percentage, hitting only 62.44% to rank 331st out of 340 teams. 
A lot of people are making a lot of excuses for Nebraska's 5-15 record (1-12 Big Ten). Yeah, the "Fighting Hoibergs" and all that jazz. But there's no good excuse for going 5-for-14 at the line.
Think how bad it might be if fans were in the stands. Wow. 
Come to think of it, Nebraska made 60.3% of its attempts last season. So, perhaps there's your answer.