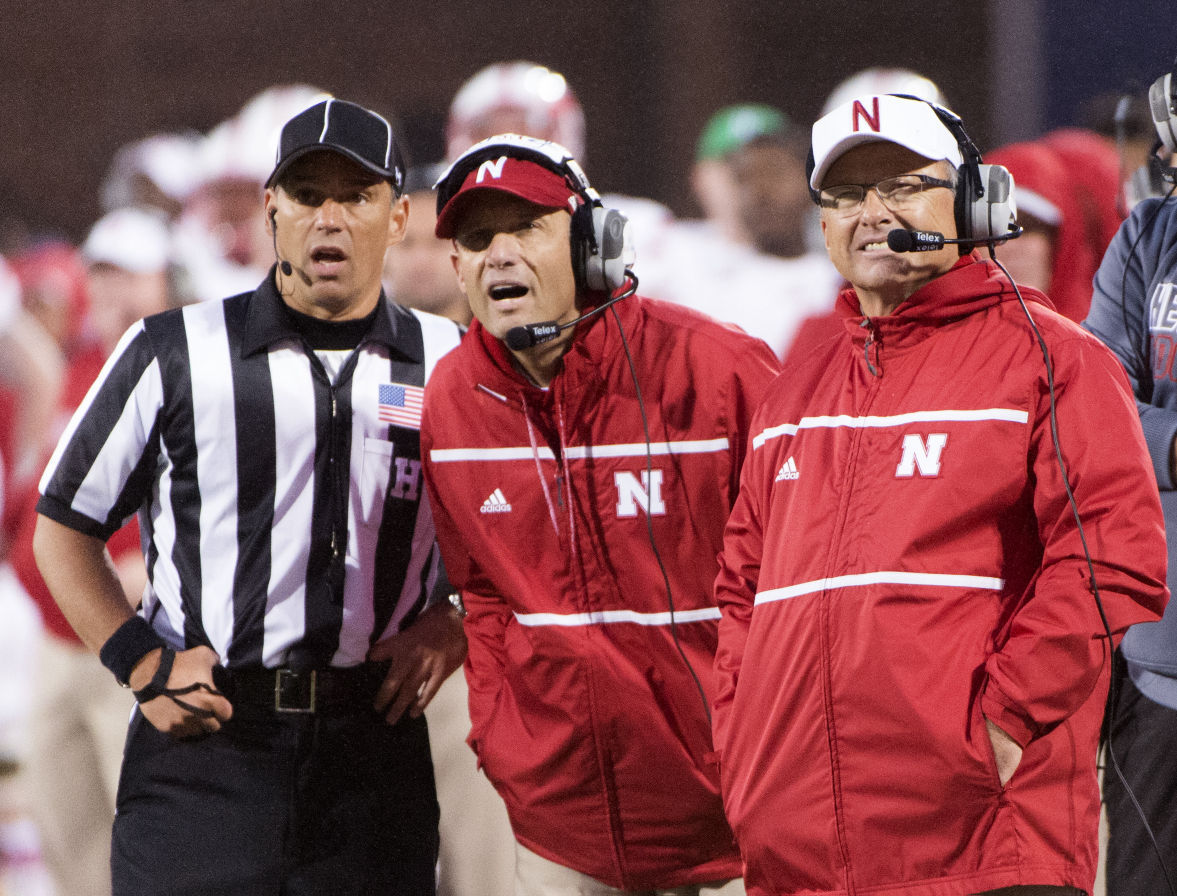 The math is the easy part.
With three wins in its final four regular-season games, Nebraska (3-5 overall, 1-3 Big Ten) would lock up a bowl bid.
The Huskers actually might need only two more triumphs. Jerry Palm of CBS Sports projects eight teams with 5-7 records taking up spots in bowl games.
For what it's worth, Palm has Nebraska playing Duke in the Pinstripe Bowl in New York City on Dec. 26.
Snicker if you like, but such a trip would be worth plenty to the Huskers. In fact, reaching any bowl this season would be crucial for first-year coach Mike Riley and his crew. 
Riley and his staff, in many ways, are still getting to know their personnel, especially the young players on scout teams. It happens in programs everywhere. There are talented scholarship players who often aren't involved in day-to-day learning of the playbook and techniques because they're learning opponents' systems. It's easy for coaches to lose track of those players.
But by qualifying for a bowl game, teams get nearly 20 practices in December. For much of that period, coaches can focus on the development of players without worrying about preparing for an opponent. Think of it as another spring of practices.
What's more, bowl preparations in December enable coaches — particularly the head coach — to keep his finger on the pulse of the team. Players stay in a routine. They go to class. They lift weights. They attend meetings. They interact daily with each other and with the coaches and support staff. They think about football. They compete in practice.
With no bowl game, much of that would be lost.
Big-time college football is bizarre to me in several ways, including this one: Players train virtually year-round. It's a grind. But they're guaranteed only 12 regular-season games. That's it. Twelve. Every opportunity to play in a game should be cherished — yes, even if it's in a so-called minor bowl.
I'm amazed by folks who are dismissive of these games.
Let's say Nebraska does end up in the Pinstripe Bowl. Granted, it's not the Rose Bowl. But tell me that players wouldn't enjoy playing in Yankee Stadium. 
Would a 5-7 Nebraska team consider turning down a bowl bid? It would be an extremely haughty move, not to mention a wrong one.
Perhaps Nebraska will win the rest of its games and roar into the Music City Bowl in Nashville, Tennessee, or perhaps the Foster Farms Bowl in Santa Clara, California.
OK, who am I kidding? Let's just say any bowl would be good for Riley as he tries to establish his systems and culture. The last thing North Stadium needs is a quiet and empty December.
You have free articles remaining.
Reserve three to four hours: No. 9 Notre Dame (6-1) at No. 21 Temple (7-0, 4-0 American Athletic), Saturday, 7 p.m., ABC: Temple coach Matt Rhule has promised not to shave as long as his team keeps winning. He hopes that beard grows to his knees, and the university administration may not mind if it does. A study by Douglas J. Chung, a Harvard Business School assistant professor, found that when a school dramatically increases its performance on the football field, applications rise 19 percent. The Owls are ranked for the first time since 1979.
A decent waste of time: Maryland (2-5, 0-3 Big Ten) at No. 10 Iowa (7-0, 3-0), Saturday, 2:30 p.m., ABC: Iowa comes off a bye week. After the Hawkeyes' 40-10 victory Oct. 17 against Northwestern, Kirk Ferentz said something interesting to his surging team: Take a couple of days and think big. "That's OK, that's healthy," Ferentz told Marc Morehouse of The Gazette in Cedar Rapids, Iowa. "You have to dream in life. It's OK to have vision. We expanded the 24-hour rule and told the players to think big. ... For us to be 7-0 right now, a lot of things are happening. Special things are going on, special efforts. A lot of good stuff. I said, enjoy that, feel good about it, you've earned that." Players don't hear enough of that, in my opinion.
More like food for comfort, if you bleed Husker red. So, we recommend soft pretzel rolls. Think about those big and soft pretzels at the ballpark. Now, think about a round version you can plop in your mouth if Purdue is making your life a little too interesting Saturday. It's a simple recipe. Check out tastykitchen.com.
Many sportswriters toss around a lot of statistics that essentially tell us what we already know. I don't need a bunch of stats to tell me that Nebraska has struggled to run the ball when it was absolutely necessary, and struggled to get stops when it absolutely needed them. Hence the disappointing season.
Thumbs up to Jerry Kill. "If I can help somebody here on this Earth, that's what I'm here for," he once told Chip Scoggins of the Minneapolis Star Tribune. "I couldn't tell you my won-loss record right now if you ask me. I don't care. God doesn't care how many games we win. He doesn't care who wins on Saturday. But he does care how we treat people." Job well done, coach.
Thumbs down to people who fly planes over stadiums with banners pleading for the firing of coaches. We saw it at Miami, which just fired Al Golden. Yeah, it's a cruel world and rough business. I get all that. But there has to be something better to do than beg for people to be canned.
To fortify your brain, turn to Jay Bilas, ESPN basketball analyst, who makes a good point about college football. "With all the early, mid-season firings, can we officially declare college sport is not amateur nor 'about education'?" he tweeted. Nice. Here are five programs in need of a full-time head coach (fired coach in parentheses):
Miami (Golden). The program hasn't won 10 games in a season since 2003 and has only won as many as nine twice since '03 ('09 and '13).
USC (Steve Sarkisian). Note USC's win against Utah last week and understand this: The next Trojan head coach can win big, immediately.
Maryland (Randy Edsall). The Terps were 0-12 against ranked opponents under Edsall, and only two of the 12 games were decided by single digits.
North Texas (Dan McCarney). Just two seasons ago, McCarney guided the Mean Green to a bowl win. Can you say, "What have you done for us lately?"
Illinois (Tim Beckman). The program faces the onerous task of re-branding itself as a place where a coach can win.