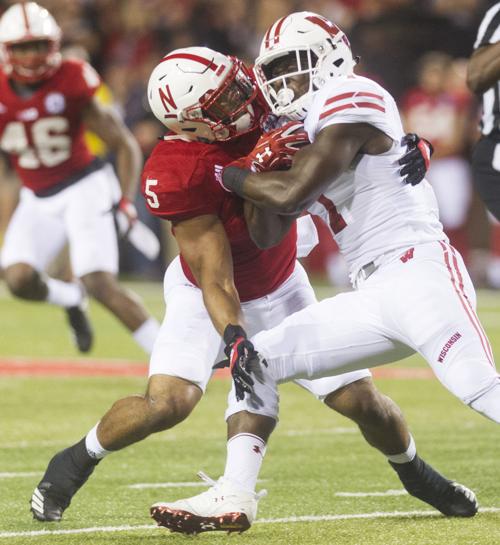 Oh, yes, Dedrick Young hears the doubters. Of course he does.
Those preseason magazines that recently hit the newsstands aren't exactly glowing in their appraisals of the 2018 Nebraska football team. Athlon picks the Huskers to finish fifth in the Big Ten West Division. Same goes for Lindy's. Ouch.
"I don't think it matters to us," Young says flatly. "We're just trying to get Nebraska back to what it was."
There's also this: Plenty of fans have expressed reservations about Young, a senior inside linebacker who has started 31 of 36 games during his college career.
Yes, he's Nebraska's leading returning tackler by a large margin. Even so, he absorbs his share of criticism on social media.
"It's not my problem, honestly," he says. "I'm just trying to be the best player I can be."
These are interesting times for Nebraska's program. The hiring of head coach Scott Frost touched off a massive wave of optimism that's carried into the heat of summer. But there's also a big, toothy bear of a 2018 schedule to navigate, not to mention six losses in the last seven games of 2017.
A sudden burst of June roster additions adds to the anticipation and intrigue.
Meanwhile, the 6-foot-1, 235-pound Young seemingly remains entrenched as a starter. At least that's the impression Nebraska inside linebackers coach Barrett Ruud gave off during spring practice. In fact, Ruud's glowing assessment of Young was among the most striking developments of the spring because it ran counter to the narrative outside the program.
How does Young feel about his career to this point?
"I'd say it's gone all right," the Arizona native says. "There's been a few bumps in the road. It's gone OK. But it could be better."
Young has made a lot of tackles in college (201 to be exact), but has only two sacks and one forced fumble. His lack of big-play numbers is striking.
"It wasn't like he wasn't physical or wasn't tough," Ruud says. "It's just being taught different ways to play (in previous seasons)."
You have free articles remaining.
As an example, "If you're always coming to balance, (you) end up 'catching' a lot of tackles as opposed to running through tackles," Ruud says.
Running through tackles is obviously a more physical approach.
"As soon as Dedrick bought into that this spring, he was more physical," Ruud says. "It's not always, 'This guy's not a physical player.' It's learning how to do it, too. And he is a physical player. Now I think he's playing a little bit faster and is a little bit more sure of himself."
Young appreciates those words. He clearly respects Ruud. Respects the coach's knowledge. Respects his past. Respects the fact Ruud is Nebraska's all-time leading tackler and played nine seasons in the NFL.
"I think that definitely gets your attention," Young says.
As the only senior scholarship player among Nebraska's inside linebackers, he is mindful of the importance of helping the younger backers.
"Whatever they need me to do," he says. "Extra film. Just someone to talk to. Whatever."
Someone to talk to? Really?
"I'm usually quiet," he says. "But I don't think I'm as quiet as everyone thinks I am."
Collin Miller, a sophomore outside backer, agrees, and he would know. He says Young laid out quite a recruiting pitch in January 2016, when Miller was on his recruiting trip to Lincoln.
"Once you start going to Dedrick and showing him you're serious about helping Nebraska get to where it needs to be, then he's like, 'OK, I can bring him on board,'" Miller says. "If you're not doing something right -- like not going to meals, not lifting right, whatever -- he's on top of you. He's a great leader."
Many Nebraska fans may be surprised to hear that. Some will point to the Huskers' slew of recent defensive collapses as evidence to the contrary. But you can't hang all of the issues on one player, or even just a few players.
At any rate, Young can handle the heat. He's easygoing and sure of himself. He looks forward to a final college season of playing for a head coach who encourages players to "shoot their shots" without fear of failure.
"Just go make a play and play the game you've always loved," Young says quietly.
Maybe the quiet and steady senior finally will cause a ruckus.