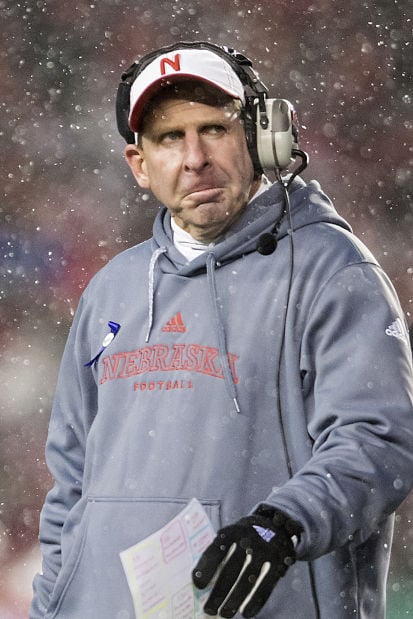 He can't get out of his own way.
You thought the roller-coaster ride had ended. Bo Pelini was fired Nov. 30. He took us on a wild ride for seven years. We thought it had ceased. Mercifully.
Pelini is the gift that keeps on giving.
Giving us a migraine, that is.
Giving us pause that Pelini should be leading young men at any institution.
Giving us a sense of overall sadness about Nebraska football and its reputation nationally. It keeps on taking hits. If it's not ugly, one-sided losses on national television, it's leaked audio that paints an excruciatingly ugly picture of the former Husker coach — on the ESPN scroll, everywhere.
Pelini got busted in September 2013 by secretly recorded audiotape, and busted again Wednesday. I defended Pelini in '13. The leaked tape then came from comments he made right after a 2011 home victory against Ohio State. Some fans left at halftime. He called them "fair-weather" fans. He also was angry about an article written that week about quarterback Taylor Martinez.
In 2011, Pelini's comments were unfortunate. But I thought it was more galling that a snaky tipster tried to sink Pelini by selling the audiotape to a website two years later.
This case, with Pelini insulting Nebraska athletic director Shawn Eichorst in an expletive-laced rant to his players, is pure selfishness on Bo's part.
This is a case of Pelini's hot-blooded nature clouding good judgment.
Pelini never should have dragged the players he professes to love so dearly into this mess.
If Pelini steps back — and hopefully he already has — he'll realize that what he did was essentially like a feuding couple dragging their kids into a messy divorce.
I've defended Pelini a lot over the years. I could not defend his defense allowing Melvin Gordon to rush for 408 yards on 16.3 yards per carry.
That someone taped the meeting, and let it loose for public consumption, is galling enough. Those type of people basically exist at the level of sewer rats.
As distasteful as sewer rats can be, they did, in this case, reveal a critical element in this discussion: It was time for Pelini to move on. Yeah, call me Captain Obvious. But it wasn't necessarily obvious Nov. 28 after Nebraska rallied to defeat Iowa in overtime in Iowa City to improve to 9-3.
For those of you who wondered whether Eichorst made the right move in firing Pelini, you're probably not wondering now.
Eichorst made the right move. The job was eating Pelini alive. There is no way his state of mind was healthy for the program — or the athletic department, for that matter.
"I don't want to die doing this job," Pelini told his players. "I don't want to have a heart attack on this job."
Pelini spoke from the heart. He almost always does. We like that about him. He speaks the truth. He puts the "brutal" in brutal honesty. He said Tom Osborne was forced out as Nebraska's athletic director. I think that was basically the case. He said Eichorst is distant as a leader. We've heard evidence of that.
But venting his feelings, using R-rated vulgarity, to his (former) players?
C'mon, Bo, you should know better.
Pelini is a good person. A giving person. A passionate person. A good family man. But he's capable of making horrible decisions like the rest of us.
The job chewed up Pelini. It's a bear. On a humanitarian level, that must be acknowledged. But that doesn't excuse his actions on Dec. 2.
"You'll get through this, it is difficult. ... and it sucks," Pelini told his players that night. "Ya know, I don't have a lot of confidence in what their plan is. I don't even know if they have a plan right now, which to me is scary."
At one point, Pelini said, "Fellas, this all stays here."
Part of me is glad it got out. Nebraska's fan base has been fractured far too often since those late 1990s glory days. The latest tape may pull the fans together, although I'm guessing there will be those who remain skeptical of anything from the realm of chancellor Harvey Perlman.
I've also said this before, but it's worth repeating: I think 61-year-old Mike Riley, and the mature calm he brings, may be just what the program needs right now.
It's a proud program. But now, another stain.
"He has no idea," Pelini told the players, referring to Eichorst. "He has no idea what is important to me, what I represent."
Or maybe Eichorst has an excellent read on him.