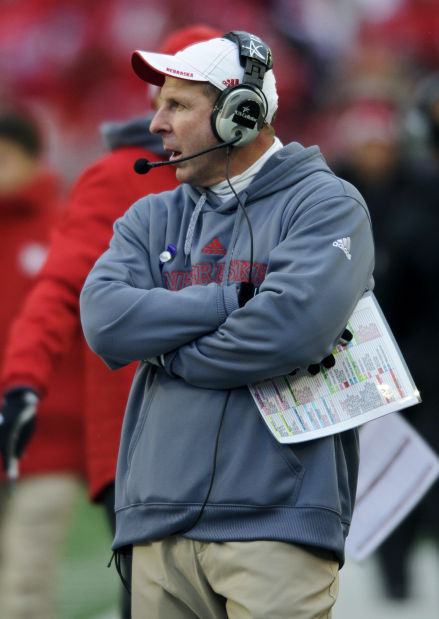 What an uplifting Monday at Memorial Stadium.
The big, red flags (with a white "N") attached to the stadium were flapping in a wicked blast from the north. Near the west entrance, seemingly the windiest part of Lincoln, it felt 50 degrees below zero.
Didn't feel much warmer inside.
Bo Pelini, the embattled Nebraska football coach, faced his stern accusers (the media) during his weekly news conference, two days after the Huskers' inexplicable and inexcusable meltdown at Wisconsin.
He was polite, poised and humble, but not overly humble. I liked that. His team is 8-2, not 2-8, as some would lead you to believe.
I've often defended Pelini. I still think he can coach. Still think he should be leading young men. But not even Johnnie Cochran could defend Nebraska's startling ineptitude Saturday in such a key game — especially following a bye week.
As a result, the Tumult Train has returned. It actually arrived fairly often late in Tom Osborne's tenure, mostly because of off-the-field issues. It began to make more regular stops starting in late November of 2001, after Nebraska lost 62-36 at Colorado.
That was a landmark day, the day the music died. A 7-7 record followed in 2002. Frank Solich made staff changes. Of course, Frank got the ax in 2003. Ask Bill Callahan about the Tumult Train. He probably learned to drive it.
At any rate, Nebraska has spent most of the past 14-plus years struggling to regain the stature achieved during Osborne's marvelous run in the mid-1990s. NU has been fighting so hard, in fact, that sometimes I think the pressure becomes burdensome for the program, especially the players.
The pressure intensifies as each season passes — 14 and counting — without a conference crown.
Which brings us back to Monday, when Pelini was blitzed from every angle, inquisition-style, about why embarrassing losses in the most important games keep occurring under his watch.
"I think our guys sometimes ..."
He paused and searched for the right words when asked about Saturday in particular.
"I don't want to make an excuse," he said. "I'm not making an excuse. At the end of the day, what happened (at Wisconsin), happened. But sometimes I feel like our guys are putting so much pressure on themselves to win that they're not going out there to play to win, they're playing not to lose. That's a bad recipe."
I asked Pelini why Nebraska would feel more pressure than Wisconsin, which actually was favored.
"You tell me," he said. "I have my theories on it, but it's something we have to continue to fight with our kids."
My own theory is if you want something too badly, the pursuit of it, and resulting pressure, can become counterproductive.
I'm guessing that's Pelini's theory. It's a pretty safe guess.
It's simplistic but makes sense.
Pelini said he talks to his players about the pressure to win championships. He tells them to control what they can control.
Yes, he said, Nebraska has a team psychologist. When a coach is asked if his team has a psychologist, you know something's haywire.
Thing is, Nebraska fans probably could've stomached a "normal" loss to Wisconsin, something along the lines of the setback at Michigan State.
Husker fans can be demanding. But they're generally a reasonable lot. This whole should-Pelini-be-fired speculation could've been averted with, say, a 27-24 defeat in which NU played solid, clean football — and maybe didn't allow a guy to rush for 408 yards.
Nebraska hit rock-bottom, senior corner Josh Mitchell said. No way to go but up.
Yeah, a glorious day on Stadium Drive. It was painfully cold outside. There was an inquisition inside. We've seen plenty of those in recent years. The Tumult Train has returned.