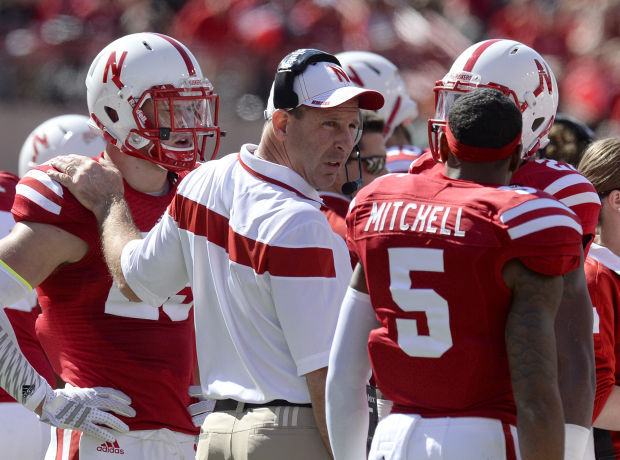 Nebraska football fans pine for more "SportsCenter" time. They yearn for the world to notice their team.
Upset alert! ... OK, never mind. But did you see that No. 8 for Nebraska elude half of a defense and score the game winner? 
Husker fans, after Saturday's scare, still may feel a tad upset, their stomachs queasy.
Meanwhile, Nebraska players are on red alert.
"When you're putting something like that (on film), I just see 9-4 all over again," senior cornerback Josh Mitchell said after NU's last-minute, 31-24 victory against McNeese State.
That would be McNeese State, with a $9.5 million athletic budget. Nebraska's is $103 million.
The Cowboys, from Lake Charles, Louisiana, nearly pulled off the stuff of legend.
Instead, Ameer Abdullah did it. Again. His 58-yard catch-and-run for a touchdown, with 20 seconds remaining, perhaps saved the season and, if you bleed Husker red, maybe you just stop your imagination right there lest you fail to enjoy a remarkable moment that evoked images of Johnny and Eric and Mike R.
Abdullah, the senior running back from Homewood, Alabama, just might be heading in the direction of the program's fourth Heisman Trophy.
But where is Nebraska heading as a program?
The Huskers last week pounded Florida Atlantic 55-7 and it felt like Big Red's glory years.
After Saturday's scare, Bo Pelini's detractors were out in force. Same ol' roller-coaster, they said. Same ol' sloppiness. Same ol' story: Another four-loss season, here we come.
The truth, of course, lies somewhere between last week's show of strength and this week's letdown.
"Nothing's changed as far as what the potential of this football team is," said Pelini, the seventh-year Nebraska coach, who endured hot-seat speculation late last season.
Bo made a good point. His take: Let's say Nebraska, facing second-and-goal at the 9-yard line, scores to make it 21-7 early in the second quarter. That puts the Cowboys on their heels. It changes the game's feel dramatically.
Instead, Tommy Armstrong's pass is intercepted and returned 98 yards for a touchdown.
The crowd of 91,082 at Memorial Stadium was stunned. It's not an especially intimidating atmosphere for day games, and McNeese State, of the FCS, looked very comfortable. As the day progressed, comfort morphed into confidence.
Remember, McNeese State blasted South Florida 53-21 last season. The Cowboys have a head coach, Matt Viator, in his ninth season. They have five FBS transfers, including quarterback Daniel Sams, formerly of Kansas State, who was exhorting the crowd to cheer louder.
"You let a team hang around, eventually they're going to make some plays," Pelini said. "You have a chance to put someone away, you better put them away. You better step on their throat."
After the second-quarter pick, Armstrong, who looked so good a week ago, seemed rattled and unsure of himself. Even worse, he telegraphed some of his passes.
Nebraska's offense went dormant in the second half. Entering its final series, NU had only one first down after halftime. Gifted receivers Kenny Bell (groin pull) and Jamal Turner (torn Achilles tendon, out for season) could only bite their nails. McNeese State was blitzing almost every down.
"We couldn't throw," Pelini said. "We had opportunities. We had some drops. We had some balls that weren't thrown right."
Then, Pelini raised eyebrows.
"Our plan wasn't good enough on the offensive side," he said. "We're going to take a good, long, hard look at this film."
He'll see that Nebraska's lines looked ordinary on both sides of the ball. That's what surprised me most.
As for all the talk — I'm as guilty as anyone — about Nebraska's potentially fast and athletic defense, well, table it until further notice.
Despite the loss, Pelini spoke with a confident tone. Abdullah was different. His skies were almost all gray — yes, even after his latest moment in the sun, one that topped his first-down lunge last season against Northwestern.
On a personal level, this win felt like a loss, he said. He said he was "very disappointed." He said the Huskers failed to respect the game. Failed to respect the importance of preparation. Failed to properly respect the foe. Failed to take the game plan seriously enough.
He said he sensed Nebraska's lack of fire as the week progressed but thought he would see a shift. He didn't speak up. He will next time.
Yeah, there will be a next time. These are college kids.
"If there was any positive at all, it's that your guys were in an adverse situation," said Nebraska defensive coordinator John Papuchis. "If it happens later, they've been there before."
One could envision it happening this coming Saturday at Fresno State. Or perhaps Nebraska will pile-drive the Bulldogs, as it did to the Owls of FAU.
You want the God's honest truth?
At this point, I have no idea.