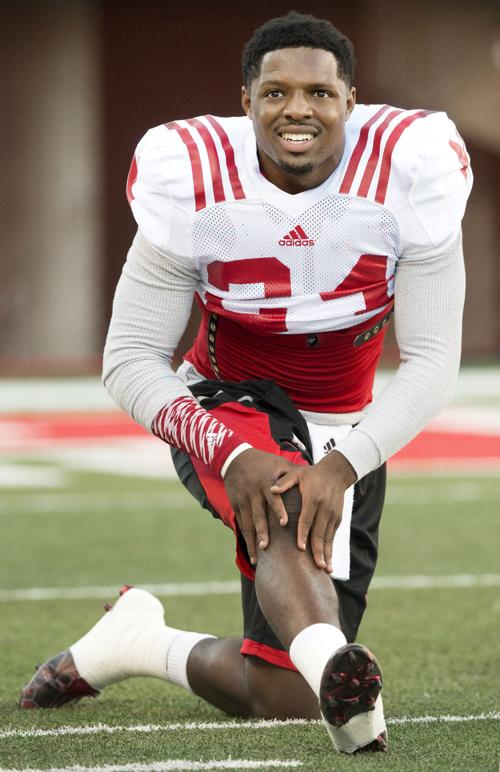 Aaron Williams prides himself on seeing life's big picture.
So, it's no surprise he noticed something important two years ago when he joined the Nebraska football program.
"You have to earn your coaches' trust," he says. "That carries you a long way."
It's carried him a long way quickly in the eyes of new Husker safeties coach Bob Elliott, who said last week Williams "is as smart a player as I've ever been around."
A junior free safety from Atlanta, Williams said he appreciates the comments, calling them "overgenerous." They come during an intense spring of learning as the Huskers transition from a 4-3 defense to a 3-4.
Elliott's words of praise hammer home the coaches' trust in Williams, who because of his strong (and immediate) grasp of the new system could be an extremely important player in weeks and months ahead, someone to whom teammates can turn during times of confusion.
Elliott tells of how well Williams learns conceptually.
Says Williams: "You can't just key in on one thing because if you key in on only one thing, the next day you might be doing a whole different job and you're not going to know what to do. You have to look at the big picture."
He means in life, not just football.
"I can't focus in on one small thing because I'm going to miss something else coming from another side," he said.
In a big-picture sense, Nebraska's defense returns seven starters but seems to lack star power (read: no surefire All-Big Ten picks). In other words, it had better be technically sound because there isn't enough speed and athleticism to consistently compensate for shoddy execution.
On the bright side, there's decent talent throughout the depth chart, enough to win a division title. If a bunch of good players execute well in Bob Diaco's proven system, they'll play that much faster and more efficiently, and perhaps to a championship level.
Williams, who started 11 games last season, obviously has adapted well to the 3-4. In fact, Elliott said Williams "is grasping things that I never dreamed that a safety could grasp this quickly."
Williams will tell you that in learning a defense, memorization is only a small part of the process. In fact, he cautions against sheer memorization because football seldom follows a clean script. If you fail to understand a defense conceptually, he said, you can lose your way quickly.
Through six spring practices (out of 15), Williams said he's learned plenty about the big picture from Elliott. Williams respects the 38-year coaching veteran's knowledge of the sport, and recognizes the depths at which Elliott has watched the game evolve.
Consider: Elliott has spent 32 seasons coaching defense, primarily as a defensive coordinator or defensive backs coach. He has a combined 11 years of defensive coordinator experience at San Diego State, Kansas State, Iowa and Ball State.
So, when Elliott says Williams "is as smart a player as I've ever been around," it grabs your attention.
You have free articles remaining.
Williams learns the game at an impressive rate "because I love it," he said.
He said nobody pushed him into football. He found the love on his own.
"I feel like if you love something, if you really cherish something, you're going to try to be the best doing it while you're doing it, and you're not going to half-ass it," he said.
Diaco surely appreciates such enthusiasm because the coach's passion for the game also is evident to anyone who's watched him operate in a practice.
Williams had never heard of Diaco before his name materialized in January as a potential replacement for Mark Banker. Thing is, Williams said he doesn't watch a lot of football on TV other than his beloved Atlanta Falcons or games involving friends.
"I heard of (Diaco's) track record from coach (Mike) Riley," Williams said. "I knew he was a good guy if Coach Riley was bringing him in because Riley brings in good guys."
Williams likes that Diaco has no tolerance for mediocrity.
"I love the way he carries himself and how he holds each and every player to the same standard," Williams said. "Nobody is above or below nobody. Everybody is equal. He makes you accountable."
Williams has been accountable since arriving on campus in January 2015, in time for spring ball. It wasn't long before he was practicing with the first-string defense in sub-packages.
Yes, he quickly earned the coaches' trust.
"Earning coaches' trust, by my definition, is doing what you're supposed to do and doing it at full speed all the time," he said.
If you make mistakes, he said, they can be corrected in the film room.
However, "You can't continue to mess up on the same things," Williams said. "That's when there's going to be a problem."
Williams is far from perfect. He said he has to improve his tackling and the speed at which he gets to the ball.
"You have to have speed to go from range to range and be able to take the ball away — fumbles, interceptions, strips, whatever," he said.
Reminded of Elliott's glowing comments about him, Williams said he doesn't want to dwell on them because he understands the humbling nature of the game.
Make no mistake, though, he enjoys making his mother proud. He traveled home to Atlanta this week for spring break, and he can enjoy himself knowing he worked hard through six spring practices.
As a veteran on the defense, it's incumbent on him to share his knowledge.
"That's just mandatory," he said.
That's big-picture wisdom.