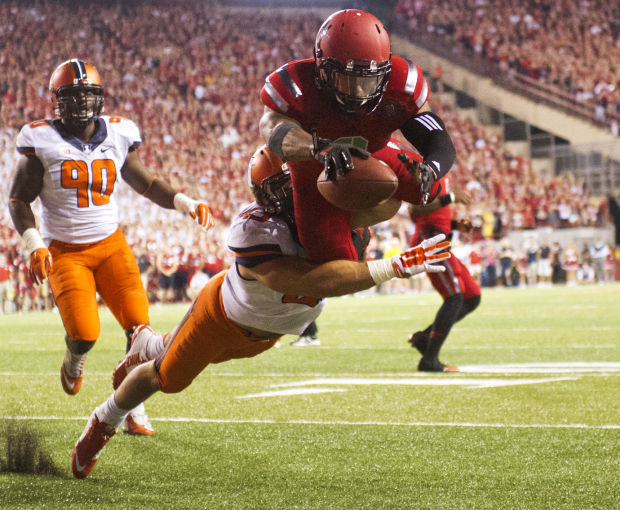 Bring on one of the Big Ten Conference's most important games of the season.
Bring on the type of game that could elevate Nebraska's football program.
If you're a Husker fan, do you say "Bring it on" haltingly?
You likely feel good about the Huskers' offense.
You feel OK about the defense.
You probably feel surprisingly satisfied with the special teams.
Bottom line, Nebraska is 5-0 (1-0 Big Ten) after Saturday night's 45-14 victory against a woebegone Illinois team playing without starting quarterback Wes Lunt because of a leg injury.
Lunt's replacement, senior Reilly O'Toole, won't ever be mistaken for Michigan State quarterback Connor Cook. And Illinois (3-2, 0-1) plays the sort of defense that reminds me of some of Woody Widenhofer's painfully slow teams at Missouri in the 1980s.
Ameer Abdullah ravaged Illinois with 208 yards on 22 carries before leaving for good early in the third quarter (he suffered a bruised knee but is fine, NU coach Bo Pelini said). Abdullah only enhanced his Heisman Trophy chances, though, let's face it, the Illini are the Bad News Bears when it comes to open-field tackling.
Nebraska junior Imani Cross also had a career night with 22 carries for 109 yards.
All in all, a Memorial Stadium crowd of 91,255 had to be pleased, if a bit bored at times, as Nebraska essentially did as expected despite Tommy Armstrong's subpar night as a passer (10-for-21 with an interception) and another slow start by the defense.
Even so, it's hard to be overly critical of a team that amassed 624 yards, including 458 on the ground, while holding Illinois to 339 total yards.
As for that defense, it's earned a solid "B" grade this season. With hard-charging Randy Gregory (2½ sacks Saturday) leading the way and Nate Gerry coming on quickly at safety, the Blackshirts have shown flashes of what their perfectionist head coach desires.
But a "B" may not cut it this week at ninth-ranked Michigan State, which dismantled Wyoming 56-14 Saturday in East Lansing, Michigan.
The guess here is, Nebraska better be prepared to score at least 35 points. The Huskers are more than capable of doing so. The Spartans' defense appears a notch below where it's been the past few seasons. Ask Oregon.
Thing is, Michigan State's offense is a notch above.
You know this if you accepted scouting duty Saturday. The day set up nicely for Nebraska fans. They could watch Michigan State roll up a big halftime lead against Wyoming, then switch over and watch Wisconsin against South Florida.
Conclusion: Sparty might toy with Bucky Badger right now.
Conclusion II: Nebraska fans should be haltingly confident in a Husker victory next week.
The biggest challenge will be Cook, who's oozing confidence. He has excellent command of the offense. His arm is strong and accurate. His release is ultra-quick. He's a good athlete who can buy time in the pocket or scramble for first downs. He deftly carries out ball fakes.
Yeah, he'll challenge the "eye discipline" to which Pelini often refers.
Nebraska hasn't always tackled well. Michigan State running back Jeremy Langford and receiver Tony Lippett will make the Huskers pay dearly if they tackle poorly. The Spartans aren't as fast as Miami at the skill positions, but they're athletic and tough.
Michigan State is playing like it expects to repeat as conference champion.
Nebraska has high expectations of its own, which explains why Pelini wasn't heaping praise on his team after a 31-point conference victory.
"We have to quit shooting ourselves in the foot," he said of a defense that for the fourth straight home game allowed an opponent to score on its opening drive.
Nebraska settled in and played well defensively, highlighted by Gregory — he's worth the price of admission — and Gerry's second-quarter interception that set up the touchdown that pushed NU's lead to 21-7.
Armstrong threw an interception in the first quarter and almost had another in the second. He stayed in the game deep into the fourth quarter, in part because Pelini "didn't like the way we were finishing," the coach said.
Armstrong obviously understands the importance of winning the turnover battle this week in the wake of last season's debacle against the Spartans.
As for this year's game, "I feel like whoever wins the turnover margin will win the game," he said.
Maybe he's right. Maybe it's really that simple.