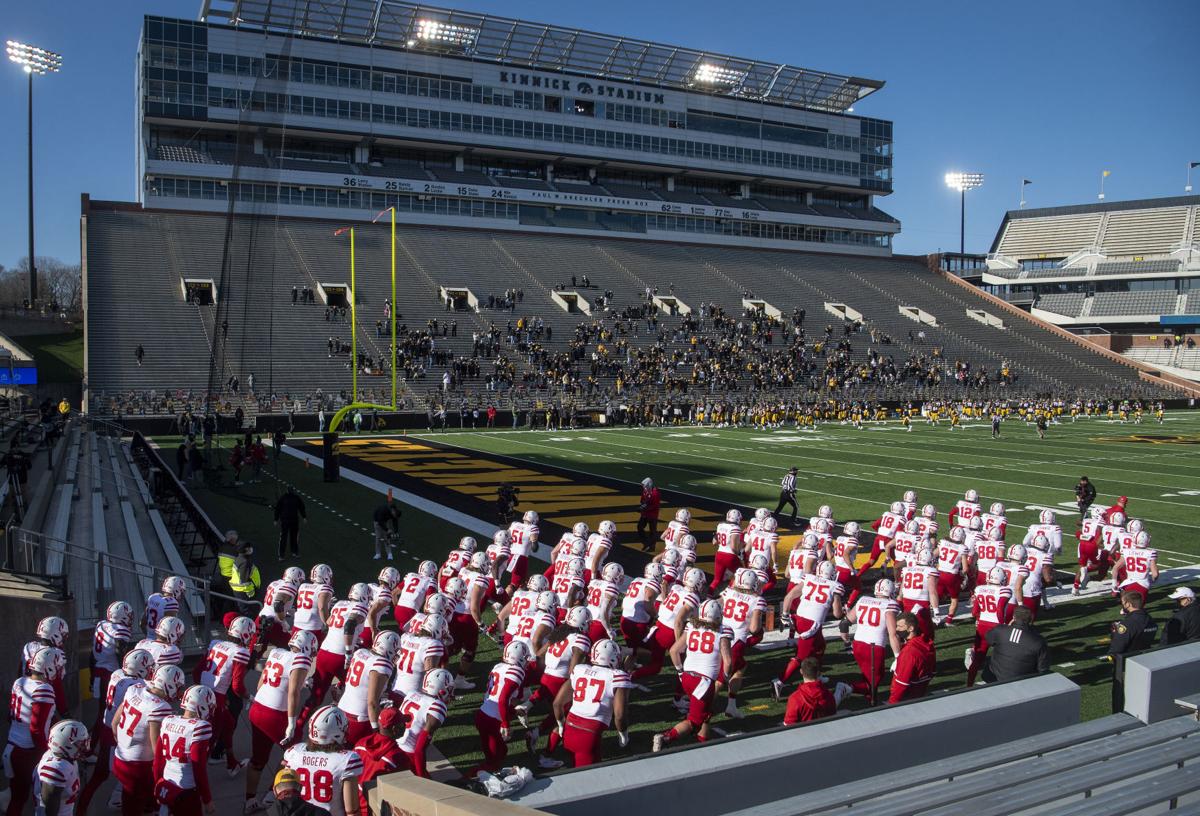 Things I know, and things I think I know: 
Dozens of Husker players have been training and practicing since April. Yes, April. They made remarkable sacrifices to play in eight games. 
But my mind also shifts to Friday night at Rutgers. To the fourth-and-2 on Nebraska's impressive game-ending drive. When quarterback Adrian Martinez ran to his left for 11 yards, the Husker sideline erupted. Senior safety Marquel Dismuke was elated, as was redshirt freshman inside linebacker Nick Henrich, who sprinted down the sideline to follow the action. Those are just two players who caught my eye. I felt good for them and their teammates, fully aware of the rigorous nature of the 2020 season. The moment was a reward. 
Nebraska head coach Scott Frost said he felt good about the play call on fourth-and-2.
"I wanted to stay aggressive," he said. 
I thought Nebraska might want to stay aggressive as a program and elect to play in a bowl game. Frost said Friday night he would leave it up to his players. They decided against it Saturday. But Frost has players on his roster who definitely wanted to keep playing — several of them, I'm told. I don't pretend to know the final tally of the team's vote, and it really doesn't matter at this point. Bottom line, there will be no bowl game. 
Too many players simply were too taxed by a demanding pandemic season. 
Nebraska is among several teams nationally that decided against partaking in bowl season, citing the mental and physical toll of a unique year. The fact the Huskers are in such a large group that voted "no" means they likely won't face a lot of criticism from national pundits who like to poke fun at the lengths NU went to help ensure the Big Ten would play this season. I would like to think Frost doesn't care what media makes of his program, anyway. There's so much media noise in this day and age that pointed criticism's impact has been greatly diminished. 
When Frost was asked Friday night if it mattered who Nebraska might play in a bowl game, he indicated it didn't. But the date of the game did seem to matter. For instance, the Dec. 26 Guaranteed Rate Bowl in Phoenix likely was unappealing — too quick of a turnaround. But there were two bowls Dec. 30 that were possibilities — the Duke's Mayo Bowl in Charlotte, North Carolina, and the Music City Bowl in Nashville, Tennessee. 
There were other bowls that would've liked to have Nebraska. 
Frost said Friday night that "it would be great for us" if there was an opportunity to play another game. If Nebraska's record was 4-4 right now instead of 3-5, it's more likely the Huskers would be bowl-bound, as they would be riding a three-game win streak with a chance to finish above .500. In other words, the Dec. 12 home loss to Minnesota looms large in this discussion. 
Frost gathered his players around noon Saturday. They had arrived home from Rutgers around 3:30 a.m. It was cold in Piscataway, New Jersey. The game was close and hard-hitting. You can imagine how tired the players felt. Plus, remember, they've basically been quarantining all season while undergoing daily testing for COVID-19. 
The bowl-trip experience would have been just like any other game, certainly not as special as a typical bowl, and would've extended the amount of time everyone involved with the program must stay away from their families. 
Yes, it's easy to understand why Nebraska, as a program, decided against playing one more game. A lot of the players had flights scheduled to leave Sunday for their hometowns. You feel good for those guys. They deserve a break. 
But I also feel for the players who genuinely wanted another chance to play. Those are the ones I most admire. Nebraska generally takes all eligible players on bowl trips. That would've meant several lower-unit players (including walk-ons) would've enjoyed a bowl game and all the trappings — including about $800 worth of gifts from sponsors, as well as a $200 Adidas allowance for clothing.
What's more, a bowl trip would've meant the players would've gotten another chance to play the game they love, with teammates they love, and have a chance to prove on the field what they always say — that the program is close to a turnaround. 
But 2020, and all it entails, essentially had the final word. 
This year has taken a toll on basically everyone. That part of the discussion is undeniable.
* Turns out, Penn State and Rutgers were the only two Big Ten teams that played all nine of their scheduled games. Nebraska was prepared to play all nine (Wisconsin canceled Oct. 31). Such a high level of commitment to COVID-19 protocols is beyond admirable. 
* Nebraska senior Dedrick Mills' big night at Rutgers (25 carries for 191 yards) was a lot of what folks expected from him this season. But his knee injury suffered early in the Nov. 14 Penn State game took a toll on him.
Might he return to NU next season? He indicated Friday he has a decision to make.
He finished with only 396 rushing yards this season (4.7 yards per carry). He might want another year in college to raise his NFL stock. Just sayin'. 
"He's a team guy," Frost said. 
The more Mills-types on any team, the better. 
* The Journal Star every season picks a Nebraska assistant football coach of the year. Who ya got? Defensive coordinator Erik Chinander is our front-runner, but it's hard to rule out Barrett Ruud (inside linebackers), Tony Tuioti (defensive line) or even Mike Dawson (outside linebackers). 
That's right, all defense. 
As Frost said, "I think the defense has played well enough to win almost every game we played this year, maybe with the exception of one." 
* Frost's job just got tougher with Illinois' hire of Bret Bielema. 
Bielema, 50, has a favored style: run the ball and control the line of scrimmage. That was Illinois' style under Lovie Smith. But Bielema will do it better. Will coach it better. Strong hire.