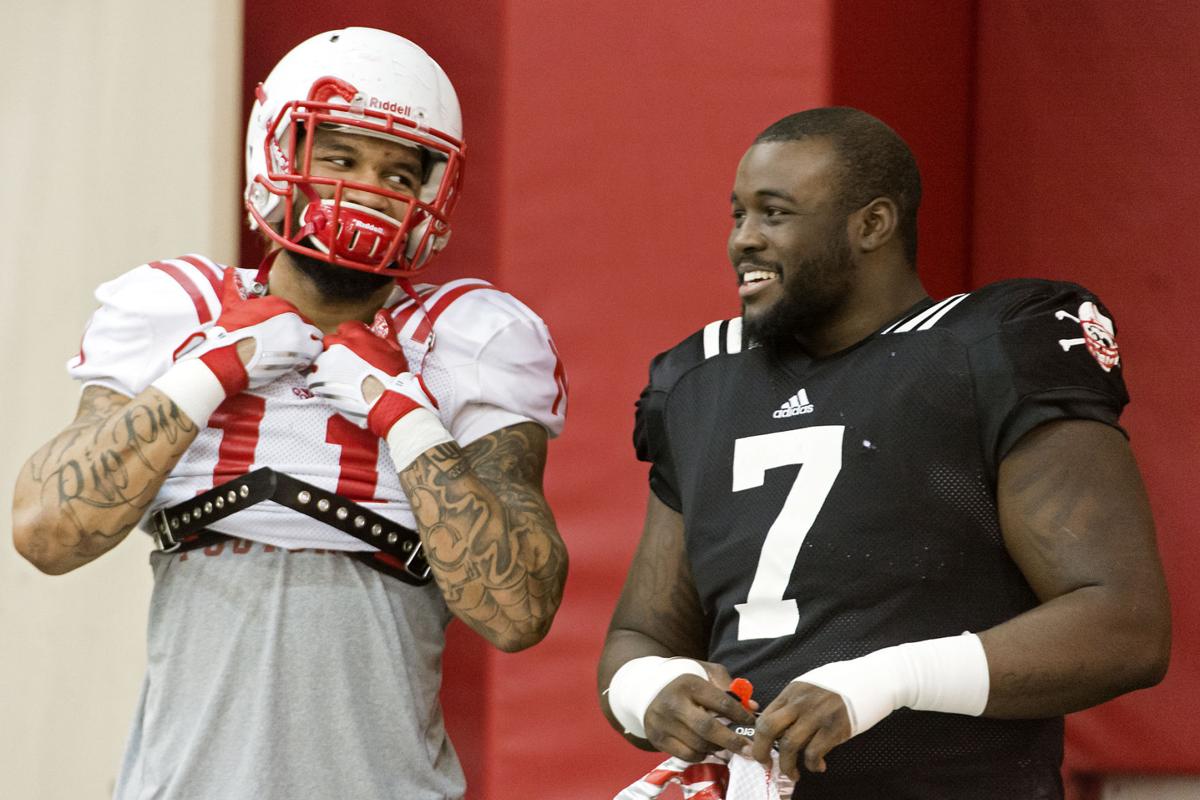 Things I know, and things I think I know:
This John Cook guy seems to know what he's talking about, so let's not restrict his wisdom to volleyball.
The 16th-year Nebraska coach tells his players that if there are two prize fighters who seem roughly equal in overall prowess, bet on the fighter who has the strongest and most compelling reasons to win. The "why" becomes the key, as in, "Why is victory so important to him or her? What are the prime motivating factors?"
It's a discussion that applies to the Nebraska football team, which will square off Saturday against UCLA (8-4) in the Foster Farms Bowl. What are the prime motivating forces for the Huskers (5-7)?
In interviews last week with players and coaches, I heard a variety of "whys." Some of the reasons were individual in nature. Others were team-oriented. Still others gravitated toward an even bigger picture.
"The main thing motivating me — which has always been motivating me this year — is I lost a friend before the season started," said Nebraska sophomore cornerback Chris Jones. "Just knowing he can't play football anymore, I do it for him every time I step on that field."
Junior receiver Brandon Reilly and junior linebacker Michael Rose-Ivey spoke of motivations that were more team-oriented.
"To not go 5-8," Reilly said flatly. "We don't want to be that team, you know?"
Nebraska hasn't lost eight games since going 1-9 in 1957.
"And a lot of people are dogging us that we did get in a bowl game," Reilly said. "But we didn't decide it. They put us in it and we want to show we're deserving. UCLA is a good team. But if we go out there and play well and win, I think it would show people a lot."
Said Rose-Ivey: "Our season hasn't exactly been Nebraska-esque. It's not what we wanted when we began the year. So, now we have another opportunity to prove we weren't the team we often showed. Plus, UCLA is a good team out of the Pac-12. They have some great players. That should be motivation enough."
Linebackers coach Trent Bray noted Nebraska played its best late in the season and will return plenty of key players — including potentially 14 of the top 17 tacklers on defense.
You have free articles remaining.
"We're talking about the game as, number one, it's a way to send the seniors out the right way," he said. "And number two, it's the first game of next year. That's the motivation for us — to kind of set our identity for who we're going to be going forward."
Drawing an opponent the caliber of UCLA — which defeated Nebraska in 2012 and 2013 — helps motivate players. Bray said the Bruins are "extremely talented at all positions."
No matter the opponent, Nebraska players should be motivated to play, said running backs coach Reggie Davis. The nature of the sport demands motivation and focus.
"The game of football is violent," he said. "It's a brutal, violent game. If you go out there and your mind isn't right, you really shouldn't be stepping out there."
I liked Davis' bottom-line approach above all.
"You just have to love to win," he said. "You know what I mean?"
* Nebraska junior defensive tackle Maliek Collins' production fell off this season, but not his desire to improve. His effort is consistent. He doesn't miss games and seldom misses practice. NFL executives watch the reliability part closely because the pro season is a grind. Sixteen games, minimum. NFL folks want players who show up every week ready to work. That's Maliek. Blue-collar all the way.
As for raw ability, he can excel as either a tackle in a 4-3 or an end in a 3-4. That increases his marketability. If the bowl is indeed his final college game, he should be proud of the way he competed.
* Jones' report on bowl-practice energy was encouraging if you're a Husker fan. "We feed off each other," he said of the offense and defense. "The corners feed off the wide receivers. The linebackers and running backs feed off each other. Same with the defensive and offensive lines. Sometimes the defensive backs get into some chatter with the quarterback."
Hey, if it keeps things lively. …
* At least one reporter swears he heard Nebraska true freshman outside hitter Mikaela Foecke call for the ball Saturday night during a crucial rally late in the second set. She hammered a kill for a 24-22 lead, and then — as usual — pointed to Kelly Hunter to acknowledge the set.
By the way, Foecke is pronounced "fecky." If you didn't know that before last weekend, you probably do now, or should.
* I'm told Cook couldn't stop smiling Saturday night. National championships are exhilarating, obviously. But don't underestimate the fact his team maxed out. That will almost always make a coach smile.