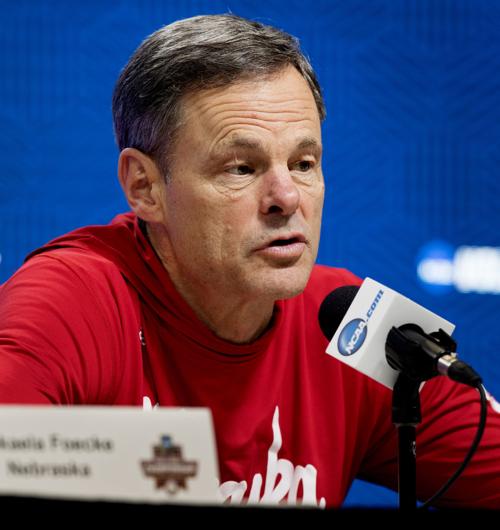 MINNEAPOLIS — If you were within earshot of the Nebraska volleyball team's sideline huddle Thursday night, you perhaps were inspired to do a bit more with your life, such was the intensity, focus and desire to prevail.
You also might've learned to not mess with Mikaela Foecke when she's on a mission.
"We are not losing this (freaking) match!" the Husker senior yelled in the huddle late in the fifth set of her team's triumph against Illinois in the NCAA Final Four at the Target Center.
Only she didn't say "freaking," if you catch my drift.
So, yes, there was memorable intensity. But something else struck me during the moments right after the match in a quiet Nebraska locker room: The Huskers didn't seem particularly impressed with themselves even though they had just escaped a 2-0 disadvantage to advance to the national championship match Saturday night against top-ranked Stanford.
It was surprisingly calm in that locker room. That's probably because Nebraska expects to win championships. John Cook's program has become that strong. It's that strong in part because it gears its training for uncomfortable moments in monster matches — moments many athletes simply aren't equipped to handle. 
"We have high-stress and high-pressure drills every day," said Nebraska sophomore middle blocker Lauren Stivrins, who sat quietly at her locker stall. "I think those drills help us come out on top and be cool in those big moments. With Nebraska volleyball, coming here, you have to have that mindset. You have to be able to face anyone at any time."
If you're a Nebraska outside hitter, that might mean squaring off at the net in practice against three male blockers. Cook sets the score at 10-10. The hitter has to get to 15 points, preferably before the blockers get there. 
"If she doesn't get there, she keeps going until she does," Stivrins said flatly.
That might take awhile. It might involve extreme physical exertion. It might even involve, well, vomit. Which is why the drill is affectionately called "the trash-can drill." Let your mind wander.
Stivrins, who's hitting a blistering .412 on the season, revels in such intense competition.
You have free articles remaining.
"I think everyone who comes here knows that's the standard we set," she said. "That's part of being a Nebraska volleyball player. If you're not cut out for it, you don't even bother coming on a visit."
Make no mistake, Stanford (33-1) will put ample stress on Nebraska (29-6) as the Huskers gun for back-to-back national championships and three in a four-year span. Stivrins used "polished" to describe the Cardinal. The Cardinal are polished because, as is the case with the Huskers, they recruit the elite of the elite. We're talking about a Pac-12 program that's reached the Final Four 10 times since 2001, winning national titles in 2001, 2004 and 2016.
Nebraska assistant coach Jaylen Reyes, who's in charge of the defensive game plan, said foremost on his mind are 6-foot-6 hitters Kathryn Plummer and Audriana Fitzmorris. Plummer, named Friday as AVCA National Player of the Year for the second straight season, hits a heavy ball but also changes speeds well and uses angles effectively. Fitzmorris is a free spirit who seems to ease tension — that is, when she's not hammering kills.
Meanwhile, middle blocker Tami Alade, a 6-2 senior, jumps out of the gym. The Cardinal are the top blocking team in the nation.
But Nebraska gears its training for big, physical opponents because that's what it often faces in the Big Ten. Against Stanford, NU will need to be balanced on offense and pressure the Cardinal with its serve, block and defense. 
"Get those guys uncomfortable," Cook said.
Ah, yes, discomfort. That word again. Most elite athletes embrace discomfort. That's largely what training is about. Cook's eyes light up when he tells you his 2018 team likes to practice and train.
"I think they love the way we train," he said. "It's hard, it's intense. They have to climb a mountain every day in practice. It's fun. You get challenged and pushed to be better every day.
"There are days they're crying and frustrated. We have to manage them after practice. But I think all of us want to be pushed each day to be the best we can be."
If it involves some vomit, so be it. Nebraska has become a program that expects to win all the marbles. Achieving such a level never comes easily.
Nebraska defeats Florida to win the 2017 national title
Nebraska defeats Texas to win the 2015 national title
Nebraska defeats Stanford to win the 2006 national title
TITLE NO. 1 Secondary options step up in NCAA championship match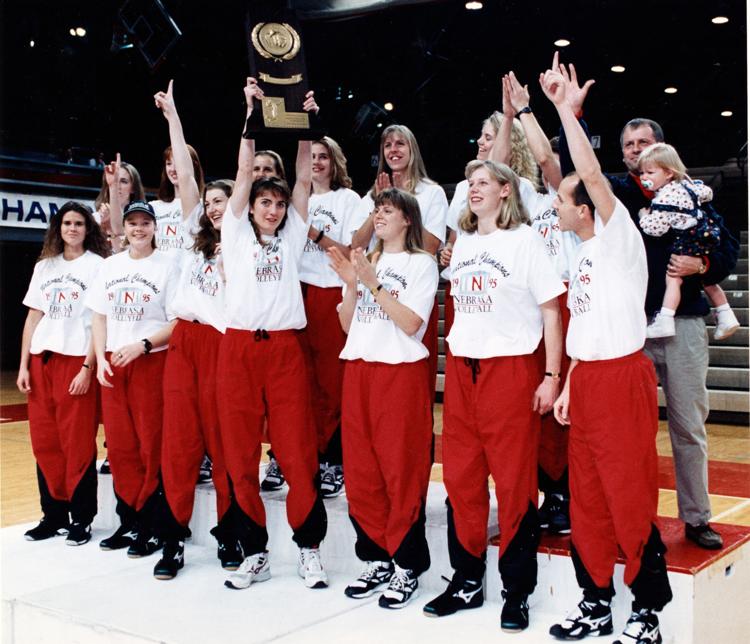 Dec. 17, 1995, by Steven M. Sipple
AMHERST, Mass. — Nebraska possessed more offensive options than Texas Saturday in the championship match of the NCAA Tournament.
And that's a big reason the Cornhuskers have their first NCAA volleyball title.
Two of Nebraska's secondary options sparkled against the Longhorns. Kate Crnich is the Huskers' fifth option on offense, and Billie Winsett is known more for exceptional passing than her attacking.
But Saturday, second-ranked Nebraska's two outside hitters pounded 25 kills apiece in the Huskers' 11-15, 15-2, 15-7, 16-14 victory before 7,364 spectators at the Mullins Center.
Crnich, a 5-foot-11 junior, and Winsett, a 5-11 senior, took advantage of Texas' scheme that focused on stopping the Huskers' offensive leaders throughout the season, 6-foot middle blocker Allison Weston and 6-4 right-side hitter Lisa Reitsma.
Weston finished with 18 kills but hit only .040, which is 360 percentage points less than her average.
Reitsma had 16 kills and hit .484, but Winsett and Crnich were Nebraska's most potent weapons.
"Kate played out of her mind," Weston said. "She was on fire. I'm glad she chose this game to be the best of her career."
Winsett was coming off a 19-kill, 16-dig performance in Nebraska's semifinal win against Michigan State Thursday. Against No. 4 Texas, she added 10 digs to her kill total. If the NCAA Final Four named a most valuable player, Winsett would have received plenty of votes.
If Saturday's match had an MVP, Crnich — who had 21 digs — would have received a lot of support.
"I think Texas' plan was to be on Allison (at the net) — every single time," said Crnich, who entered the match averaging only 1.7 kills per game. "Allison's an All-American. They were on Reitsma, too. That's why me and Billie were successful."
Nebraska coach Terry Pettit said his team was successful because his players trusted each other. He said trust has been a major part of the Huskers' 32-1 season, which ended with their 31st straight triumph.
The players trusted Crnich and Winsett, even though they aren't Nebraska's primary offensive threats.
"You have to have a heck of a setter and other players on the court whose egos don't get in the way," Pettit said.
Winsett and Crnich got plenty of support. Nebraska middle blocker Jen McFadden continued her impressive late-season run, pounding 16 kills while hitting .414. Setter Christy Johnson put up 87 of the Huskers' 94 assists. Weston struggled offensively but tied her career high with nine block assists and had a career-high 22 digs. The Huskers outhit the Longhorns .296 to .183 and outdug them 92-71.
At the end of the match, Nebraska's three seniors — Johnson, Winsett and Weston — were in the front row. Weston and Johnson were credited with the match-ending block on Texas freshman Demetria Sance's attack.
"At that point, I couldn't believe it. I was, like, 'We just won the whole damn thing," Weston said. "Since my hitting wasn't strong, I'm glad my block was."
Nebraska went up 9-3 in the fourth game after Reitsma had three kills and Winsett one during a 4-0 Husker run.
But Texas (28-7) chipped away, eventually taking a 12-11 lead when Johnson missed Weston on a quick-set attempt.
Nebraska pulled to 12-12 when Johnson connected with Weston and Weston slammed the ball to the floor.
Nebraska went up 13-12 on a service ace by freshman Fiona Nepo, but after two sideouts, Texas scored two straight points to go up 14-13.
The Longhorns served for the game twice, but Winsett saved the Huskers with kills on both occasions and then tied it 14-14 with her 24th kill.
After four sideouts, Nebraska took the lead when Weston and Reitsma stuffed Angie Brietenfield's attack attempt. Texas held off two match points before Winsett and Johnson blocked Sance's final kill attempt.
TITLE NO. 2: Huskers cash in with new coach for second championship
Dec. 17, 2000, By Todd Henrichs
RICHMOND, Va., — With all the risk Nebraska's volleyball program built into this season, the Huskers should have expected big dividends.
Even the most aggressive players on Wall Street, however, would be jealous of this.
Without its best player, with a new coach and an unproven setter, Nebraska captured its second NCAA women's volleyball championship in six years Saturday afternoon. A late rally lifted the top-ranked Huskers to a 15-9, 9-15, 7-15, 15-2, 15-9 victory over No. 4 Wisconsin before 8,444 spectators at the Richmond Coliseum.
"This team maximized every ounce of ability that they had to accomplish this," Nebraska Coach John Cook said. "If you would have told anybody at the beginning of the year that Nebraska would go undefeated and win the national championship, they'd say 'no way.'"
In one season, Cook did what it took former coach Terry Pettit 19 years to achieve. And at 34-0, this Nebraska team accomplished what only one other team has done in the 20-year history of the NCAA Tournament -- finish a championship season undefeated.
For Cook, everything traces to 1998 and his five-game loss to Nebraska as Wisconsin's head coach. Soon after, he made the bold decision to leave the Badgers saying it was his best chance to win a national championship.
A longtime friend, Pettit had devised a plan where he would coach one more season, a transition year where Cook could get to know the team he would eventually lead.
Cook officially took over a year ago last week and among his biggest decisions were to redshirt two-time All-American Nancy Meendering and take the team on an 18-day tour of China.
The conditions were harsh, the food and housing nothing like they were accustomed. The Huskers could have pulled apart, but instead they bonded in a way not even Cook could have predicted.
On the last night of the trip and before she ever set her first match, Greichaly Cepero stood up while overlooking the South China Sea and predicted the Huskers would win the national championship.
"You don't only need the physical talent," Cepero said. "One of the things more important is that people know how to work together and enjoy working together every day. On that China trip I realized that we had something special."
Things went almost perfectly for Nebraska, including Laura Pilakowski's late-season appendectomy coming at the right time, until Cook was matched up against his former team. Relaxed as the underdog, Wisconsin, 33-4, played with the kind of drive and determination you would expect of a team trying to break the heart of a coach who broke theirs.
With precise serving and a defense that scratched and clawed to dig as many Nebraska attacks as it possibly could, the Badgers were on the verge of a title in their first-ever final four.
Wisconsin scored nine straight points after game two was tied at 4-4. The Badgers' serves effectively took away Nebraska's ability to get the ball to Amber Holmquist or Jenny Kropp. The Huskers' middle blockers went without a kill in the second game.
In game three, it was a string of eight straight points by the Badgers that had the crowd -- outside of a 1,000 or so Husker fans -- buzzing in anticipation of an upset.
All-American Sherisa Livingston had five kills and two blocks in the game-three victory but it was Lisa Zukowski, a 5-foot-10 freshman, who was Wisconsin's secret weapon. She came off the bench with two kills and a block, all for points.
"I was very concerned because when your passers are struggling, there's not much you can do about it," Cook said. "Back in August, we talked about how passing would determine how good this team would be."
Angie Oxley, Nebraska's primary passer, was struggling. She was shaken in game one when Lizzy Fitzgerald served back-to-back aces that caromed off Oxley's forearms and out of play.
Not being able to pass effectively was putting more and more stress on Nebraska's outside hitters, who combined for eight of the Huskers' nine errors in game three.
Kim Behrends came with Oxley from western Nebraska to join the Huskers in 1997. She could see her close friend was thinking too much and couldn't relax.
Finally she said, "Angie, were not going to end our season this way."
The turnaround was as startling as it was seeing two Midwestern volleyball powers in the finals for the first time.
Nebraska roared back to dominate game four behind seven kills from Holmquist and the first hints of nerves were visible on Wisconsin's side of the net.
"I didn't like seeing that," said Wisconsin Coach Pete Waite. "There were times where we've gotten down this season, but even if we've lost, we've battled to get the momentum back on our side of the net. In that case, we didn't."
After scoring the last nine points of game four, NU scored the first four in game five's rally scoring and never lost the lead.
Lindsay Wischmeier's ace put Nebraska up 8-3 as the teams exchanged ends of the court. The Huskers went up 10-6 on a Wisconsin service error and scored points 11 and 12 on kills from Oxley.
Holmquist's kill made it 13-8 and Behrends gave Nebraska a 14-9 lead. With Behrends serving on championship point, the senior dug an attack that Cepero set up for Pilakowski to finish. She drilled a shot that split the block of Wisconsin's Livingston and Lori Rittenhouse for her 23rd kill of the match.
Nebraska players celebrated in a pile on the court as the Badgers watched in disbelief. Cook hugged first-year assistants Staci Wolfe and Craig Skinner, then walked slowly toward the Wisconsin bench to shake hands with Waite.
Cook later attempted to talk with some of his former Wisconsin players but without success.
"I probably have an ulcer because my stomach has just been in knots ever since Wisconsin won because I was dreading this match," Cook said. "It's a tough situation for me. How bad do you think they wanted to beat Nebraska?"
Nebraska's players did what they could to help.
"All day, it was 'Do it for Coach Cook,'" Oxley said. "We're glad he came to Nebraska."
The Huskers swept all the major awards this week with Cook named coach of the year and Cepero player of the year.
Cepero, also the most outstanding player in the tournament, came to Nebraska from Puerto Rico because of the school's history of producing standout setters.
While it came as a surprise to few, Pettit's retirement announcement last December caught Cepero off guard."
"At one point, I felt like Coach Pettit betrayed me," Cepero said. "I came to Nebraska to be the best setter I could be and I knew Coach Pettit could do that for me.
"But we had a meeting and he told me he was not going to leave me and Coach Cook would work as hard as he did for the program."
Holmquist, who finished with 16 kills, and Pilakowski gave NU three sophomores on the all-tournament team. Cepero gives Nebraska that extra something that wins titles.
Predicting the national title in June was a risk.
"It takes a special leader to make that statement and back it up," Cook said. "She's believed in it all along and her team's gone with her."
SWEET VICTORY: Husker volleyball team wins third national title in dramatic fashion
Dec. 17, 2006, by Todd Henrichs
OMAHA — Home has never been so sweet.
As kids, it's hard to believe that Jordan Larson and the other homegrown Huskers ever dreamed of winning a national championship in their own backyard. But there's no doubt they always dreamed of being Huskers. And what a dream come true Saturday was for those players and little girls from Omaha to Scottsbluff yearning to one day play for the Big Red.
Together, they celebrated a national championship.
Nebraska, with key contributions from five in-state players, defeated Stanford 27-30, 30-26, 30-28, 30-27 to claim the program's third national title and the first in the last three seasons as the nation's No. 1 team.
Omaha native Dani Mancuso must have hugged everyone in Qwest Center Omaha by the time she finally made it into the happy Husker locker room. As cell phones buzzed with text messages of congratulations and tears mixed with wide smiles, Mancuso said her dream had come true.
"I couldn't ask for a better group to win this with," she said, including her coaches, teammates and the NCAA volleyball record crowd of 17,209 that shared in the moment.
The taxpayers who helped to foot the bill for Qwest Center Omaha apparently did so with Nebraska volleyball in mind. The Huskers, who have won 58 straight matches in their home state, are now 7-0 at the venue where they'll return to open the season next year.
The crowd roared as Nebraska pushed to a 28-21 lead in game four, and it was just a matter of counting down the points. Mancuso, an Omaha Gross graduate, got No. 29, a kill key in thwarting a Stanford rally.
But once the Cardinal got to within 29-27, Nebraska had to use a timeout. With Mancuso and injured Husker All-American Christina Houghtelling arm in arm on the sideline, the Huskers came out with a perfect pass, a precise set and Larson's match clincher.
Head coach John Cook described the title with terms such as "unbelievable" and "awesome," and said it was a fairy tale for Nebraska to clinch it on back-to-back kills from home-state players.
It could also be described as unexpected, even though Nebraska had been ranked No. 1 all season. The Huskers (33-1) did it without Melissa Elmer and Jennifer Saleaumua, the greatest blocker and digger, respectively, in program history.
They won without Houghtelling, who wore an ice pack on her surgically repaired shoulder before the match and mixed expressions of sadness and joy after it. When she joins up with Sarah Pavan next season, Nebraska will have the luxury of two national players of the year on the court at the same time.
Nebraska, however, learned to deal with pressure this season. When the magnitude of trying to make it to Omaha seemed to be weighing on his team and the result was up-and-down performances, Cook organized a meeting and told the team to let it go. If they didn't make it, he'd take the heat.
A November loss at Colorado served more as a springboard to success than a recipe for disaster - that is until Nebraska found itself in a heap of trouble against Minnesota in the NCAA regional final.
Down two games to none, Nebraska went to the locker room and regrouped. Pavan took over when the match resumed, making good on her pledge that she wouldn't let Nebraska lose and guaranteeing this would be quite a week in Omaha.
The Huskers didn't beat just anybody. Washington's Huskies won the title against Nebraska last year, but Stanford is the sport's big dog. The No. 2 Cardinal (30-4) sought its seventh title and a sixth straight national championship for the Pacific-10 Conference.
Indeed, Stanford is where Pavan, this year's Academic All-American of the Year, thought she would attend college and win championships. But after falling in love with Nebraska and its fans, to not get Saturday's win might have crushed her.
Instead, she cut loose with 22 kills and added 13 digs.
"I'm a lot more relaxed right now," she said. "It's unbelievable to know we're the best team in the country."
Even in losing game one, there were positive signs for the Huskers. Foremost was the start of Larson, whose seven kills in 12 first-game swings equaled her total in 70 swings over Nebraska's last two final four matches.
In game two, it was Nebraska that made the late push. After Pavan blasted an overdig for a 24-24 tie, setter Rachel Holloway bounced off the court and screamed encouragement to her teammates. On the next rally, Holloway rushed to the net to dig a ball that NU turned into an out-of-system kill from Mancuso.
When the Huskers closed out the game to tie the match, the volume from the crowd reached its volleyball-week peak.
And that was only the beginning.
With Amanda Gates coming off the bench to spark Nebraska, the Huskers stormed from behind to win game three, overcoming a 26-22 deficit. Game four was tight until Gates lunged to pass a tight-to-the-net serve and Larson flew out of nowhere to block a ball that seemed destined as a kill for Stanford.
"I thought at that point, all the doubt went to Stanford." Cook said.
Suddenly, Nebraska found itself counting down the points to a championship. Libero Dani Busboom, who had 21 digs, tried to block it out and couldn't. Holloway tried not to smile, but couldn't.
"This team definitely maxxed out to get to this point," Cook said.
The journey that started last December in San Antonio in the loss to Washington, that continued half a world away in Japan and China, that included the jolting regular-season loss at Colorado and an exhilarating season-saving victory in Florida, ended as a dream come true.
For all the Huskers and future Huskers everywhere.
TITLE TOWN: Behind flawless effort, Huskers sweep Texas for 4th national crown.
Dec. 20, 2015, by Brent Wagner
OMAHA — What will you remember most about the day Nebraska took down mighty Texas to win the NCAA volleyball championship?
You could start with match point, when Kelsey Fien put down a final kill that kicked off a celebration with 17,561 fans, the most-ever to watch a college match.
Nebraska defeated Texas 25-23, 25-23, 25-21 to win the program's fourth NCAA title, joining teams that won titles in 1995, 2000 and 2006.
NU won Saturday by being great at the end of three pressure-packed sets. The Huskers won the first two sets each by two points. Nebraska coach John Cook gave the fans the assist for that.
This season, No. 5 Nebraska went all-in on getting to the hometown Final Four, and didn't stop once it got here, taking down Kansas in the national semifinals, then third-ranked Texas on the final day of the college season.
This was a Texas team with the Final Four experience, and five All-Americans.
Nebraska won its final 16 matches of the season. NU lost back-to-back matches to Minnesota and Wisconsin in October, but never lost again.
Maybe you'll remember Nebraska fans drowning out the Texas pep band playing "The Eyes of Texas" during warmups, and never letting up over the next two hours.
Nebraska's Kelly Hunter felt you, Husker fans.
"There was one point, I don't know when it was, but I know Amy Neal was back to serve, I think we had game point, and I can't remember who said it, but they said, 'I thought my eardrums were going to pop,'" Hunter said.
You didn't see it, but in a hallway 20 minutes after the match, Cook was thinking about all those fans across the state he knew had been watching.
Of all the feelings running through Cook's mind at the time, he could tell you that four of the 10 Huskers that played Saturday were from Nebraska: Kadie and Amber Rolfzen, Hunter and Sydney Townsend.
"So to beat Texas in (front of) the biggest crowd ever on the national stage … the farmers, the taverns, the bars they're going to be talking about this for years," Cook said. "I'll go to Paxton, Nebraska, and they'll play this match on the TV."
Maybe you'll remember the look of frustration on the face of Texas All-America middle blocker Chiaka Ogbogu — a look she was used to inflicting on others — after she hit a ball wide in the third set. Nebraska had got to Ogbogu. Her four kills were wiped away by four errors, and her .000 hitting percentage nowhere close to her season average of .412.
Maybe you listened on radio, because John Baylor is always there for you even when national TV is not, so you'll remember how Baylor called it.
"Kelsey Fien off the block and out," he said. "They did it. Nebraska, national champions. Nebraska is the national champion. Go celebrate. In 2015, the Big Red is best."
Maybe you'll remember how NU faced a 22-21 deficit in the second set before winning four of the final five rallies to win 25-23.
Cook grabbed his water bottle, and headed to the locker room with a 2-0 lead. Cook loves getting a chance to play a team a second time in a season. Texas had beaten NU 3-2 in September. Cook loves coming up with a new plan, and making players believe they can flip the result.
"I told our team we match up great with Texas," he said.
An added bonus for this Husker win was that it came against a Texas team that had beaten the Huskers each of the past five times they've played.
Maybe you'll remember when Mikaela Foecke was crushing balls so hard that they hit off Longhorns and ricocheted off the court. Or when she had a kill to win a long rally for a 20-17 lead in the second set. Texas called a timeout, and there was a buzz in the arena that lasted the entire timeout.
Foecke had a match-high 19 kills and was named the Final Four MVP.
There were no nerves, Foecke said, thanks in part to all those fans.
"They wanted it just as bad as we did, and knowing that makes it a lot more easy to play," Foecke said.
Maybe Cook will remember when he got on the team bus at about 9:40 p.m. Saturday, way earlier than he would have if the Huskers hadn't played so great. He was carrying a big piece of the net the Huskers had cut down earlier.
Earlier, Cook and Texas coach Jerrit Elliott crossed paths as Cook headed to a news conference. That had to be the best you played all year, Elliott said. It was, Cook replied.
The Huskers hit .311 for the match and held Texas to .215.
"I'm just really happy with how our team has handled the season and how hard they've worked and how much they've improved and how much they believed tonight," Cook said.
Maybe you'll remember Cecilia Hall getting kills on each of her first four attempt. Texas had the star middle blockers, but Hall and Amber Rolfzen beat the Longhorns at their own game, the slide play. Rolfzen had 10 kills, and Hall seven.
Cook told Hall before the Final Four that she had to turn it loose. She did.
"We've seen her have some shaky matches, and for her to play like that was awesome," Cook said.
Maybe you'll remember Fien, who didn't get her starting spot from 2014 back to start this season, but had the kill on national championship point.
This journey started right after a third straight Elite Eight loss last year. Time to get over the Elite Eight hump, Cook said. Time to get to Omaha.
While doing so, the Huskers went and won themselves a national championship.
Texas vs. Nebraska, 12.19.2015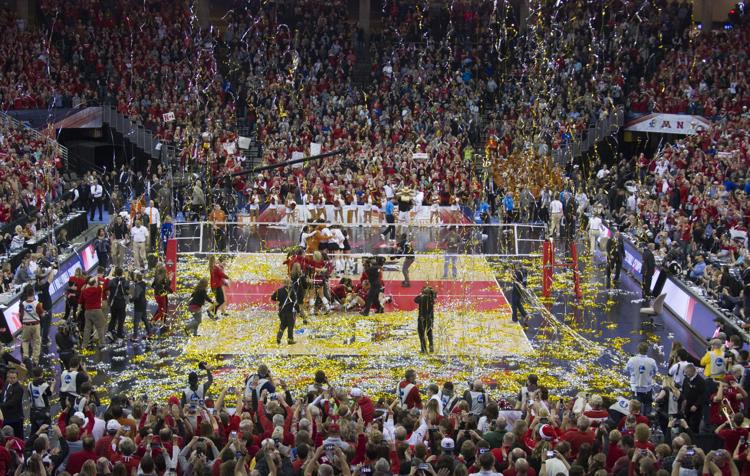 Texas vs. Nebraska, 12.19.2015
Texas vs. Nebraska, 12.19.2015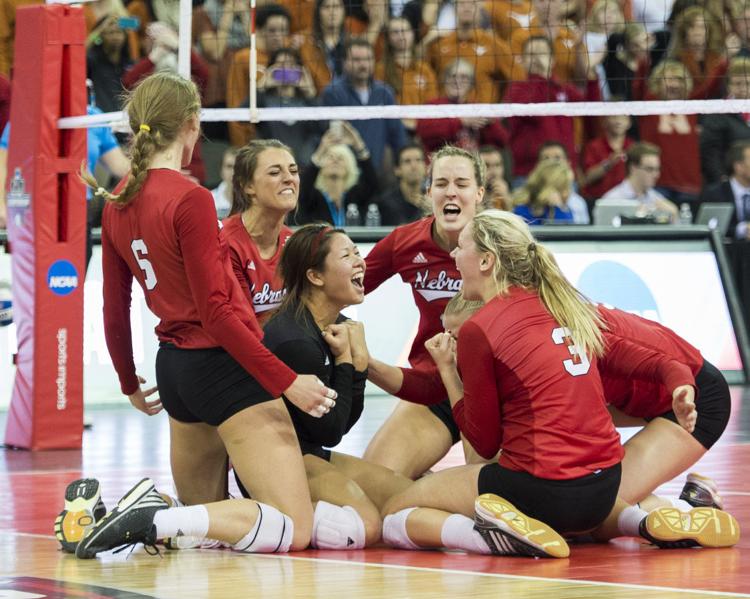 Texas vs. Nebraska, 12.19.2015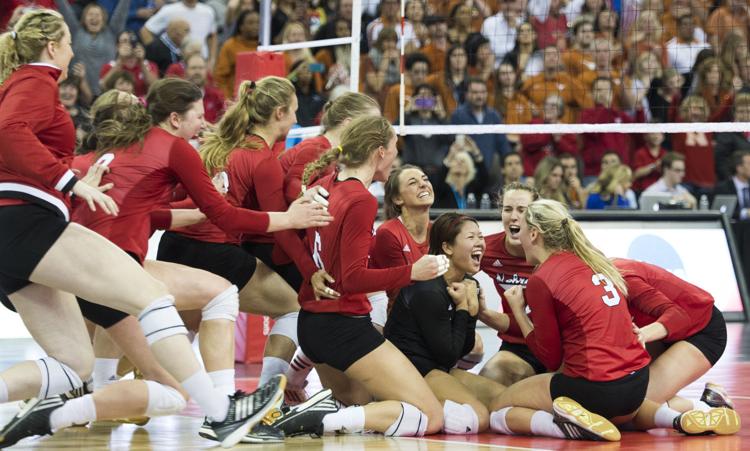 Texas vs. Nebraska, 12.19.2015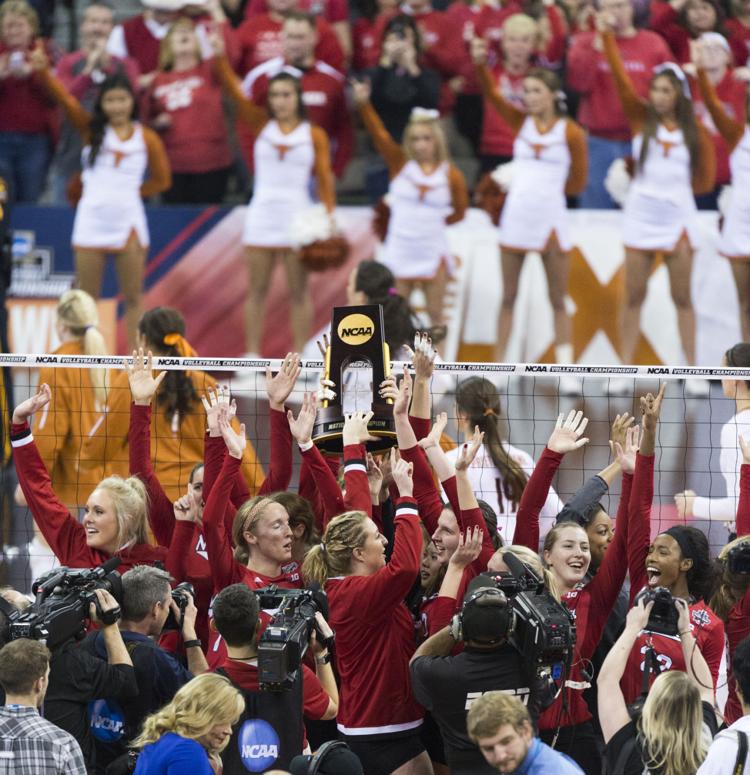 Texas vs. Nebraska, 12.19.2015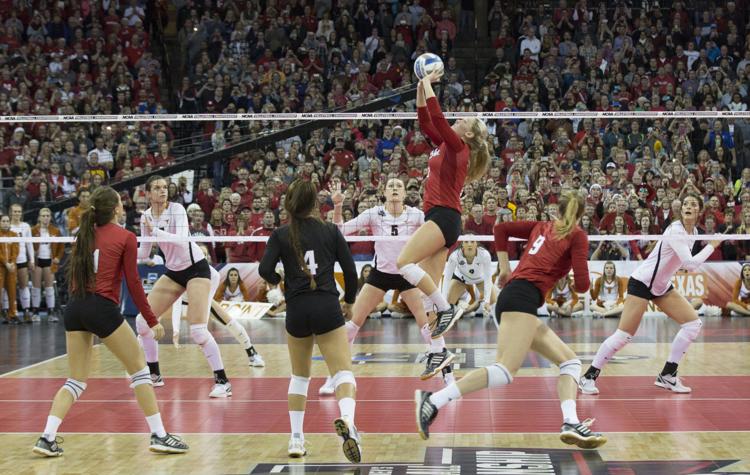 Texas vs. Nebraska, 12.19.2015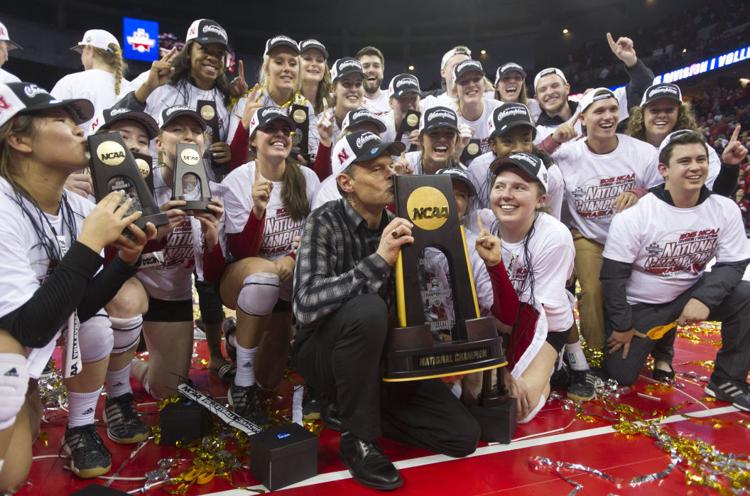 Texas vs. Nebraska, 12.19.2015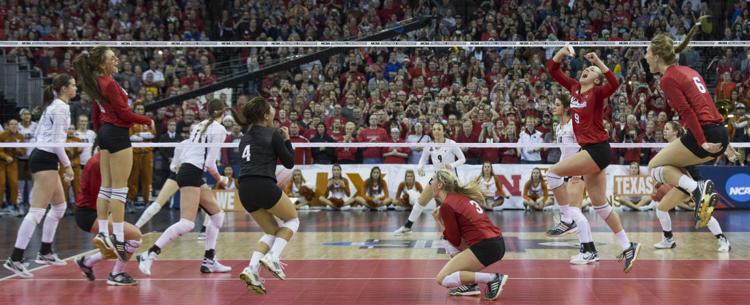 Texas vs. Nebraska, 12.19.2015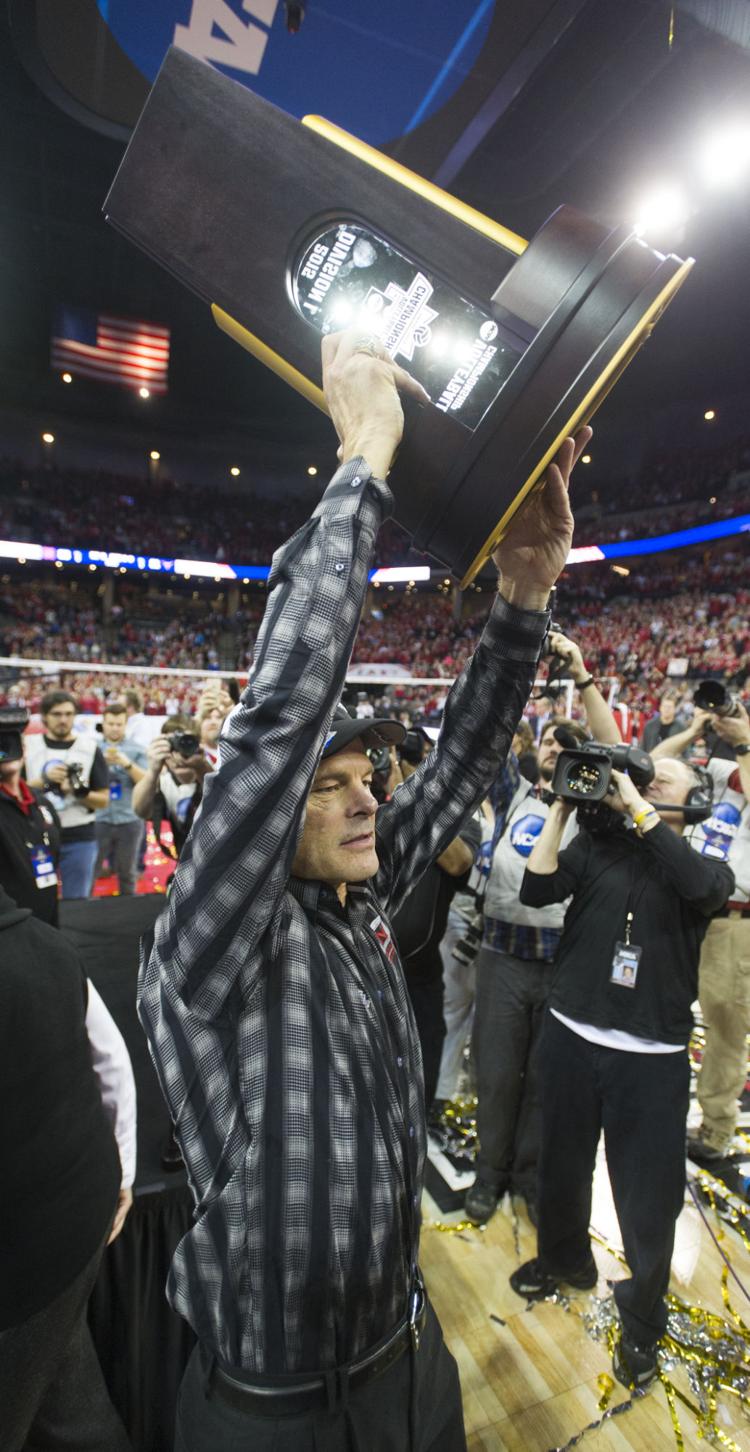 Texas vs. Nebraska, 12.19.2015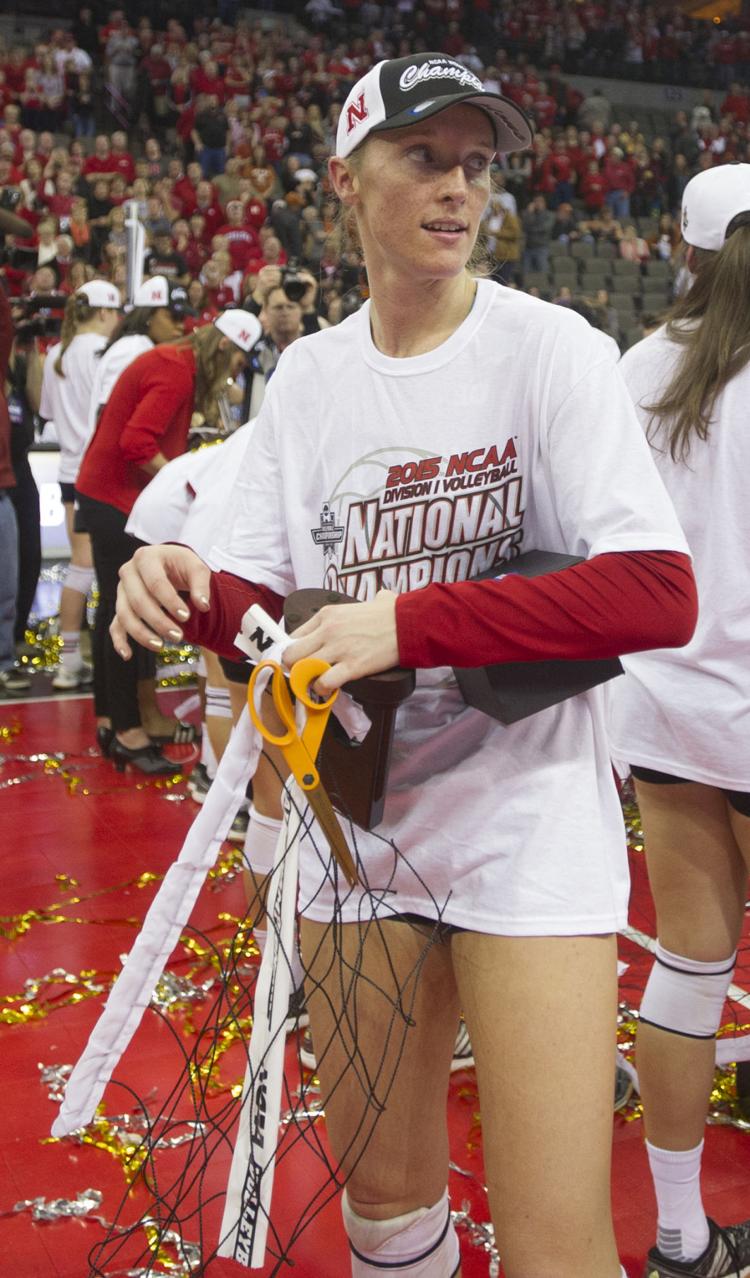 Texas vs. Nebraska, 12.19.2015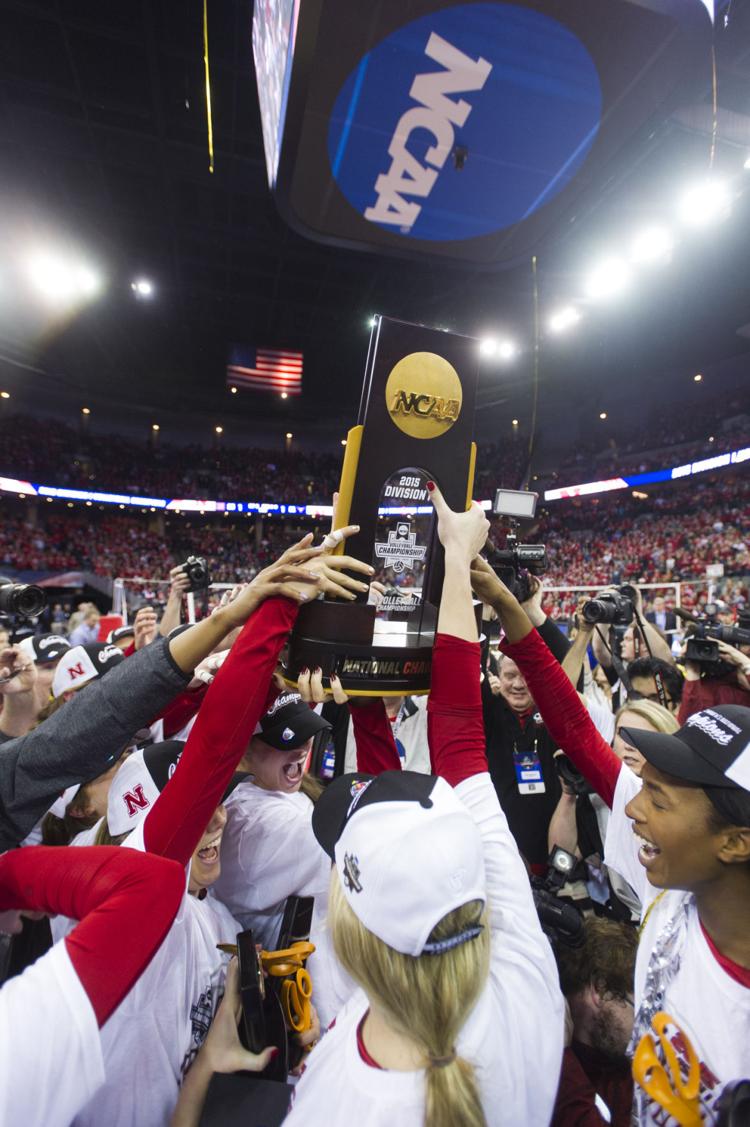 Texas vs. Nebraska, 12.19.2015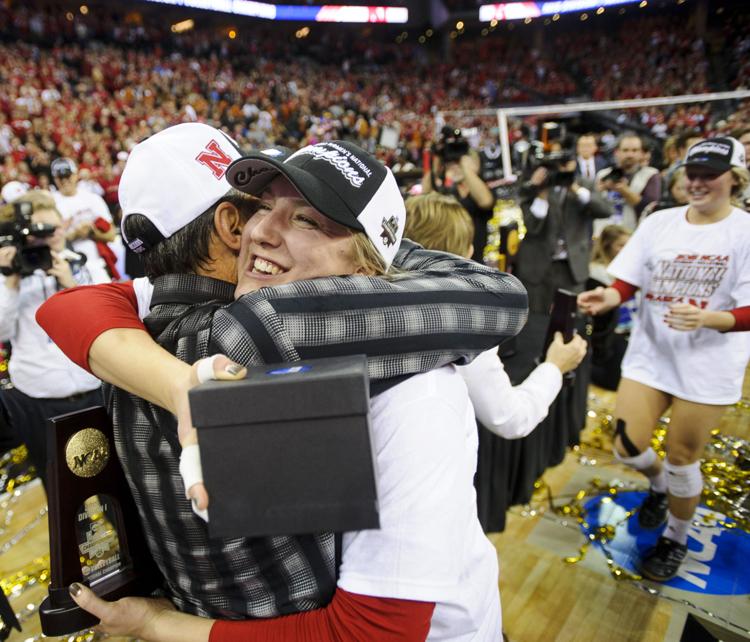 Texas vs. Nebraska, 12.19.2015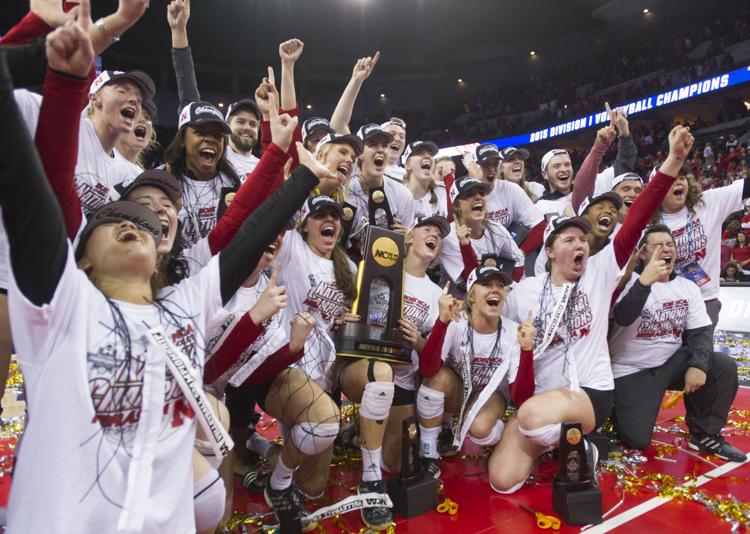 Texas vs. Nebraska, 12.19.2015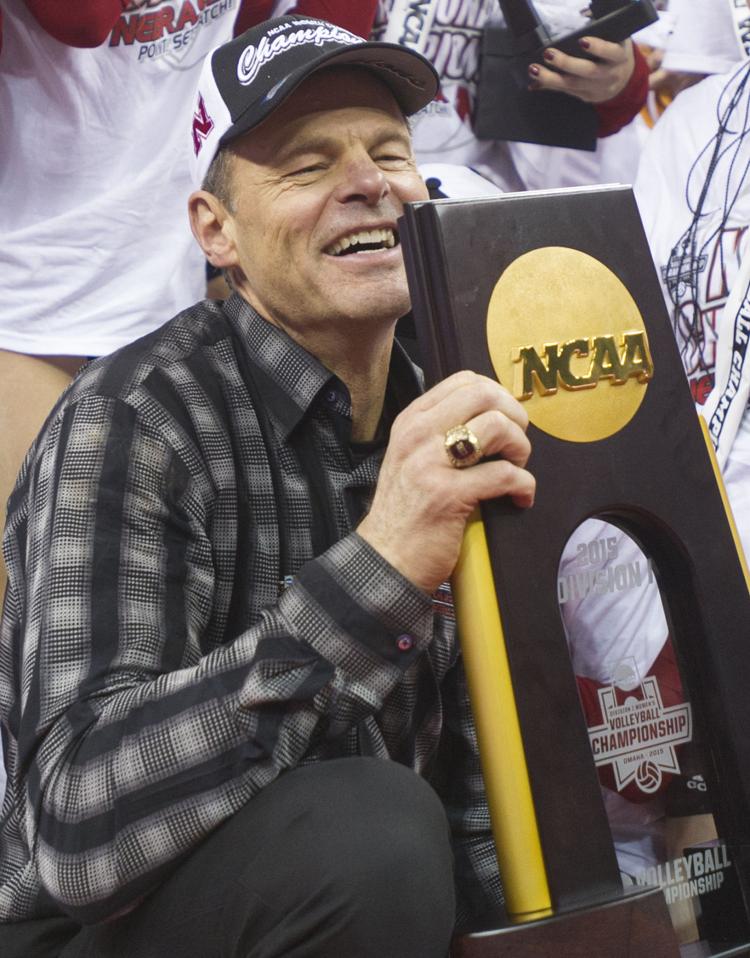 Texas vs. Nebraska, 12.19.2015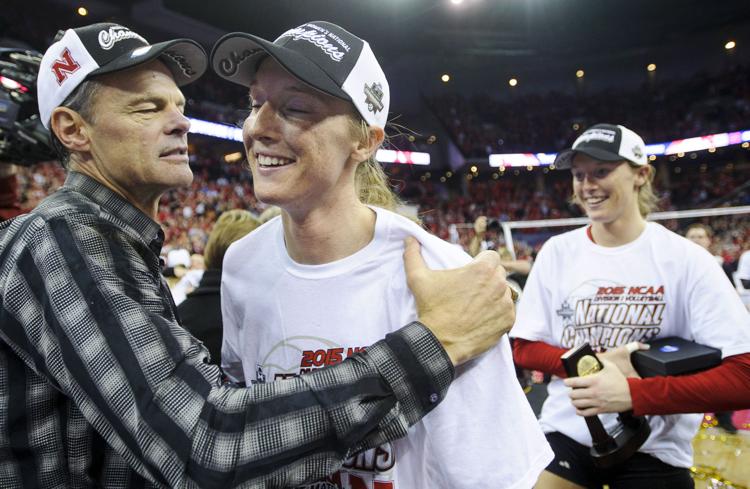 Texas vs. Nebraska, 12.19.2015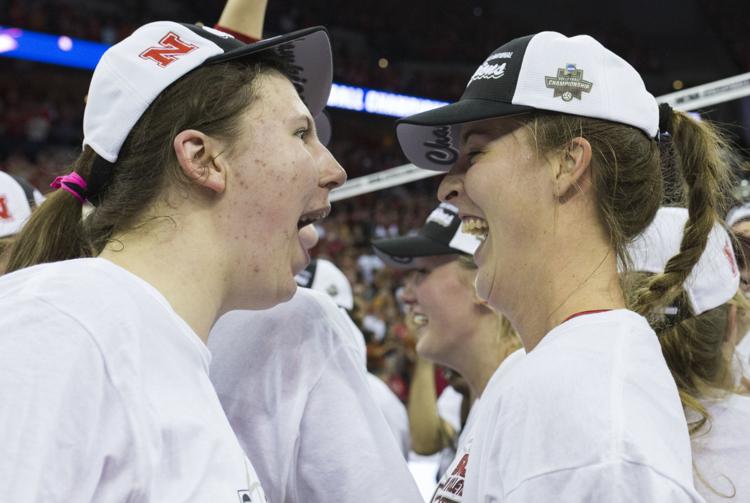 Texas vs. Nebraska, 12.19.2015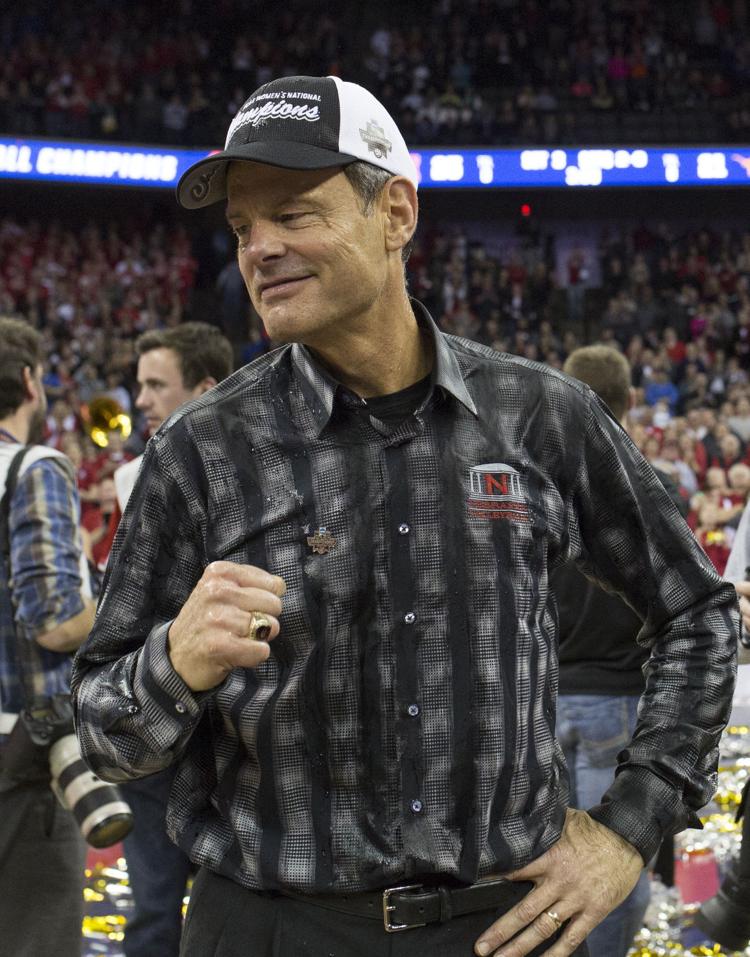 Texas vs. Nebraska, 12.19.2015
Texas vs. Nebraska, 12.19.2015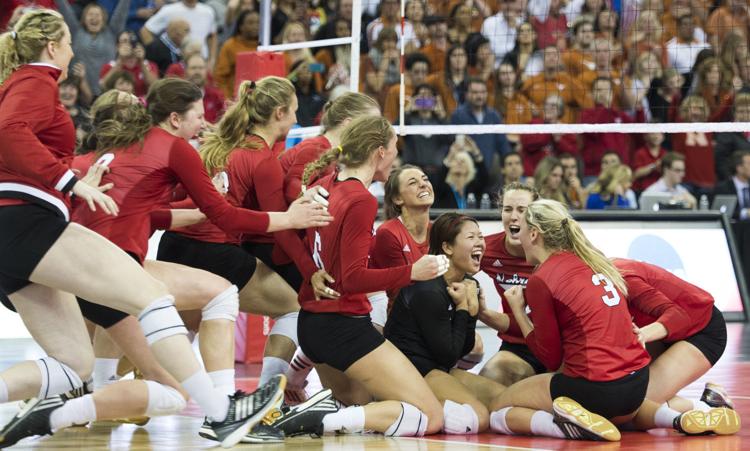 KC MASTERPIECE: Foecke, Hunter play big roles in Huskers' fifth title.
Dec. 17, 2017, by Brent Wagner
KANSAS CITY, Mo. — So many times in sports a team comes up short.
This team, this year, did not.
Five months ago when the season began, coach John Cook laid out a plan for the Nebraska volleyball team. We want to be good early in the season, great once the conference season begins, and unstoppable in the NCAA Tournament, Cook said. And he really believed they could do so, even when others did not.
He was right. Over the past eight weeks, and 19 matches, no team could stop Nebraska. They were unstoppable, and are now national champions again.
Fifth-ranked Nebraska turned in one more masterpiece in a season full of them, defeating No. 3 Florida 25-22, 25-17, 18-25, 25-16 on Saturday in front of a record crowd of 18,516 at the Sprint Center, most of them fans of these Huskers.
This is the program's fifth national championship, but never have they come this close together. That's two NCAA titles in three years. Remarkable.
In the NCAA Tournament, Nebraska won 18 sets and lost just four.
Nebraska won Saturday by getting a dominating performance from junior outside hitter Mikaela Foecke, who just keeps delivering monster matches in the tournament. She had a match-high 20 kills, including the final kill of all three sets the Huskers won.
So, what it's like when you actually achieve unstoppable?
"It's an unbelivable feeling," said Cook as the players cut down the net. "It's a feeling every team in sports is chasing is to be No. 1 and win a national championship."
"It's insane," junior libero Kenzie Maloney said. "You talk about it for so long, and when it all adds up and you actually accomplished what you wanted, and your goals, it's an unreal feeling."
"We're the only team that got to end the season like this," said senior setter Kelly Hunter. "We're so lucky but we've worked for this, so it's a little more than luck. I just love this team. I've said it a million times. We have so much love for each other, and I don't want to leave this team."
Most coaches would love to rank their national championships. Cook can.
"We've done this a couple of times, but this one is the most amazing, unbelivable for me because of all we had to overcome with what we graduated, and a new staff and all of that," said Cook, the four-time national champion coach whose plan was to coach high school football in California. "It's been the best ride."
Lauren Stivrins added nine kills for the Huskers. Briana Holman had seven kills and six blocks. Annika Albrecht had seven kills and 11 digs. Hunter had six kills, 37 assists, two ace serves and eight digs.
Nebraska dominated for stretches of the match. Those included a 7-0 run in the first set, and a 4-0 run to start the fourth set, a quick blow to a Florida team that had some life.
Foecke's 20 kills came on .250 hitting, including four in the deciding fourth set.
"She willed us in game four," Cook said. "She got some huge kills. She was struggling a little in this match, for her. And she just turns it on when we need it."
Foecke and Hunter are the co-MVP of the Final Four.
In the fourth set Nebraska got out to a 4-0 lead. Then Hunter was brilliant again, serving a 4-0 run that was part of a 5-0 run that put the Huskers up 9-1. Florida got its deficit to 14-10, but Foecke had another kill, and then Albrecht one on a back-row attack for an 18-11 lead.
Jazz Sweet didn't have a great match, but she had a great kill for a 20-13 lead that got a fist pump from Cook on the bench. Florida called a timeout, and the Husker fans stood and cheered for most of it. A championship was five points away.
Stivrins got two of them on back-to-back rallies for a 23-15 lead. Hunter scored on a tip to the back corner to make it 24-15. Florida got one more point. But on national championship point, Foecke got one final kill, hitting a ball off the blocker's hands that sailed off the edge of the court.
Just one final kill in a match full of them.
"This is two times she's been MVP of the Final Four, so what does that say?" Cook said. "She's an unbelievable competitor."
Nebraska lost its first two matches of the season, albeit with an asterisk. Hunter did not play in those matches due to injury. The Huskers won 32 of 34 matches with her back confidently setting each of the Huskers' hitters, serving tough and putting down game-winning kills, as she did against Penn State in the national semifinals.
Few, if any, athlete in a women's sport at Nebraska can match the accomplishments of Hunter. As a starter, she led the Huskers to two national championships and is a first-team All-American. She went 16-1 in the NCAA Tournament as the starter.
"It's been a really special couple of years," Hunter said. "We got to reinvent the culture of Nebraska volleyball. It's just been so great to see how I've developed and the players around me have developed and how Coach Cook has developed and it's been a really fun five years I've had at Nebraska."
Nebraska was never ranked better than fourth this season. One month into the season, after a Saturday afternoon loss against Northern Iowa, the Huskers dropped to No. 14.
Now they're national champions.
"We had our ups and downs, but it didn't matter, because we stayed together as a group and we knew that we could do this," Maloney said.
NCAA Volleyball Final, Nebraska vs. Florida, 12/16/17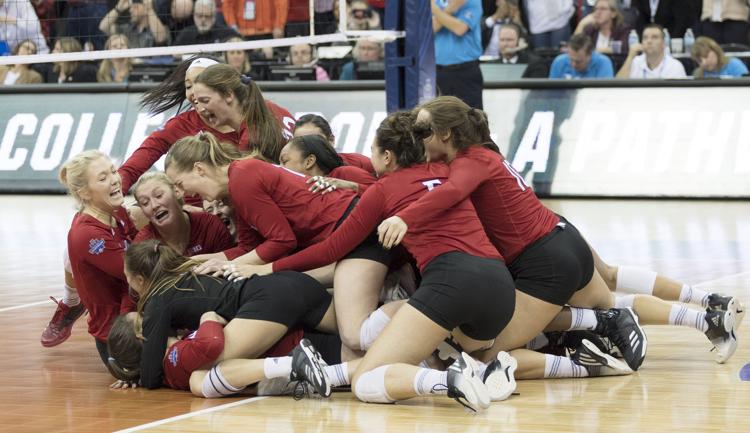 NCAA Volleyball Final, Nebraska vs. Florida, 12/16/17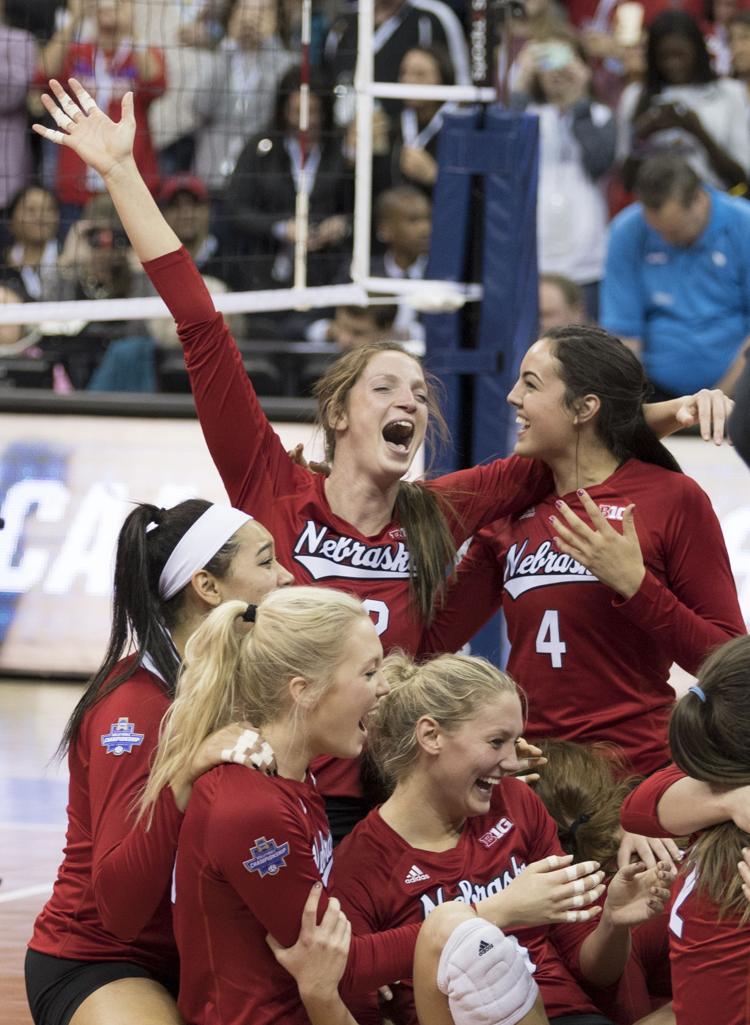 NCAA Volleyball Final, Nebraska vs. Florida, 12/16/17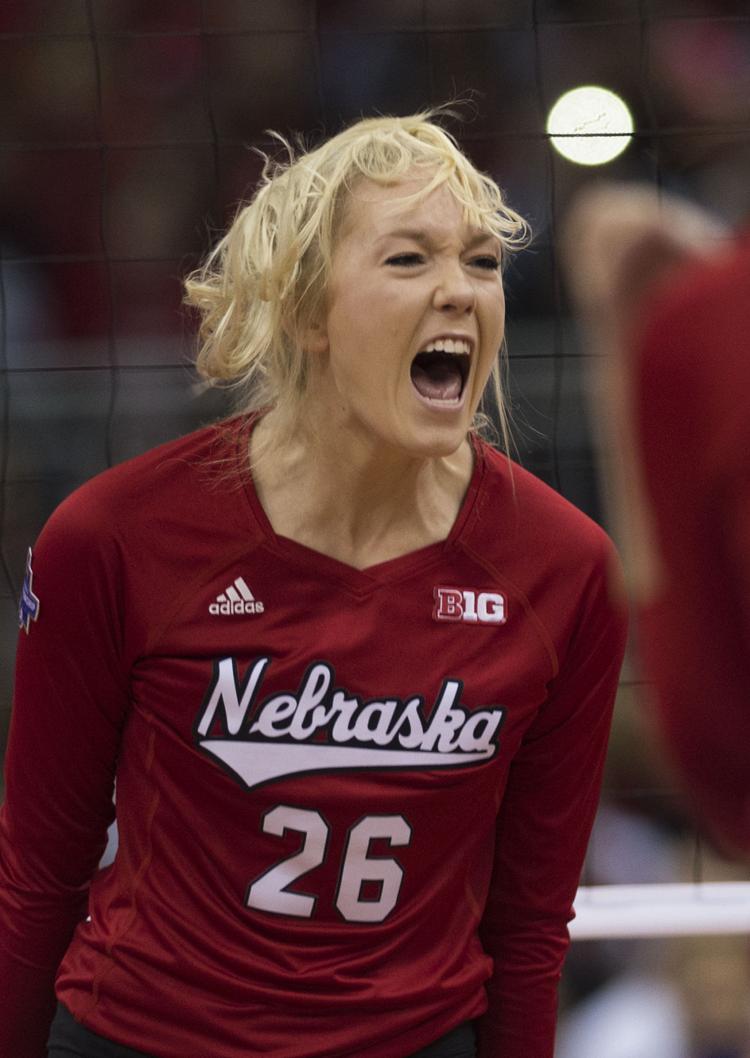 NCAA volleyball final, Nebraska vs. Florida, 12/16/17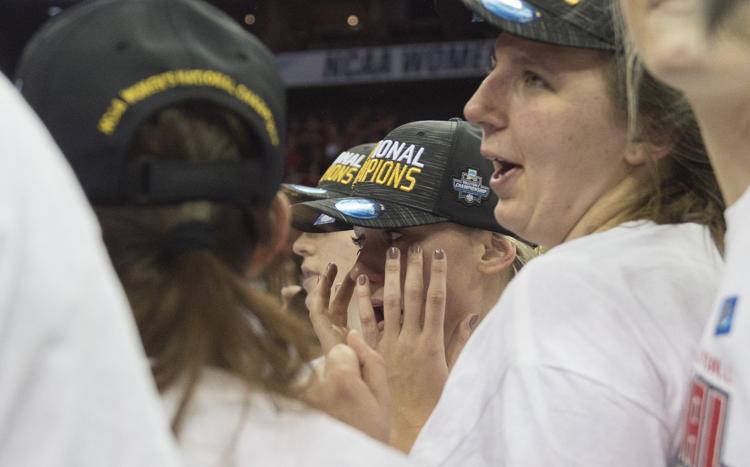 NCAA volleyball final, Nebraska vs. Florida, 12/16/17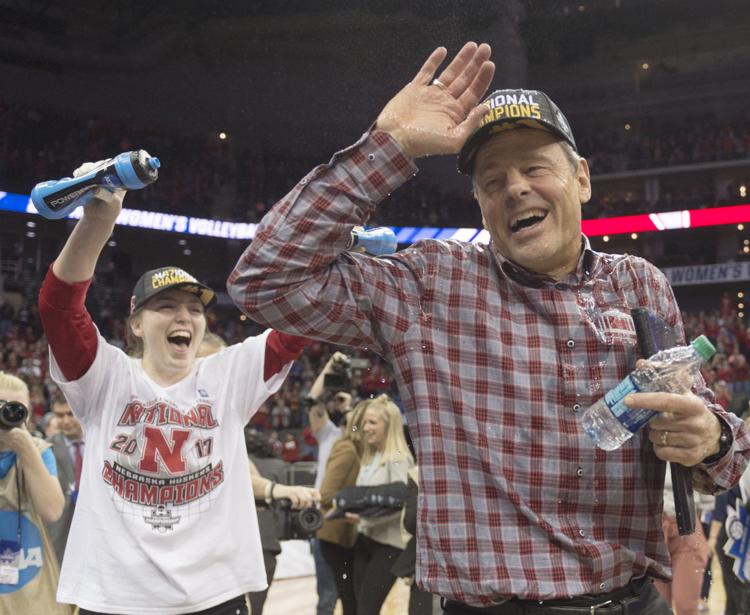 NCAA volleyball final, Nebraska vs. Florida, 12/16/17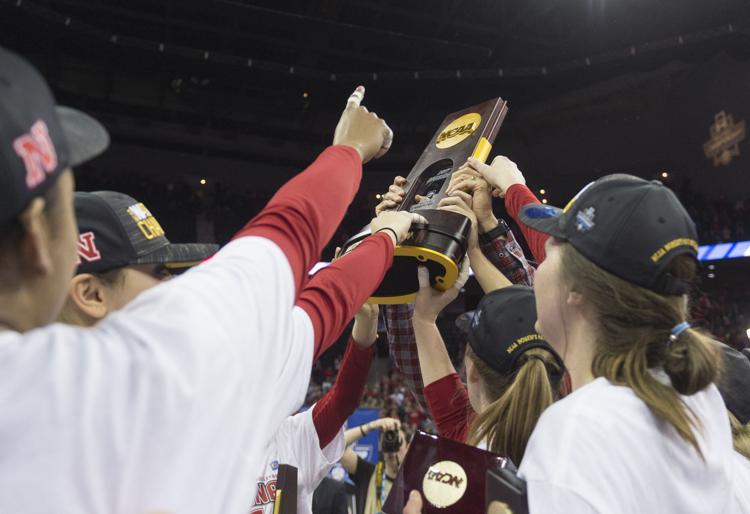 NCAA volleyball final, Nebraska vs. Florida, 12/16/17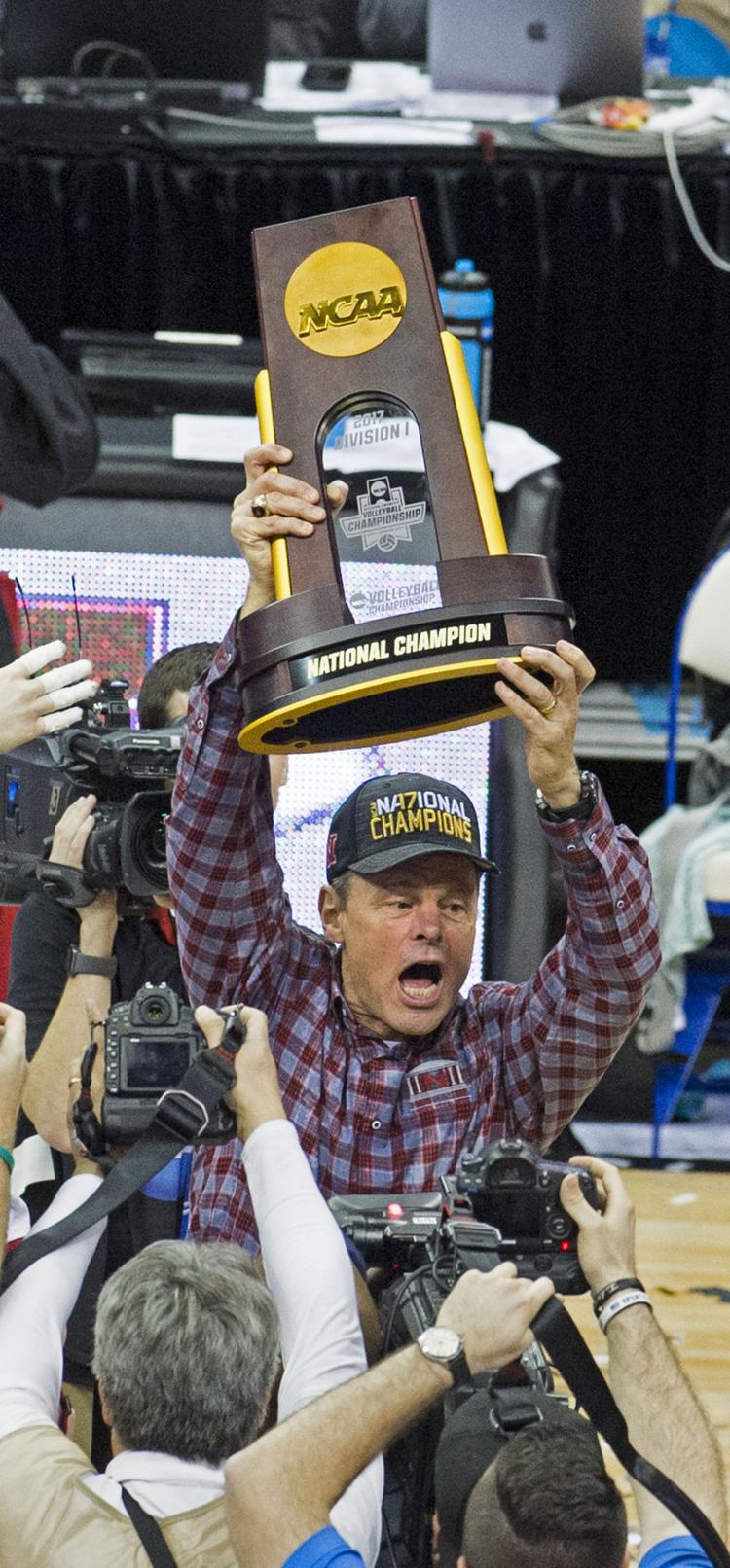 NCAA Volleyball Final, Nebraska vs. Florida, 12/16/17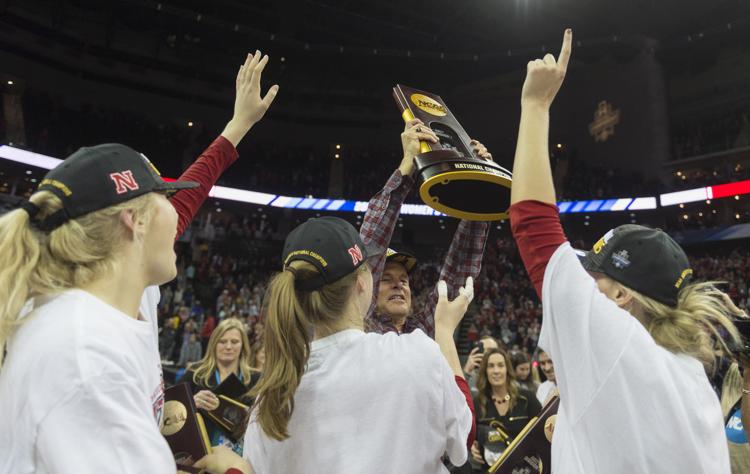 NCAA Volleyball Final, Nebraska vs. Florida, 12/16/17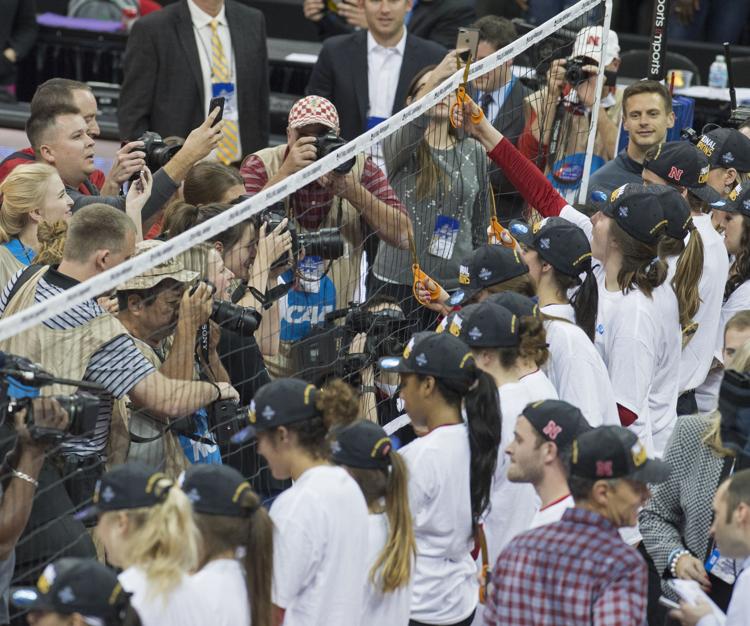 NCAA Volleyball Final, Nebraska vs. Florida, 12/16/17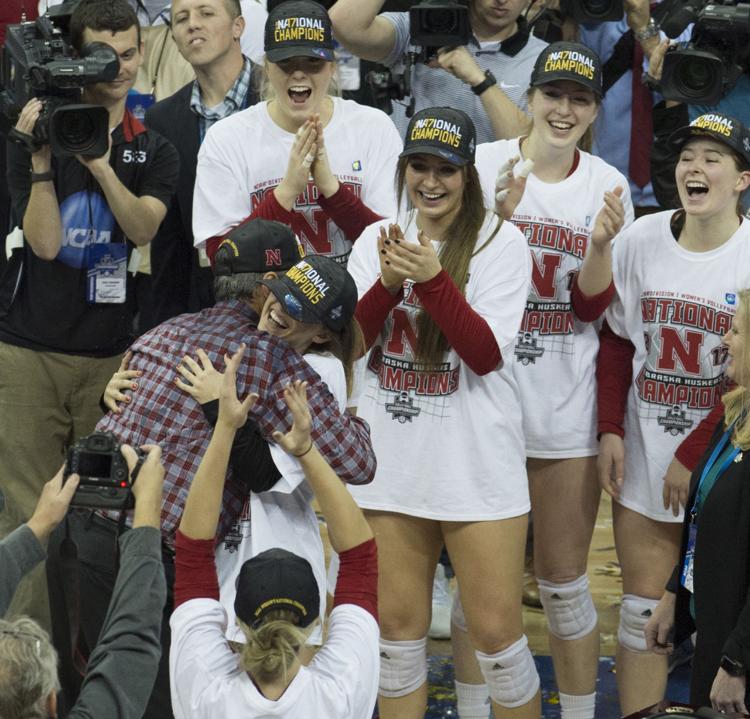 NCAA Volleyball Final, Nebraska vs. Florida, 12/16/17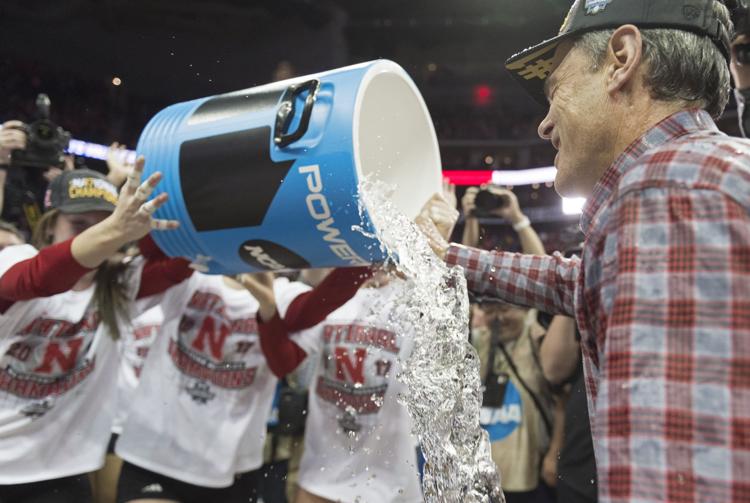 NCAA Volleyball Final, Nebraska vs. Florida, 12/16/17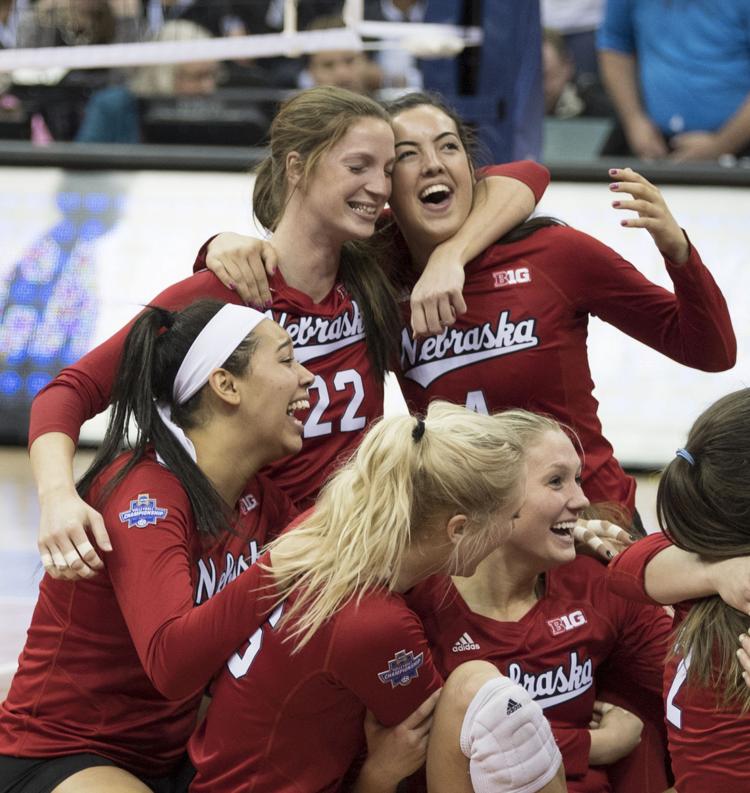 NCAA Volleyball Final, Nebraska vs. Florida, 12/16/17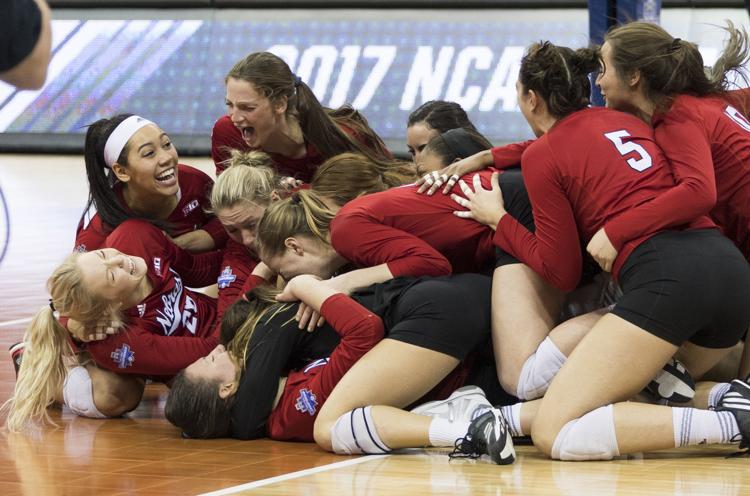 NCAA Volleyball Final, Nebraska vs. Florida, 12/16/17