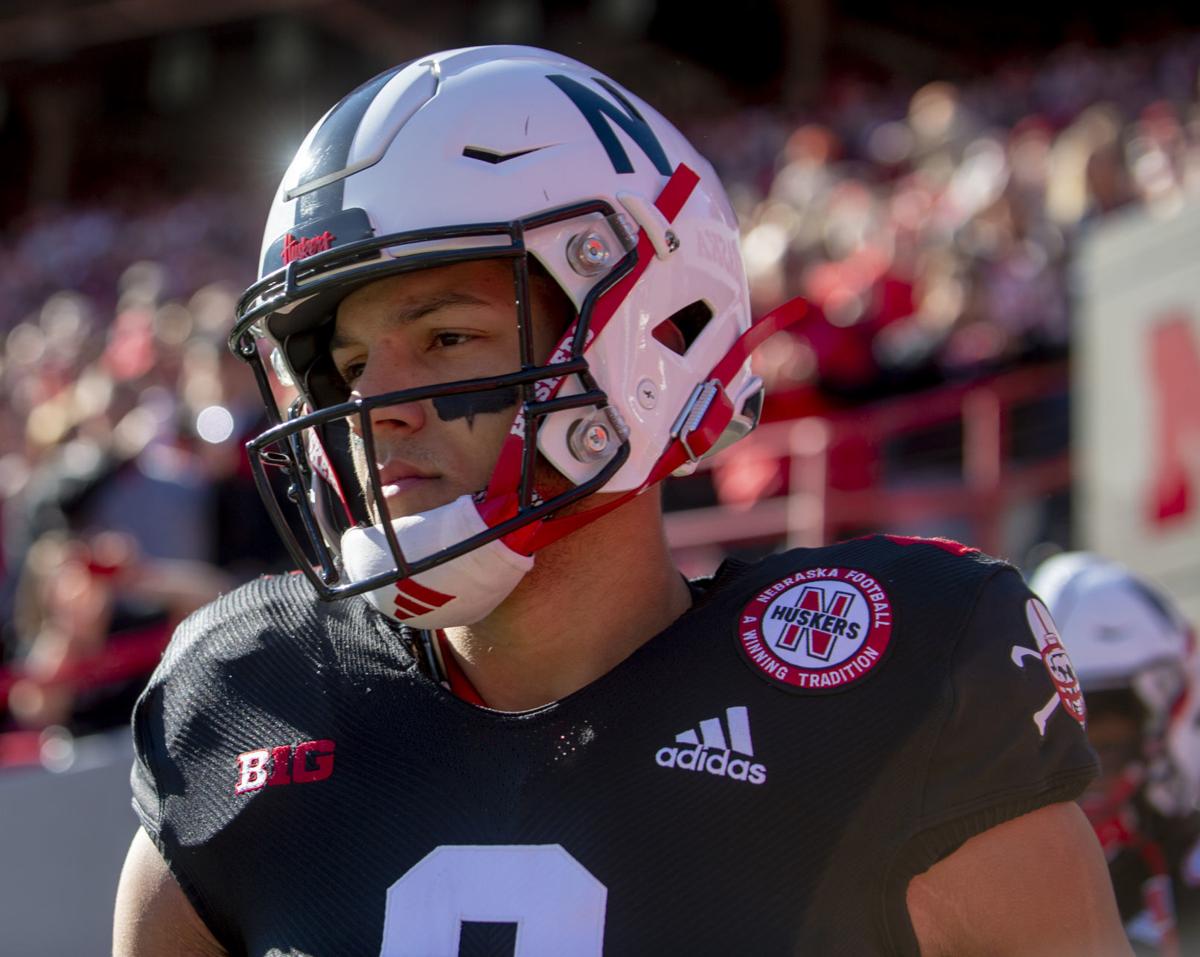 Nebraska quarterback Luke McCaffrey was playing well against Indiana. You might even say he was performing marvelously well considering it was the true freshman's first extensive action in college.
Then, a wrench was thrown into the picture. Husker QB coach Mario Verduzco early in the fourth quarter Saturday noticed McCaffrey limping. Stationed in a booth on the sixth floor of Memorial Stadium, Verduzco quickly got injured sophomore quarterback Adrian Martinez on the sideline telephone. Verduzco wondered if Martinez was seeing what he was seeing.
Sure enough, McCaffrey, who had entered the game during the second quarter in relief of injured Noah Vedral, wasn't moving quite right. He headed for the sideline to get treatment.
That is when things got dicey. Long story short, all three Nebraska quarterbacks felt they were healthy enough to finish the game if necessary.
"It was a little surreal," Verduzco said Wednesday. "I don't know that I've ever been in that situation before. Luke wanted to continue to go. Noah wanted back in, and Adrian wanted in. I was ready for Coach (Scott) Frost to say, 'Put me in.'
"It was interesting to say the least."
Martinez, the lead dog in the Nebraska quarterback pack with 17 career starts, wanted to start the game, but it came down to this: Could he protect himself even with an injured knee, particularly in the running game? That was paramount in the coaches' minds.
"I said, 'Listen, I get it,'" Verduzco said. "'But it's really important to understand now that if something were to happen to you because you can't protect yourself, we have a real issue.'"
Late in the game, along the sideline, Frost tried to gauge which quarterback — Martinez or Vedral — could run the best.
"Noah felt like he was ready to go, so let's go," Verduzco said.
You perhaps know the rest. Vedral, a smooth and savvy sophomore from Wahoo, reentered the game in place of McCaffrey, who was 5-for-6 passing for 71 yards and a touchdown while rushing 12 times for 76 yards (6.3 per carry). When Vedral took over, Nebraska trailed 38-31 and had the ball at its 7-yard line.
Vedral drove Nebraska to the Indiana 34, where the drive stalled with 3:23 remaining. The Hoosiers ran out the clock and left town with a triumph that improved their record to 6-2 overall and 3-2 in the Big Ten.
Meanwhile, Nebraska fell to 4-4 and 2-3 and now prepares to play Saturday at Purdue. Martinez, who has missed the past two games with his left knee injury, said Tuesday he was ready to play and plans to start against the Boilermakers (2-6, 1-4).
His position coach did nothing Wednesday to pour cold water on that notion.
"He looks really good, man," Verduzco said. "He looks like his old self."
As Martinez watched the Indiana game in full uniform, Vedral and McCaffrey were a picture of efficiency. Vedral, showing his usual strong grasp of Frost's rapid-pace spread system, was 14-for-16 passing for 201 yards and rushed seven times for 21 yards and two touchdowns.
Granted, Vedral's second-quarter fumble was one of the game's most critical moments. But make no mistake, Vedral and McCaffrey give Nebraska two backups that could be starters at many FBS schools. It's a unique situation and one Verduzco relishes. But he wasn't exactly reveling in it as nightfall arrived Saturday. In fact, he hardly wanted to talk at all.
"I think if you asked either of them, they were tremendously disappointed about a tragic loss like that, and I know I wasn't feeling very jovial on the way home," Verduzco said. "I didn't say two words to my wife on the way home."
When they did arrive home, wife Cate informed him of Vedral and McCaffrey's stat line. He was unaware of it.
"OK, they did their job — great, awesome," said Verduzco, describing his reaction. "I wish we could've won the game and all that sort of stuff, but that's how it goes."
With Martinez healthy, or at least very close to it, Nebraska's quarterback situation feels as if it's smoothed out some. But it's still not perfect. Although Vedral appears ready healthwise for the Purdue game, McCaffrey was in street clothes again Wednesday apparently battling the knee injury he suffered against Indiana.
It's an interesting time in the Nebraska camp. Although Frost expresses concern about culture in the program, there are no such buy-in concerns at the most important position on any team.
"The culture of our quarterback room is exactly what Coach Frost wants, which is positive, upbeat, excited, prepared, knowledgeable, dedicated to what they're doing," Verduzco said. "The work ethic is exactly what he wants and what he demands. I don't know that I could be more pleased with the room. It's the culture we want to continue."
It almost helped save the day against Indiana. Almost.
Time to move forward and see what Martinez has in store.