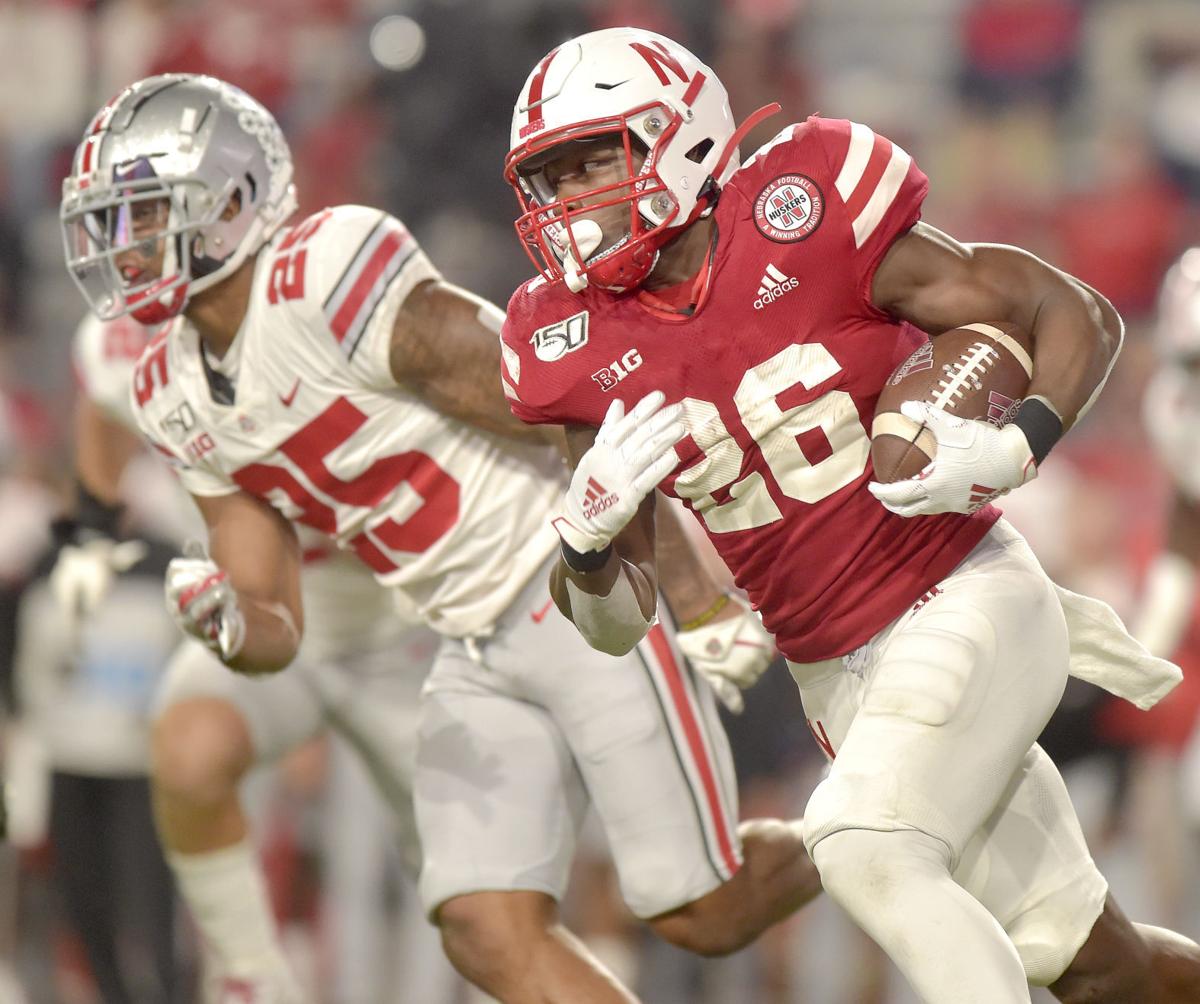 His position coach refers to him as a bell cow running back.
That makes sense. A bell cow is the lead cow of a herd. 
There's no question that Dedrick Mills is the leader of the Nebraska running backs group.
One of the more interesting aspects of Saturday's game against fifth-ranked Ohio State will be to watch just how heavy a load Nebraska asks Mills to carry.
"Anything they're ready to give me, I've prepared myself for," said the 5-foot-11, 220-pound senior, who is as team-oriented a player as you'll find. "I've been doing this for a while. I feel like I can go a whole game. But, you know, I also got teammates. I feel like you can put them in the game, and they can do the same thing." 
That's certainly debatable. 
"Dedrick's got to be ready to play a lot of snaps, there's no doubt about it," said third-year Nebraska running backs coach Ryan Held. "He's preparing himself to do that. The good thing is, we have more depth than we've had since we've been here. We're preparing as many guys as we can because you just never know how the season will go — if a guy's out because of COVID or for whatever reason.
"The more guys you have, the better. But Dedrick knows he has to be ready to be the bell cow and workhorse." 
Of course, Mills' workload will depend in part Saturday on how Nebraska's offense chooses to attack Ohio State. In last year's 48-7 loss, the Huskers ran the ball 39 times and passed it only 17. One can imagine a similar ratio this time around, especially if Husker coach Scott Frost, who calls the plays, is intent on chewing up large chunks of clock to keep the ball from the Buckeyes' exceptionally potent offense. 
Such a strategy would seem to make sense considering Ohio State's front seven lost significant firepower from last season's team, most notably pass-rusher Chase Young and linebacker Malik Harrison. Is the 2020 Buckeyes' defense elite? They'll have to prove that's the case. Nebraska, with a wealth of experience on its offensive line, should provide a formidable test. 
Of course, then there's Mills, whose 347 rushing yards over his final three games last year represented nearly 47% of his total for the season. All told, the Georgia native led the Huskers with 745 yards and 10 touchdowns, averaging 5.2 yards per carry. 
"He knows this is the last rodeo, so he's prepared like it," Held said. "He's putting himself in position to really help our football team and knows if he has any aspirations for the next level that he needs to go out and perform well. 
"He's obviously not worrying about that." 
Held hopes Mills is continuing to concentrate on the fine details of his craft, including a full understanding of how he can maximize each running play's impact. 
"Just look at the Colorado game last year," Held said. "There were a couple cuts he missed that if he would have hit them on the backside, they would have been huge plays. He made them later on in the year. It just takes some time for guys to get used to it. He's been able to get a lot of reps, and he's ready for the workload he's going to be presented this year. 
"We're excited for that. He's a dog. He's a guy I'll go to battle with every day of the week. He's going to be ready to go. He's going to run hard, and be a good teammate." 
Mills often says he just wants to do what he can to help his team win. His comments about being team-oriented strike you as being genuine. Of course, it may be easier being team-oriented when it's clear you're going to get your share of touches. 
To be sure, Mills' importance to Nebraska's hopes of making significant improvement this season — the Huskers are a combined 9-15 the last two seasons — becomes even greater when one considers the inexperience of his backups. 
Redshirt freshman Ronald Thompkins, a 5-foot-11, 195-pound slashing running back from Loganville, Georgia, will get his first taste of action at the college level after battling knee issues dating to his junior season of high school. 
Another redshirt freshman, Rahmir Johnson, also needs to be ready to help. The 5-10, 190-pound New Jersey native carried 18 times for 55 yards late last season against Maryland, by far his most extensive action.  
After the top three, Held's stable has true freshmen Marvin Scott and Sevion Morrison as well as redshirt freshman Cooper Jewett, a walk-on from Elkhorn South. Held has spoken highly of Jewett. 
But Held's guys know who's the bell cow. Mills clearly is comfortable with his role. He seems comfortable with everything. He says he's in a good place mentally as he prepares for a unique season. 
"I wrote an article about mental health, and that really helped me out," he said. "Just being here and being around people who are more like family. It's a family culture around here. 
"I don't know. Every day I wake up, I'm happy."
He could be especially happy come Sunday if Nebraska pulls a massive upset. Think about that for a second. 
If it happens, you can bet Mills will play a lead role, as one would expect from a workhorse back.
A position-by-position look at the 2020 Huskers