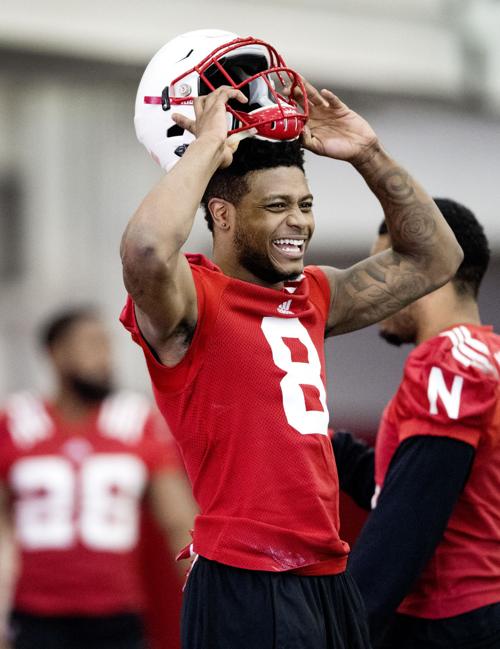 Things I know, and things I think I know:
With three of his 2016 stalwarts graduated, Nebraska receivers coach Keith Williams acknowledges this spring feels a bit different in his realm.
Then again, every year feels different for a coach.
"Even your returners aren't the same player," Williams says.
With the completion of six (of 15) spring practices, he is happy to report Stanley Morgan Jr. isn't the same player. He's better, more explosive, more confident. You don't have to be Bill Walsh to notice.
"It's his overall approach," Williams said. "It's his overall understanding. He's more comfortable. This is his third year of running the same plays. He's able to play faster. And he's a little older. He's got experience. All of that matters. It's showing in his play so far."
It showed last week when Morgan, a 6-foot-1, 200-pound junior, beat one of Nebraska's best corners on a deep route. Beat him badly.
It shows in the way Morgan catches passes in traffic and sprints away from defenders. He has plenty of juice.
It shows in his demeanor. Granted, he's always been a lively sort, constantly smiling, always full of confidence. But it's become even more noticeable.
Perhaps I notice it more because 2016 Nebraska seniors Jordan Westerkamp, Brandon Reilly, Alonzo Moore and even tight end Cethan Carter have moved on. Folks wonder who will step up in the offense to become consistent difference-makers. In that regard, Morgan is being watched closely.
It appears the Huskers will have a quarterback — either Tanner Lee or Patrick O'Brien — who will consistently make accurate throws (assuming there's good protection). Morgan, more than any other NU receiver, seems poised to take full advantage of a new-look offense.
"It's good," Williams said of Morgan's rise this spring. "But it's not surprising."
Morgan has been a willing leader, which is important considering Nebraska entered spring drills with just eight scholarship receivers. Only two of them — Morgan (58 career catches) and senior speedster De'Mornay Pierson-El (55) — have significant college experience at the position. Bryan Reimers, a 6-foot-5, 215-pound junior, caught five passes for 75 yards last season, and will be counted on for much more in 2017, Williams says.
Williams appreciates Morgan's willingness to lead the group.
You have free articles remaining.
"Like I've told people, this is how he was in high school," Williams said. "He went to (St. Augustine in New Orleans), which is a historic high school in terms of producing players. When you're a young guy there, you have to wait your turn, and then when it is your turn, you're a leader.
"And that's how he was in his junior and senior year. He was a leader for his team at St. Aug. I know this isn't high school. But it's kind of the same process. He recognizes that. He embraces that role. And he's enjoying it. It helps him to stay focused, as being a leader does. It's been good."
Morgan has been better than good. In fact, he appears to be Nebraska's best player on offense, and I don't see that changing.
* As for Reimers, a walk-on from Lincoln East, he continues to draw praise from Williams.
"He is going to help us win games," the coach said. "It's not a surprise anymore. My expectation level for him is no different than it is for Stan or (Pierson-El) or any of those guys who've played a lot. 'Reim' needs to make some plays and help us win."
A logical next step in Reimers' progression is to "dictate circumstances," Williams said. That likely means being a primary target in a variety of situations, as opposed to being someone who runs routes designed to clear room for other receivers.
It also means Reimers quite possibly could finish 2017 with at least 25 catches. His size and good hands could make him particularly valuable in the red zone.
* You don't have to be George Darlington to notice JD Spielman's first-step acceleration as soon as he makes a catch, but (full disclosure) it was the former Nebraska secondary coach who pointed out the redshirt freshman's extreme quickness as we watched Thursday's practice.
* We keep mentioning sophomore walk-on Conor Young of Cozad, for good reason: Williams describes him as a young Brandon Reilly. In other words, Young must be a flier.
* True freshman Keyshawn Johnson Jr., who began drills on a limited basis last week after being sidelined by illness, appears to face an uphill climb to catch the team's top-shelf receivers. No reason to rush him, right?
Williams is glad Johnson is able to get some work in.
"He'd be eating free for about two months, so we needed to get him out here running around," the coach said. "It's been good."
* Williams' previous comments about true freshman Jaevon McQuitty's build and aggressiveness reminding him of a young Stanley Morgan Jr. ring true. McQuitty, though, is limited to individual drills in the wake of December shoulder surgery.
* Williams likes that his receivers are facing different types of coverages — and disguises — while facing new defensive coordinator Bob Diaco's 3-4 system.
"You have to think on the run," Williams said. "You have to be in your playbook. You have to use all your clues. Pre-snap, you have to recognize what the defense is doing. It's not easy."