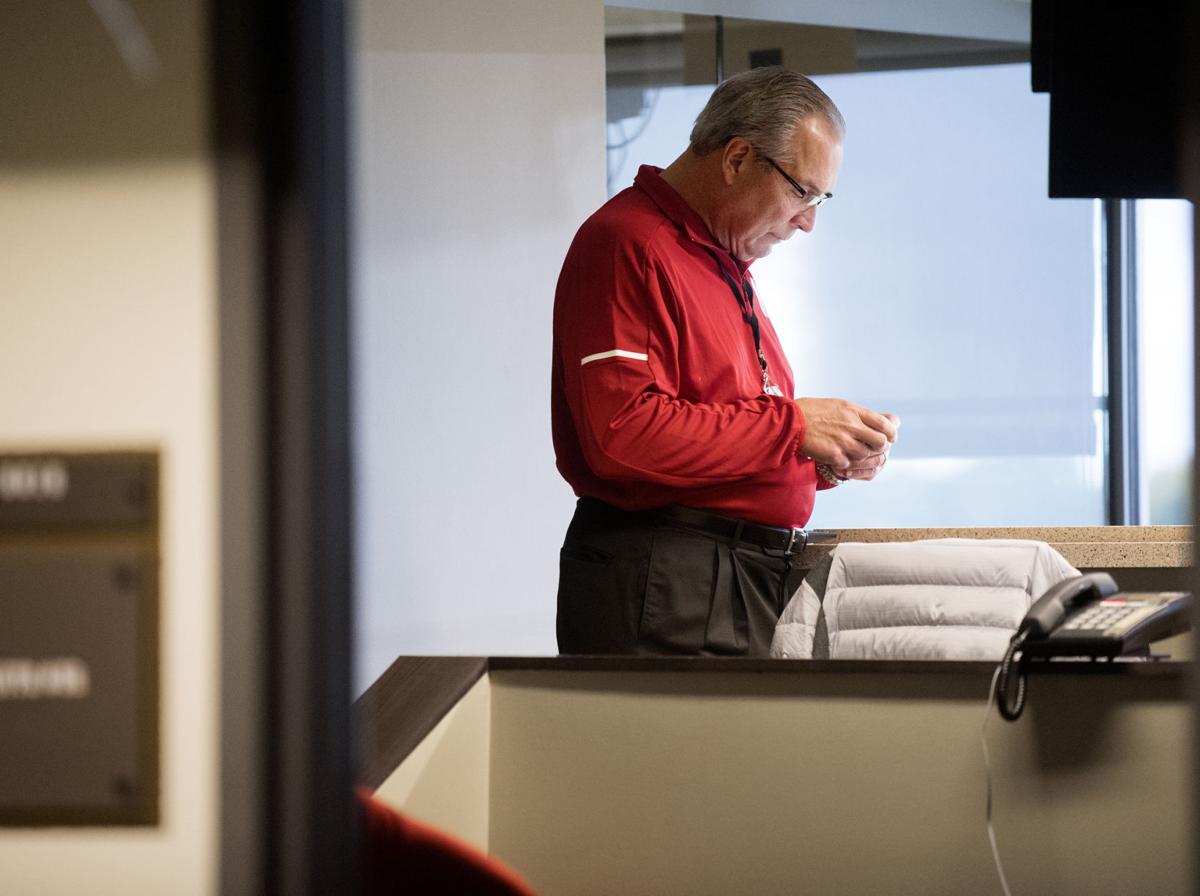 If you know Bill Moos at all, you know he wants to be out drumming up excitement. 
He feels most comfortable in his job when he's traveling the state and talking to people about Nebraska athletics.
Of course, that part of his work came to a halt in March when the pandemic hit.  
"All of a sudden, my life changed," the third-year Husker athletic director told the Journal Star on Wednesday. "I was charged with trying to keep this department together, to navigate it through a worldwide pandemic, which hadn't been done in 100 years. We had to adjust. I'm awfully proud of my staff." 
Gold stars all around, he says.
Now, he says, he mostly wants to look toward the future. Which brought about a question: How much longer does he plan to lead the department? 
He says he sees no reason why he wouldn't keep working full-go until the end of his contract, which expires Dec. 31, 2022. 
"We're going to move the dial here, and I don't want to be looking at that success from afar," he says. "I have every intention of fulfilling the contract." 
Moos, who turns 70 on Jan. 3, is enjoying the holidays with his family on his ranch in eastern Washington. He loves that place. He sometimes goes there just to get away and think. His mind is creative. It's always going. He likes to have fun, but he gets down to business fast. 
He believes you don't leave a job until it's done. He approached his work that way in previous AD stints at Washington State, Oregon and Montana.  
He'll do the same at Nebraska.
"Each stop had a little bit different scenarios," he says. "But I couldn't come back here (to the ranch) and sit and leave the department on anything but solid footing and in a winning position. It'd drive me crazy." 
"We need to get that new building finished," he continues, referring to the $155 million football training facility, set for completion in 2023. "I have nine head coaches who I hired. I want to see all their programs develop and be competitive. I want to see Will Bolt's baseball team be successful. I want to see Fred Hoiberg's magic that he's worked. And, of course, there's football. 
"I'll come back here to the ranch one day for good. But it'll be sitting on the porch thinking about fond memories of how we got it done at Nebraska."
Moos' salary at NU climbs from $1.1 million this year to $1.15 million in 2021 to $1.2 million in 2022. He also has a $1.25 million deferred compensation payment that he receives only if he's employed through the end of his contract. It would then be paid by Jan. 31, 2023.
"I've got plenty of gas in the tank," he says. "That's not a question." 
"It's high-octane fuel," he adds. 
He knows Nebraska has a long way to go in some sports, most notably football and men's basketball. He says Husker fans are "starved but supportive." 
He says they're patient "for the most part."
Nebraska football coach Scott Frost is 12-20 after three seasons, and Hoiberg is 11-29 in the midst of his second season.  
Moos is unwavering in his optimism in Nebraska's two most high-profile programs. After all, he says, Frost and Hoiberg have proven track records elsewhere. 
"They've lit up the scoreboard and entertained fans, but you can't bring a mule to the Kentucky Derby," the Husker AD says of their current program rebuilds. "I mean, I'm just saying you have to have the horses." 
Moos thinks Frost and Hoiberg are building their programs in the right manner. The boss emphasizes that his coaches can't afford to take shortcuts and "sacrifice the big picture for a quick fix." 
He wants to see Frost's program contending for first place in its division next season. 
As for Hoiberg, Moos is mindful that the Big Ten as a basketball conference also can bloody a developing program. NU getting into the NCAA Tournament this season or even next season might be too much to ask, he says. 
But he thinks big. If you know Moos, you know that part, too. He hungers to hear the roar again at Memorial Stadium and Pinnacle Bank Arena.
My heavens, he misses that roar.
"These players, these coaches and this athletic director all came here for the roar of those 90,000 fans and that sea of red," he says. "That is a big, big piece of where we go from here on out." 
He came here to be part of meaningful Saturday afternoons, with championships on the line. 
He recalls the Black Friday game against Iowa in 2017. He had his sons with him on the field for the Tunnel Walk. One currently plays at Cal, the other played at Arizona State. Moos noticed his sons taking video of the stadium and its fans. They sent the videos to their friends.
"They were like, 'Oh, you won't believe this,'" Moos recalls. "Those boys, I couldn't get them off the sideline. And these are guys who were in the big leagues. That's how incredible Memorial Stadium is on a gameday."
"Hey, we'll get that back. We'll get this thing going." 
He almost sounds energized by what his staff accomplished during the pandemic. That said, he will welcome normalcy in the world, or some semblance of it. 
"Everywhere I've gone, I got the job done," he says. "Every one of those chapters, when it was closed, I didn't ever go to the next one having any regrets. This is another chapter, and it's the last chapter -- and it should be the best chapter.
"I want to see this thing through."