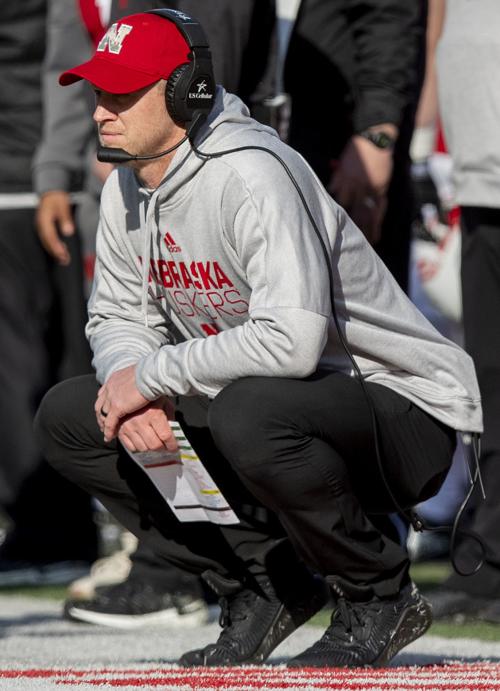 As Nebraska athletic director Bill Moos explained the economic hardship that's hit his department like a sledgehammer, he paused and summed up the situation. 
"We need some good news," he said Thursday. "We need some positive news."
You can almost always find some form of good news in this life. I just wolfed down a $3.99 bag of 10 chicken wings from Schmick's Market. That was a wise buy. A small victory during a rough period in our state. If you're a Nebraska football fan, or a Husker sports fan in general, you're looking for small victories right now because you just absorbed a gigantic "L." 
There'll be no fall sports season, although some NU officials continue to hold out hope on the football front. It's just a sliver of hope. More on that in a second.
Moos says he hopes the financial climate is significantly better come January. He hopes he doesn't have to cut any sports teams. But he'd be foolish to guarantee anything. He didn't guarantee anything. That's noteworthy.  
You hope the furloughs and salary reductions — which came on the heels of 17 athletic department employees getting laid off in June — is as bad as it gets. But you can't help but wonder. 
This difficult discussion occurs against the backdrop of Nebraska's plans for a $155 million football training facility. The optics obviously aren't ideal.
Nebraska will soon finish up the design of the facility, Moos said, then push the pause button on the project. 
"That's supposed to be a hole right now," said Moos, motioning over his shoulder toward the area northeast of Memorial Stadium.
The groundbreaking was supposed to be in June. Moos now holds out hope it can occur in December or January. Again, no guarantees. 
That's right, no guarantees. That's a good reminder for all of us right now. It's always the case in life. But "no guarantees" has taken on enhanced meaning in the pandemic world. It's certainly taken on greater meaning in our little world. In our Husker world. We're in the early stages of sizing it all up. We're in the early stages of tough times ahead. Lincoln's in the vortex of the Husker storm, and it expands to all reaches of our state.  
But this is a storm that will hit many other college programs hard. 
Iowa on Friday cut four athletic programs — men's gymnastics, men's tennis and men's and women's swimming and diving. We're going to see a lot more athletic programs around the country go away. Some people will tell you those programs will return after life returns to normal. I have my doubts. Athletic departments will learn to live without those sports. The college sports landscape is about to change dramatically, and much of the change will be painful. 
Of course, Nebraska football coach Scott Frost knew all this could happen. Go back to his Zoom session with media on Aug. 10. He made a plea for fall football to occur in the Big Ten. He had his players foremost in mind. They want to play, he said, and feel protected at NU. Many of those players said as much publicly. 
Frost also is mindful of his players' mental and emotional health in the wake of the Big Ten's decision to cancel fall football. He should be mindful in that regard. A sports psychologist recently told me that the psychological distress on student-athletes is "off the charts" because of uncertainty created by the coronavirus. Many of them are hanging by a thread, he said, and sports provides the structure and support they need. 
This stuff tears away at Frost. Tears away at most coaches, I'm guessing. I could hear it in Frost's voice and see it on his face in a handful of interactions with him this summer. The furloughs pain him because he knows people in the athletic department who will be profoundly affected. The situation pains him because he knows how badly a fall without football is going to hurt a lot of people in this state — financially and otherwise. 
He carries that weight to a large degree. It's evident. After all, he's a Nebraskan. He knows people personally who will be impacted severely. He went to bat for the whole state in that Zoom session 13 days ago as he made a last-gasp pitch for the Big Ten to go forward with fall football. 
Please don't tell me that Frost makes millions and therefore doesn't suffer inside. Someone suggested to me Saturday that Frost will merely go to his big home and proceed comfortably, devoid of anguish. That's an incredibly pathetic and shallow way to size up Frost or anyone else.  
Meanwhile, I still don't know what to make of UNL Chancellor Ronnie Green earlier this week tossing out a hypothetical that basically kept the fall football conversation alive. Moos, by the way, said Thursday fall ball is not going to happen.  
Ah, but what if ACC, SEC and Big 12 move forward smoothly on the gridiron this fall? Perhaps the Big Ten would consider starting in October, Green said.
"I don't think that will happen, I think the odds are very low, but we're in uncharted territory," he said. 
Well, we could use some good news. Maybe Green was just providing a measure of hope.
That makes some sense. Because the "L" really hurts.