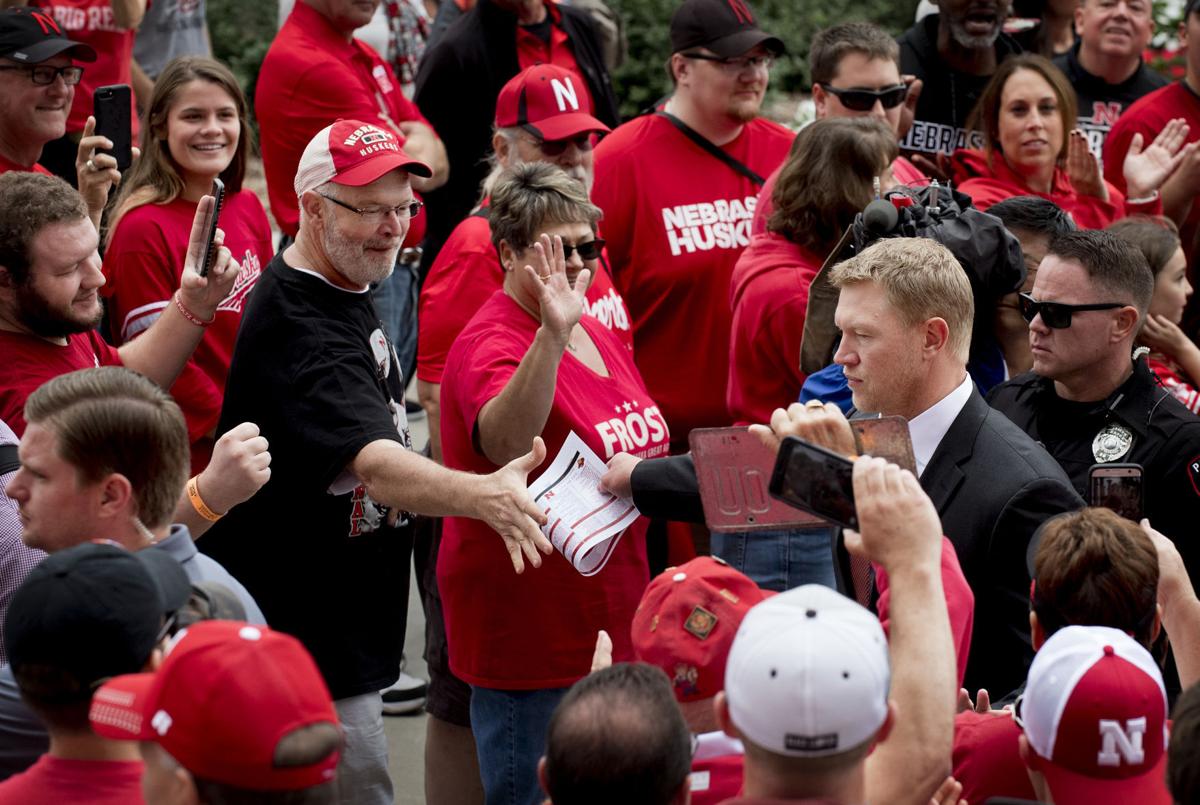 Bill Moos has had Scott Frost on his mind quite a bit lately.
Frost's father died Wednesday after a battle with cancer. Moos understands Frost's pain, having lost his father, Don Moos, in 2014. Moos was extremely close to his dad. They were hunting partners, fishing partners. It tore Moos up to watch his mentor fade into the sunset at age 90. 
So, yeah, the Nebraska athletic director has a decent idea how his head football coach is feeling.
"It's tough on him," Moos said Thursday. "All of this is tough." 
The 45-year-old Frost leads his team during a godawful pandemic, doing so with a heavy heart. Think about that for a second. A critical part of his job is staying upbeat to help his players do the same in trying circumstances. I'm guessing it requires a ton of energy, and some impromptu acting. 
"You don't always have the good fortune to have the perfect stage to go be a leader on," Moos said. 
Frost put his team through a practice Thursday, a day after the Big Ten announced it would attempt to play an eight-game schedule starting Oct. 24. The conference had announced Aug. 11 it was postponing the season perhaps until winter. The commissioner, Kevin Warren, said eight days later that the decision wouldn't be revisited. But it's "game on" again. Yes, the uncertainty messes with players and coaches' minds. It zaps energy. But leaders have to stay strong and energized through good and bad. 
However, "You can tell Scott's hurting," Moos said. 
My mind flashes back to early December of 2017. Frost's return to Nebraska seemed like a fairy tale. His father, Larry Frost, played for the Huskers, a hard-nosed wingback at Malcolm High who was recruited during the mid-1960s by then-graduate assistant receivers coach Tom Osborne. Scott's mom, Carol Frost, was a world-class athlete. Scott guided the Huskers to a national championship in 1997 as a rugged quarterback who played high school ball at Wood River High. All of it seemed so natural, so fitting.
It seemed Big Red was destined to take off again, quickly. 
But Frost's tenure at NU has been rough. For one, he's had little luck. Heck, his first game as Husker coach was erased by a lightning storm. His record is 9-15. Nobody saw that coming. Ah, but wouldn't it be an incredible story if the big turnaround began in earnest this season? Wouldn't that be something? I mean, Nebraska's now viewed as something of a renegade in the Big Ten because its leadership, with Frost leading the charge, pushed hard privately and publicly to play football, even if it meant playing a rogue schedule. NU wouldn't back down. 
If Nebraska's viewed as a maverick on the plains, so be it. It means people all over the country are going to watch the Huskers more closely. That seems like a good thing. It's sports. Have fun with it.
Bring it on, Moos said. He's as upbeat and optimistic a person as you'll find, and he was thinking big Thursday.
"This sentiment is from Scott and our conversations: This has the potential to be a very good football team," Moos said. "They just need games. The locker room is solid in terms of overall attitude. They're in great shape physically. Their heads are on straight. They're focused. It would've been a shame if these guys didn't have an opportunity to show their stuff. Now, they've got to go do it." 
Moos, though, understands Nebraska isn't quite ready to beat the Kansas City Chiefs.
"I'm hoping we can piece a schedule together that will give them a break, and we can be a contender this year in the Big Ten West," he said.
When the Big Ten announced a 2020 fall schedule Aug. 5, Nebraska had cross-over games against league heavies Ohio State and Penn State (as well as Rutgers and Michigan State). The revised schedule that will be announced in coming days will have only two cross-over games. Would the Big Ten hammer the Huskers by keeping the Buckeyes and Nittany Lions on the schedule? 
"Hope not," said Moos, a member of the conference scheduling subcommittee. "We're working on that right now." 
It's not like Frost would back down to anything. You saw the way he bull-dozed defenders as a tough-running quarterback. I vividly recall the stern look on his face early last November as we talked in his office during a bye week. Nebraska was 4-5. He said he was having trouble sleeping. As a long conversation winded down, he said in a low tone that he would never quit. "They'll have to run me out of here," he said.
I was struck by the comment. I told him it's way too early for that sort of talk. Granted, Frost's tenure has been a disappointment to this point. But it's early in the process. He has a long runway. I'm comfortable with his long runway because I can say with certainty that Nebraska has a head coach who wants to win every bit as badly as any fan you could find. It's not always that way. We don't have to name names.
Bottom line, Nebraska is in Frost's blood. It's plain to see. 
That reality surely helped him push through a rough period as his dad's health deteriorated.
Coaching through a pandemic with an ailing father, that's rough stuff. 
Yeah, of course, Frost has been on Moos' mind.
"I've got a tremendously caring, passionate head football coach who genuinely loves his players, feels for them and wants to see them get the maximum experience they can out of this thing," Moos said. "He wears that on his sleeve. It's sincere." 
I didn't know Larry Frost. But I know his son Scott pretty well. It's pretty clear he was raised well. 
The last few months reaffirmed it.