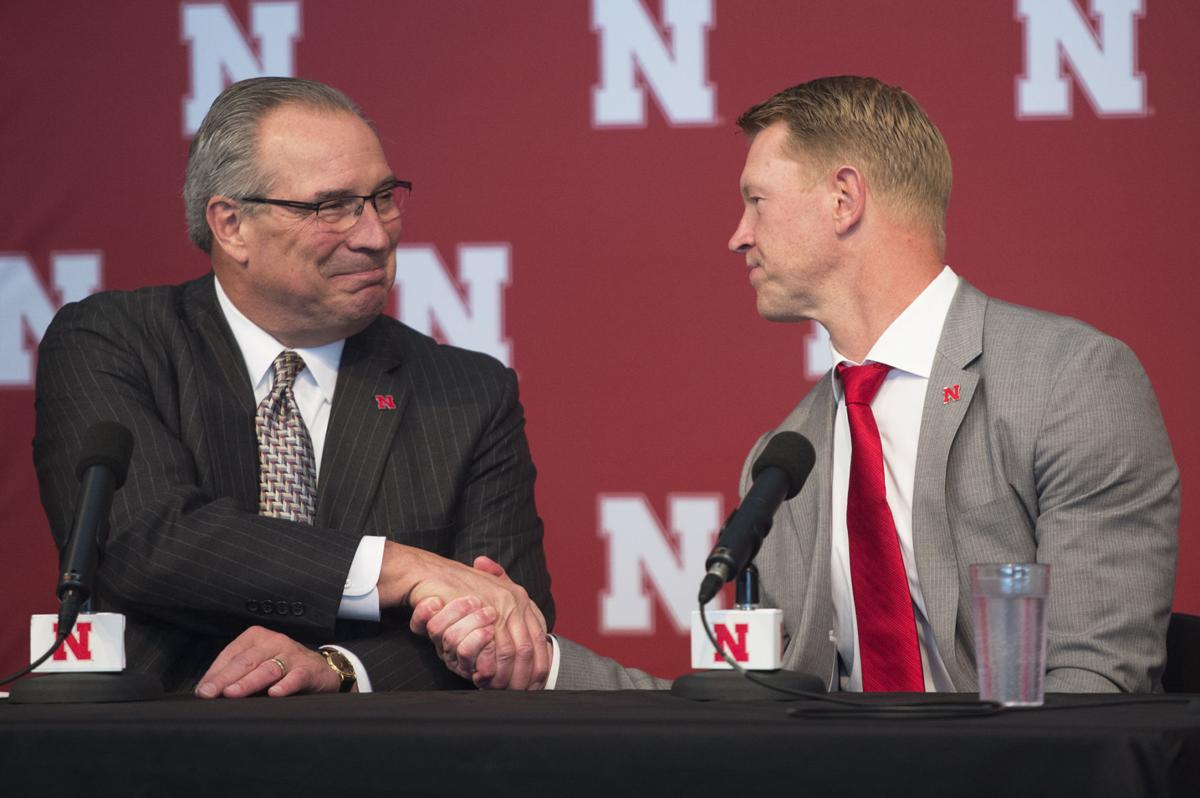 Bill Moos always smiles as he recalls a particular scene in the Nebraska football weight room.
More than a hundred former Huskers gathered that memorable early December day in 2017 when Scott Frost was introduced as the program's head coach. 
"That sent a clear message to me that we needed to get something organized here," Moos told the Journal Star last week.
He was making reference to the formation of a football lettermen's organization. Well, it's happened because some former Nebraska players made it happen. Moos is thrilled. The first-ever Husker Football Lettermen's Association is in its early stages but is picking up steam quickly. 
"We met in here (North Stadium) recently, several of the guys from different eras," Moos said. "They've created bylaws. They had an agenda. I was very impressed." 
Members told Moos they needed a representative from the athletic department to be heavily involved. Moos agreed. So when the association's leadership — George Achola is the president — went back to Moos wondering whether he had decided on a rep, he had a definitive answer. 
"I said, 'I have absolutely decided and I think he'll do an excellent job,'" Moos said. 
Moos appointed himself. I like it. So did the association. 
"That was the perfect response," said secretary/treasurer Steve Glenn, chief executive officer of a Lincoln-based international travel firm. "Here's a guy who doesn't want to put a subordinate in there because I think he understands how important it is. You know he's very politically smart."
Politically smart? Ah, yes, the conversation shifts to Frost, who's 12-20 as he enters his fourth season in charge. Moos hired Frost. Moos wholeheartedly believes in Frost to get the program on the right track. But some people in the fan base are losing patience. And don't look now, but the 2021 schedule is a bear, with three of the first four games scheduled to be on the road.
Frost hears the criticism. So does Moos. We'll see how the season goes, but it's conceivable there could be more bumps in the road.
This is where 1,500 or so friends in the Husker Football Lettermen's Association could come in handy. 
"OK, let's say things get hot and heavy this year," Glenn said. "Bill can call some of us and say, 'Hey, guys, it's time to round up the wagons.' We'll go and protect the team, the coaches and the administration. Because we're a team. See, a lot of people don't understand. The team is for the whole group. This is like adding 1,500 people supporting the athletic department, Scott, the coaches. And these are guys who bled for the program.
"Bill's a smart guy. It's good for him, it's good for us. If this group circles the wagons around the program, nobody touches anybody." 
It's hard to imagine every one of the 1,500 members will be in a lock-step agreement on everything, but you get the idea. 
"It's extremely important," Moos said. "Especially when we have a former player as our head coach."  
There are a lot of other reasons the Husker Football Lettermen's Association makes sense besides the support it potentially could provide for the head coach. 
When I talked to Achola this past summer, his passion for the project was evident. The 50-year-old Omaha attorney felt it was important to provide mentoring to current Nebraska players, especially ones who are set to graduate and enter the workforce. 
"If you look at our board of directors and look at our membership, if you're a player coming out and you want to be a lawyer — hey, you've got a guy who's done it," Achola said. "If you want to be a doctor, we've got Dr. (Patrick) Tyrance and Dr. (Rob) Zatechka and Dr. (Scott) Strasburger. If you want to be a cop, we've got cops. Whatever you want to do, we've got people within our membership who've done it."
Achola wants the association to be beneficial to the Nebraska football program and not be viewed as a threat or something that works against the program's overall message. Achola says the association, an officially registered nonprofit entity that's independent of the university, has the support of Frost — and, of course, Moos practically gives it a bear hug. 
"I've done it everywhere I've been but never had the rich tradition of five national championships like we have here and, my heavens, the number of conference championships and All-Americans and college football Hall of Famers," he said. "I've put these former letter-winner organizations together at places that had nowhere near the tradition and success as Nebraska. I was somewhat shocked when I got here to see it wasn't occurring."
Along those lines, Moos is excited about the Husker Football Lettermen's Association annual 10-year reunions for teams, the first of which will be held this coming season. A brunch is planned Oct. 2, when Nebraska plays Northwestern. The event will be on the athletic department's dime.
Glenn is obviously thrilled, saying, "Bill told us, 'We have to make this a tradition. You have to hang in there. The first year, you may have only 100 people there. But if you keep doing it for a few years, you'll have 500 people.'
"We said, 'Wow, you bet, we just didn't think we could do that.' You have to understand, the university has never really focused on reunions of former football players."
Moos has helped change all that. Wise move.
"This isn't the reason for doing it, but I would be a lot more in tune to giving a nice gift to my alma mater if I get recognized and remembered," he said. "Hey, don't step over the dollars to get the nickels. Put on a nice event for the right reasons and if it pays dividends from people who've had success in their life, if it comes back to help us, that's just a kicker."