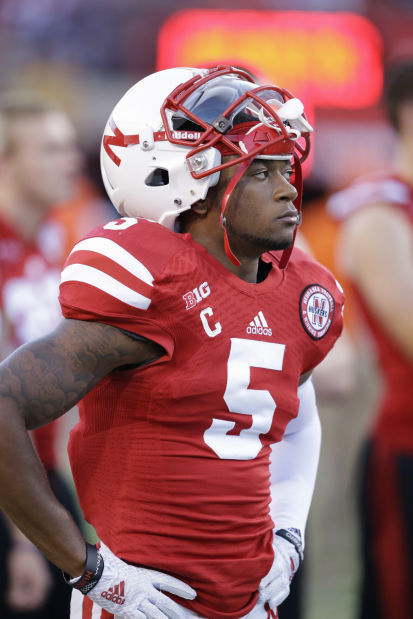 USC didn't recruit Josh Mitchell.
No hard feelings, though, he says.
After all, the Nebraska senior cornerback didn't garner much attention from the name-brand California programs, even though he's from Corona, California, just southeast of Los Angeles — and about 100 miles north of San Diego.
Mitchell, the Huskers' leader this season with 12 pass breakups, will wrap up his college career by facing USC on Dec. 27 in the Holiday Bowl at Qualcomm Stadium in San Diego.
He basically became a man in Lincoln. Now, he prepares to return to the region where he became a star at Eleanor Roosevelt High.
"USC is my mom's alma mater," Mitchell said. "So that will be nice to play against them. I grew up with her always screaming for them. I always wanted them to lose."
Mitchell had his usual wry smile. He was kidding, sort of.
He was serious about the prowess of USC (8-4).
"I think it's a really good matchup. They have a pro-style offense," Mitchell said. "They have a quarterback (Cody Kessler) who can really sling it. They have some really good receivers.
"They have a lot of NFL talent, probably the most we'll play against this year. So, I'm really excited about that."
The 5-foot-11, 160-pound Mitchell was upbeat while speaking with a horde of reporters Wednesday as Nebraska (9-3) began bowl preparations. He politely declined to discuss his somewhat caustic series of tweets that drew ample attention right after Bo Pelini and his staff were fired Nov. 30.
Mitchell is fiery, passionate. Has a bit of an attitude. It's largely what allows him to play major-college football despite his relatively slight build.
You detect passion in his voice as he speaks of the importance of playing hard for the group of coaches guiding the Huskers this month before the new crew takes over. It's unclear whether Mike Riley, Pelini's successor, will retain any of the 2014 NU assistants.
You have free articles remaining.
The players seemed genuinely pleased to be back at practice, with the Hawks Championship Center serving as a sanctuary of sorts.
They emphasize being loose and having fun.
"It's beautiful. I love it," Mitchell said of practice. "I love my teammates and I couldn't wait to get back out here with them. When we're on this field, everything else doesn't matter."
But, yes, it's all somewhat awkward. There's the emotional component of a team preparing without its leader. Mitchell, when asked whether it's weird preparing without Pelini, responded with a common Pelini phrase.
"Definitely weird, but it is what it is," Mitchell said.
He said the players met and feel a sense of closure. He said he feels good having Barney Cotton as the interim head coach, noting Cotton brings a positive mindset.
The way Cotton described his approach to bowl preparations is beyond admirable. At the risk of sounding maudlin, his four "key points" this month should make Nebraskans proud of the program.
"Honor God with your effort," Cotton said. "Honor your teammates with your effort. Honor Coach Bo with your loyalty and love and support, along with your effort. And let's reveal our character one last time together in the Holiday Bowl."
Mitchell sounds ready to do his part. He helps lead a defense that ranks 27th nationally against the pass, but will be tested by a USC squad that ranks 15th in passing offense.
Pelini would preach that the players need to press forward and "be men," Mitchell said.
"We have one more game to play," he said. "We're all ballplayers here. We have a chance to win 10 games. For anyone who's a competitor, who wouldn't want to do that?
"There's a lot of energy with this group. We're all amped to play. Legs are fresh. Minds are ready to go."
In addition to his mom graduating from USC, his dad, Mario Mitchell, was a standout cornerback for San Diego State and played for the NFL's San Diego Chargers.
"My mom called me and said I just want to let you know my loyalty lies with my son and not my alma mater," Mitchell said, smiling. "That's good. At least she'll be cheering for me."
He'll surely have plenty of others in his corner.