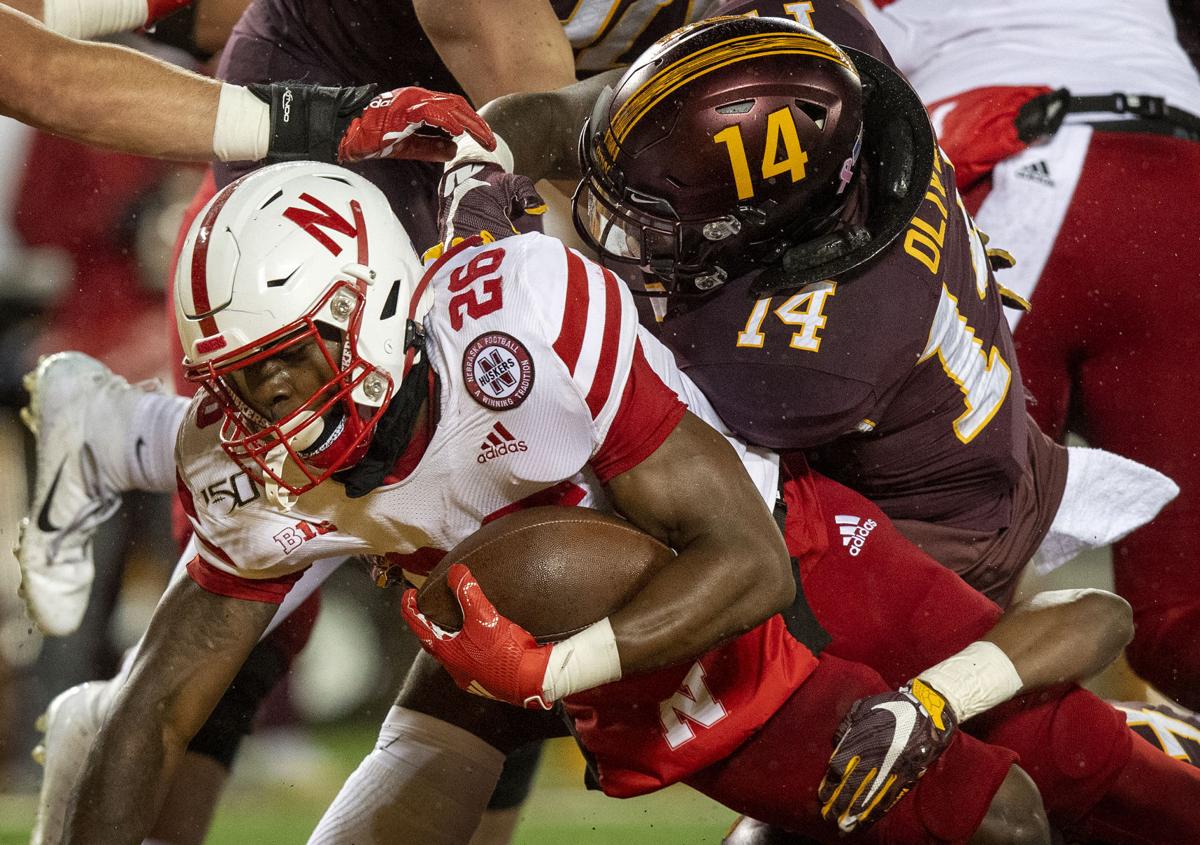 Things I know, and things I think I know: 
Dedrick Mills must feel absolutely blessed these days. 
Blessed and ready to take advantage of a golden opportunity -- an opportunity he's surely earned.
The Nebraska senior running back cherishes the sport of football. Joy is apparent in the way he practices and plays. The 5-foot-11, 220-pound transfer from Garden City (Kansas) Community College, by way of Georgia Tech, arrived in Lincoln in the summer of 2019 with a reputation for being an excellent practice player.
"He comes to work every day," Husker running back coach Ryan Held says. "I saw it when I watched him in junior-college practice. I've seen it in the weight room when I've walked through there, and then out on the field. I don't have to worry about him working hard in practice. That's the least of my worries." 
Nor is Held concerned about the top of Nebraska's running back depth chart. Mills occupies the No. 1 spot, and it's not a close race at all. In coming days, Held needs to figure out the pecking order behind Mills. But Mills, after rushing for a team-leading 745 yards last season, is the Huskers' "bell cow" back, Held said last week. 
Yes, it's a golden opportunity, and my guess is Mills is hungry to take full advantage. After all, think about the fix he found himself in a few years ago. He had been kicked off the team at Georgia Tech in August 2017 for violations of the athletic department's substance-abuse policy. He had been relegated to the fringes of college football in Garden City. And, only two games into the 2017 season there, he broke his collarbone, a season-ending injury.
"I really felt like my football career was over with," he told the Atlanta Journal-Constitution. 
Long story short, Mills had a big 2018 season in Garden City before coming on strong late last season for Nebraska. His 347 rushing yards over the final three games represented nearly 47% of his total for the season. 
On Sunday, as I re-watched Mills' performance against Wisconsin -- a 17-carry, 188-yard gem versus the nation's fifth-ranked rushing defense -- something former Georgia Tech coach Paul Johnson once said about Mills flashed through my mind. Johnson said it hurt to boot Mills from the squad in 2017 in part because he felt the Yellow Jackets "were losing one of our best players, if not the best player." 
Nebraska needs Mills to be that sort of back in 2020. You saw it in last season's game against the Badgers. In one instance, he broke a tackle at the line of scrimmage -- the defender had a clean shot at him -- and another tackle in the secondary en route to a 16-yard gain. He also rumbled for 29 yards on a third-and-6 and for 15 yards on third-and-7. 
He took advantage of excellent perimeter blocking on the third-and-7. But Nebraska's perimeter blocking last season was substandard much of the time. Mills obviously would benefit greatly from improvement in that area, especially if the Huskers continue to include a lot of outside runs in their repertoire.  
Nebraska quarterback Adrian Martinez looked good running the option against Wisconsin, in part because the Badgers had to be so mindful of Mills.
If Mills is operating at a high level, here's hoping Nebraska head coach Scott Frost, the play-caller, seldom uses empty sets on second-and-medium. The Huskers have the line and tight ends to hammer away at defenses. 
Mills, by the way, is an aggressive blocker. He blocks like someone who cherishes each moment he's on the field. He runs the ball that way, too. He'll get plenty of chances this season as the team's "bell cow." 
My guess is he's kicking the stall in anticipation. 
* During a discussion Saturday with all-time Nebraska great Eric Crouch about the challenges of playing quarterback, the 2001 Heisman Trophy winner brought up something he often hears from current Husker players. 
"I didn't put a lot of pressure on myself when I was at Nebraska (from 1998-2001) because I still felt like we were Nebraska," said Crouch, alluding to the fact that NU was a consistent top-10 program in those years. "But I just can't imagine the pressure the new players put on themselves. They've just not won a lot of games recently, and there's that pressure to be the 'old Nebraska.' 
"I've talked to a lot of recent former Huskers. I'm not going to name any of them. But they're really trying hard to be the 'old Nebraska.'" 
Crouch was part of a program that most opponents not only respected, but feared. Nebraska took the field with a certain attitude. The confidence was evident. It was earned. And, yes, it feels like it's a long road back to that mentality. 
* In this football season with far fewer fans in the stands, or none at all, Nebraska defensive coordinator Erik Chinander says defenses need to create their own energy.
Man, it's been a struggle in that regard, even in the vaunted SEC.
I appreciate the SEC, maybe more than ever, but I'm seeing atrocious defense, even from Alabama. Even from Florida. Even from LSU, for sure. But worst of all Saturday was Ole Miss. There were several examples of shockingly bad defense during the fourth quarter against 'Bama. I get that maybe teams aren't tackling much in practice, but c'mon, have some pride.
* Former Nebraska head coach Bo Pelini's first season as LSU's defensive coordinator has been nightmarish. Next up for the Tigers (1-2) is Florida, which is averaging 7.61 yards per play to rank third nationally. If the Gators (2-1) don't gain 550 yards of total offense this week, it would be somewhat surprising, considering Missouri put up 586 against Ed Orgeron's crew Saturday.
"I love Bo," Orgeron told reporters. "I think Bo's going to be a great defensive coordinator. He's done it before. But we have to get better." 
A lot of defenses could say that right now.