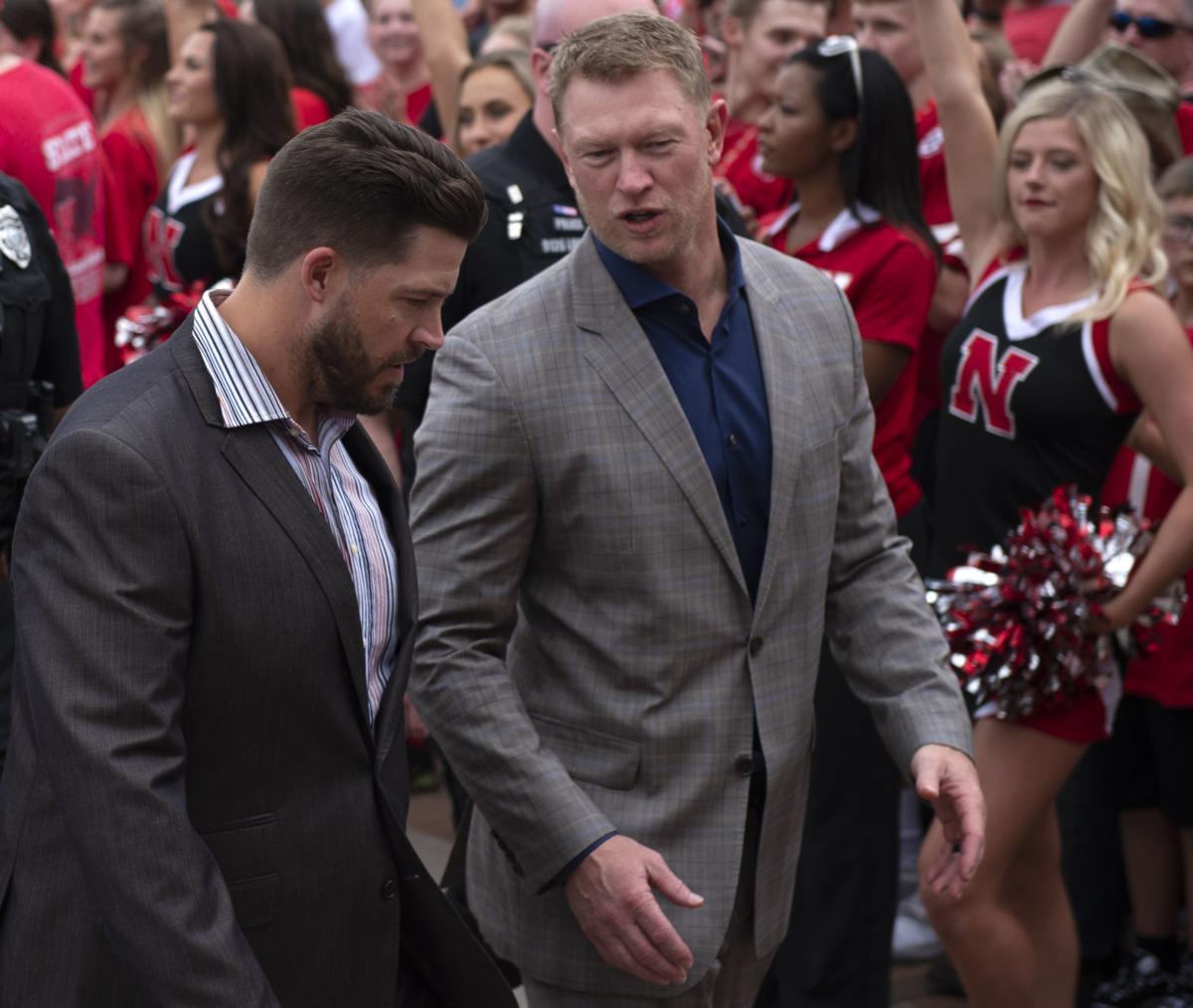 My apologies to Matt Millen.
I dialed up the BTN analyst Friday morning as he studied video of the Nebraska football team's first three games. Millen actually was far from angry about the interruption. He's a congenial sort and loves to talk football. Loves to study football.
So, Matt, does Nebraska (2-1) have the look of a team that could finish first in the Big Ten West Division?
"I think it's a tall order," he said from Champaign, Illinois, where NU and Illinois will square off at 7 p.m. Saturday on BTN (with Kevin Kugler and Millen in the booth).
Millen (correctly) thinks Nebraska winning the West is a long shot for a variety of reasons, including:
Although Nebraska has explosive playmakers on offense, it could use one or two more of them, he said.

Although Husker sophomore quarterback Adrian Martinez rebounded from a bad performance in Week 1, Millen senses his coaches are being somewhat cautious in how they use Martinez for fear an injury could derail the train.

Although the defense has improved, he said, it's still not where Nebraska ultimately wants it to rise.

Although the team is well-coached, he sees an overall lack of consistency.
"Rule 1 is you don't beat yourself," he said. "They haven't gotten past Rule 1."
Then he got to the bottom line, and it's a bottom line that's difficult to argue against.
"It's going to take Scott Frost until maybe his fifth recruiting class for him to say, 'I not only have enough guys who can really play, but I also have enough guys who can back them up,'" Millen said of the second-year Nebraska head coach. "It'll take him awhile to get the kind of depth you're looking for. There's just not enough bullets in the gun right now."
Nebraska has enough bullets to have a very good season. It has enough bullets to get back in the bowl business following a two-year drought. It perhaps even has enough bullets to steal a first-place division finish thanks to a manageable schedule and a so-so division, but it would require one hell of a coaching job for the Huskers to pull it off.
Prevailing wisdom is Wisconsin (2-0) and Iowa (3-0) occupy the West Division's first tier, and Nebraska fans can't bite back very hard against the notion.
After all, both teams have done things this season that Nebraska hasn't. Iowa went to a rival's stadium and closed the deal, defeating Iowa State 18-17. Make no mistake, ISU is better than the Colorado team that defeated NU 34-31 in overtime at the foot of the Flatirons. In the Big Ten, few teams have defenses as salty as ISU's, and few have a quarterback of Brock Purdy's quality.
Meanwhile, Wisconsin has bludgeoned teams it was supposed to bludgeon — South Florida (49-0) and Central Michigan (61-0). As for Nebraska, South Alabama was in striking distance of beating NU in the fourth quarter.
I don't think I need to belabor the annual discussion about Wisconsin and Iowa successfully recruiting specific types of players to fit the programs' clearly defined identities. And for heaven's sake, I don't need to remind folks of how successful those teams have been against NU in recent years.
So, yeah, put Wisconsin and Iowa on the first tier as favorites to win the West Division. But put Nebraska atop the second tier just ahead of 2018 first-place finisher Northwestern. Minnesota is hard to read, Purdue has looked surprisingly shaky, and Illinois is Illinois.
But the Huskers can overlook nobody.
"I've said this a lot: I think the Big Ten is better top to bottom than any league that I've seen personally," Frost said. "Every team can beat you if you don't play well."
Go back to what Millen said about Nebraska's lack of consistency. If the Huskers throw a clunker in Champaign, and Illinois (2-1) experiences a significant amount of early game success, it could be an interesting second half. As a game analyst, Millen always roots for "interesting." Bring on a close one, he says.
Nebraska fans are rooting for major improvement. Part of that discussion involves the Huskers achieving a level of consistency they haven't reached in years. During the last four, Wisconsin is 27-8 in Big Ten play, Northwestern 26-9 and Iowa 23-12.
Steve Sipple and Parker Gabriel give the latest from the Nebraska offensive coaches after practice on Sept. 18, 2019.
Nebraska is 15-20. So, yeah, the Huskers reversing the trend and winning the division is indeed a tall order.
Frost's crew winning the Big Ten this season would be akin to scaling Trump Tower in downtown Chicago.
"I think it's winnable if you have a good team and play well," Frost said. "That's not to sound arrogant. We played well against a couple of the better teams in our league last year and lost. But we had a chance. That gives me hope that we can get there."
Defensive coordinator Erik Chinander talks about preparations for Illinois after practice on Sept. 17, 2019.
Yes, Nebraska can get there, eventually. But a few more bullets are needed. A lot more consistency is needed. And, yes, any kind of road win would help matters. So, here you go: Nebraska 41, Illinois 21.
It probably won't be as interesting as Millen prefers.
Be the first to know
Get local news delivered to your inbox!