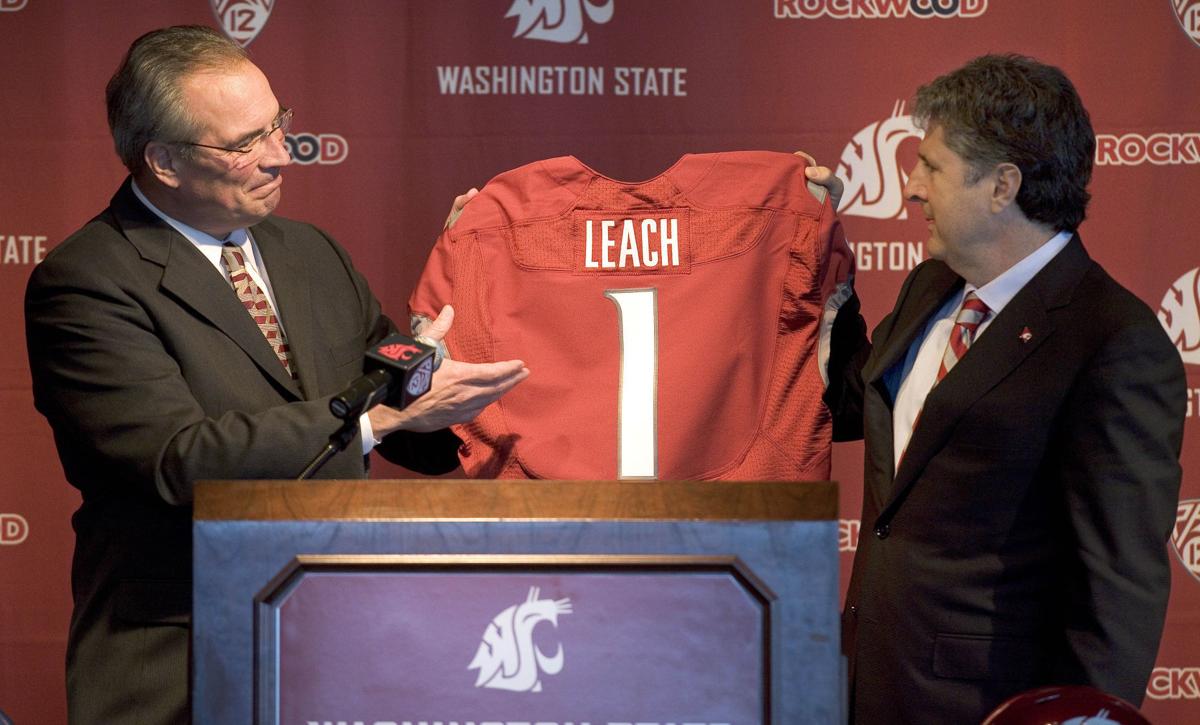 The premise was simple: Tell us Mike Leach stories.
Nebraska athletic director Bill Moos could go on all day. In fact, he recently went on for two hours telling about his time with Leach (2012-17) at Washington State.
Moos hired Leach following the 2011 season after first meeting him in Key West, Florida. The story of that meeting is a gem, but we'll save that one for another day. It's just one of many that Moos tells with gusto and a lot of laughter. Moos and Leach enjoy an excellent relationship to this day, which isn't surprising because they're in many ways cut out of the same cloth.
* Moos says he stays in touch with Leach almost exclusively via text messages — because the AD says it's difficult to get the coach off the phone. 
Along those lines, Moos never called a meeting with Leach in the athletic director's office. Instead, Moos would go to Leach's office. 
"That way I could leave," Moos says. "Otherwise, it might last four hours. He'd talk about Hollywood and politics and whatever else." 
Moos recalls one particular night when he got stuck on the phone with Leach. The athletic director was watching the 1993 Western film "Tombstone" for "maybe the 57th time," he says. But he needed to talk to Leach about a matter.
"So I called him at 11:30 p.m.," Moos says. "I told him, 'Mike, I just have one quick thing here. …'"
But Leach wanted to talk about authors. He wondered whom Moos liked better, Ernest Hemingway or F. Scott Fitzgerald. Moos humored the coach — "'The Old Man and the Sea' is great, and you can't go wrong with 'The Great Gatsby" — and Leach just went on and on.
"If you and I were hanging around, we'd rather be with Hemingway," Leach concluded.
The coach then talked about a pirate sword he gave actor Matthew McConaughey for a wedding gift. 
"You know what I love about pirates?" Leach told Moos. "It's that they come from all different cultures, kind of like a football team. You've got thieves, gypsies, people with physical deficiencies. …"
"I look outside and the sun's coming up," Moos says now. "The garbage trucks are coming down the street. I hadn't slept. …"
He lets out a belly laugh and keeps the stories coming.
* Leach never got to work before 1 p.m., Moos says.
"He had a recliner at the end of his bed in his bedroom with a little table there," Moos says. "He'd break down film. His wife would come in around 3 and bring him a sandwich. He'd sleep until noon, then walk to work while learning Spanish (on headphones) as he walked through a garbanzo bean field.
"His coaches knew their staff meeting would be at 2, and sometimes that was delayed."
* You ever wonder what's on the small note card that Leach holds on the sideline?
"The card is a football field, and wherever we throw the ball, he puts a little dot there," Moos says. "If we're throwing too many times over toward the left hash, he sees that tendency and adjusts. It's just a bunch of dots!" 
* Leach, upon taking the Washington State job, had an immediate request: a sandpit in the team's training area. 
"I told him, 'If you don't mind me asking: Why do you need a sandpit?'" Moos says.
Leach told him that NFL great Walter Payton used to train by running river deltas to strengthen his ankles.
"We had one in within three weeks," Moos says, "and I don't ever remember an ankle injury."
But Leach had other things in mind for the sandpit. 
"You always have guys who think they're tough and get in fights around campus," he told Moos. "So we have a Fight Night. We have a knock-down dummy that keeps popping back up. We put it in the sandpit with the guy who got in the fight and make him go 12 rounds. I haven't seen a guy make it three yet. …"
Try dancing around in the sand with your hands in fighting position and you'll know why.
* Along those lines, Leach's top three rules: no drugs, no stealing and no putting your hands on a woman. 
"A guy who steals, you can't trust him when he comes up to the line of scrimmage," Leach told Moos. "And a guy who hits a woman is a coward."  
* Moos greatly appreciates that Leach emphasizes academics. Hence the Tower of London. 
"The kid who misses class takes a cement brick block and holds it above his head with the whole rest of the team running behind him through campus — during the middle of the school day," Moos says. "The kid then ends up on the fourth floor of Todd Hall in the English Literature area. He has to go in and recite Shakespeare in an English class."
Yes, that happened — but only once, Moos notes proudly. 
* Moos is on a roll, recalling the player who forgot to turn in a term paper. 
You perhaps have heard this story, but it's still fun to ponder, especially in a society that's generally gone soft. 
"Mike puts a desk at the 50-yard line, and the kid's writing his term paper while practice is going on around him," Moos says. "Balls are literally bouncing off the desk … I loved it. But our leading receiver quits because he couldn't handle it all. I mean, there had been no discipline in the program."
Leach changed that. He has low tolerance for shiftless souls.
* Back to the sandpit. Moos heard from professors who were concerned about inhumane treatment of players. 
"Mike didn't give a sh--," Moos says. "I told him, 'You have a lot of eyeballs on that thing.' He responded, 'Well, those eyeballs are going to like the scoreboard someday.'"
Leach was 55-47 in eight seasons at Washington State, including 36-36 in the Pac-12, before taking over Mississippi State's program last month. In the past five seasons, he's averaged 8.6 wins per year.
In the four seasons before Leach arrived at WSU, the Cougars were 9-40.
* Leach didn't turn things around immediately in Pullman, going only 12-25 in his first three seasons.  
"I'm hearing from fans, 'Get this clown out of here, and by the way you have to go, too,'" Moos recalls. "I'm an alum. I came to save the place!" 
Washington State's president at the time, the late Elson Floyd, had Moos' back. 
"So, as the nasty emails and letters came in, I sent them to our development office marked 'NBT file,'" Moos says. 
"No bowl tickets," Moos says proudly. "Because when we do get good, I'm not going to forget."
"We go 8-4 and I hear, 'Bill, I'm so sorry. …'" 
He didn't care. No bowl tickets for you!
"He knew I supported him right to the hilt," Moos says.
Be the first to know
Get local news delivered to your inbox!