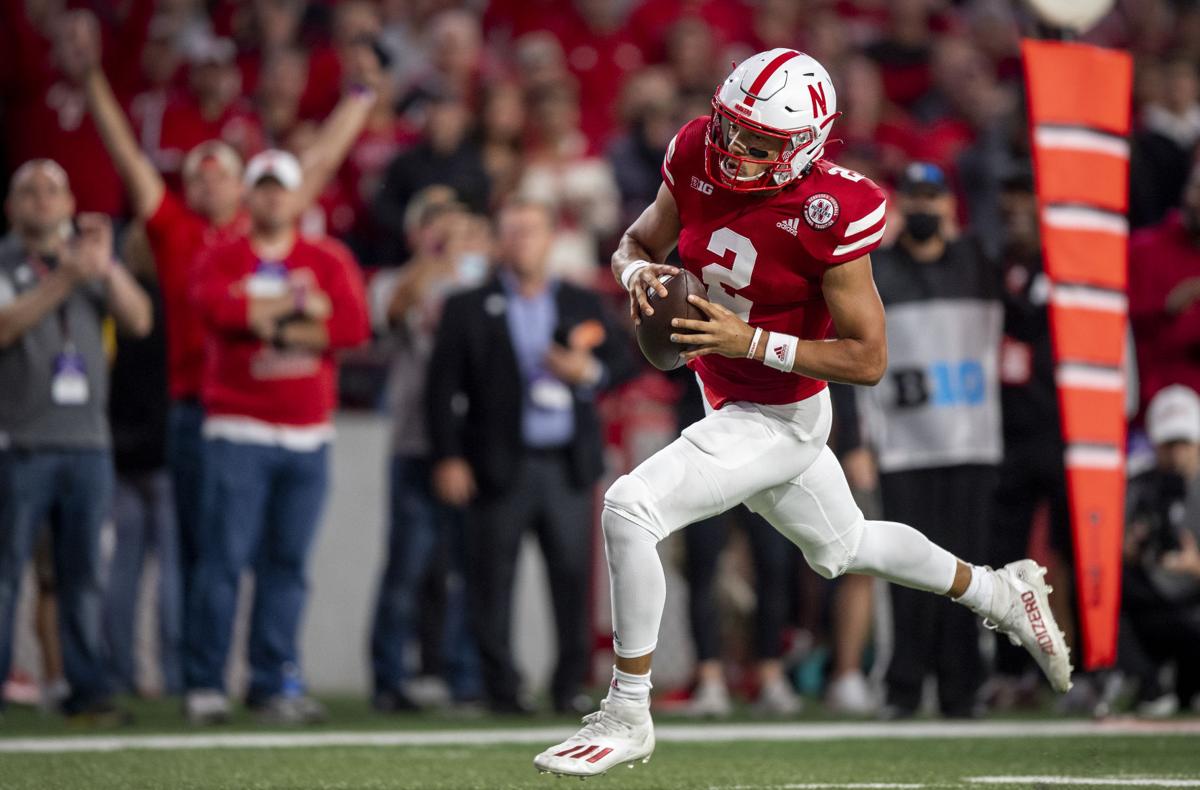 Nebraska rolls into another big-game week feeling upbeat and confident. 
That was clear Monday during the Huskers' weekly media luncheon, where several players were on hand along with head coach Scott Frost.
"Everyone's in super-high spirits," senior wide receiver Samori Toure told reporters.  
Nebraska, 3-3 overall and 1-2 in the Big Ten, comes off a 56-7 dismantling of Northwestern on Saturday night in Lincoln. 
With Michigan up next on the schedule, this is an example of a week in which storylines are plentiful. 
Some takeaways from Monday: 
1. Martinez mum on jaw: Nebraska quarterback Adrian Martinez absorbed a wicked shot to his jaw early in the Sept. 25 game at Michigan State and departed to the locker room for a series before returning to lead a near-upset.  
There was some buzz last week that he might miss the Northwestern game. But he played exceptionally well.
"It's good," he said Monday of his jaw. "No issues, no worries." 
Nothing at all to report? 
"Nothing really to say on it," he told me. "Just ready to go. Nothing that's holding me back. Nothing major." 
Martinez basically sought to shoot down my line of questioning before I could get it out of my mouth. He's a tough player and an excellent leader. This was a topic he clearly didn't want to address. Maybe it's because there's nothing much to address. Or maybe it's more about him wanting to quietly push through a challenge and limit distraction. 
Whatever the case, his mind is where it belongs, on ninth-ranked Michigan (5-0, 2-0).
I'm certain Michigan's mind is on Martinez. 
2. An example of progress: There was plenty of discussion Monday about Michigan's 56-10 throttling of Nebraska in the teams' last meeting. 
In that 2018 game in Ann Arbor, Michigan, the Wolverines were ranked 19th by the Associated Press en route to a 10-3 season.
Meanwhile, it was Nebraska's third game with Frost in charge. 
Long story short, it was ugly for the Huskers, who trailed 39-0 at halftime. 
"That was the most physically defeated I've ever felt after a football game in my entire career here," said Nebraska senior defensive lineman Ben Stille, a starter as a sophomore. 
That, my friends, was the quote of the day. 
"They were really big up front," Stille continued. "They ran a lot of gap scheme. They came downhill. Physically, I wasn't personally ready to be in that position yet." 
Nor was his team. As a program, however, Nebraska is now ready to be in position to take down Michigan. That was clear in NU's close-shave road losses last month to then-No. 3 Oklahoma and then-No. 20 Michigan State.
It'll be difficult this week to find anyone with any credibility who's picking Michigan to prevail in lopsided fashion. 
In other words, it seems to be a decent example of how much progress Nebraska has made under Frost since that awful day in Ann Arbor.
I'm expecting a very close game, for what it's worth. 
Is there anybody predicting a Michigan blowout win? 
3. A viable option: There was ample discussion about the growing emphasis of triple-option plays in Nebraska's offense. 
Martinez has become a slick operator in that regard. 
How often are the Huskers working on option plays this season compared to his previous three years in the program?  
"I wouldn't say it's necessarily comparable," he said. "We do it a lot more." 
In order to run option plays effectively, they need to be drilled repeatedly because timing is such a critical element between the quarterback and those players receiving the pitch.
"Certain things, you don't do every day in practice, some you do," Martinez said. "I would compare it to the fact we're working meshes with running backs as far as hand-offs. Well, we work option pitches as quarterbacks, and we work it with receivers and different people we have to pitch the ball to." 
This much is certain: Nebraska's effective use of option plays is a headache for defensive coordinators. It's something defenses don't see all that often, and it requires a disciplined approach by defenders. 
Martinez, in general, is a headache for defensive coaches. 
4. Talking pad level: Frost has said a few times he wants his offensive line to play with a lower pad level. It's not a difficult concept to understand. 
So why is it such a challenge to fix?
"I don't know if it's a challenge," he said. "We just need to keep improving. We're still young on the O-line, and some of those things get learned. We talk about strength and conditioning on the D-line. Our guys up front (on offense) are big and strong and can move." 
But it takes a while to perfect technique, the coach said. 
"We always talk about the desire to excel with no fear of failure," Frost said. "It's really easy to get up a little bit higher (in a stance) and make sure you don't completely whiff on somebody and make sure you know who you're blocking and maybe be a little bit hesitant. 
"If you do that, you're not moving guys in this league." 
You certainly won't move Michigan's defensive line. Nebraska's offensive line is in for a much bigger challenge than it faced against Northwestern.
Watch now: Scott Frost — and Nebraska players — took the podium Monday. Watch full replays
Watch now: Scott Frost talks win vs. Northwestern, O-line, Michigan and plenty more
Watch now: JoJo Domann not buying into the hype, excitement for Michigan game: 'It's football'
Watch now: Adrian Martinez says Huskers 'have been actively practicing' option scheme
Watch now: Austin Allen says Huskers 'have come a long ways' since 2018 loss to Michigan
Watch now: Samori Toure says 'everyone was in super high spirits' at practice Monday
Watch now: Cam Taylor-Britt hears excitement for Michigan, says Huskers must stay 'level-headed'
Watch now: Ben Stille said 2018 loss to Michigan left him 'physically defeated'