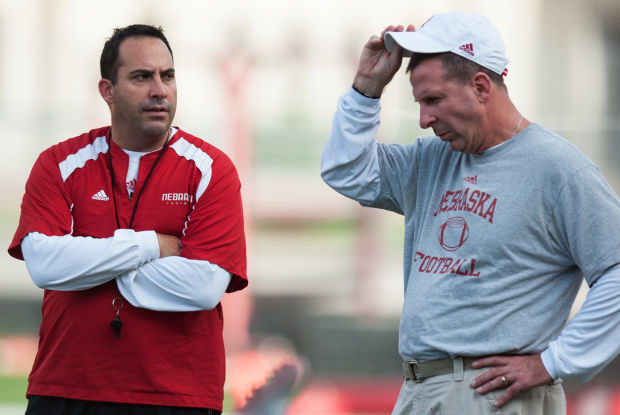 Perhaps it could be like Michigan State was last season.
Maybe Nebraska still can be that way.
As the Spartans' offense struggled to build steam as last fall rolled along, Mark Dantonio's crew relied on defense. An ornery, top-five defense. The offense came around eventually. That formula helped produce MSU's first Rose Bowl victory since 1988.
Before this past week — the first of Nebraska's preseason football camp — it was easy to envision a similar scenario unfolding in Bo Pelini's seventh season as Husker head coach, particularly the part about the defense wreaking havoc early in the season as the offense found its feet.
Now, doubts on "D" arise.
Not panic in the streets. Just doubts.
Two season-ending knee injuries to key defenders and a season-long suspension to another have taken some steam out of the Michigan State-path-to-riches theory.
In college football, now more than ever, a fine line often separates champs and chumps.
In Nebraska's case, the football gods altered the fine line. They made it, well, finer.
For what it's worth, I voted Nebraska No. 15 on my Associated Press ballot that was due Wednesday.
Yeah, maybe that's a bit high.
You have free articles remaining.
I turned in the ballot before learning that junior Charles Jackson — the projected starting nickel back and best overall athlete on the team, according to senior safety Corey Cooper — was finished for the season because of a knee injury.
I forwarded the ballot long before learning that sophomore Michael Rose-Ivey, who was locked in a battle with classmate Josh Banderas for the starting middle linebacker job, also suffered a season-ending knee injury.
And before learning that sophomore safety LeRoy Alexander — who was in a three-man rotation at his position — also was done, due to suspension.
If I could have a do-over, I'd drop Nebraska a spot or three. Nothing rash.
There's been predictable overreaction. But to say the three losses have decimated Nebraska's defense would be a significant overstatement. I spoke with Pelini late Saturday afternoon. As one might expect, he retained confidence. He said there was no reason to start holding anything back schematically. All systems go, he said.
The Huskers still look excellent in the front seven and possess better-than-decent overall talent and depth in the secondary, but a handful of newcomers will have to step up quickly.
High-level functionality at nickel seems precarious from an outsider's perspective.
Even before Jackson's injury, you had reason for healthy skepticism about the nickel spot. Jackson, for all his explosive athleticism, would've been starting at the position for the first time. He had a reputation for struggling with assignments at safety.
Byerson Cockrell, a junior college transfer who arrived on campus in January, gets first crack at replacing Jackson. The 6-foot, 185-pound Cockrell, according to Pelini, is physical, tough-minded and instinctive. He's picked up the position very well, Pelini said.
Precarious? Well, true freshman Josh Kalu is Cockrell's top backup at the moment. You'll see Pelini working with Kalu a lot in coming days.
Alexander's loss has the most impact, in my opinion. The 6-foot-1, 200-pound Ohio native said recently he picked up the position well last season as a freshman, when he made 27 tackles in the final six games. Plus, he's a superb athlete, a specimen — a future NFL-level talent, according to those in the program.
The thought of Alexander, Cooper and sophomore Nathan Gerry in a three-man rotation was exciting for Nebraska fans. But remember, Gerry will be playing safety for the first time in college. And now, the third safety appears to be true freshman Kieron Williams. He'll also be spending a lot of time with Pelini.
Pelini expresses a lot of confidence in senior Trevor Roach, who has been playing exclusively BUCK linebacker in the base defense but will move back into the middle behind Banderas.
Earlier this week, between plays, the lanky Williams (6-foot, 185 pounds) strutted to the loud music Nebraska blasts to simulate in-game racket. His movements recalled a young James Brown.
Williams felt good. The entire defense obviously felt good. It was flying to the ball, woofing all the while.
By Saturday morning, much of the strut was gone.
Welcome to preseason camp and the accompanying mood swings. Injuries happen, Pelini said matter-of-factly. You move forward with what you have. Next man up, is the battle cry. And he seems to feel good about those young men.