Bored and anxious for another chance in the big time, Dedrick Mills was oh-so-ready to get out of Dodge.
OK, it was actually Garden City, Kansas. But close enough.
"I was so relieved to get out of there. I was so happy when I did," says Mills, listed co-No. 1 with Maurice Washington at running back on Nebraska's first depth chart of the 2019 season. "I'm so excited to be here right now. I wake up every day with a smile on my face. Everybody sees me every day smiling and ready to go."
A chiseled 5-foot-11 and 220 pounds, Mills has been a force at times this month in preseason camp. He enjoys practice. I mean, he genuinely enjoys it. And let's be clear on something else: He practiced his you-know-what off for Garden City Community College, according to his coaches there. Although he was excited to leave the town of 26,500 in southwest Kansas — 52 miles from Dodge City — he left his mark, rushing for 1,358 yards and 19 touchdowns last season in 10 games.
In a late October game against Coffeyville (Kansas) Community College, he carried 44 times for 262 yards (6.0 per carry) and four touchdowns.
At Ware County (Georgia) High School, fans called him "the Beast," and I'll just let your imagination wander, with help from the Beast himself.
"I'm a straightforward runner," Mills says. "If you're in my way, you better move. If you don't move, then you get hit."
He looks like he was put on earth to be a running back. Mind you, this isn't a scat-back we're talking about. My guess is Nebraska fans will be buzzing about Mills by midway through the first quarter Saturday when the Huskers open the season against South Alabama.
Mills says he expects to rush for as many as 1,500 yards this season. Nebraska head coach Scott Frost's offense likely will spread the ball around too much for Mills to rush for 1,500. But I can envision him eclipsing Devine Ozigbo's 2018 total of 1,082 rushing yards.
Watch Mills' video highlights. His physical, downhill style is such that it can inspire an entire roster.
Nebraska always should have at least one back like Mills. I'm betting Ryan Held will make it happen.
Frost said almost in passing this week that Mills would be on the field Saturday for the first offensive play from scrimmage.
Yeah, the big back has made a quick impression.
"He's a one-cut back, straight in your face," says Husker inside linebacker Mohamed Barry.
Says Frost: "Probably has better breakaway speed than I expected and he's hard to bring down."
Oh, but Mills was mentally and emotionally down following his 2016 season at Georgia Tech. He had been a force, rushing for 771 yards and 12 touchdowns in nine games. After the season, former Yellow Jackets head coach Paul Johnson had no choice but to boot Mills off the team because of repeated violations of the athletic department's substance-abuse policy, all for marijuana use.
Mills headed to Garden City, fully aware he "pissed away" (his words) a wonderful situation at Georgia Tech because he chose to make bad decisions. Even now, he doesn't hide from it.
You have free articles remaining.
After he injured a shoulder in Garden City in 2017 — he was limited to seven carries on the season — he says he was very close to giving up the sport he loves so dearly. Sometimes we all contemplate moves that really don't make sense, right?
"I called my mom and told her I didn't want to be in college no more, that I was done," Mills says. "She basically was cussing me out. She was like, 'No, you're staying.' Then I called my uncle. I told him, 'I don't think I can do this.'"
The uncle didn't want to hear it.
"You're staying," he told Mills in a firm tone. "You don't have a choice, feel me? You have to do this. You have to get this done."
Mills said he had stopped believing in himself. But his family renewed his belief. They essentially fed "the Beast."
Thank heavens for family, right?
And, yes, thank heavens for second chances. Mills owns up to his transgressions at Georgia Tech. He said he's changed his ways. He became more appreciative of all he had in life. Come to think of it, perhaps all that quiet he experienced in southwestern Kansas gave him time to ponder his future … and think about what he almost lost.
Make no mistake, he had a lot of time to think in Garden City. Practice, class, living quarters. That was pretty much it, he says.
Granted, there were a few trips to "The Big Pool" with teammates. The city's municipal pool is larger than a football field with a surface area of 72,600 square feet. It holds more than 2 million gallons of water.
"We'd do little fun things, but there's really not too much to do out there," Mills says.
He should find plenty to do in Lincoln. Especially on autumn Saturdays.
His big chance in the big time has arrived. Again.
I'm guessing Mills will make another mammoth splash.
That's right, feed that beast.
Position-by-position look at the Huskers
_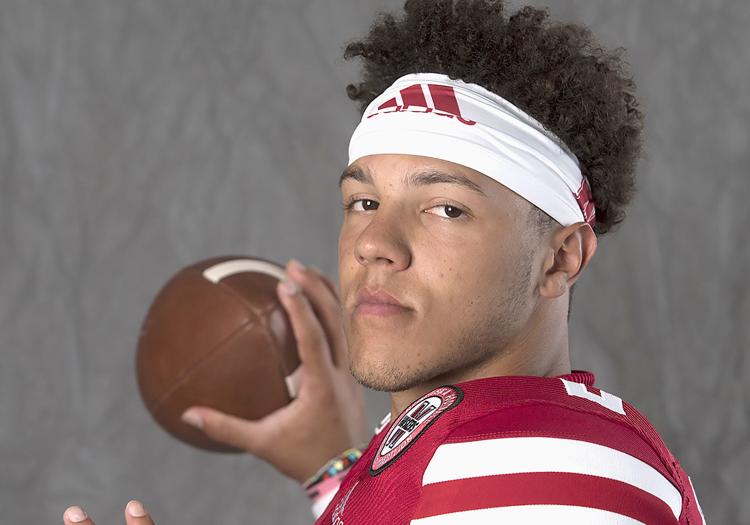 Quarterbacks
2, Adrian Martinez, 6-2, 225, so.
7, Luke McCaffrey, 6-2, 200, fr.
14, Brayden Miller, 6-1, 210, fr.
16, Noah Vedral, 6-1, 200, so.
17, Andrew Bunch, 6-1, 215, jr.
18, Matt Masker, 6-1, 225, fr.
Second-to-none: Adrian Martinez
Consider this: A year ago, Martinez was just winning a close race for Nebraska's starting quarterback job over Tristan Gebbia and hadn't played a down of college football. For that matter, he hadn't played any football at all — save for a high school all-star game and spring ball in Lincoln — since his junior year of high school. Now, he's widely considered among the best returning quarterbacks in the Big Ten and in the country. Coaches and teammates unanimously expect a big jump from a freshman season that included 3,246 offensive yards and 25 touchdowns. Martinez already holds NU's career record for 400-plus-yard total offense games at three and broke several other school records. In the Huskers' final eight Big Ten games, he averaged 340 yards per game. What does the encore look like? And just how far can the Fresno, California, native take Nebraska?
1. Who wins the backup job? Noah Vedral started preseason camp as the odds-on favorite to win the No. 2 spot, but freshman Luke McCaffrey and junior walk-on Andrew Bunch are both also in the conversation. Vedral has the most experience in the system, but Bunch has played, too, and McCaffrey is already a notoriously quick study. Vedral is listed as No. 2 in the depth chart released on Monday.
2. Just how much (and when) will McCaffrey play? The freshman from Colorado is in a unique spot because of the redshirt rule. He can appear in up to four games while maintaining a year of eligibility. Both Vedral and Bunch have used their redshirt seasons. That could lead the Huskers to want to get McCaffrey some game action even if he isn't the true No. 2.
Dedrick Mills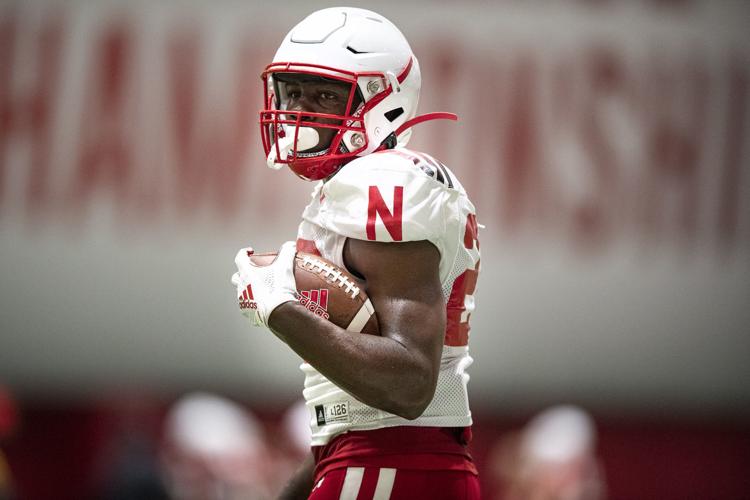 Running backs
6, Rahmir Johnson, 5-10, 180, fr.
24, Cooper Jewett, 5-10, 190, fr.
25, Ronald Thompkins, 5-11, 195, fr.
26, Dedrick Mills, 5-11, 220, jr.
28, Maurice Washington, 6-1, 190, so.
31, Zach Weinmaster, 5-11, 190, fr.
33, Jaylin Bradley, 6-0, 200, so.
35, Moses Bryant, 5-11, 200, rfr.
37, Wyatt Mazour, 5-9, 200, sr.
38, Brody Belt, 5-8, 185, rfr.
43, Connor Ruth, 5-11, 215, rfr.
46, Corbin Ruth, 6-0, 220, rfr.
49, Austin Hemphill, 5-11, 225, sr.
Second-to-none: Dedrick Mills
Mills is almost in this spot by default, but that's not to take anything away from what he accomplished before Nebraska's season opener, which will double as his Husker debut. The junior college back was the ACC freshman of the year at Georgia Tech in 2016 and had a prolific career at Garden City (Kan.) Community College before arriving in Lincoln back in May. Since then, he's impressed in the weight room and is said to be an excellent practice player. Position coach Ryan Held recently called Mills "a hammer." Nebraska, as it turns out, needs a hammer in the backfield. Mills is built differently from every other option NU has. His top-end speed may be what dictates whether he's a good player or a game-breaker, but regardless, he's a critical piece to the Husker offense.
1. How much Maurice? As of mid-August, Maurice Washington's legal proceedings in California were still ongoing. How many games does the sophomore play in? What if he's capable of doubling his touches from 101 in 2018? What if he doesn't play? The whole spectrum seems to be in play. That's something to watch.
2. Who's next? Listen to Held early in camp and the early reviews of freshman Rahmir Johnson are promising. Wan'Dale Robinson is going to play some running back. The options after Mills and (theoretically) Washington will be important.
_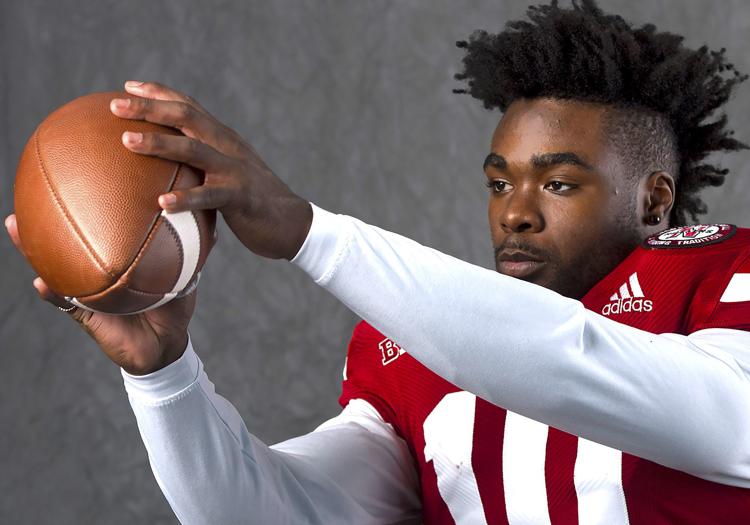 Wide receivers and tight ends
1, Wan'Dale Robinson, 5-10, 190, fr.
3, Jamie Nance, 6-0, 170, fr.
4, Jaevon McQuitty, 6-0, 200, so.
5, Demariyon Houston, 6-0, 180, fr.
8, Jaron Woodyard, 5-11, 185, sr.
9, Kanawai Noa, 6-0, 180, sr.
10, JD Spielman, 5-9, 180, jr.
11, Austin Allen, 6-8, 250, so.
12, Katerian Legrone, 6-3, 245, rfr. (indefinitely suspended)
13, Darien Chase, 6-1, 200, fr.
15, Andre Hunt, 6-0, 190, rfr. (indefinitely suspended)
19, Mike Williams, 5-10, 180, sr.
22, Miles Jones, 5-8, 175, rfr.
29, Bennett Folkers, 6-2, 205, rfr.
35, Riley Kinney, 6-4, 185, fr.
36, Christian Banker, 6-0, 190, so.
40, Brian Perez, 6-3, 265, jr.
45, Ty Chaffin, 6-5, 215, jr.
46, John Goodwin, 6-2, 255, fr.
47, Austin Jablonski, 6-2, 215, fr.
48, Bryson Krull, 6-3, 250, rfr.
81, Kade Warner, 6-1, 210, so.
82, Kurt Rafdal, 6-7, 245, so.
83, Travis Vokolek, 6-6, 250, jr.
85, Wyatt Liewer, 6-3, 195, rfr.
86, Jack Stoll, 6-4, 260, jr.
87, Chris Hickman, 6-6, 215, fr.
89, Todd Honas, 5-11, 210, jr.
Second-to-none: JD Spielman
Spielman's first two collegiate seasons came with so much production and so much consistency that sometimes it almost seems as though he's taken for granted. As a mental exercise, take his numbers the first two years — 121 catches, 1,648 yards and 10 touchdowns — and double them while keeping in mind he's missed four games to injury. Those numbers would rewrite Nebraska's record books. He could threaten some of his friend Stanley Morgan's marks as soon as this fall. Spielman is in many ways not your typical receiver. He's quiet, he doesn't much care for interviews, he's not physically imposing. And yet, he's among the most productive returning receivers in the Big Ten. Spielman has dealt with multiple injuries in his career, and keeping him healthy will be a priority. He'll have more attention from defenses with Morgan gone. At this point, though, what's stopping anyone from assuming 60-plus catches and another run toward 1,000 yards?
1. Who else? Spielman is clearly the No. 1 target, but there are a dozen players vying for time behind him. Head coach Scott Frost and offensive coordinator Troy Walters are confident enough guys will step up and into big roles. Who will it be? That's less clear.
2. Multiple freshmen? Wan'Dale Robinson is as close to a sure bet to be a factor as a true freshman can be, assuming he's healthy. Can one or more of Nebraska's other true freshmen — Jamie Nance, Darien Chase and Demariyon Houston — get in on the action, too?
_
Offensive line
51, Cameron Jurgens, 6-3, 285, rfr.
52, AJ Forbes, 6-4, 310, rfr.
53, Riley Moses, 6-2, 305, fr.
54, Bryce Benhart, 6-9, 305, fr.
56, Collin Schefke, 6-3, 290, rfr.
56, Boe Wilson, 6-3, 300, jr.
57, Ethan Piper, 6-4, 300, fr.
58, Joshua Wegener, 6-2, 310, jr.
59, Ian Boerkircher, 6-6, 260, rfr.
61, Mitchell Balenger, 6-2, 305, rfr.
62, Nick Vikra, 6-6, 255, sr.
65, Christian Gaylord, 6-6, 310, sr.
66, Hunter Miller, 6-4, 320, so.
67, Garrett Nuss, 6-5, 240, fr.
68, Will Farniok, 6-3, 295, rfr.
70, Matt Sichterman, 6-4, 315, so.
71, Matt Farniok, 6-6, 335, jr.
72, Matthew Anderson, 6-6, 255, fr.
73, Broc Bando, 6-5, 310, so.
74, Brant Banks, 6-7, 300, fr.
75, Trent Hixson, 6-4, 310, so.
76, Brenden Jaimes, 6-6, 300, jr.
77, Michael Lynn, 6-6, 290, fr.
78, Jimmy Fritzche, 6-7, 275, fr.
79, Noah Stafursky, 6-3, 330, fr.
Second-to-none: Brenden Jaimes
It seems like yesterday that Jaimes stepped in on an injury-ravaged offensive line on what was soon to be a lost 2017 season and became just the fifth true freshman to start up front in Nebraska history. At that point, he was (maybe) 270 pounds, but he started NU's final nine games and held his own. Now, he's got 21 games of experience, he's a solid 300 pounds and his next challenge is to show that he can be among the best in a conference known for producing pros. The Austin, Texas, native is a cornerstone-type player for Greg Austin and company. The best part: He's just a junior in a group that the Huskers feel better and better about and one in which every starter in 2019 is likely to be an underclassman. Jaimes got thrown into the fire early in his career and he's barely come off the field since. That's an accomplishment in its own right. Now let's see what's in store for Year 3.
With so many candidates — Austin said he thinks he's got 12 guys he can trust in some role or another — might somebody surprise? Can a Broc Bando or a Christian Gaylord contribute? Can a freshman such as Bryce Benhart or Ethan Piper make a run up the depth chart?
Carlos Davis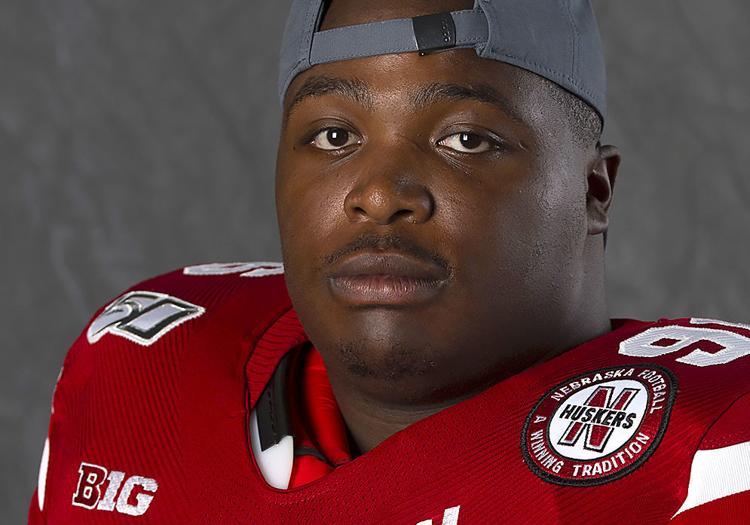 Defensive line
4, Jahkeem Green, 6-5, 315, jr.
9, DaiShon Neal, 6-7, 310, sr.
11, Vaha Vainuku, 6-3, 310, sr.
38, Damian Jackson, 6-2, 275, so.
52, Mosai Newsom, 6-4, 285, fr.
55, Chris Walker, 6-6, 300, so.
70, Matt Huser, 6-5, 300, fr.
75, Fyn Anderson, 6-3, 305, sr.
79, Darrion Daniels, 6-4, 340, sr.
80, Jacob Herbek, 6-5, 220, fr.
82, Colton Feist, 6-2, 280, rfr.
84, Eli Richter, 6-4, 240, fr.
90, Ben Lingenfelter, 6-4, 290, so.
92, Tate Wildeman, 6-5, 290, rfr.
93, Damion Daniels, 6-3, 340, so.
94, Khalil Davis, 6-2, 315, sr.
95, Ben Stille, 6-5, 290, jr.
96, Carlos Davis, 6-3, 320, sr.
97, Deontre Thomas, 6-3, 290, so.
98, Casey Rogers, 6-4, 300, rfr.
99, Ty Robinson, 6-6, 315, fr.
Second-to-none: Carlos Davis
OK, this is a bit of a stretch considering Carlos Davis has a twin brother, but let's go with it. Davis and brother Khalil return for one final go-around. Carlos, in particular, seems to be taking in a big ol' breath of fresh air. And why not? The 6-foot-3, 320-pounder was forced to play out of position at nose tackle last year when Mick Stoltenberg went down with a knee injury. He held up OK inside, but that's not where his skillset is best used. Davis and his teammates on the defensive line — which on paper looks like one of the roster's deepest units — need a big year in 2019. The group has five seniors and plenty of guys that have played a lot of football. For Davis, playing outside and, in all likelihood, in some kind of rotation, should mean more energy, better matchups and opportunity for playmaking. Nebraska needs to take a big step on defense. The defensive line is considered by many as the best unit on that side of the ball. Davis has as much experience as anyone up front. It all adds up to a big opportunity.
1. Who's the game-changer? NU's top six linemen have combined to play in 160 games (Darrion Daniels' 40 came at Oklahoma State). None, though, has earned first-, second- or third-team all-conference honors. So who is going to go from playing a lot to changing games?
2. Youth infusion? At the least, Nebraska is set up nicely for life after this senior class. Why wait, though? Can a young player — redshirt freshmen Casey Rogers and Tate Wildeman or freshmen Ty Robinson and Mosai Newsom — push for rotational time? It might be a lot to ask, but that's the key to the future along with incoming juco standout Jahkeem Green.
Mohamed Barry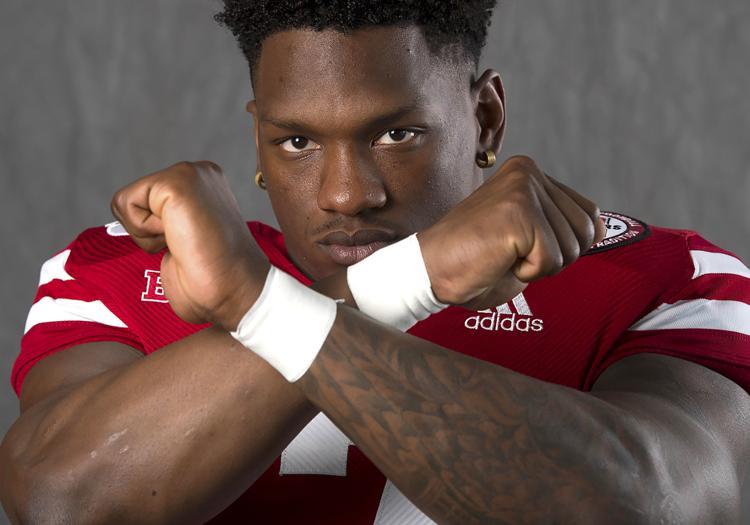 Linebackers
1, Caleb Tannor, 6-2, 220, so.
3, Will Honas, 6-1, 225, jr.
7, Mohamed Barry, 6-1, 245, sr.
10, Jackson Hannah, 6-3, 225, fr.
13, JoJo Domann, 6-1, 235, jr.
22, Alex Davis, 6-5, 250, sr.
28, Luke Reimer, 6-1, 220, fr.
31, Collin Miller, 6-3, 245, jr.
32, Pernell Jefferson, 6-2, 250, jr.
34, Simon Otte, 6-1, 205, rfr.
39, Garrett Hustedt, 6-2, 230, fr.
41, Garrett Snodgrass, 6-3, 225, fr.
42, Nick Henrich, 6-4, 220, fr.
43, Tyrin Ferguson, 6-2, 230, sr.
44, Garrett Nelson, 6-3, 260, fr.
45, David Alston, 6-4, 235, rfr.
50, Jake Archer, 6-0, 215, rfr.
51, Anthony Banderas, 6-1, 225, rfr.
53, Joseph Johnson, 6-3, 240, rfr.
54, Ryan Schommer, 6-4, 250, rfr.
57, Jordan Paup, 6-3, 245, so.
58, Chris Cassidy, 6-1, 225, rfr.
59, Caden McCormack, 6-0, 230, fr.
81, Nick Leader, 6-1, 205, fr.
83, Sam Shurtleff, 6-3, 220, fr.
85, John Bullock, 6-1, 220, fr.
89, Jamin Graham, 6-4, 240, fr.
Second-to-none: Mohamed Barry
Barry compiled 10-plus tackles seven times last year and had seven or more in all but one game en route to finishing sixth in the Big Ten with 112 stops. Next on his to-do list: More big plays. Barry had 11 tackles for loss and two sacks, but, according to the stats in NU's media guide, the Grayson, Georgia, native has not forced a turnover in his Husker career. He has one fumble recovery, no forced fumbles and no interceptions. In order for Nebraska's defense to be good, Barry is going to have to be good. That's especially true given the lack of experience elsewhere in the Husker linebacking corps. Barry is a leader and he's got a chance to crack NU's top 10 all-time in tackles (99 to tie for 10th). Now, can he become a true difference-making force in the middle? That kind of finale from Barry would go a long way toward solving some of the ills that have plagued the Blackshirts in recent seasons.
1. Next to Mo? Competition for the inside spot next to Barry figures to be heated — and perhaps a rotation — between juniors Will Honas and Collin Miller. A group of freshmen that includes Jackson Hannah, Garrett Snodgrass and Nick Henrich (once he recovers from offseason shoulder surgery) could push for playing time.
2. Pass-rush punch? Nebraska hasn't had an elite pass-rush threat from the perimeter in the first two seasons of playing a 3-4 defense — one under Bob Diaco and one under Erik Chinander. Can the answer be a healthy Tyrin Ferguson? How about Caleb Tannor in his second year?
Dicaprio Bootle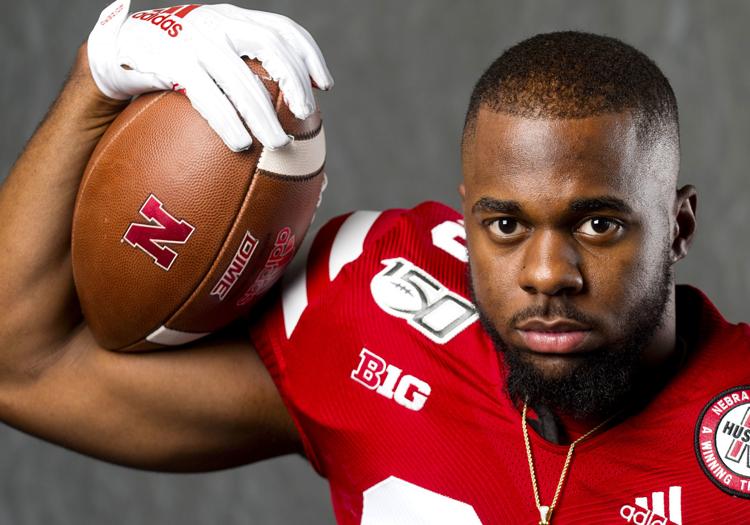 Secondary
2, Tony Butler, 6-2, 220, jr.
4, Avery Anderson, 6-0, 195, sr.
5, Cam Taylor, 6-0, 215, so.
6, Eric Lee, 6-0, 215, sr.
8, Deontai Williams, 6-1, 205, jr.
11, Braxton Clark, 6-4, 200, rfr.
12, Quinton Newsome, 6-2, 180, fr.
16, Ethan Cox, 5-10, 195, so.
18, Myles Farmer, 6-3, 205, fr.
19, Marquel Dismuke, 6-2, 215, jr.
21, Lamar Jackson, 6-3, 215, sr.
23, Dicaprio Bootle, 5-10, 195, jr.
24, Jeremiah Stovall, 5-11, 200, sr.
26, Noa Pola-Gates, 5-11, 175, fr.
30, Eli Sullivan, 6-2, 215, jr.
33, Javin Wright, 6-3, 205, fr.
36, Reid Karel, 6-3, 215, sr.
37, Phalen Sanford, 6-0, 190, rfr.
39, Bradley Bunner, 6-0, 195, so.
47, Tyson Guzman, 6-3, 210, fr.
48, Lane McCallum, 6-2, 220, so.
49, Isaiah Stalbird, 6-0, 210, rfr.
Second-to-none: Dicaprio Bootle
The junior has come a long way in his Nebraska career. From getting discovered as a lightly recruited player out of South Florida to earning playing time as a redshirt freshman in 2017, steadily upward, toward being a stalwart. Bootle enters 2019 with his sights set on being one of the best corners in the league and the country. He's shown signs of it, racking up 15 pass break-ups last year. The 5-foot-10, 195-pounder says he feels much stronger now and is supremely confident in his ability to play press coverage despite lacking overwhelming size. Bootle's approach and work ethic have impressed Travis Fisher since the coach arrived — something that can be said for perhaps no other member of the Husker secondary who predates the Scott Frost staff. Bootle views himself as one of the best, and time will tell if the rest of the Big Ten will come to know him as the same.
1. Where does Cam Taylor fit? The sophomore is going to play a lot for Fisher. Where? That's not exactly clear at this point. Perhaps nickel back, maybe some cornerback. He took safety reps in the spring. Perhaps health will dictate to some degree, but Taylor and freshman Noa Pola-Gates have the makings of Swiss Army knives.
2. Which youngsters (and how many) emerge? Nebraska's quartet of freshmen — Pola-Gates, Myles Farmer, Quinton Newsome and Javin Wright — are talented and Fisher considers them each ready to push for playing time. The Huskers also have returning veterans at corner and safety. So who cracks the rotation, and at whose expense?
_
Special teams
32, Barret Pickering, 6-0, 200, so.
90, Jackson Walker, 6-4, 260, sr.
91, Cameron Pieper, 6-3, 250, rfr.
92, Chase Urbach, 6-3, 215, sr.
63, Gabe Heins, 6-0, 185, fr.
94, Cade Mueller, 6-0, 230, rfr.
95, Grant Detlefsen, 6-3, 210, fr.
97, Dylan Jorgensen, 5-9, 185, fr.
98, Isaac Armstrong, 5-11, 215, sr.
99, William Przystup, 6-4, 250, rfr.
Second-to-none: Barret Pickering
Through five-plus games in 2018, Pickering was 4-of-8 on field-goal attempts and a 45-yard miss against Northwestern finally seemed to rattle Scott Frost's confidence in the freshman. From there, though, Pickering made his final 10 kicks. His most memorable effort: 3-of-3 in the wind and snow at Memorial Stadium to provide all of the home team's points in a 9-6 victory against Michigan State, including a career-long 47-yard game winner. Pickering enters 2019 entrenched as Nebraska's place-kicker and is the odds-on favorite to handle kickoff duties, too. What looked like a potential question mark turned into a stone-cold lock. The trick with kicking, of course, is it's a what-have-you-done-for-me-lately discipline. Still, Pickering provides a sense of calm for the Huskers on special teams.
When is Nebraska going to finally find some punch in the return game? JD Spielman ripped off a punt return touchdown against Bethune-Cookman and had a kick return score on his first career touch in 2017, but what other big returns can you recall in the past couple years? NU has options: Spielman, Maurice Washington, Demariyon Houston, Jamie Nance, Rahmir Johnson and Miles Jones among them. Can one of them lock down a job?