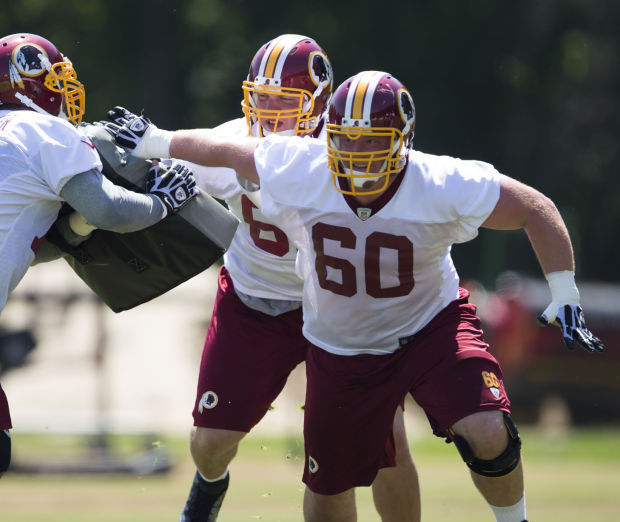 Spencer Long, judging from early results, could enjoy a long and fruitful NFL career.
He certainly need not worry about making Washington's 53-player regular-season roster. He's a lock. Teams must make final cuts by Saturday afternoon.
He's free of that stress.
His former Nebraska teammates aren't surprised.
"He left something here that I can identify with," said Mike Moudy, a Nebraska senior guard. "He climbed the ladder of success here. I mean, by starting as a walk-on without people giving him much credit. He just took advantage of all his opportunities."
Long, of Elkhorn, has created his opportunities. Created some of his luck. Successful folks tend to do that. He could be an excellent role model for Nebraska offensive linemen — for Husker players, period — for years to come, as he climbs the NFL ladder.
Climbs the NFL ladder? No guarantees there. He needs work in pass protection, for one thing.
But who would bet against him?
The 6-foot-5, 311-pound Long, a third-round draft pick, is listed as the No. 2 right guard on Washington's depth chart behind nine-year veteran Chris Chester, a former Oklahoma player who hasn't missed a start in three seasons.
Long, though, quickly picked up new Washington head coach Jay Gruden's system. Long also could help his cause by being able to play both guard spots.
His old Husker buddies are watching all the while.
"He's one of the guys I follow (in the NFL), partly because I have a good relationship with him and also because I love watching the guy play," Moudy said. "You know what to expect from him. You know he's going to go hard every play. And it's good to see that in the NFL."
Moudy recalls a recent conversation with Long, who told Moudy that conditioning-wise, playing in Nebraska's fast-paced offense gave him an advantage over some Washington linemen who were used to huddling after plays.
Nebraska senior center Mark Pelini, a walk-on from Youngstown, Ohio, has watched Washington's preseason games.
"It's cool to see a fellow walk-on do the things Spencer's doing," said Pelini, who like Long makes excellent use of his "football intelligence."
Long is strong, ferocious and technically sound. He benefits from proper hand placement, detailed footwork and excellent leverage.
Yeah, Pelini noticed it all.
"In the offseason, he was never doing a drill just to do a drill," Pelini said. "There was a purpose to everything he did. That's something you can look at and try to emulate."
Added Moudy: "One of the lasting impacts he had on me was you can't get a play started if your footwork's wrong. You can't get a play started if your hands are in the wrong spot.
"Just the fact he focused so much on technique was one of the big things."
Nebraska junior tackle/guard Givens Price said Long "had a great attitude every day.
"I don't think I ever heard him complain once about anything, not even jokingly," Price said. "Great leader. He practiced what he preached."
What's more, "The kind of education he was studying (biological sciences/pre-medicine), and still being a starter as a walk-on, it's just marvelous stuff."
Long was a first-team All-Big Ten pick in 2012 and was perhaps on his way to being an All-American in 2013 before his knee injury.
Nebraska hasn't had an All-America offensive lineman since mammoth guard Toniu Fonoti in 2001. Since 2001, the Huskers have had only three all-conference offensive linemen. That has to change. That's not "Pipeline" material.
Long showed the current group of Husker linemen how it can be done. Those linemen also can look toward Kansas City, where ex-Husker Ricky Henry, an All-Big 12 guard in 2010, appears to be a decent bet to make the Chiefs' roster after spending all of last season on injured reserve.
You know Moudy will be watching for Washington games on TV or wherever.
"Spencer went about things the right way," Moudy said. "He went hard every play. But he wasn't a jerk. He wasn't one of those blowhard guys who was always yelling — even if they're not going hard, they're still yelling or saying something.
"He's a very internal guy. But when it came time to say something, he would. I respected the hell out of him for that."
Long, in his unique manner, left a major impact on the current group of Husker linemen, and his impact could sustain for years to come.