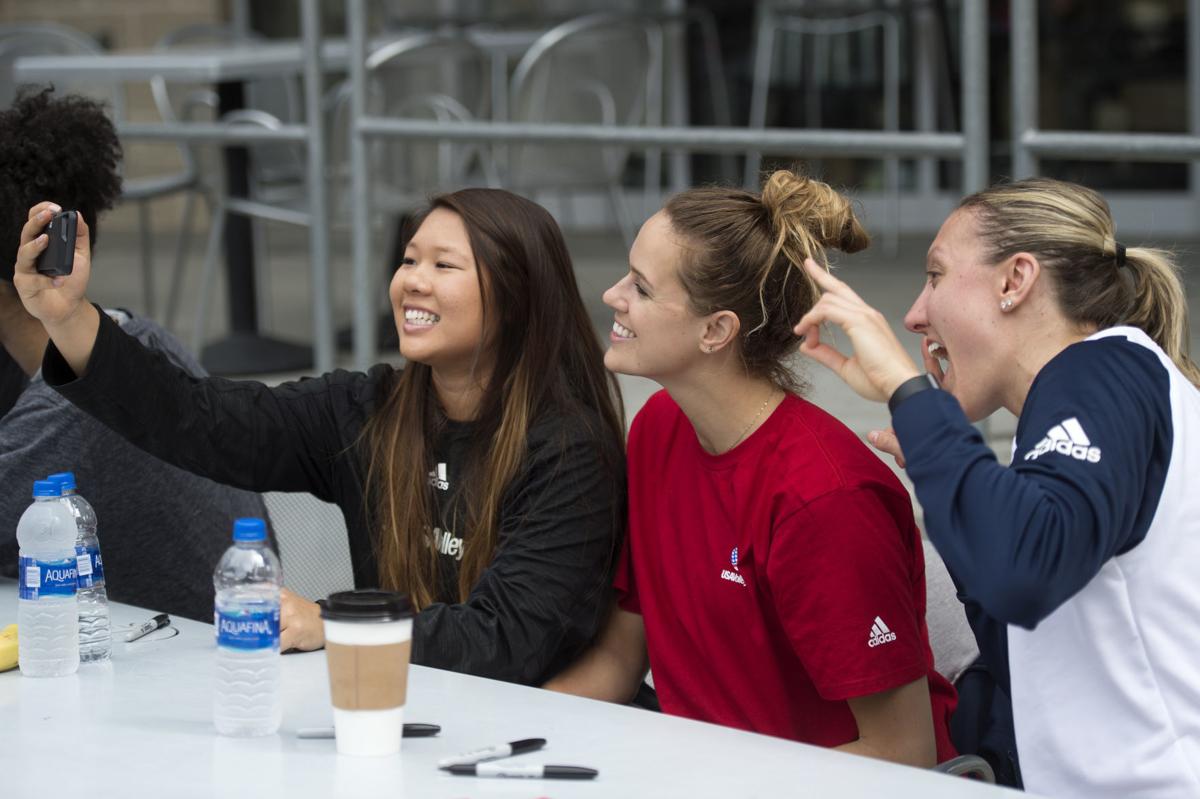 Things I know, and things I think I know:
One volleyball icon tipped his cap to another Sunday.
Karch Kiraly, head coach of the U.S. women's national team, was asked if the former Nebraska players on his squad who played for John Cook share any common traits.
"They understand the game really well, they see the game really well, they're well-trained and they're clearly used to playing at an incredibly high level," Kiraly said following his squad's practice at the Devaney Sports Center.
Jordan Larson, Kelsey Robinson and Justine Wong-Orantes are part of the national team that will play in the first-ever FIVB Volleyball Nations League event, which on Tuesday begins a three-day run at the Devaney Center.
The trio of ex-Huskers share another trait that could serve them well this week.
"I guess you could say everybody loves to beat Nebraska in college volleyball, and everybody loves to beat USA in international volleyball," Kiraly said. "Nobody goes easy on us. That's something that the Huskers, in particular, are used to. They know there's always a target on us."
Kiraly's roster for this event features a total of six former Big Ten players — Robinson, Wong-Orantes and four others: Micha Hancock (Penn State), Tori Dixon (Minnesota), Lauren Gibbemeyer (Minnesota), Annie Drews (Purdue) and Michelle Bartsch-Hackley (Illinois).
Larson's final year at Nebraska was 2008, still the Big 12 days.
Cook constantly praises the strength and balance of the Big Ten. His program has thrived in the conference, winning two national championships in the past three seasons.
Kiraly said it's clear Cook "is dedicated to always finding ways to get better no matter how much success his program's had. That's how you stay ahead of the curve, by being willing to take chances and risks and make changes and not just think, 'Oh, this has worked well, so we're just going to keep doing it a certain way.'
"That willingness to learn, change and grow has kept the program really solid to where they can bring in a new coaching staff, with Kayla (Banwarth) and Tyler (Hildebrand) last season, and still win a title."
Cook was on hand Sunday (along with Lexi Sun, the transfer from Texas) watching practice. This type of event only fuels interest in the sport — an offseason win for him.
In 2015, CenturyLink Center Omaha played host to the FIVB World Grand Prix Final Round, the most prestigious international event the United States has ever hosted beside the Olympics, and the Americans won gold.
"This tournament is like the new, improved, rebranded version of (the Grand Prix)," Kiraly said of the 16-team event.
The U.S. will face three different teams in each of five straight weeks. The Lincoln event also features Italy, Turkey and Poland.
"It's a pretty clean round-robin because every team plays each of the other 15," Kiraly said. "It'll be a real strong test for any team, especially because we're starting so early."
Some players are just coming off their pro seasons. That could lead to some sloppy play this week.
I'm guessing sloppy will look scintillating to most folks.
You have free articles remaining.
What a great event for Lincoln, the epicenter of the volleyball world.
* So, a quick review: Nebraska baseball coach Darin Erstad's job is safe, Husker athletic director Bill Moos told a gathering at the Omaha Press Club late last month.
"He's solid, and he's staying right where he is," Moos said, according to reports.
Moos cited the rash of injuries to Erstad's pitching staff as a leading factor in the team's struggles this season. The A.D. also noted Nebraska won the Big Ten regular-season championship last year, the program's first league crown since 2005. What's more, Erstad's program had finished runner-up in the Big Ten regular season twice in the three years preceding last year's breakthrough.
You were seeing some consistency in Erstad's program, including three NCAA Tournament appearances in a four-year stretch.
Then came this season. Nebraska may not even qualify for the eight-team Big Ten Tournament May 23-27 in Omaha.
Although Erstad is safe, you wonder if he'll make staff changes. He's not the type to make changes because of pressure from the outside. I'm guessing he won't let go of anyone — unless, um, the boss suggests something.
I don't think that would go over well with Erstad. He's much more like Bo Pelini than Mike Riley.
* Perhaps you heard Jason McIntyre say Saturday on Fox Sports Radio: "Ty Lue versus Brad Stevens is basically like Cole Beasley rapping against Eminem. Seriously. Ty Lue knows nothing about coaching. He's not a good head coach. He was coached into a body bag by Nate McMillan."
The conference finals are crucial for Lue, the ex-Nebraska guard who guides the Cleveland Cavaliers. McMillan, the Indiana head coach, clearly out-coached Lue in the first round of the playoffs. Boston has a young team and is without Kyrie Irving and Gordon Hayward. But the Celtics have a wizard in Stevens. Lue has to hold his own in this series.
He didn't do that Sunday.
You wonder if Lue would have more fun coaching somewhere else. He doesn't look or sound like a person who enjoys his work.
Then again, neither does Nick Saban.
* The city of Omaha is likely to produce back-to-back NBA first-round picks — Khyri Thomas (Benson) this summer after Justin Patton (Omaha North) last year.
Creighton parlayed that talent into … zero NCAA Tournament wins.
That seems like a problem.
* Venson Hamilton is the last Husker to be drafted — in 1999.
Many Nebrasketball fans shrug their shoulders, OK with the status quo.
I'll never quite understand that.