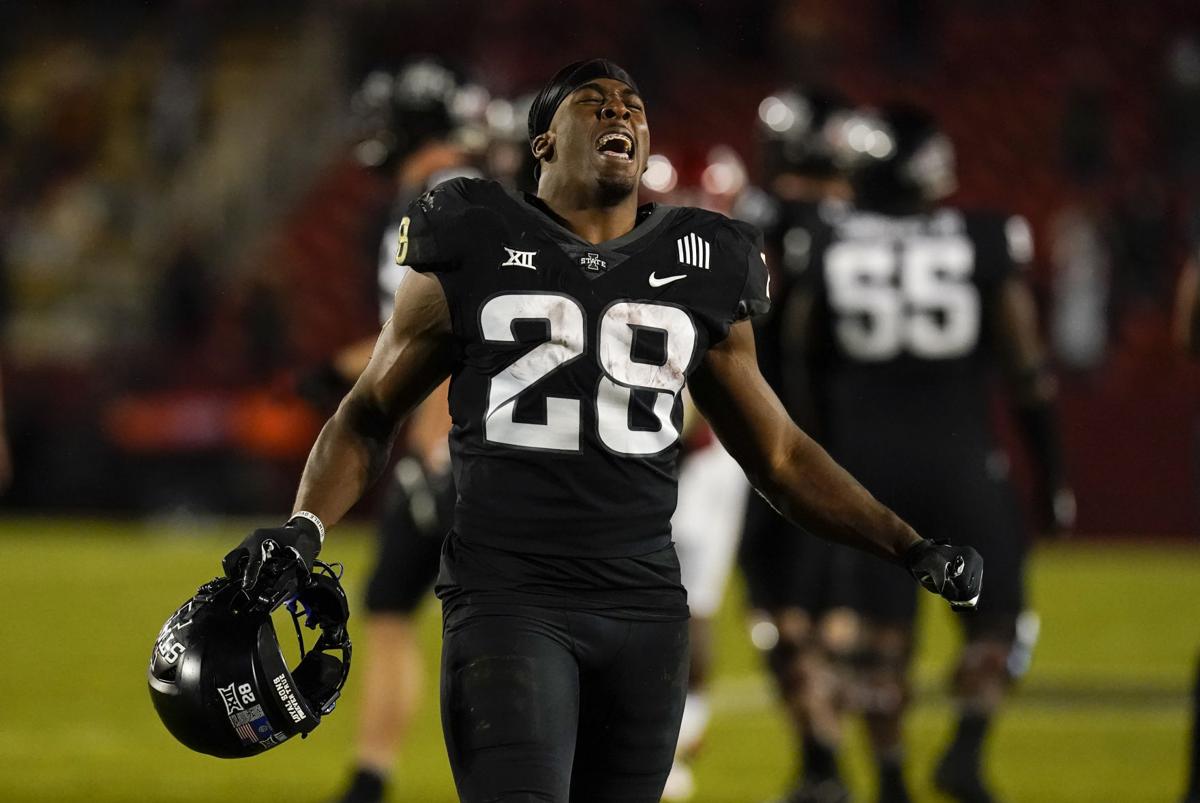 Things I know, and things I think I know: 
Little ol' Iowa State showed the big, bad Big Ten how it's done Saturday night. 
Ponder that for a moment, long-time Nebraska fans. 
ISU's rise as a football program under fifth-year head coach Matt Campbell (and razor-sharp athletic director Jamie Pollard) hit a high note with a 37-30 win against 18th-ranked Oklahoma. It marked the Cyclones' first victory versus the Sooners in Ames since 1960 — ISU had lost 24 straight home games in the series.  
If you watched the game on TV, you noticed an excellent atmosphere in Jack Trice Stadium. Tell me it didn't make an impression on you. 
You heard beautiful crowd noise; it was surprisingly loud at times considering only 13,724 fans were on a hand because of COVID-19 restrictions. You heard the Iowa State band and spirit squad. You saw something that resembled normalcy in a college stadium. It was refreshing in these tough times. 
Wonder if Big Ten leaders noticed. I hope they noted how much the players enjoyed having fans on hand. 
"It was definitely noticeable," Cyclone quarterback Brock Purdy told reporters of the crowd noise. "Just being on the sideline, feeling them when the defense was up and it's third down. Obviously when you have an explosive play, it's nice to have people behind your back and go crazy. We definitely felt that."
The Big Ten will begin play Oct. 24, albeit without fans on hand at any of its stadiums, as mandated by the Big Ten. Nebraska athletic director Bill Moos expressed disappointment about the decision, but went along with it essentially as a concession to the conference's decision to play. He felt the decision on attendance should be based on local health officials, local governments and universities themselves. That's the proper way of thinking. Iowa State was a prime example of that for all the world to see Saturday night. 
Nebraska Chancellor Ronnie Green has said he hopes the Big Ten will reconsider its attendance policy. Let's see what the COVID climate looks like three weeks from now. 
Iowa State apparently was serious about safety protocols. News reports told of empty tailgate lots, socially distant seating and mandatory masks — observations from throughout the game indicated the mask mandate was being adhered to by the vast majority of fans in the stands, according to the Des Moines Register. 
Considering the emotionally charged nature of the topic, you know there were folks watching closely for recklessness.
According to the Register, Iowa State originally planned to host 25,000 fans at its season-opener last month, but that protocol was shelved following public backlash as both Ames and the state of Iowa were national coronavirus hot spots.
Iowa State cited declining positivity rates in Story County and the state as well as examples of other Midwestern locales hosting thousands of fans at outside venues as reasons to move forward with fans back at games. 
"I really appreciate our great fan base," Iowa State coach Matt Campbell told reporters. "I thought there was great energy in the stadium tonight." 
It was striking, to be sure. The players clearly appreciated it. That part should be emphasized. 
On Oct. 31, the University of Iowa — a two-hour drive from ISU — is scheduled to open its home schedule against Northwestern in a mostly empty stadium. It doesn't make much sense in the context of what occurred at Jack Trice Stadium, especially if COVID-19 numbers don't increase markedly in the area. That should be watched closely in coming days, obviously. 
If you're a Big Ten fan (or AD), you take what you can get — a season without fans. At least for the time being. 
* A Nebraska fan asked me on social media how I think the Huskers would fare against the Cyclones. I'll answer it this way: ISU sophomore running back Breece Hall is a tough customer and runs behind a decent line. I don't need to say much more. 
* Iowa State clearly didn't play its best game and still won. That tells you plenty. 
* Nebraska head coach Scott Frost last week made an excellent point as he expressed gratitude for having a strong father in his life while growing up.
"A lot of people in this country grow up without that type of father in the home, without two parents in the home," the 45-year-old said. "I think it's one of the biggest issues affecting America right now."
I've felt that way for the past several years, dating to the late 1990s or so. When I used to write profile stories on Husker players, I often would ask for their parents' names. But the answer often was somewhat complicated. The players' race didn't matter in this discussion, nor did it matter where he was from. The phenomenon is part of my own family, so I understand it.
I definitely benefited from having two strong parents while growing up in Columbus, although my "hot takes" on Twitter maybe don't always show it. LOL.
* Along those lines, nobody will convince me these Los Angeles Lakers would touch the Showtime crew of the mid-1980s with Magic Johnson and Kareem leading the way. Get out the broom. 
* It's become clear Nebraska coaches are making junior quarterback Adrian Martinez earn the starting job. It shouldn't be a surprise. I'm guessing he'll emerge as starter for a third straight season and be a better overall player as a result of the competition. But the competition will continue into the season, and redshirt freshman Luke McCaffrey's presence will ensure intense fan discussion, particularly if Martinez has even a few rough series. That's life in the QB spotlight. It's no place for the timid. 
Nor is Twitter, by the way. Adrian should just stay off it.