Steven M. Sipple: If you're a Nebraska fan, you can enjoy UCF's bowl without overreacting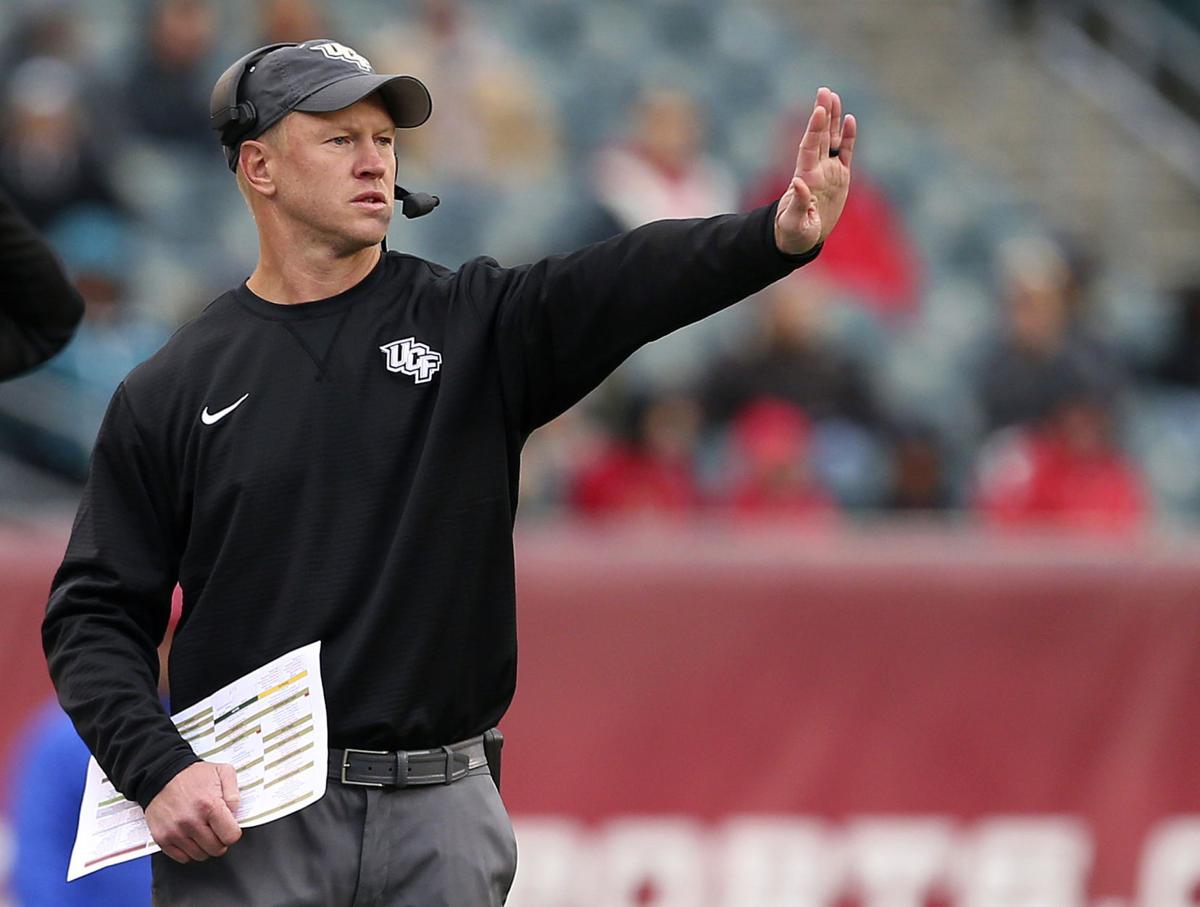 We're in the thick of bowl season.
If you're a Nebraska football fan, you're standing on the sidelines — except, of course, that your new head coach, Scott Frost, has one last go-round at Central Florida, which plays Auburn on Monday in the Peach Bowl in Atlanta (11:30 a.m., ESPN). For Husker fans experiencing inner turmoil in terms of how much to invest emotionally in the bowl — and how much to read into the result — I offer unsolicited advice.
But, please, pardon me if I sound like a politician.
If Nebraska, er, Central Florida were to upset Auburn, the correct response for Husker fans would be to sell it as a remarkable coaching job by Frost and his assistants, all of whom are coming to Lincoln. The fact is, it would be a remarkable coaching achievement considering Frost and company have been pulling double-duty all month.
This is where I shift into politician mode and cover my backside. If UCF were to fall to Auburn (10-3), I would counsel Nebraska fans to avoid overreaction. Under ideal circumstances, this would be an exceptionally difficult game for the Knights. Considering the circumstances are far less than ideal for Frost's crew, Auburn should win this game and arguably should win handily.
That's not necessarily politics; it's the way it is.
Bear in mind, it was only six weeks ago that Auburn was manhandling top-ranked Alabama in the Iron Bowl.
What do I mean by less-than-ideal circumstances for undefeated UCF? Well, according to HuskerOnline.com, Knights senior linebacker Shaquem Griffin said Frost was throwing up before a bowl practice but didn't miss a beat.
"I give our coaching staff a lot of credit," Knights quarterback McKenzie Milton told reporters in Atlanta. "They would be out till the wee hours of the night recruiting for Nebraska and then still coming to practice at 7 or 8 a.m. to help us game-plan."
Bottom line, I think Frost will have his team well-prepared, or as well-prepared as possible under the circumstances.
Before the first bowl practice, Griffin said, the staff handed out thick scouting report packets.
"They didn't have to do that, but it just goes to show how much they were there for us," Griffin said. "If you give us a full packet on Auburn before we even start practicing, you mean business."
Frost always means business. He's a rising star in his business, which is why Nebraska fans are counting their lucky stars that he'll soon be in their realm.
So, if you're a Husker fan, you can enjoy the Peach Bowl without overreacting to the result. No matter what happens, the Knights won 12 games this season and captured the nation's imagination after finishing 0-12 in 2015.
Even though I'll be careful to avoid overreaction, there are elements of the bowl that I'll watch with Frost's future at Nebraska in the back of my mind, including:
* Milton's prowess at quarterback. A lightly recruited three-star quarterback in high school, Milton this season put together the second-most efficient passing season in the nation at 184.4, which ranks behind only Heisman Trophy winner Baker Mayfield's 203.76.
In fact, Milton's passer rating is on pace to be the seventh-best all-time in the FBS behind Mayfield's 2017 production, Mayfield's 2016 season (196.4), Russell Wilson (191.8) and Robert Griffin III (189.5) in 2011, Hawaii's Colt Brennan (186.0) in 2006 and Florida State's Jameis Winston (184.8) in 2013.
That's impressive company for Milton, a sophomore from Mililani, Hawaii. Besides UCF's scholarship offer, he had only two others (Hawaii, Air Force) coming out of high school.
Seems like a pretty strong coaching job.
* Erik Chinander vs. Gus Malzahn. Let's be real, Chinander, the future Nebraska defensive coordinator, could have his hands full considering Malzahn, the fifth-year Auburn head coach, is one of the most respected offensive minds at any level of the sport. The Tigers entered bowl season ranked 26th nationally in total offense (454.0 yards per game) and 22nd in rushing (228.2).
Malzahn developed a power spread offense that relies on fast pace, misdirection and deep play-action throws. Auburn takes on a UCF defense that in its last two games — wins against South Florida (49-42) and Memphis (62-55 in two overtimes) — allowed 1,406 yards.
On the other hand, it should be noted the Knights entered the bowl season ranked fifth nationally in takeaways with 29 and were tied for second in the FBS in turnover margin at plus-15.
If UCF is going to win this game, it probably needs to be at least plus-two in the turnover column.
This will be a good test for Chinander, in only his second season as a defensive coordinator. Once he gets to the Big Ten, he will have reached the big leagues in terms of coaching. For Frost's relatively young staff, that's an element to watch closely next season.
* UCF's offensive line vs. Auburn's front four. Malzahn identified this matchup as the key to the game.
Frost seems to have confidence that offensive line coach Greg Austin will have his group prepared to play well, even without injured starting left tackle Aaron Williams.
"The job Coach Austin's done with the offensive line is unbelievable," Frost told reporters in Atlanta. "I think two years ago, that was the weakest part of our football team. We had a lot of rushing yards this year (201.2 per game) and gave up very few sacks (12). The job that the offensive line and Coach Austin did is remarkable."
Those are just three areas of intrigue on a micro level — although I'm in no way suggesting this game represents a surefire indicator of how Nebraska's future will unfold under Frost. Such a suggestion would be silly.
On the other hand, Husker fans surely would enjoy watching UCF play tough, fundamental football, and keep brawling no matter the circumstance.
That would be a welcome change from what NU fans endured this season.