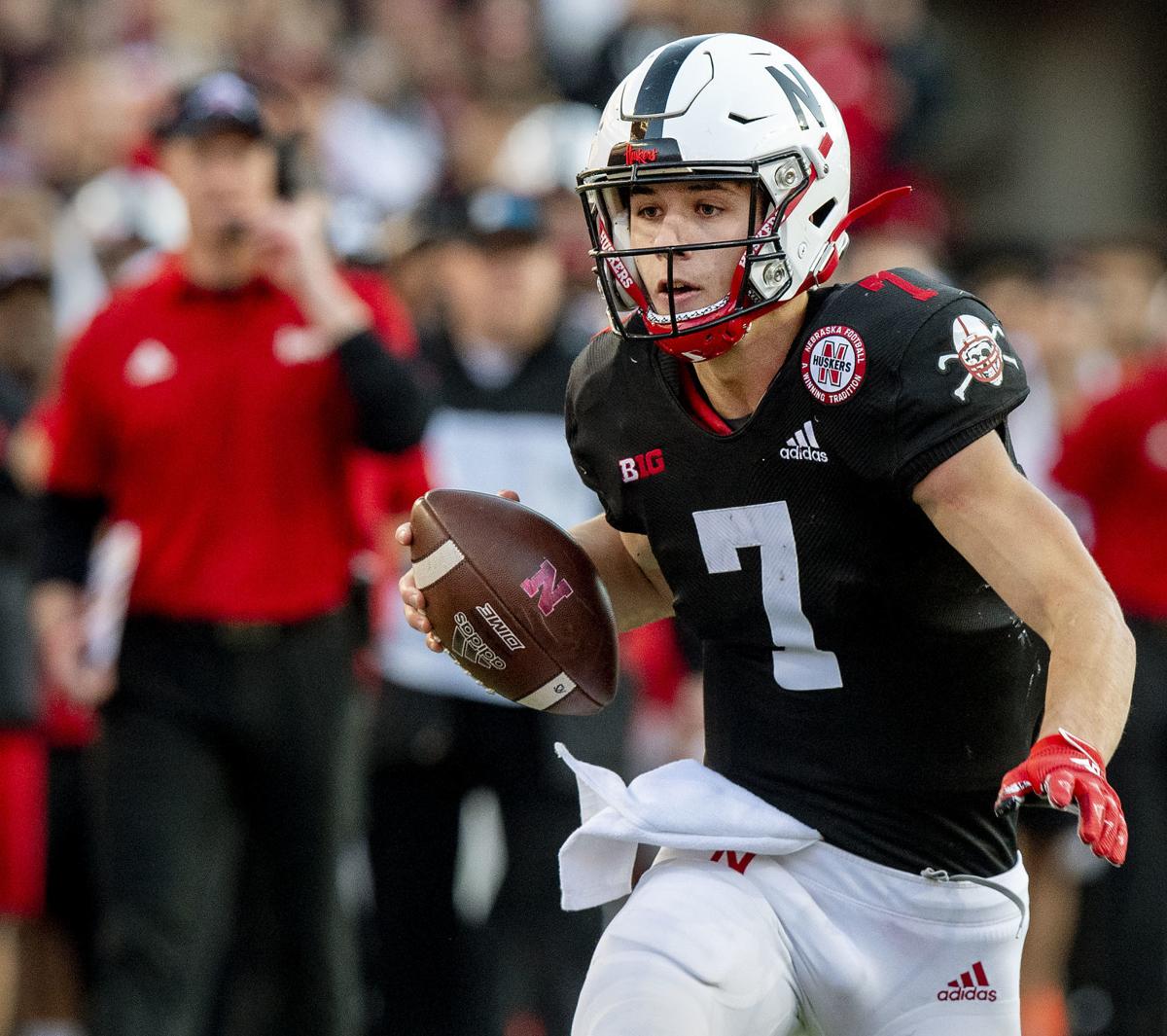 Things I know, and things I think I know: 
The NCAA's Division I Council this week almost certainly will approve a plan that would allow college football teams to gradually build up into a normal preseason camp (starting in early August). It's a sound plan that's being considered. It's difficult to imagine much opposition to it.
Wonder what Luke McCaffrey thinks of the plan. Perhaps he sees it as a road map of sorts. Maybe a road map to a starting job. 
If McCaffrey is going to unseat Adrian Martinez as Nebraska's starting quarterback to begin the 2020 season, it's easy to imagine how it all might go down. 
Nebraska is in the midst of voluntary workouts that began June 1 and will continue through July 12. According to the NCAA's practice plan, workouts from July 13-24 would include further coaching and coaches could also work through two hours of film per week with players. This is where McCaffrey could enhance his mental game (read: comfort in the offense), and further impress his coaches and teammates with his dedication in that regard. 
Something Scott Frost once told the Journal Star comes to mind. When asked to list the most integral elements in which his quarterbacks must be proficient, Frost said, "I think the No. 1 trait is they have to process information quickly." 
Adrian Martinez, a 21-game starter for Nebraska, is a "quick-blinker," as Husker quarterbacks coach Mario Verduzco likes to say. Martinez understands the system at a high level (which is why it was surprising that his decisions weren't always great in 2019). But McCaffrey, a redshirt freshman who appeared in four games last season, doesn't have to concede ground to Martinez in this area, particularly if McCaffrey continues to enthusiastically increase his comfort in the system. It's a process that really never stops. 
Back to the NCAA practice plan. Beginning July 24, teams would transition to essentially a two-week mini-camp of on-field work. That would be unprecedented. We're talking about on-field sessions that would not include helmets or pads, but would allow for actual football work. There also would be one-hour "meetings," which essentially would be one-hour walk-through sessions on the field because large gatherings in meeting rooms are a COVID-19 no-no.
This won't be play time. It'll be intense. Nebraska coaches will look for quarterbacks to operate at a high level mentally. Who's minimizing mental mistakes? Who looks most comfortable? Yeah, coaches will keep score. This is, after all, a QB competition. A legitimate one.
The mini-camp would lead into a normal four-week preseason camp that would begin for most teams on Aug. 7. 
Bottom line, McCaffrey needs to put himself in position to hit the ground running on Aug. 7 because any coach would tell you that once camp begins, the opener arrives in a blink. 
By the way, the better McCaffrey practices, the better it is for everyone involved, including Martinez. Especially Martinez. At this time last year, Martinez had a stranglehold on the starting job after shining brightly as a true freshman in 2018. Trouble is, he practiced at times last August like someone who had a stranglehold on the job. There wasn't always enough urgency.
I'm told he's already been in high-urgency mode this spring. 
Some Nebraska fans believe it's a foregone conclusion that Martinez will again get the keys to Frost's offense. I disagree that it's a foregone conclusion. After touching on the QB position during an interview with Frost a couple of weeks ago, my read is Martinez won't be handed anything. 
I wholeheartedly believe there'll be legit competition. It's ongoing, as we speak. A month from now, it'll really begin to ramp up -- that is, if the NCAA's Division I Council this week rubber-stamps the preseason practice plan put forward last week by the NCAA's football oversight committee. 
We'll be watching. A certain young QB just might be watching, too. 
* Vastly improved special teams have to be a priority if Nebraska expects to show significant improvement as a program. In that regard, Frost told the Journal Star that as the Huskers' talent and depth improve -- and as the roster matures -- special teams play should tighten up. 
He injected into the discussion the name of a former Creighton men's basketball coach.
"Dana Altman always used to say (of his teams), 'Get old and stay old,'" Frost said. "We haven't been old yet. There's been a lot of (roster) turnover, and a lot of it was necessary. We're getting closer and closer."  
Nobody has to sell Frost on the impact of special teams.
"Against Wisconsin and Iowa (last season), if we don't give up kickoff returns, it could potentially change those two games," he said. "And that's why I'm still really optimistic because those are two really good programs and two of the best teams in our league. We can't give up points on special teams in those types of games."
* One more takeaway from my discussion with Frost: Defensive lineman Mosai Newsom, a redshirt freshman from Waverly, Iowa, should be considered a player to watch. The 6-foot-4, 285-pound Newsom for some reason tends to be forgotten when folks discuss key young players who could bolster the defense.
* Iowa head coach Kirk Ferentz's longtime strength coach is on administrative leave for alleged mistreatment of black players and soon will be out of the program. Ferentz's son, Hawkeye offensive coordinator Brian Ferentz, also has been mentioned as problematic in his dealings with black players. Those are the two coaches with whom Ferentz works most closely.
If anyone genuinely believes Kirk Ferentz's job security isn't shaky right now, they're burying their heads in the sand. 
* Iowa athletic director Gary Barta will hold a news conference Monday. More questions need to be asked about Brian Ferentz, including one in particular: Why isn't he on administrative leave? Folks are wondering.
Be the first to know
Get local news delivered to your inbox!