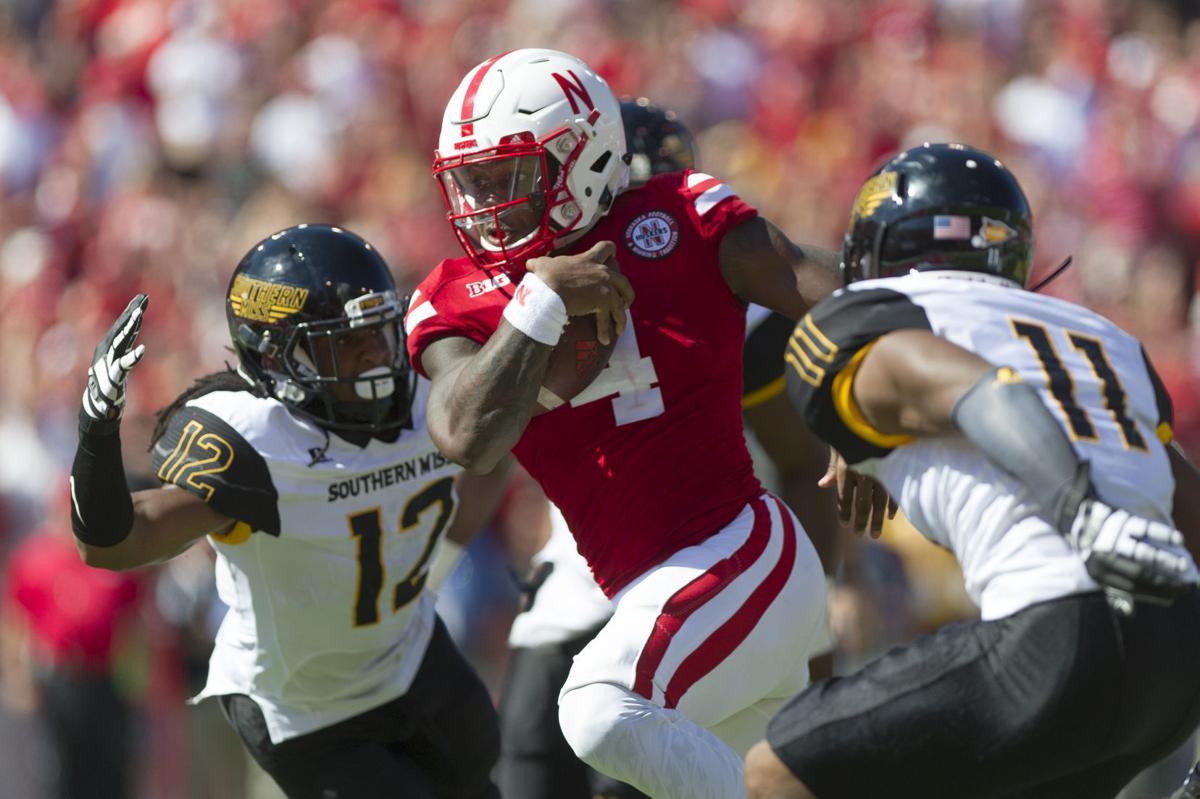 Prevailing wisdom is the Big Ten West Division football race is wide-open.
Toss out Purdue and Illinois, and any team could prevail.
Of this, I'm certain: Nebraska is fortunate to have a seasoned, talented and confident quarterback — a third-year starter who looks forward to starting Big Ten action Saturday in Champaign, Illinois.
"It's going to be great," Tommy Armstrong said, adding, "We just have to make sure we realize this is conference play and every game counts. We have to make sure we go in and have that attitude that we're going to take this win, that they're not going to give it to us.
"We've struggled a little bit on the road so far. …"
He referred to a Sept. 19 loss at Miami, where Nebraska's failings included six dropped passes and 12 penalties for 98 yards.
Bottom line, Nebraska (2-2) was better than Miami, and lost.
Ditto for the loss to Brigham Young.
That's the sort of thing that I'm guessing gnaws at the Huskers. If it doesn't, it should.
There's ample time for redemption. Nebraska, although slowed by injuries, still has enough talent and overall coaching acumen to win the West — that is, if it plays to its potential. We've seen the Huskers play that way in spurts. But mediocre teams play well in spurts. Only in spurts. They're flaky, hard to predict. Yes, it's a sure sign of mediocrity.
Oh, that damned "M" word.
Thank you, Steve Pederson.
Let's see to what heights Nebraska can gravitate if it plays well in all three phases of the game for four quarters, or thereabouts, against an opponent other than Directional Alabama. I'm guessing the Huskers would look like a team capable of finishing 6-2 in conference play. That's probably their ceiling. That very well could mean a December trip to Indianapolis for the conference title game.
If Nebraska's defense continues to surrender long pass plays at an alarming rate and fails to generate turnovers, the story could change dramatically. It also should be noted the Huskers haven't run the ball in the physical manner of a championship outfit. They need to be able to close the deal in the red zone. They need to be able to salt away games that they lead in the late stages. If they can't generate a physical run game, they'll once again be relegated to also-ran status.
Also-ran, as in 4-4. That should be the worst-case scenario.
That would mean 6-6 in the regular season.
That would mean discomfort for the athletic director who fired a 9-4 coach.
I wonder if Shawn Eichorst has closed his eyes lately and thanked his lucky stars for Armstrong, a 6-foot-1, 220-pound junior. His surprisingly smooth transition to Mike Riley and Danny Langsdorf's system has been one of the season's most intriguing and pleasant stories. To be sure, Nebraska can take comfort in having arguably the best quarterback in the West Division.
If Armstrong remains in the 60 percent-completion-rate territory — he's at 58.9 — Nebraska's offense can keep humming, especially if Riley commits to using fullback Andy Janovich more often in the run game — yes, even as a ball carrier. We saw what the Gretna graduate can do. He just might be the spark this program needs — a rugged and talented South Omaha native who's paid his dues and waited his turn. Unleash him.
As for Armstrong, he has excellent chemistry with no fewer than a half-dozen athletic and skillful receivers.
"I think this year, I'm making the right reads and being on time in certain situations and getting the ball to those guys," Armstrong said. "Last year, I kind of struggled by locking in on one receiver. This year, it's more about taking what the defense gives me and moving on through my progressions."
So, September's gone with the wind and October is upon us.
Beautiful October, the beginning of proving season.
"I have never been one to make too many judgments on anything in September," said Iowa coach Kirk Ferentz, whose team takes a 4-0 record to Wisconsin (3-1) on Saturday. "I think you really have to get into October. There are a handful of teams out there that we all know are really good, really veteran and really talented. After that, you never know what's going to happen."
We have a decent idea what will happen to Nebraska if it continues to play porous defense and draw an endless stream of yellow flags. No team in the nation has been penalized more.
"We have to fix it," Armstrong said. "In big games, it's going to cost us."
Do the Huskers have the will and ability to limit mistakes and raise their game on defense? I'm betting on it (not literally). But prepare for a lot of close games.
Why wait any longer for the fun to begin?
Nebraska 34, Illinois 31.