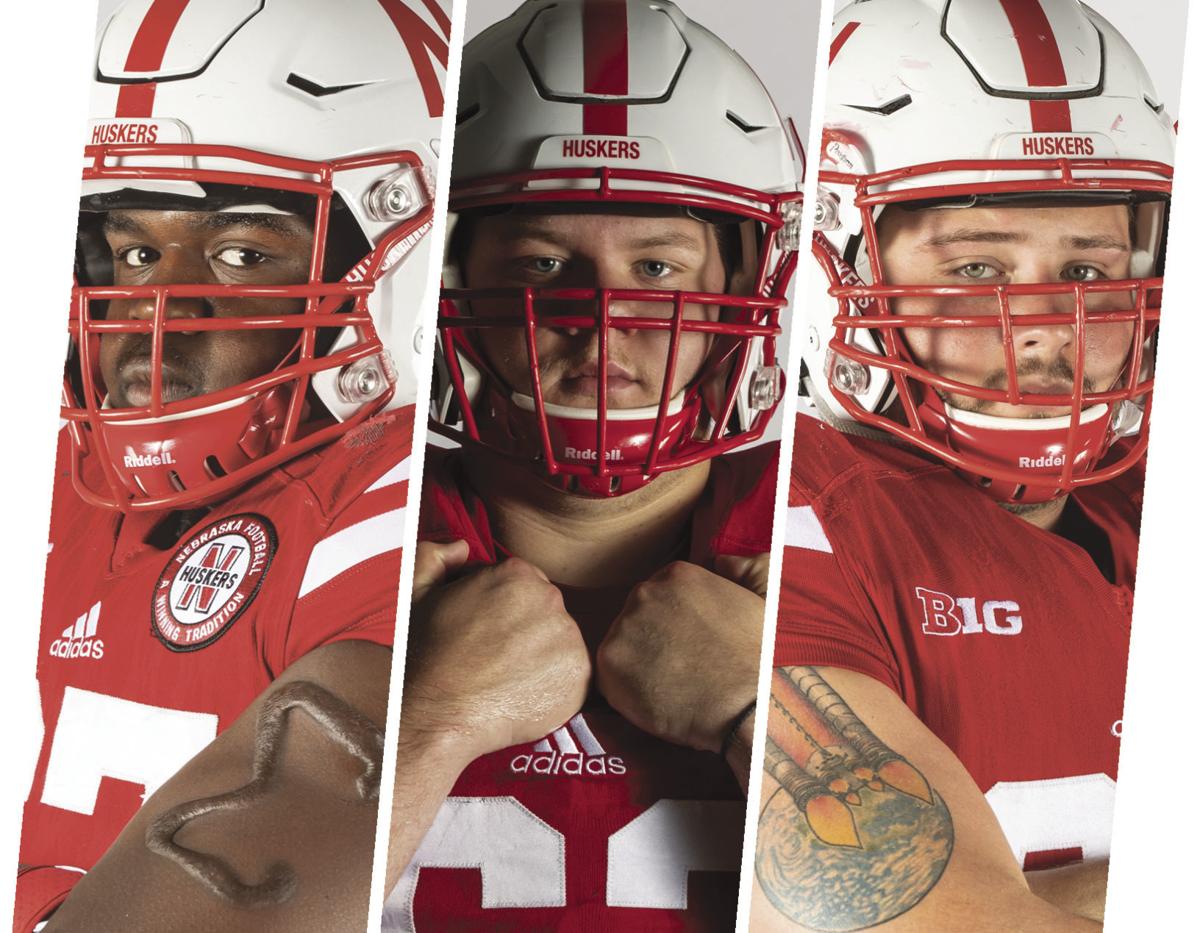 If you're a typical diehard Nebraska football fan, your level of anticipation for the first game of the Scott Frost era soars through the roof. You're uncertain exactly what to expect, especially from the true freshman quarterback or, heck, the rookie place-kicker. You may feel a bit fidgety.
Who could blame Frost himself if he feels a bit fidgety?
This all feels fairly enormous. It's history and healing. It's hope and utter happiness. If you're not careful, it can feel overwhelming.
Nebraska senior offensive guard Tanner Farmer thinks he and some rather large friends can help ease tension. Farmer will be in the starting lineup against Akron (7 p.m., Memorial Stadium) on the right side of senior center Cole Conrad. Jerald Foster, another senior, will be the guard on Conrad's left. There are 47 starts between the three men. Maybe that serves as comfort.
"I think it definitely helps," said Farmer, who has 19 career starts. "We are all excited, but we are able to go into this and not be overwhelmed by it, and we are able to calm down the other guys and just ground them a little bit. They see us and they kind of draw off how we act and what we do. So I think that's a good thing."
It might be particularly important for Adrian Martinez. Although it's possible the new Nebraska quarterback has nerves of steel, those nerves will nonetheless be tested Saturday night because the mix of positive energy and nervous energy on Stadium Drive will be a sociological phenomenon to behold. Martinez and his mates must somehow keep their minds on business — from the jump.
Deep breaths, everyone. Deep breaths and a smile. This is supposed to be fun.
"It's going to be fun," said Foster, a Lincoln Southeast graduate, who has 16 career starts. "Adrian's worked hard and deserves everything that he's gotten. He's going to do exactly what he needs to do. We're not nervous about it. The O-line being old, I hope we'll be something he can see as a fallback. He'll be able to fall back on our experience and age.
"He's somebody who's calm and collected. He respects us and we respect him. So I'm not really worried too much."
If Foster seems to express a morsel of concern, it only makes sense. Nebraska's struggles along the offensive line helped define the Mike Riley era. But the Riley mess is mercifully a memory. And it should be noted Frost liked the talent he inherited on this season's O-line, which also features returning starters in sophomore tackles Brenden Jaimes (left side) and Matt Farniok (right).
You have free articles remaining.
But the heart of the unit is the three seniors in the middle. Yeah, that should help Martinez and company. We'll see.
"We have to make sure those guys up front are staying level-headed so he (Martinez) can keep level-headed and he does not get happy feet in the pocket," Nebraska offensive line coach Greg Austin said. "I think it's that brother-to-brother, eye-to-eye deal they have going between Tanner, Cole and Jerald."
Conrad, a Fremont native, has 12 career starts.
"Heck, those three guys have young guys at tackle out there, too," Austin said. "There's some youth in key positions on this offense that seniors need to hold accountable."
Does Austin feel his interior trio has shown high-level leadership during the offseason?
"Yes, but not as consistent as I want it, though," the coach said. "I think they'll get the full picture after this game. I think in this game, they'll see the fruits of their labor, and it'll come all the way around for them. So that now they'll say, 'OK, this is why we need to do this, this is why I need to say this at this point in time, this is why we can't have balls on the ground, this is why we have to run routes full speed, why our hands need to be inside, why our hips need to be leveraged … all those things that those guys, brother-to-brother, man-to-man, peer-to-peer, need to hold each other accountable to."
Nebraska fans can take comfort in a group of Husker receivers who — get ready for this — will produce no fewer than three long touchdown plays against an Akron defense that ranked 103rd nationally last season. The Zips return nine starters from that unit. That isn't necessarily good news for seventh-year head coach Terry Bowden, who has only one winning season at the school.
Meanwhile, Frost and his defensive coordinator, Erik Chinander, have said they especially like the depth in their defensive line. All 19 linemen listed on Nebraska's current depth chart — offensive and defensive — are returners from last season's team. Granted, it was a Husker defense that ranked 100th nationally. But you try playing defense with your head spinning, the result of Bob Diaco's inane ramblings. 
Count your blessings, Nebraska fans. Here's to brighter days ahead. You've earned them.
"To be honest with you, the feeling is indescribable," Farmer said of the excitement accompanying the opener. "I can't think of the words to really use to describe how I feel. How excited I am, how ready I am, there are no words for it. That's how I feel this year."
Thousands of Big Red fans can relate.