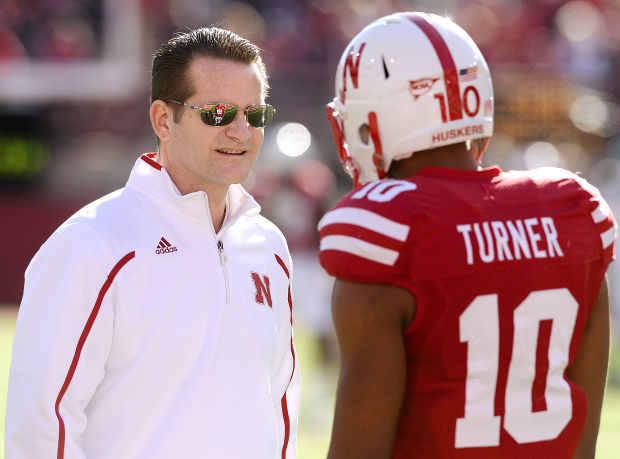 Things I know, and things I think I know:
Tim Beck has talked a good game this offseason.
He says Nebraska pared down the offensive playbook to play faster and reduce mistakes -- yes, including turnovers.
Time to find out if his words become weapons.
Time to find out if he can stick to the plan. 
If Beck, in his fourth season as the Huskers' offensive coordinator, begins to lose his way -- if he falls back into a tendency to try to do too much -- he needs only to find some Auburn video.
Tigers head coach Gus Malzahn evidently is doing something right with his trademark offense, which has been described as brilliant in its simplicity.
"We don't run a whole lot of plays," Malzahn said recently. "We do window-dressing stuff, but the bottom line is we are going to run the power, the counter, the buck sweep and the inside zone. The rest is just window dressing."
In reaching the BCS Championship Game last season, Auburn averaged 39.5 points and led the nation with 328.3 rushing yards.
A layman like myself enters a sticky wicket when he starts counseling offensive coordinators. But you don't have to be Hank Stram to have noticed Beck's "multiple" offense -- his description -- sometimes has seemed like a hodgepodge of plays as opposed to a streamlined system with a clear identity.
Earlier this month, Beck told reporters that "a lot of self-evaluation went on in the offseason. We said, 'Maybe we have to narrow it down a little bit and go play and have confidence.'"
We'll get a better idea Saturday, in 22nd-ranked Nebraska's opener against Florida Atlantic, what that means in terms of style. Beck's evolving offense is one of the season's most intriguing storylines.
As for Malzahn, he describes his offense as a downhill running, play-action system that's operated at breakneck speed. Auburn can run to set up the throw, or vice versa. Last season, the Tigers ran the ball 65.5 percent of the time.
Nebraska appears to possess the kind of personnel to win games by running 65 percent of the time, if not more than that -- last season's sub-par rushing statistics notwithstanding. Stat geeks predictably point to the fact the Huskers failed to reach 200 rushing yards in each of their last seven games in 2013.
An injury-depleted offensive line obviously was a factor. Plus, running the ball effectively requires a certain mindset. Auburn obviously made a shift in that regard.
The Tigers in 2012 averaged only 148.4 rushing yards while finishing 3-9 overall. With four returning starters from that offensive line, plus a returning starting tailback in Tre Mason, the Tigers raised their per-carry average from 4.07 in 2012 to 6.3 in last year's run to the national-title game.
Auburn was at times devastating in its simplicity.
Nobody's saying Beck's offense has to be devastating. But it would be nice to recognize an identity week-to-week.
* Life is full of important distinctions. For example, the difference between a thrower and a passer.
Michael Vick, even after all these years, is a thrower.
Peyton Manning is a passer.
Nebraska third-year sophomore Tommy Armstrong is more of a thrower than a passer at this early stage of his career, but seems to be moving toward the latter.
His development is key, as NU likely will have to win at least a couple of close games with clutch passing to have the type of season it desires.
Armstrong completed 51.9 percent of his passes last season, with nine touchdowns and eight interceptions. But he looked settled in the bowl game and clearly gained confidence as preseason camp progressed. He manages the offense nicely -- recognizes defenses well.
It could help greatly if Beck calls pass plays within Armstrong's comfort zone.
I know, I'm full of advice for Beck.
I'll cool it until Saturday. Promise.
* Three things I learned watching Nebraska's preseason camp:
1. Nebraska head coach Bo Pelini spent plenty of time coaching special teams. He emphasized it. He was very active in basically all phases of it. In fact, one longtime practice observer -- an ardent supporter of Pelini -- told me Bo spent more time with special teams in this year's camp than in any of his previous six.
2. No way senior center Mark Pelini is 6-foot, as listed officially. No way. He's shorter than that. But don't underestimate him. His feet are quick and his leverage excellent. He's tenacious. He's exceptionally intelligent. He earned that starting job.
3. No way Ryker Fyfe is only 6-2. He's a gangly 6-3 or 6-4. But don't underestimate him, either. He's ready if Armstrong is injured or falters. Bottom line, Fyfe will push Armstrong to improve every day. That's invaluable.
* No surprise Wisconsin is going with Tanner McEvoy as starting quarterback. Coach Gary Andersen favors athletic QBs, which Joel Stave isn't. Plus, Andersen lamented all of UW's missed opportunities for big plays last season with Stave at the controls.
"We missed too many layups," Andersen has said.
Not that McEvoy is a slam dunk. He's unproven. I'm guessing Badger fans are feeling a bit uneasy entering Saturday's game against LSU.
* A name to keep in mind this week: D'Joun Smith. He had seven interceptions for Florida Atlantic last season. He can't pick passes if he's helping chase running backs all day. Just sayin'.