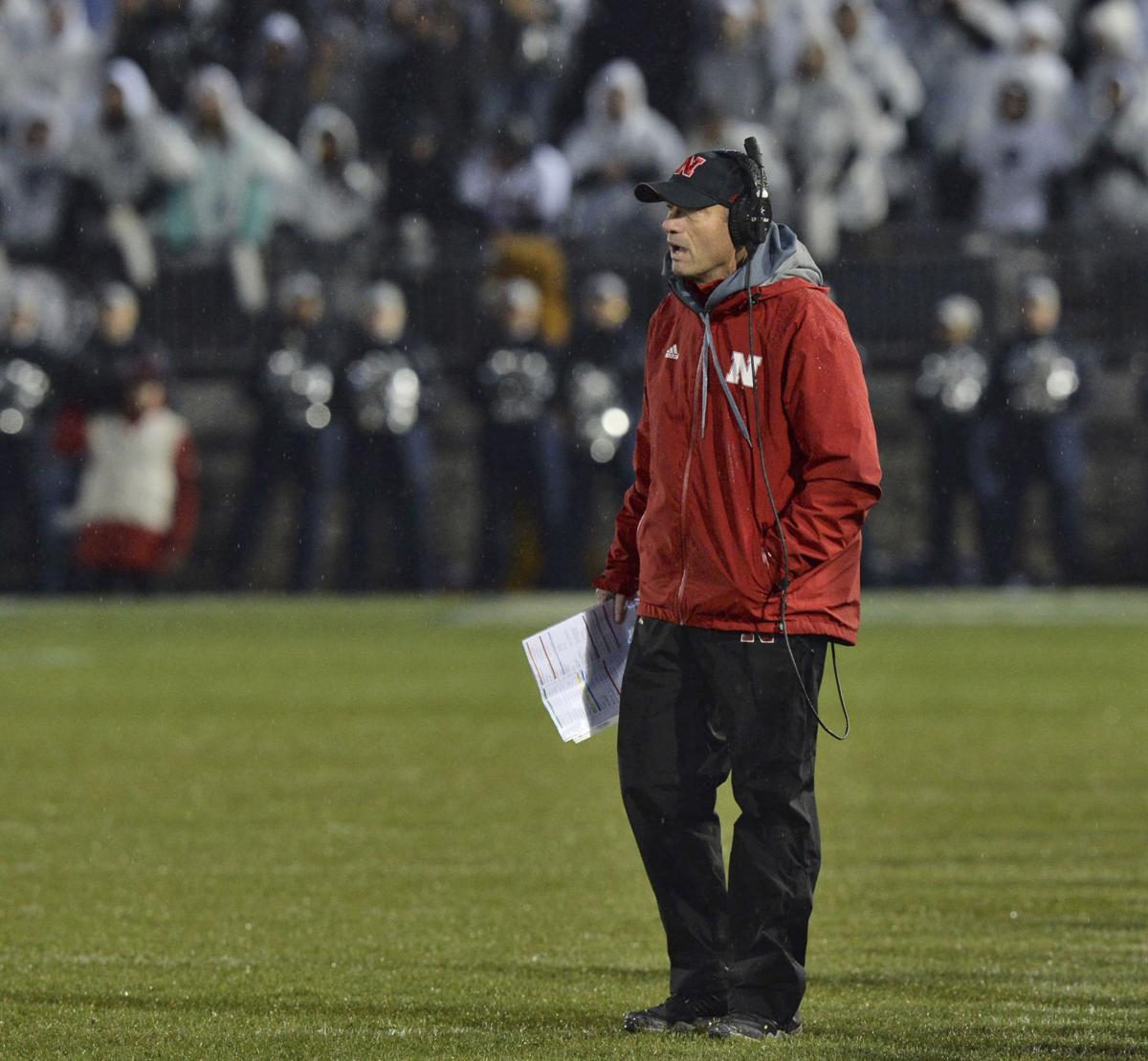 STATE COLLEGE, Pa. — It was about what you expected. 
A lot of gray. A lot of rain. A lot of long faces. A lot of points by Penn State.
If you're a Nebraska football fan, you perhaps hoped for a surprise Saturday. But forget it. Penn State slammed the door on that story line by bolting to a 32-point halftime lead.
Commence the cussing on social media and general despair of Husker fans. They see what everyone sees.
They see Big Ten powers applying the hammer on Nebraska like the Huskers used to do to teams.
They see a dreadful season in its merciful final stages, one game remaining, basically no chance of a bowl game.
Boy, this stuff is awkward.
"Man, I'm just sorry for these kids right now," said Nebraska third-year head coach Mike Riley, whose team fell 56-44 before an announced crowd of 106,722 at Beaver Stadium.
It felt a lot like Nebraska's 65-51 loss to Colorado to close the 2007 season. The Huskers kept scoring that cold November day, but Kevin Cosgrove's defense was helpless.
Same goes for Bob Diaco's.
"There was some glimmer of some better football as we went on, which was good," said Riley, who watched his team fall behind 56-24 early in the fourth quarter before scoring three touchdowns in the final 6½ minutes.
So, yeah, Nebraska (4-7, 3-5 Big Ten) kept trying. There's something to be said for that. But please, let's not go overboard praising a team for continuing to battle. That should be a given.  
Riley, in a sense, seems to be going down fighting. You can bank on him being fired sometime soon after Friday's home game against Iowa. But there he was after the Penn State loss, seemingly in good spirits, essentially making a case for why maybe he and his staff deserve more time.
"I've thought about this obviously a lot, what this must look like in Year Three and kind of rationalizing to myself — it's really Year One, and with some youthful players in it," he said. "I think this could be a good group."
He talked about the switch from a 4-3 defense to a 3-4, and how having a drop-back passer instead of a dual-threat quarterback basically changed the offensive system.
"That's why I say it feels more like Year One," he said.
It all sounded empty, awkward, somewhat depressing. You feel for Riley to a certain extent because he operates with class even amid the dark cloud hovering over the proceedings. 
Saturday's game felt … meaningless in a lot of ways. 
Nebraska playing well in the second half was a pleasant development, but the pervasive feeling was one of emptiness.
New NU athletic director Bill Moos walked briskly past the media standing near the Husker locker room after the game. His head was down. There would be no comments. There wasn't much to say.
After all, 10th-ranked Penn State rattled Nebraska with a 42-point first half. Saquon Barkley had 142 yards on 14 carries before halftime, including a 65-yard touchdown run on the opening possession.
You can talk all you want about changing the structure of the defense, but tackling doesn't necessarily have to suffer in a new system — especially in the 11th game in that new system.
But Nebraska's tackling was shoddy. Again. Same old story.
Nebraska couldn't get its running game going, and Penn State was cranking out big runs. The read option was firing on all cylinders against Diaco's crew.
"It got out of hand like that right off the bat," Riley said.
Think about Nebraska's last two games against Ohio State — losses of 62-3 and 56-14 — and stack them next to this one. The Huskers' next head coach had better take a long look at what he's up against in the Big Ten East.
Granted, Nebraska must first conquer its own division. But I hope Husker fans aren't interested in only being an annual underdog to the beasts of the East.
Yes, it's strange talking so openly about an impending coaching change as the current coach expresses hopefulness about his program's future.
Riley was asked how he handles the "outside" discussion with his players.
"Having been around enough, I know that nobody needs to have me talk about that," he said. "They need to have me talk about football, and getting ready for the game. They need some normalcy when they see me.
"If you stay in this business for very long, you're going to have a roller coaster somewhere, so you learn a little bit more. It's encouraging for me to see those kids and coaches just keep working because that's the right thing to do.
"There's no need talking about the other stuff because that's distracting."
How does he keep from being distracted?
"I stick with what I do," he said with a chuckle. "I like what I do. I've been more appreciative of it lately than ever. Continuing to do this, I want to be more engaged with something offensively, in particular."
He still likes walking in the door, watching film — the routine of putting together a practice plan each day.
"That's kind of like recess for me," he said.
He said he's appreciated his one-on-one talks with Moos. There have been a couple, he said.
He noted the defense has only a handful of senior starters.
"It'll look a lot better next year," he said.
It can't look much worse.
Yeah, I know, that line was predictable — as predictable as Saturday's result.