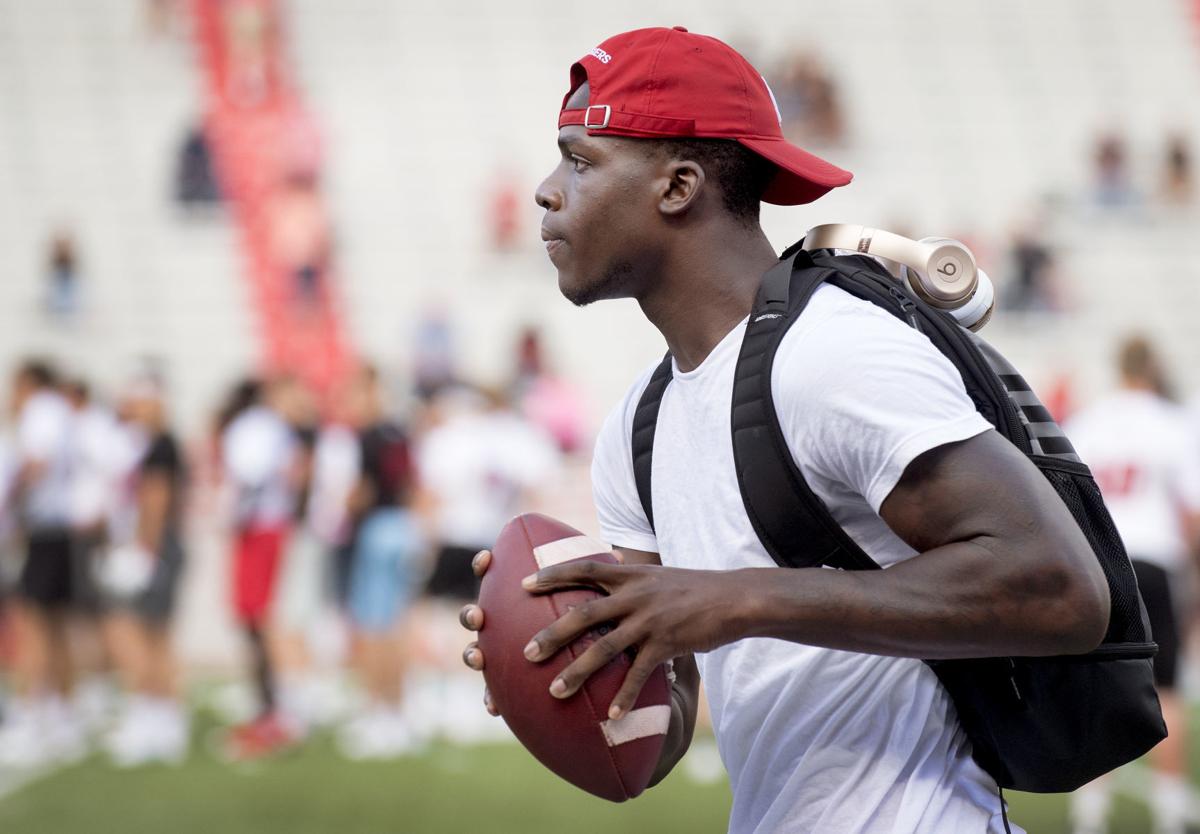 He wore jersey No. 1 last season as a Nebraska true freshman. That tends to get fans' attention.
He originally was verbally committed to Georgia and spurned other SEC schools. That gets fans' attention, too.
Although outside linebacker Caleb Tannor, a native of Stone Mountain, Georgia, arrived in Lincoln last summer with sizable expectations from fans, he came away from the 2018 season with one sack -- but plenty of wisdom.
"It humbled me a lot," Tannor said. "It showed that I need to work. I've got to keep on working. I played, but that wasn't the real me. I was just dipping my foot in the water a little bit. Now, I'm all go. No brakes."
He said he didn't feel any extra pressure from being one of Nebraska's most heralded recruits in the class of 2018, a four-star prospect who also made recruiting visits to Auburn and Florida.
He said the size of Big Ten tackles didn't surprise him. After all, he said, he practiced every day against Nebraska's tackles.
However, he did notice the strength of Big Ten linemen.
"Duval's giving me Big Ten strength now," said Tannor, referring to Nebraska head strength coach Zach Duval. "That's what I have this year. That's on my side right now -- Big Ten strength."
Nebraska outside linebackers coach Jovan Dewitt said last month on the "Sports Nightly" radio program that Tannor hadn't really lifted weights before arriving in Lincoln. The player relied mostly on his God-given strength and talent.
Said Tannor on Monday: "I mean, I lifted weights in high school, but it wasn't like it was my main focus like it is here."
He adapted last summer to Duval's intense workouts, and Dewitt sees all the work paying off.
You have free articles remaining.
"He sets a whole lot nicer edge, I can tell you that," the coach said. "It obviously makes him a much prettier-looking player, and a much more physical player. I think he better understands how to use his hands, and he's strong enough now to use his hands instead of going in with the old high school flipper."
The 6-foot-2, 220-pound Tannor -- he was listed at 210 last season -- said his added strength "makes the game way easier."
"With (Duval) putting all this weight on your back, you should be out there messing tight ends up," he said. "All those workouts we do, it transfers to the field."
If Tannor is indeed much-improved this season, it could help Nebraska improve its sack production, an area where it's been deficient in recent seasons. Last year, the Huskers had 25 sacks to tie for 76th nationally. Although the number far exceeded NU's paltry total of 14 in 2017, it still wasn't enough.
After all, Clemson in 2018 more than doubled Nebraska's sack output, recording 54. Northern Illinois — which comes to Lincoln on Sept. 14 — was next with 50.
Nebraska's pass rush in 2019 could benefit from the arrival of graduate transfer nose tackle Darrion Daniels. If the 6-4, 340-pound Daniels can draw more attention and collapse the middle of the offensive line, it obviously could create lanes for the outside rushers, especially rushers with Tannor's level of speed and athleticism.
"I think his ability to run and his recognition of what's going on have been the most dramatic improvements that you can see," said Dewitt, referring to the early stages of preseason drills.
Dewitt a few minutes earlier had addressed Nebraska junior outside linebacker JoJo Domann's absence from the team's first four days of preseason drills; his status was uncertain as of Tuesday. Seniors Tyrin Ferguson and Alex Davis also are pushing for starting roles at the OLB spots, where the best 3-4 defenses typically get plenty of production.
Some words of wisdom from former NFL coach Al Groh come to mind. I interviewed Groh a few years ago because he's considered a leading expert on the 3-4 system. Regarding the importance of OLBs, Groh said they have to be like cleanup hitters in baseball.
"They are the guys who are supposed to get the RBIs — in other words, make the big plays in the offensive backfield, in the run game and in coverage," Groh said. "It requires a lot of attributes to fulfill all the aspects of the job description. It takes size. It takes athletic ability. It takes instincts. It takes a very versatile game to be a true outside linebacker."
It also requires strength. Thanks largely to Duval, Tannor feels better equipped in that category.
Perhaps it'll lead to some home-run plays -- i.e., sacks.