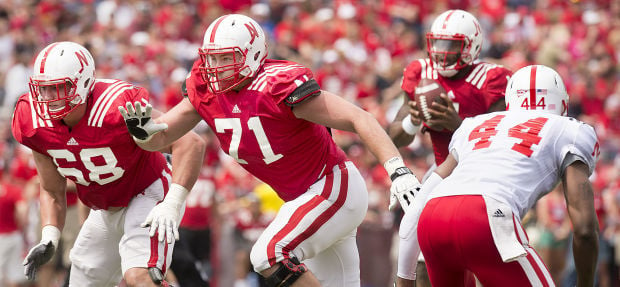 Offensive linemen generally are the most cerebral players on a football team.
But, hey, it's a game for brutes.
Toughness trumps shrewdness.
In that regard, the 2014 Nebraska offensive line's motto — "Hell in a Helmet" — makes sense.
"It's guys going hard every play," says senior right guard Mike Moudy. "You're going hard to the whistle and maybe a half-second after the whistle.
"You're pushing guys around. You're getting after it. You're making people pay for stepping into your stadium. ... You're going to punish them."
As examples, he mentions Matt Slauson, Ricky Henry and Lydon Murtha — formidable offensive linemen of recent Nebraska vintage.
They raised some you-know-what.
But the last time Nebraska trotted out what I regarded as an intimidating offensive line on a national scale was, well, go clear back to 2000, when center Dominic Raiola was flanked by guards Russ Hochstein and Toniu Fonoti.
That was a hellacious triumvirate.
Raiola and Hochstein were named first-team All-Big 12 in 2000, Fonoti the following year.
During Nebraska's glory years, its offensive line came to be known as the "Pipeline." Each season from 1970 to 2001, the Huskers produced at least one first-team all-conference offensive lineman, chosen by either The Associated Press or league coaches. An amazing run if you think about it.
Since 2001, the Huskers have had only three first-team selections — Richie Incognito in 2003, Henry in 2010 and Spencer Long in 2012.
Long's impact persists. Moudy still raves about Long's attention to detail and "constant warrior mentality."
Long was hell in a helmet, in a reserved manner.
The potentially powerful left side of Nebraska's current line — outspoken senior guard Jake Cotton and fiery transfer tackle Alex Lewis — wears the "Hell in a Helmet" motto on its sleeves. Both could be all-conference players this season, or so it's appeared in preseason drills.
Don't underestimate 6-foot, 290-pound senior center Mark Pelini, "the brains of the outfit," Moudy says. Pelini's feet are quick, his leverage excellent. He's a Pelini, so, yeah, he has fire in his belly, as Milt Tenopir used to say. Pelini appears a safe bet to start Aug. 30 against Florida Atlantic.
"He's got a long fuse but a big bomb," Moudy says. "It takes a while to set him off ..."
Moudy, meanwhile, battles junior Chongo Kondolo for the starting job at right guard.
Nebraska's line has decent depth across the board.
Plus, "You can see the detail finally starting to come together," Moudy says. "You're looking at it abstractly. You're stepping back and evaluating the film each day.
"You can see guys getting their footwork right and minimizing mental errors. That's kind of our goal."
Offensive linemen analyze missed assignments and precise techniques, stuff a layman hardly notices — which helps explain my fascination.
Moudy allows several hours to pass before he analyzes himself after a game. He wants to do so with a clear head.
"You step back and look at it through a third-person's perspective and evaluate yourself, and ask yourself if you did everything in your power that you could," he says.
Moudy has emphasized "meshing" his combination blocks with the top three right tackles, juniors Givens Price, Zach Sterup and Matt Finnin. Because Moudy missed the spring with an injury, there's some urgency to develop chemistry on the right side.
Whoever starts at right tackle — I'm guessing Price — will do so for the first time as a Husker.
Moudy, who started three games last season, of course expresses optimism. He feels fresher at this point of the preseason than past seasons, thanks to shorter practices. Having fresher bodies, he says, means players are better able to focus on technique and the mental parts of the game.
Spoken like a true offensive lineman.
Intellectuals in helmets.
Moudy says the offense's nickname is "Red Storm," as in wreak havoc and leave the premises, wherever that may be.
"I just want a bunch of guys who are out there having fun, but who are getting after it," Moudy says. "We want some tough guys who are going to go to the whistle and make guys pay for it.
"We really want to have a hard-nosed mentality here at Nebraska. We've had it in the past."
Many folks remember the "Pipeline" days well, when offensive linemen were indeed hell for opponents, producing heavenly results for Nebraska fans.