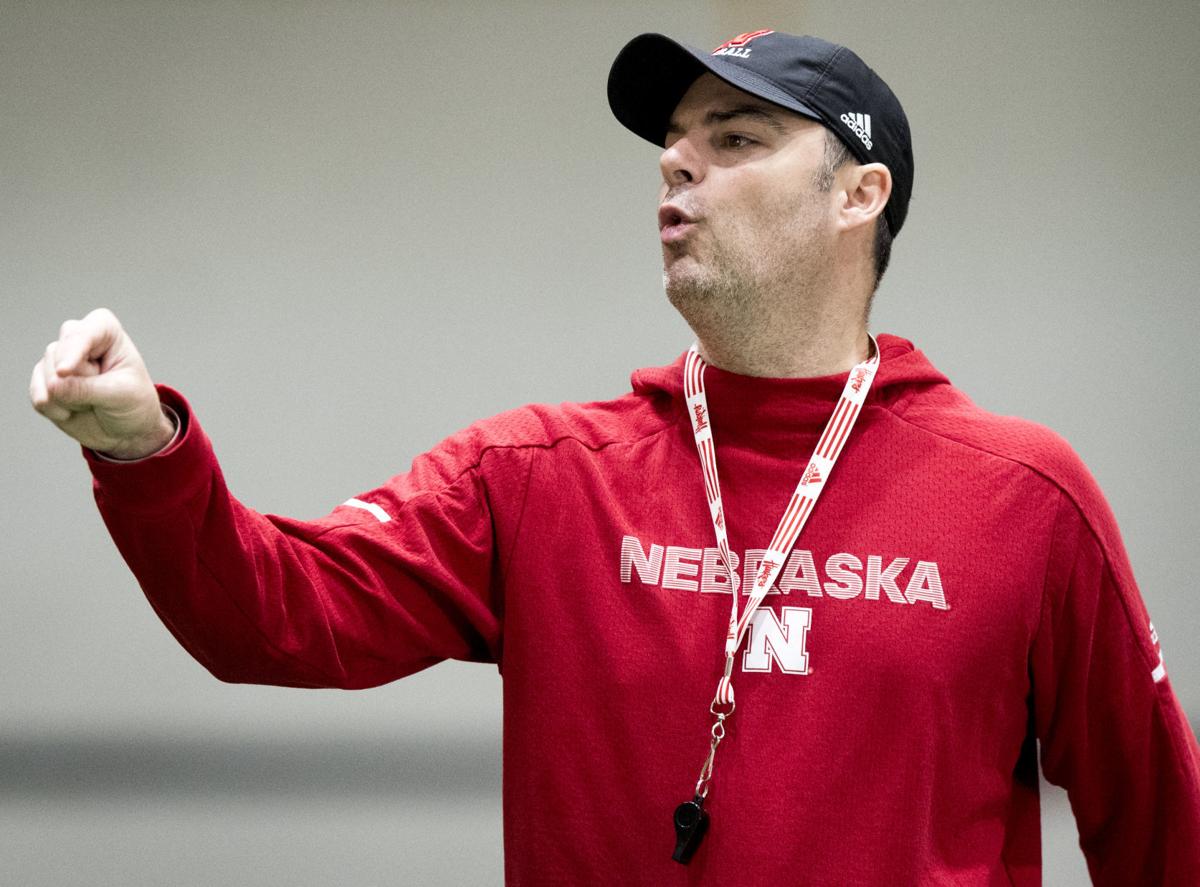 As someone who played for Nebraska during the mid-1990s, Ryan Held retains a clear vision of what the running back position looked like in the program when it was really humming.
As the second-year Husker running backs coach, he has a clear vision of what he wants the position to look like under his watch.
How close is the 2019 group to his vision?
"We're getting closer," he said Wednesday, a few hours before Nebraska picked up a verbal commitment from three-star tailback Sevion Morrison (6-foot, 205 pounds) of Tulsa, Oklahoma.
He likes his 2019 stable of backs. He should like it. Think how quickly Held has improved the position from where it was in 2017 before Scott Frost and his staff arrived from UCF. Devine Ozigbo led the Huskers in rushing in 2017 with only 493 yards (3.8 per carry). Mikale Wilbon was next with 379 (4.3) followed by Tre Bryant, who rushed for 299 (5.9) before chronic knee problems effectively ended his career.
Jaylin Bradley made a little late-season push, finishing with 93 yards (3.9). He's currently buried in the pecking order behind junior college transfer Dedrick Mills, sophomore Maurice Washington, senior walk-on Wyatt Mazour, true freshman Rahmir Johnson and redshirt freshman Brody Belt.
Wan'Dale Robinson, one of the nation's most-coveted recruits in the class of 2019, will play both receiver and running back. Let's be clear, Held covets Robinson's ability in the backfield.
All the while, Held will coach his you-know-what off.
His passion for his alma mater is evident every time he talks about it.
That passion, along with his obvious ability as a recruiter, is why it's a safe bet the position will be strong as long as he's in charge of it.
"We as a coaching staff and me personally, I take a lot of pride in doing everything I can to get this position back to where everybody's like, 'OK, the running back position is a position of strength,'" he said.
"We haven't really proven anything with this group other than Mo (Washington) had some snaps last year. There are a lot of question marks. But I've been challenging our guys, (saying) 'That's great. There are questions out there. People don't know what we're going to be. We have to go earn it.'"
He has a few more options than he did last year. A bit more versatility. A bit more depth. But make no mistake, last year was a good one for Held.
The development of Ozigbo and Washington was a leading reason Nebraska made dramatic improvement in its rushing attack, averaging 209 yards on the ground to rank 28th nationally. In 2017, the last season of the Mike Riley era, NU averaged 107.5 rushing yards (120th).
As a senior in 2018, Ozigbo enjoyed easily his best collegiate season, carrying 155 times for 1,082 yards (7.0) and 12 touchdowns. He entered the season with 1,114 career rushing yards (4.2), with nine TDs.
Meanwhile, Washington, who arrived in Lincoln only days before the start of preseason camp last August, rushed 77 times for 455 yards (5.9) and three touchdowns while adding 24 receptions for 221 yards and a score.
This month, Washington has enjoyed another strong preseason camp. Mills and Washington appear capable of providing another thunder-and-lightning combination, a la Ozigbo-Washington. However, Washington has a legal matter pending in California that could affect his playing status at some point.
At 5-11 and 220 pounds, Mills is a punishing downhill runner. But he's the only such runner on the depth chart. That's also a concern.
In time, Held's group will have still more depth. Maybe to the levels he saw at NU in the 1990s.
Held reminds us that Frost's offense is different in some ways than Tom Osborne's. Frost's system demands more versatility among running backs because use of the forward pass is much more pronounced.
"We have a little more flexibility in what we do offensively," Held said. "But we still have to get big, strong, physical running backs who can really run because of the type of league we're in. In could be like a Michigan State game where it's 9-6 and you've got to be pounding that thing up in there. So you can't just have a bunch of small guys.
"But we like our speed 'Duck' guys because of the matchup difficulties they create."
Held was fired up earlier this week. In game mode. He clearly knows what he wants from his group.
"It's a long season," he said. "Injuries can be a factor. Other things can be a factor. I just have to get as many guys as I can ready, and when the lights are on, I can't have deer-in-the-headlight guys. They've got to be able to go out there and function at the level we need to in this offense at the running back position, as we get it back to what it needs to be here -- which is a historic position that is dominating on game day."
Be the first to know
Get local news delivered to your inbox!