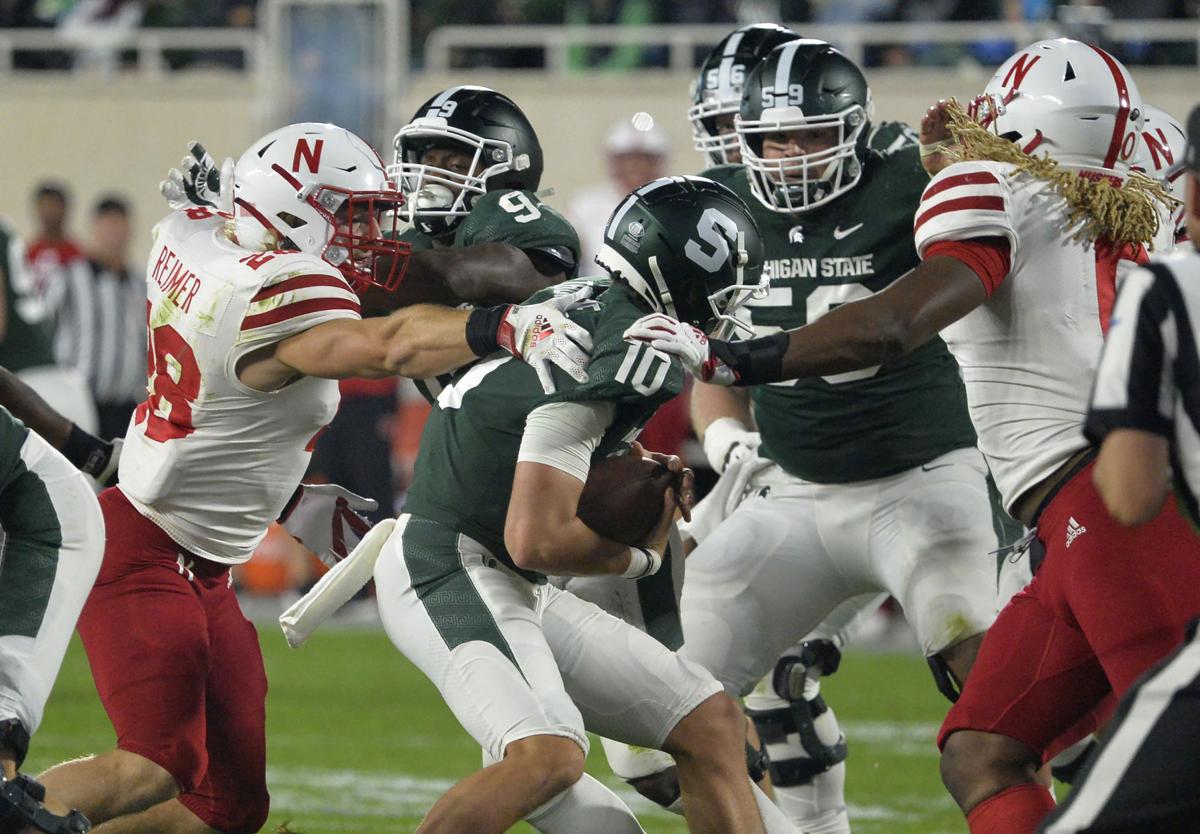 Things I know, and things I think I know: 
Let's do something crazy. 
Let's give Scott Frost credit for something. 
As far back as February, the fourth-year Nebraska coach clearly had a good read on his team. He told me on more than one occasion that his squad had the potential to break through in 2021, but needed "to get some wind underneath its wings." His players mostly needed a shot of confidence early in the schedule, then the program might just take off. That was his read. That's why the season-opening loss at Illinois -- in which NU played poorly -- was so frustrating to him. However, you undeniably saw NU's potential in a seven-point loss at then-No. 3 Oklahoma and again Saturday in an overtime loss at No. 20 Michigan State. 
Frost's left knee bounced up and down continually as he addressed reporters' questions following the 23-20 setback in East Lansing, Michigan. His frustration was evident. He's frustrated and fired up because he knows in his heart he has a good team that can make a substantial amount of noise this season. It still can do it. That's my read.
By the way, this week essentially marks the halfway point -- 3 1/2 seasons -- of Frost's original seven-year contract. Remember, many if not most Nebraska fans signed off on the notion of a seven-year building project, mindful of the colossal mess Frost inherited. He now stands 14-23 overall and 9-19 in Big Ten play. His current team is 2-3 (0-2 Big Ten). This isn't exactly what Frost expected at the 3 1/2-season mark.
The building process hasn't been easy for either him or his players, Frost said Saturday night.
"But from where we started to where we are now, we are a way better team," he said. 
It's hard to argue that point, particularly considering the run of blowout losses the program suffered late in the 2017 season.
"You know, we have to get the pilot light lit and get over the hump in a couple of these games and get on a roll -- and that just hasn't happened," Frost said. "It hasn't happened because right when we need things to happen, people let us down, and I have to do a better job." 
It's critically important for Frost to accept his share of responsibility, especially for the consistent occurrence of special-teams and offensive line mistakes that dog his program. No question, Frost and his staff must do a better job of getting through to players. It almost goes without saying at this point.
That said, a fine line exists in this discussion. In that regard, there's nothing wrong with Frost telling reporters, "At some point, we've got to trust guys to do the things they were brought here to do." 
Although a coach always must hold himself or herself accountable, he or she also has to hold the staff and players accountable.  
"It's not just about physical toughness," Frost said. "It's mental toughness to stay set in your stance, to let the quarterback go, to punt the ball where you're supposed to, to do all those little things right. A veteran team does those things right, a young team doesn't. That's been part of the reason we haven't done it."
Make no mistake, there are Nebraska veteran players making critical mistakes. The Huskers' first two false-start penalties Saturday were on fifth-year junior Matt Sichterman and sophomore Cam Jurgens, a third-year starter at center. Defensive lineman Deontre Thomas, who drew the first-quarter flag for throwing quarterback Payton Thorne to the ground, is also a fifth-year junior. 
Frost is on-target, though, when he says Nebraska has plenty of players doing things right. 
"The ones who aren't doing things right need to hear it from the ones who are," he said of the importance of players leading players. 
His track record as a coach at UCF and as a player at Nebraska suggests he acutely understands what's required for a team to win at a high level. Nebraska currently shows plenty of signs of growth. But 3 1/2 years into the building process, mounting frustration is obviously an issue. It's an issue in the fan base, but more important, it could be an issue among his players.
That's something to watch closely going forward. My guess is, Nebraska's team leaders (led by Adrian Martinez) will keep the team pointed in the right direction and playing with fire. The defense is playing at a high level. That's a critical stabilizer, and Frost's knee bouncing up and down indicates his fire still burns hot.  
* Dylan Raiola, a class of 2024 quarterback recruit, picked up a scholarship offer from Texas on Saturday morning. He's the son of Dominic Raiola, the all-time Husker great. The Raiola family will be on-hand for Saturday's game against Northwestern, making an unofficial visit. The Huskers are very much alive in the recruitment of Raiola. But that Texas offer is significant in part because Longhorns head coach Steve Sarkisian, like Frost, prides himself on QB coaching and also calls the offense. What's more, the Raiolas now reside in Burleson, Texas, about 2 1/2 hours from Austin. 
The elder Raiola, though, bleeds Husker red. That's a factor.
* The younger Raiola was on-hand with his dad in Oklahoma for the Nebraska game Sept. 18. The Sooners also are hot on the QB's trail. But OU coach Lincoln Riley has plenty on his mind at the moment. His current QB, Spencer Rattler, was booed Saturday at home. One week Rattler receives two vehicles in an N.I.L. deal with a local dealership, the next week the home crowd chants for his backup.