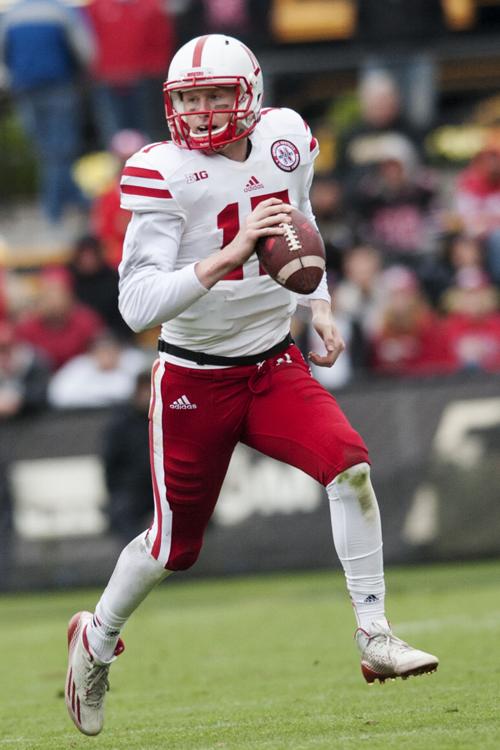 Things I know, and things I think I know:
The question struck me as odd.
Ryker Fyfe felt the same way.
Fyfe was asked to provide insight into this spring's competition for Nebraska's backup quarterback job, the implication being that the No. 1 job has been decided.
And here I thought Fyfe, the clear-cut No. 2 at the moment, was trying to overtake fellow senior Tommy Armstrong for the starting role.
Doesn't every No. 2 guy want to be No. 1?
"It's actually kind of tough. We're in a weird spot," Fyfe told me. "I'm trying to compete for that No. 1 spot. But it's tough when Tommy has all that experience."
Armstrong has started 33 games since 2013. But Fyfe fights on. And let's face it, it would be impractical for Fyfe to transfer and quickly learn a new system. So, he's here to stay. Here to help. He's clear and concise about his immediate goals: Make Armstrong better. Make the team better. Make himself better.
Notice where he places himself on the list.
That doesn't mean he relents as a competitor.
"It's tough to explain," Fyfe said. "I mean, there are days I'm probably better than Tommy. And there are days he's better than me. But I think it's that trust factor that Tommy has (in his favor) because of his experience before these coaches came in here. It's just kind of how it is."
The 22-year-old Fyfe, a walk-on from Grand Island, is an interesting study. He's someone to be admired because not only does he put the team first — a quality that's easier said than done — he has an unorthodox style that works for him.
I especially like the fact he can alter his throwing motion depending on the situation. If he needs to dip to a side-arm motion, he can do it. He reminds me of a crafty veteran pitcher. Sure, he's a bit awkward running the ball, but he knows his limitations.
Could he excel as a regular starter? I think it's possible, his four-interception performance last season at Purdue notwithstanding. Too many folks have written him off based on that performance, which is patently unfair. Nebraska offensive coordinator Danny Langsdorf said he actually gained confidence in Fyfe in the wake of that game, citing the QB's poise and play-making ability.
"That was just a weird game," Fyfe said. "I think this year, with a year in the system, I would be much better, for sure. Maybe sometime I can get another shot. I don't know. We'll see. I'll just keep on making the team better. That's kind of my goal."
He's understated. His answers are quick and to the point. No rambling. No trying to cover his tracks. No B.S.
Fyfe was surrounded by about 10 reporters after a practice last week. The questions were arriving in a rapid-fire manner. You can tell he's a veteran, in part by his ability to handle awkward questions. It's a trait that might serve him well in his next life, as a coach. That's his plan.
"I don't know if I'd be a graduate assistant right away here or go into high school coaching, but I'll figure it out," he said.
He's gained ample wisdom during his Nebraska career. For one thing, he learned two disparate offensive systems.
He feels he fits better in the current system.
"It's pure-progression reads," he said. "In (Tim Beck's spread offense), you had to check out of a lot of stuff and get in the right play. With this offense, you run the play and either the No. 1 read is open or the No. 2 read is open, or you check it down.
"I think it's really easy. Just a lot of drop-back (passes)."
* I like to say Fyfe has decent get-away speed. That is, he'll run awfully fast if he's trying to get away from a snarling dog. Otherwise, not so much.
* Speaking of snarling dogs, Harvey Perlman told the crowd at his farewell speech last week he wasn't going "to do a 'Bo Pelini,'" which Harvey described as an "expletive-laced rant expressing outrage on leaving a position you didn't want anyway." I've heard from folks who were confused by the "leaving a position (he) didn't want anyway" part. Those folks forgot the part of Pelini's secretly-taped farewell speech to his players in which he said he would rather "work at McDonald's than work with some of those guys (in the athletic department)."
"Not that there's anything bad about working at McDonald's," Pelini added.
* That Perlman brought up Pelini's name at all indicates weakness on Perlman's part. Pelini got deep under his skin. 
* Tristan Gebbia has a strong arm and apparently embraces competition. That alone says plenty. His verbal commitment to NU on Monday night ensures red-hot competition between a couple young California guns. And don't forget Tanner Lee, the Tulane transfer who will arrive on campus in early June. He has said he's coming to win the job in 2017 (he will sit out this coming season per NCAA transfer rules).
And I thought this offseason was interesting.