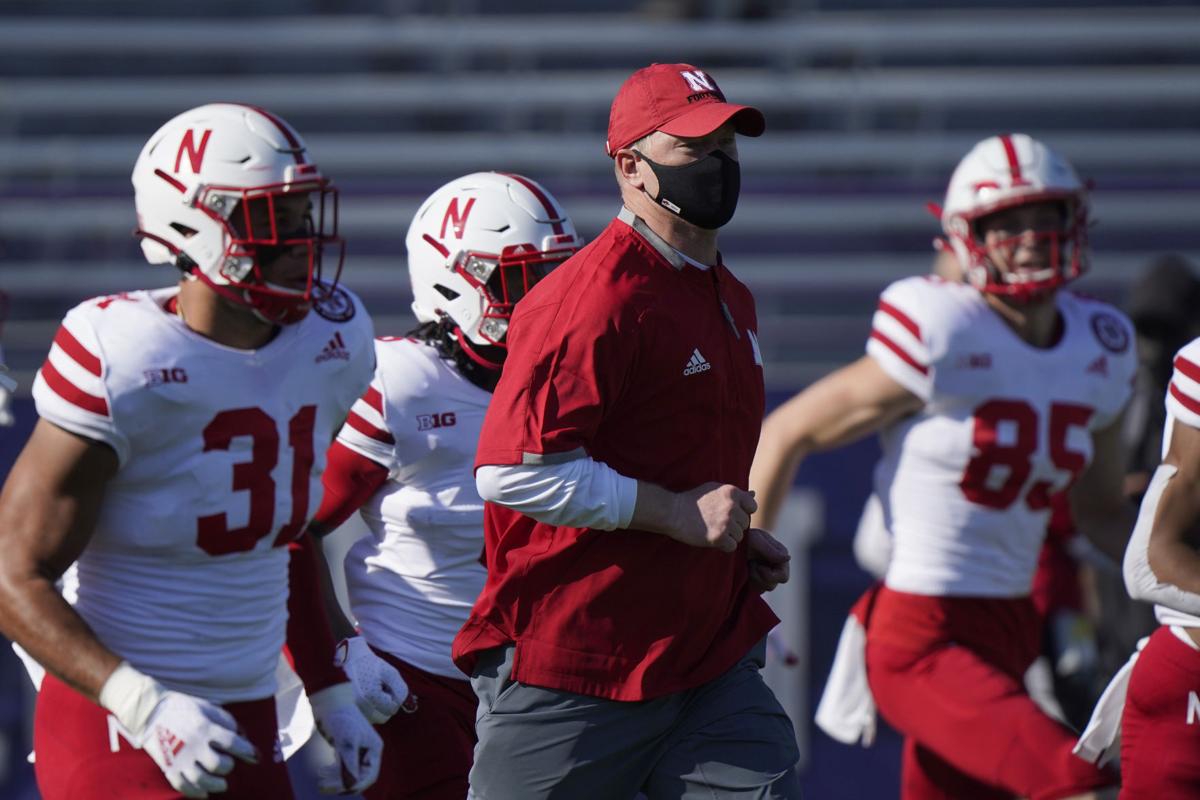 EVANSTON, Ill. — Things I know, and things I think I know: 
Perhaps this is an appropriate time for a couple of reminders regarding Scott Frost. 
Flash back to December of 2017: When Frost was hired as Nebraska's head coach, many people (including yours truly) genuinely believed he was the only man for the job. There were a couple of reasons in particular people were of that mindset: For one, he led a cutting-edge offense at both Central Florida (head coach) and Oregon (offensive coordinator from 2013-15). He wasn't just the offensive coordinator by title at Oregon, he was the play-caller for a system that in each of his three seasons in that role ranked in the top five nationally in both scoring and total offense. 
What's more, Frost built a reputation as a developer of quarterbacks. Remember all the discussion about Marcus Mariota, Vernon Adams and McKenzie Milton? 
The idea was Frost's offensive expertise would give Nebraska an edge, perhaps similar to the way Tom Osborne gave the Huskers an edge during the 1990s, especially as he hit his stride as a play-caller. 
Fast forward to November of 2020: It seems Frost has lost his edge. Perhaps he hasn't lost it completely. But it needs sharpening.  
One glaring deficiency is Nebraska's futility in the red zone. The Huskers managed just one touchdown in seven trips inside the 25-yard line during Saturday's 21-13 loss at Northwestern. The Huskers last season ranked 71st nationally with 27 touchdowns in 51 trips into the red zone (52.9%). In 2018, they were 83rd with 27 TDs in 44 tries (61.4%). 
This obviously isn't entirely a play-calling issue. A variety of factors contribute, including a lack of play-makers. In short, Frost needs more of them. The shortage is on him at this point. Think of his challenges as a play-caller this way: In 2014, the year Bo Pelini was fired as Nebraska's head coach, the Huskers' skill-position talent was much better than what Frost draws upon this season. 
Ameer Abdullah rushed for 1,611 yards in 2014. The team's top receivers were Kenny Bell, Jordan Westerkamp and De'Mornay Pierson-El. Tight end Cethan Carter was in the fold. What Frost wouldn't give for just a couple of those guys. 
But there are other issues.  
When Frost was hired at Nebraska, Osborne drove home a point that sticks with me to this day. 
"You have to develop a culture where there's a mindset, a commitment, a mentality of being physical," he said then.
My heavens, that part dropped off under Mike Riley, Frost's predecessor at Nebraska. 
It hasn't regained much steam under Frost. Oh, you see it at times. But tell me how often you see Nebraska imposing its physical will on an opponent. Frost played for Husker teams that were known for manhandling foes. These days, you see it at the highest level from Alabama, Clemson and Ohio State. Some Husker fans don't even like to watch those teams, because NU is so far from that realm. 
As for the quarterback discussion, let's consider Frost's ultra-successful past in that area: Mariota led the nation in pass efficiency in 2014 at Oregon with Frost coaching the position and calling plays. The next season, Adams led the nation in pass efficiency under Frost's guidance. Then, with Frost guiding UCF's offense in 2017, Milton was second behind only Baker Mayfield.
That's quite a run of success. 
Frost and his staff obviously are trying to find the right buttons with the current quarterback situation. It's too early to count out Adrian Martinez, although his struggles are perplexing — particularly in the context of Frost's success with QBs. 
Bottom line, he knows how to produce a big-time offense. He knows what needs to happen. But can he make it happen at Nebraska?
When he took over at UCF, I'll never forget Frost telling me he could practically roll out of bed and find the sort of speedy play-makers he needed for his system. It remains to be seen whether he can recruit the same type of players to NU. 
Although he'll hear plenty of impatience from Husker fans, he needs to avoid straying too far from what he knows. 
He's proven himself at a high level. It actually wasn't all that long ago. My guess is he'll do it again. 
* Nebraska athletic director Bill Moos told the Journal Star on Saturday he remains open-minded about Husker fans attending a game this season at Memorial Stadium, although he's ruled it out for Saturday's home game against Penn State.  
Iowa athletic director Gary Barta is of a similar mindset regarding fans at games, Moos said. 
By the way, Moos is fully aware of the recent spikes in COVID-19 cases in Lancaster County. 
"The spike across the whole country, and in our footprint, isn't helping us," he said. "I was kind of hoping for fans for the Penn State game ..."
It obviously isn't a good idea now.
Illinois comes to Lincoln on Nov. 21. 
"I'm not going to hold my breath," Moos said of the possibility of even having 11,000 fans on hand, as was the case Saturday night at Notre Dame. 
OK, bad example. Thousands of Irish fans rushing the field was a bizarre optic under the circumstances. 
"Big Ten presidents and chancellors are overcautious, and that's OK," Moos said. 
Nebraska's final home game is set for Dec. 12 against Minnesota. 
* Former Nebraska safety Mike Minter, one of the best to ever play the position for the Huskers, says he's rooting hard for Frost to succeed at NU. 
"He knows the formula," said Minter, a 1996 All-Big 12 choice and now the head coach at Campbell University. "Now, that doesn't come overnight because kids in 2020 don't know the mindset we had back in the 1990s. It's crazy. We were so competitive, we'd compete at everything.
"The other thing is accountability. The mindset among our players was, 'I'm holding you accountable, and I don't care if you like it or not. We're not here to be friends. We're just friends because we're winning.' 
"I don't know, these days kids just want to be liked. They don't want to step on toes."
Minter is 46. I'm 54. We were just a couple of "olds" reminiscing about better days. Wink, wink.