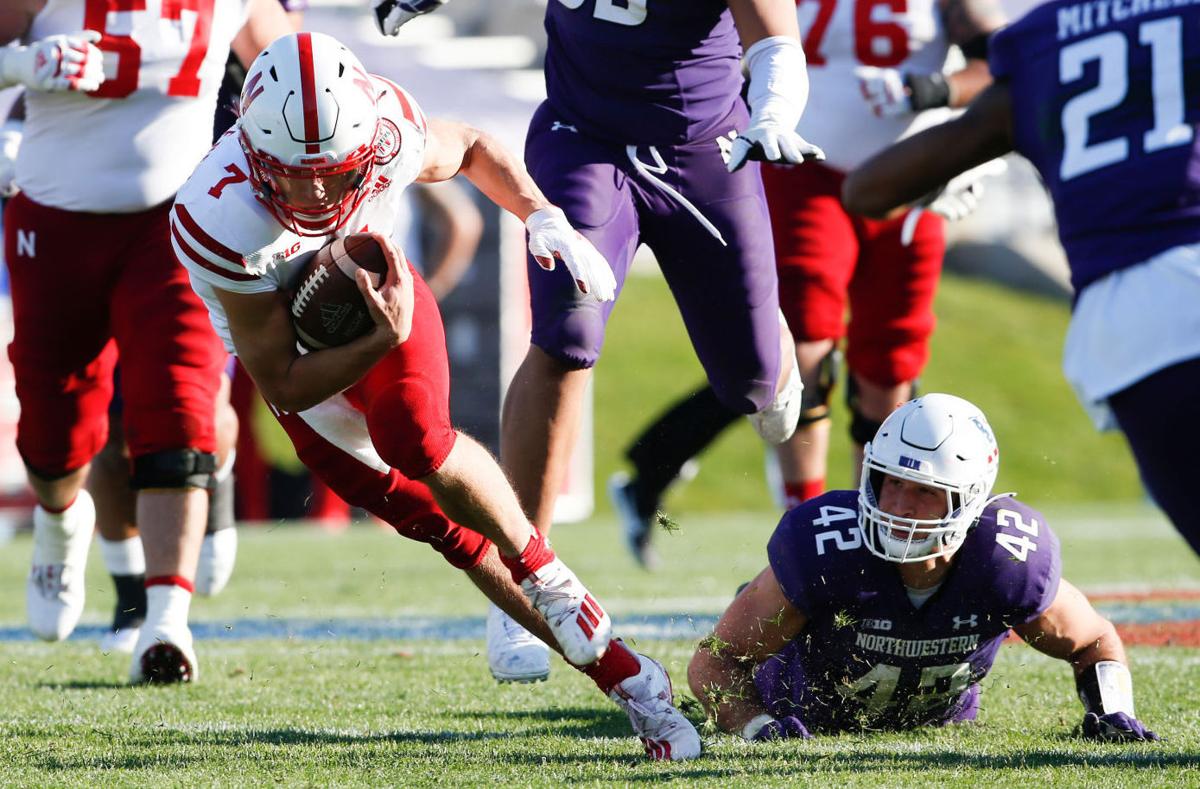 Luke McCaffrey clearly possesses a deep appreciation for the sport of football and the quarterback position in general.
"I go back to Fran Tarkenton as one of the quarterbacks who I watch and try to build my game after," he told me in December 2018, not long before he officially became a Nebraska quarterback.
That would be Fran Tarkenton of the 1970s Minnesota Vikings.
Wait a second. He studies Fran Tarkenton? Really? 
Yeah, the kid is a quarterback. He thinks of himself as a quarterback. Granted, he's a bit raw as a quarterback — he threw one touchdown pass and six interceptions this season — but he's still a quarterback. The last time I talked to Nebraska quarterbacks coach Mario Verduzco in early December, he made it clear he thinks McCaffrey has a bright future at the position. 
But when Nebraska lost ultra-talented (and leather-tough) slot receiver Wan'Dale Robinson to the transfer portal Monday, a predictable discussion arose in the fan base. It cropped up because the kid from Colorado who studies Fran Tarkenton also caught 66 passes for 864 yards and 10 touchdowns as a sophomore and junior in high school before moving to quarterback full time as a senior. He has electrifying speed, extreme athleticism, toughness and he's, well, a McCaffrey. You can bet he would be an excellent receiver. 
Would Nebraska head coach Scott Frost approach McCaffrey about perhaps helping fill the sizable void Robinson left in the offense? Has Frost already approached McCaffrey? Would Frost be playing with fire? After all, we already hear ample speculation about McCaffrey perhaps following Robinson into the transfer portal. Based on what I hear from my sources, McCaffrey isn't going anywhere. 
You can't help but wonder if Frost might carefully gauge McCaffrey's interest in playing receiver. But it seems like a dicey situation. Because Frost's program absorbed such a massive perception hit with Robinson's departure, the coach might not be in position to play hardball with McCaffrey. What's more, remember, Frost had one of the season's most memorable quotes when he said in late November, "There's no doubt in my mind Luke McCaffrey's the future around here (at QB), but right now to help us win, we've got to play the guy who gives us the best chance."
The guy who gave Nebraska the "best chance" in Frost's mind was junior Adrian Martinez, who started each of the final four games. McCaffrey, in his two starts, sparkled at times and looked overmatched at times. But let's face it, Frost's "he's the future around here" quote looms large in this discussion, as does Verduzco's confidence in McCaffrey. 
When spring practice begins, I look for McCaffrey to once again push Martinez for the starting job. Freshman Logan Smothers likely will be a major factor in the competition as well. Frost's quarterbacks are a tight-knit group. That's made a potentially uncomfortable situation surprisingly smooth. 
But what if Martinez, a 27-game starter, again wins the job? Might McCaffrey then consider helping the team as a receiver? He's a high-energy, team-first player, which helps explain his immense popularity with teammates. On the other hand, every snap at receiver cuts into his development as a quarterback.
I go back to a conversation I had with Frost in March, right before spring practice was shut down by the pandemic. He said then that if, come fall, McCaffrey wasn't "the guy" at quarterback, a move to receiver could be in play (he had one reception this season while playing the vast majority of his snaps at QB). I wondered in March if McCaffrey could even play receiver at a consistently high level in a conference as competitive as the Big Ten. Wouldn't that be pretty hard to do?
"No, not really," Frost said, citing McCaffrey's overall athleticism and knowledge of the offense. "We didn't practice him at receiver at all before the Maryland game (in 2019), and he just went out and did it because the quarterbacks know what everybody's supposed to do.
"But I want to emphasize that he's not a receiver; he's a quarterback. We don't even entertain thoughts of (McCaffrey playing receiver) until … he's not the quarterback and we determine we need another receiver. That's the only reason we'd even think about it."  
Is Frost thinking about it now, with Wan'Dale gone? Nobody asked me, but if I were in Frost shoes, I would work hard to get young players such as Alante Brown and Will Nixon ready to play key roles in the slot -- and upgrade the skill positions in general -- and allow McCaffrey to continue to play the position he grew up wanting to play.
As a kid, McCaffrey says, he would go in the backyard and pretend he was Michael Vick. He didn't pretend he was Julian Edelman. He wanted to be a quarterback. He studied Baker Mayfield and Doug Flutie. He was recruited by Nebraska to play quarterback.
Bottom line, Frost should be able to find enough receiver help to allow McCaffrey to pursue his dream.